Construction is underway at Roy Jr. High School the first ICF school to be built in the state of Utah. Mike Schwab, a Fox Blocks ICF regional advisor for the Rocky Mountain states says, "Stephen Williams and Kent Craven from Design West Architects of Salt Lake have been huge supporters of ICF schools for several years. They have been working diligently to promote the concept with school districts in the Mountain West for years now. They deserve much of the credit for helping their client understand the benefits of insulated concrete and making the benefits replicable to other school districts as well."
Williams states, "The Roy Junior High School replacement is our sixth ICF project. We have previously built four elementary schools in Idaho, and a student housing project in Colorado that achieved LEED Silver certification."
Weber School District, located about 20 miles north of Salt Lake City, is replacing a 1950s-era school with a state-of-the-art facility. The new junior high will be have 167,855 sq. ft. of space split between two stories; with classrooms, science labs, music and drama rooms, metal and wood shops, and a dual use cafeteria/auditorium. The gym will have seating capacity of 1,200 with a mezzanine 1/12th mile track. 
On the heels of those previous ICF projects, Design West approached school district officials with a proposal Williams says, "ICF construction as far as schools went had not broken through in the state of Utah, [but] after being awarded the Roy Junior High project, we proposed ICFs as a solution for energy savings and speed of construction. We explained to them how the system worked; thermal mass, continuous insulation, built-in furred walls, 8" stud spacing, gypsum board fully supported, etc. The Weber School District and it's director of facilities, Scott Zellmer, greenlighted the system for their project.
He continues, "One of the biggest factors of choosing ICF was the potential for energy savings. Here in Utah, temperature swings day-to- night can be as much as 40-50 degrees, and because of the continuous insulation both exterior and interior, that type of shift would have little-to-no-affect on the thermal mass of the wall in a 12-hour cycle. I helped the client see that this would allow for more efficient and limited loads on mechanical systems."
The final design not only uses ICF block for the exterior, but also for interior shear walls and area separation walls due to their inherent four-hour fire rating. On ICF walls, the gypsum sheathing did not have to extend all the way to the deck, as would have been required in stud construction. "This was a major cost savings on this project," says Williams.
Schwab points out that interior ICF walls also reduce sound transfer between rooms, which keeps noise from gym class or band practice from drifting down the hallway and disrupting other classes. 
The ICF work is being performed by IMS Masonry, a Utah-based installation subcontractor that has built schools, theaters, and other heavy commercial projects across the west.
Trey Orzak, the project manager for IMS, explains, "Roy Jr. High has approximately 115,500 square foot of ICF walls containing 3,000 cubic yards of concrete. The project had an aggressive schedule, and wall layout was complex with more than 90 corners and the majority of walls topping out around 30 feet high." He continues, "This project has over 240 window and door openings and incorporated extensive amounts of shoring, rebar, and lintels. Some lintels spanned over 20 feet wide and are located more than 20 feet above the floor slab. We felt this was a successful project and without going into too much detail this was a team project. Each challenge was overcome with help and coordination from the design team, general contractor, suppliers, IMS's foreman, and IMS's dedicated crew of installers.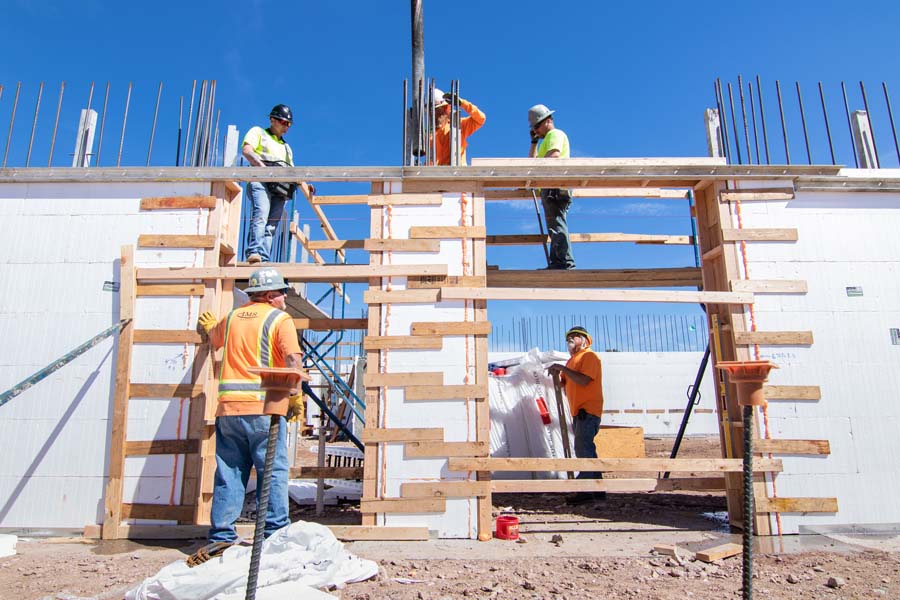 Heath Holdaway, president of IMS, states, "This project has a lot of other school districts looking at the possibility of using ICFs in their future schools. It's been exciting to see the design community, project owners, and construction companies tour the site and get even more educated to the value of ICF. IMS Masonry has been involved with ICF installation for over 15 years, with the additional publicity and the positive feedback, we are excited to see there being even more possibilities in the future.
Hogan and Associates, the general contractor, has been promoting the school via social media channels. They report via Facebook, "Weber School District may be the first district in the state to use ICF in one of its school buildings, but other districts are following suit. Representatives from Davis, Box Elder, Logan, Tooele, Granite and Jordan districts have visited the site. Some of these districts already have building plans using ICF underway."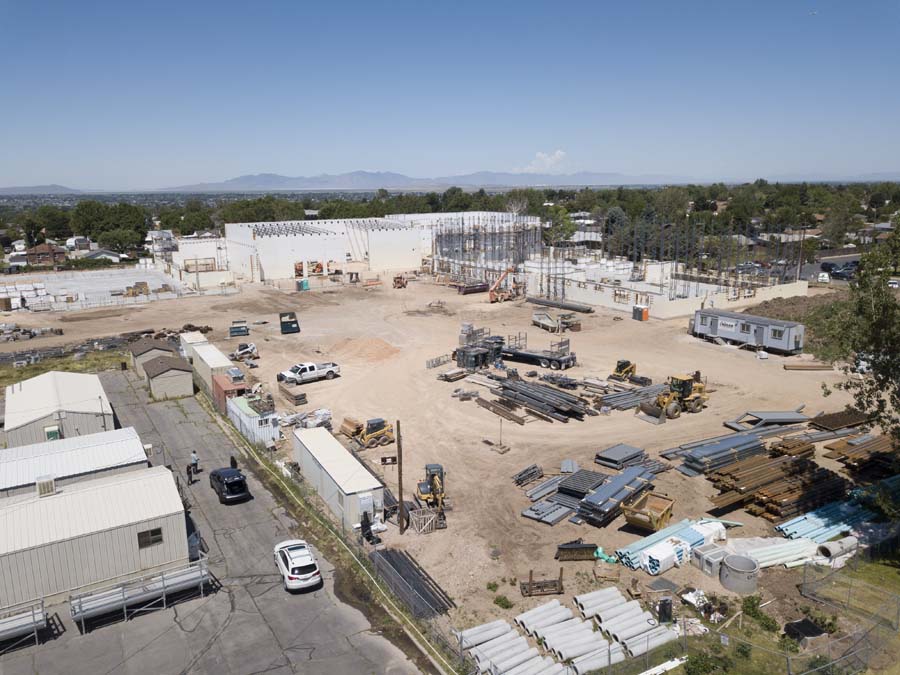 In August, the regional concrete producers hosted an event to educate others on the benefits of ICF, which included a tour of the school. Brad Stevenson at the Utah Ready Mix Concrete Association reports, "We had 85 attendees from around the state and beyond. The folks …did a fantastic job putting the event together, feeding everyone (including the jobsite crew) and getting the press there." He calculates that there were 11 different news stories between print and broadcast media, reaching 3.7 million people.
Roy Jr. High is expected to open in late summer 2020 in time for the new school year. 
Project Statistics 
---
Location: Roy, Utah
Type: Public School
Size: 168,000 sq. ft. (floor)
ICF Use: 115,500 sq. ft.
Construction Team 
---
Owner: Weber County School District
General Contractor: Hogan & Associates Construction
ICF Installer: IMS Masonry
Architect: Design West Architects
Engineer: Gardener Engineering
ICF System: Fox Blocks
Fast Facts 
---
First ICF School in Utah
Walls Reach 30 feet above grade
Seen by thousands on news broadcasts, website, and highway traffic
Like what you read?
Yearly Subscriptions Starting @ $30