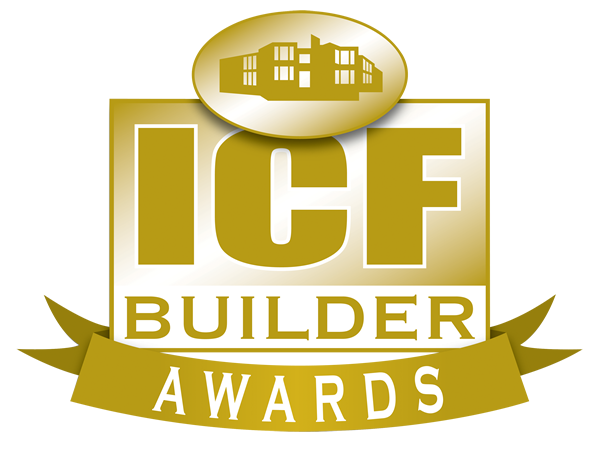 2018 Unlimited Residential
1st Runner-Up
The Drew Castle, located in Eastern Michigan is actually a 10,000-sq.-ft. private home, built to appear like a traditional manor house. The design includes many authentic touches, both inside and out, including functional gargoyle rain spouts and an interior courtyard.
Obviously, any project of this magnitude presents some significant construction challenges with the many tall walls, corners, and door openings of a home this size. In this case, they were made even more challenging by the site conditions: the water table sits just 16 inches below the surface. The owners would have preferred to dig and place the basement below grade, but due to wet soil, they poured the massive footings at grade level and built the basement up from there. 
The fill material needed to bury the basement was excavated nearby, eventually creating four good-sized ponds on the property. The ponds, which visitors say are actually closer in size to "small lakes," were later incorporated as the ground source for the geothermal heating and cooling system. 
The original design was CMU and poured wall, but after exploring the options, ICFs were the only way to safely and easily create this structure. The owners connected with Dennis Micoff, a BuildBlock executive living nearby with 40-plus years experience as a mason, who was able to answer all their questions and provided resources for issues they hadn't even thought of yet. Construction began in the spring of 2013. 
"Every step of the way ICFs delivered benefits and solved problems that wouldn't have been anticipated with CMU or other materials," he says. 
He continues, "ICFs were the only solution to efficiently support the weight of the materials used, including the multi-ton slate roof, thousands of pounds of granite window and door casings, a complete brick exterior, CMU elevator shaft, and fireplaces with granite hearths."
There are two finished floors above the basement, plus a finished attic and tower at attic level that houses a bar and home office. In total the project used just over 14,032 sq. ft. of ICF. 
The design of the home is based off of a traditional medieval courtyard castle but with several adjustments to accommodate modern living. The ground floor features a kitchen and expansive dining room, with a central staircase and a beautiful sitting room framed with large windows. During the winter, sunlight pours in, creating a warm oasis where plants can grow year round.
Anticipating its current use as a bed-and-breakfast, each bedroom includes a kitchenette, walk-in closet, and full bathroom. The master suite, which includes two walk-in closets, "his and hers" bathrooms, a large bedroom, and separate sitting room with fireplace, is accessed via a secret door disguised as a bookcase.
The home actually has five fireplaces, each with an intricate hand carved mantle based on designs the owners documented during their trips to the manor houses and chateaus in Europe. This approach was carried to other architectural features as well. For instance, the central gothic-style window is based on one they found on a trip to Portugal and fell in love with. 
The fireplace mantles, along with the granite window and door frames, gargoyles, and other masonry highlights, were carved by artists in China and shipped to the site. 
By all accounts, Adam Eerdmans and his crew from Turtle Wall Construction did an exceptional job with the ICF installation, despite the fact that exterior construction took place through two very cold winters, one of which produced record-breaking snowfall. The drywallers commented that they had never seen walls so straight. Even the 70-foot hallway was straight as a laser. Special coatings were used on the wood floor joists and floor decking to prevent moisture intrusion until the roof was in place.
ICFs helped make working conditions more manageable for construction teams during the long winters. The fireplaces were "tested" and put into operation long before the home was finished.
The project used Pre-Buck to form the windows and doors, which was delivered pre-assembled. Because the rock casements were pre-ordered, the ICF wall openings had to be perfect, and they were. Corder confirms, "The ICF installers did an amazing job stacking, bracing, and pouring the walls." 
He and a film crew spent several weeks on site over the course of the build creating a video series documenting the process. The series has more than 20,000 views and can be accessed via the online version of this story. Many images and techniques from this project are featured in BuildBlock training courses as well. The publicity has led directly to 10 additional ICF projects, including several other ICF castles across the country. 
The construction timeline stretched over nearly four years, typical for homes of this scale, being finished in September of 2017.
Designed to last for centuries, the home is far more efficient than the cold, drafty masonry structures that inspired it. Winters in Michigan are brutal, and the castle is enormous, but this one is remarkably efficient. The owners report it costs no more to heat and cool than their previous 2,000 sq. ft. home. The ICFs, extra insulation around the windows, in-floor radiant heat, and ground source heat pumps (GSHP) all contribute. The home actually has five separate open-loop GSHPs. Water is drawn into the house at 50 degrees and heated or cooled as needed to raise or lower the temperature of the home, then returned to the ponds. For every dollar of energy put into the geothermal unit, the GSHP contributes four or five times the value in effective heating or cooling. The home also uses energy efficient lighting throughout, as well as other energy saving systems.
Corder concludes, "This has been a passion project for the homeowners and it shows." 
Project Statistics
---
Location: Eastern Michigan
Type: Private Residence
Size: 10,000 sq. ft. (floor)
ICF Use: 14,032 sq. ft.
Total Construction: 200 weeks
ICF Installation Time: 120 days
Construction Team
---
Owner + General Contractor: Michael Drew
ICF Installer: Turtle Wall Construction
Form Distributor: BuildBlock
Architect: Tyree House Plans
ICF System: BuildBlock
Fast Facts
---
4-story castle home
Hand-carved granite fireplaces, window & door frames
Geothermal heating and cooling via system of ponds
Receives frequent tours
Like what you read?
Yearly Subscriptions Starting @ $30