ICF tilt-up offers the same advantages as regular tilt-up—fast construction time and low cost—with the added benefit of furred out, insulated walls.
ICF construction has evolved considerably over the past ten years. Commercial ICF construction, which was less than 20% of the industry ten years ago, is now dominant.
In many ways ICFs are best suited for larger buildings. Their energy efficiency tends to be fully appreciated by the commercial and industrial customer, who calculates long-term energy costs as part of the construction decision. Also, while the strength of ICF walls is often overkill in homes, it is necessary and fully utilized in larger buildings.
Still, ICFs sometime struggle to win "low-rise" commercial projects. For big-box stores, warehouses, and other buildings with long straight walls, few windows, and minimal insulative and aesthetic requirements, designers typically specify tilt-up construction.
Tilt-Up
Tilt-up technology has been around since the beginning of the 1900s, although it didn't really begin in earnest until the 1950s, when heavy-duty cranes became more common.
With tilt-up, concrete walls are poured horizontally on the structure's floor slab or casting bed at the job site. Each panel is then hoisted into place with a crane and temporarily secured with steel braces until permanent fasteners are welded into place at the footings, panel joints and roof line.
It's a construction method that requires fewer skilled workers than masonry, and eliminates the transportation costs associated with precast panels or masonry blocks. Over the past 70 years, it's proven to be a durable and economic way to build.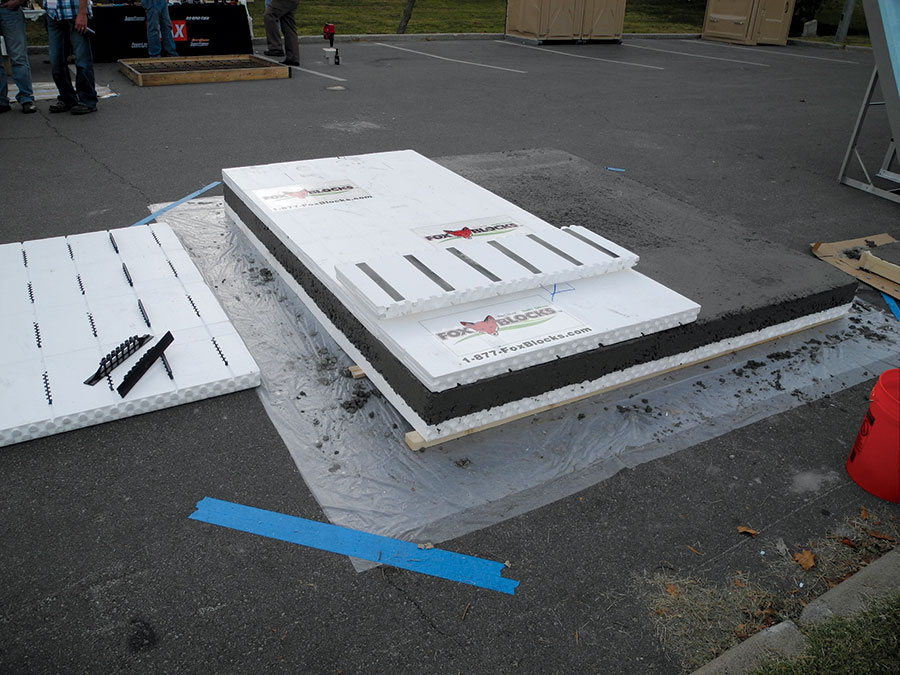 As construction guru Pieter Vanderwerf explains, "The wall forms are set all at once. The concrete comes in all at once, and the crane comes out and sets all the walls at once. This is efficient, low-cost concrete construction."
In recent decades, tilt-up has faced new challenges. Insulation values are now higher. Building footprints are more complex. Owners want more options for interior and exterior finishes.
To address these difficulties, a few innovative ICF companies have adapted their foam forming systems for tilt-up work. They claim ICF tilt-up offers the same advantages as regular tilt-up—fast construction time and low cost—with the added benefit of furred out, insulated walls.
Innovation
The ICF industry has experimented with tilt-up techniques for more than a decade. ECO-Block, a Texas-based ICF panel system, researched the idea's viability in the early 2000s before the company was purchased by Arxx.
Two of the EPS decking system manufacturers—LiteDeck and Insul-Deck—were also testing their products in tilt-up applications, and met with some success. About 2005, Lite-Deck won its first insulated tilt-up job, and over the next few years successfully completed several other large commercial projects. (See case study on opposite page.) Over the last 10 years, they've probably completed more tilt-up projects than anyone else in the ICF industry.
During the construction slowdown of the last five years, many of the leading panel ICFs adapted their products to tilt-up. Although the sector looks promising, actual fieldwork has proved elusive.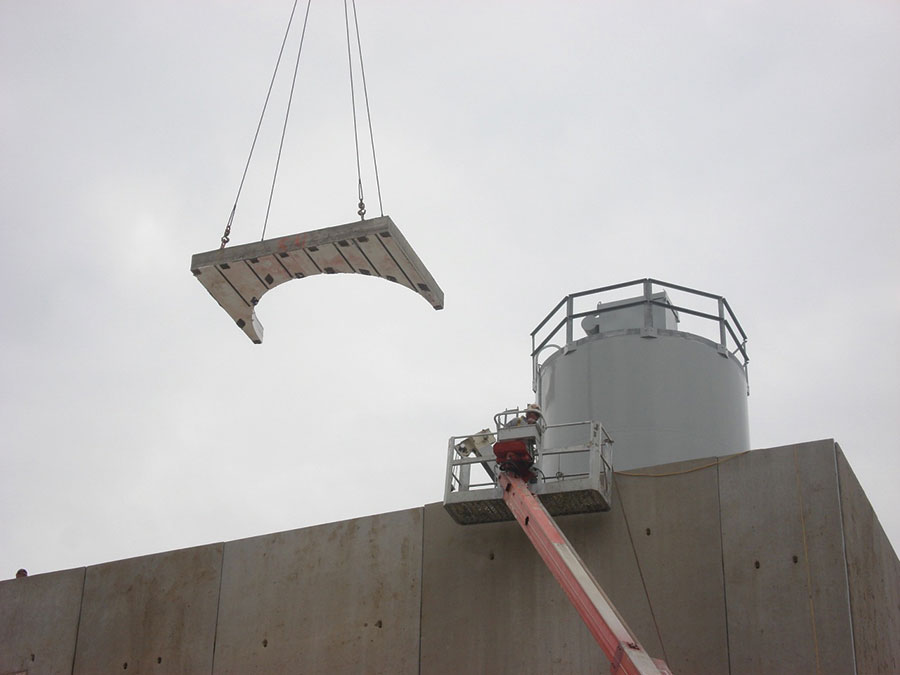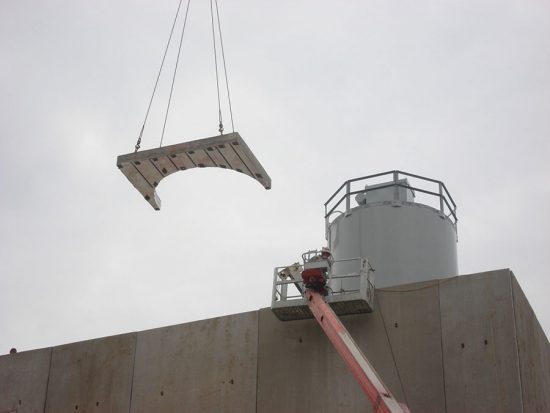 Jim Buttrey, vice-president of sales and marketing at IntegraSpec, is typical when he reports, "Our design incorporates this application, [but] we have never had the opportunity."
For three years at the beginning of this decade, Amvic and Fox Blocks had a strong presence at the annual Tilt-up Concrete Association show, including on-site demos. (A video of one such demo pour is available via the online version of this story.)
Randy Daniels, a regional sales manager at Fox Blocks, was one of the ICF experts at the shows explaining the system and its benefits. He says, "The tilt-up folks are not known for using much ICF, but tilt-up buildings are getting furred out and insulated so here we come with a great alternative."
Called the Fox Tilt Insulation Furring System; it's basically their standard knockdown ICF panel (Fox 1440, formerly Formtech). Instead of the standard web, though, it uses a "sleeve," a ratcheting, structural polypropylene embed that mechanically fastens the insulation panel and the plastic furring studs to the concrete wall.
"All we are doing is providing a mechanically fastened insulation and furring system to either the interior or exterior face (or both if the sales guy is really good) of the tilt-up wall," says Daniels. "The reason this was so much fun at the Tilt-up Expo was showing off how fast we can do this and at how little it costs."
The tilt-up industry seems less enthusiastic. "The tilt-up industry is a unique fraternity," says Pat Boeshart, president of Lite-Form. "It appears from our vantage point that if you're not a long-time member, you're sometimes pushed to the edges."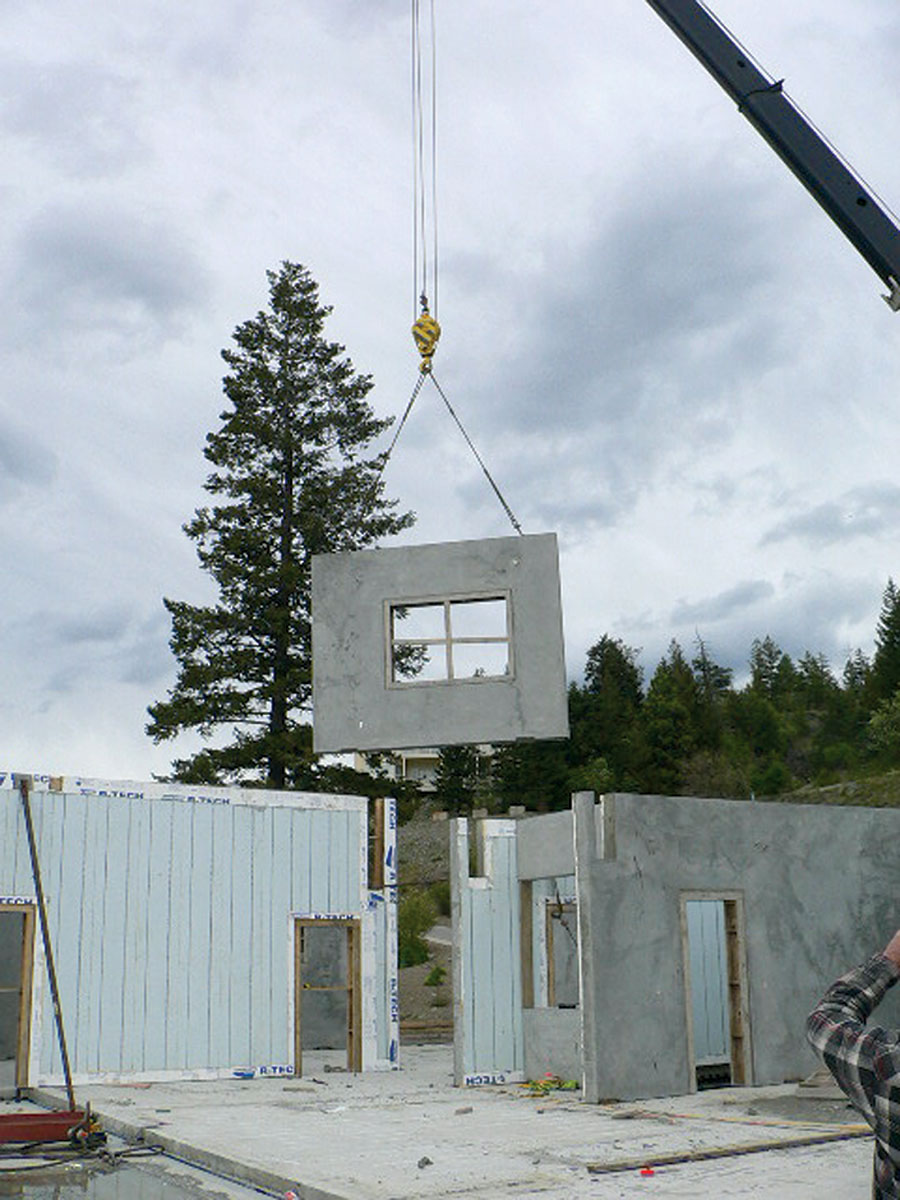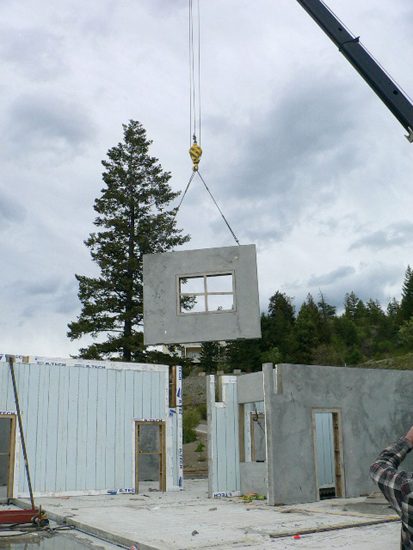 Gary Brown, vice president marketing and international at Amvic agrees, "We have been members of the tilt-up association for several years and these are a very hard bunch of contractors to crack. The tilt-up industry really has not embraced insulation, and the only reason they are starting to look at [insulated tilt-up] is the codes requiring continuous insulation in most of North America. My general understanding is that it still is a difficult market, and [some in the tilt-up industry] consider ICF a direct competitor and do not like us."
Despite the downbeat assessment, Amvic has moved ahead and developed a full range of tilt-up solutions. Dubbed "EnerTILT," the low-rise version uses a flat panel and is suitable for walls up to 20 feet. Measuring 2' x 4' x 3 ¼", it's similar to one side of the new Amvic 3.30+ block. For taller tilt-up walls, they offer the EnerTILT Ribbed Panel. With a profile similar to their AmDeck product, EnerTILT Ribbed measures 2' x 4' x 10" and incorporates a unique column design which allows for less concrete in the wall panel.
The Challenge
Insulated tilt-up is still in its infancy, and has a number of serious hurdles to overcome.
"My point of view is that the current technology is nowhere near where it needs to be," says Boeshart. "The tilt-up contractor is used to dealing with concrete on both faces, and if a wall needs to be insulated, they'll make a sandwich panel construction with Thermomass or something similar. Insulated tilt-up is trending toward concrete structural panels, and if ICF is going to be competitive, we should figure out how to get concrete on both sides of the panel."
Mike Kennaw, vice president of sales at Fox Blocks, adds that integrated furring strips are less of a draw than one might expect. "Tilt buildings do not require finish on the outside," he says, "and the way the cranes pick the panels, the insulation ends up on the outside of the wall. It's possible to turn them, but contractors don't like doing it. The challenge is how to pick the panel."
He continues, "We went to the TCA shows for a few years and did the hands-on demos, but it really hasn't grabbed on yet. They're pretty set in what they do and how they do it."