For many years, ICF contractors faced a simple choice when it came to window bucks: wood or vinyl. But over the past five years, a number of companies have developed systems specifically designed for ICFs that offer unique advantages. Today, building owners can choose from a wide range of bucking materials, including lumber, OSB, vinyl, EPS, steel, even combinations of these materials.
Each of these materials has advantages, and the choice will likely revolve around four major variables: cost, durability, labor savings, and insulation.
Wooden Bucks
Bucks made from dimensioned lumber have been used in conjunction with masonry and concrete for more than 100 years, so it's only natural that pressure treated lumber was used for the very first ICF projects.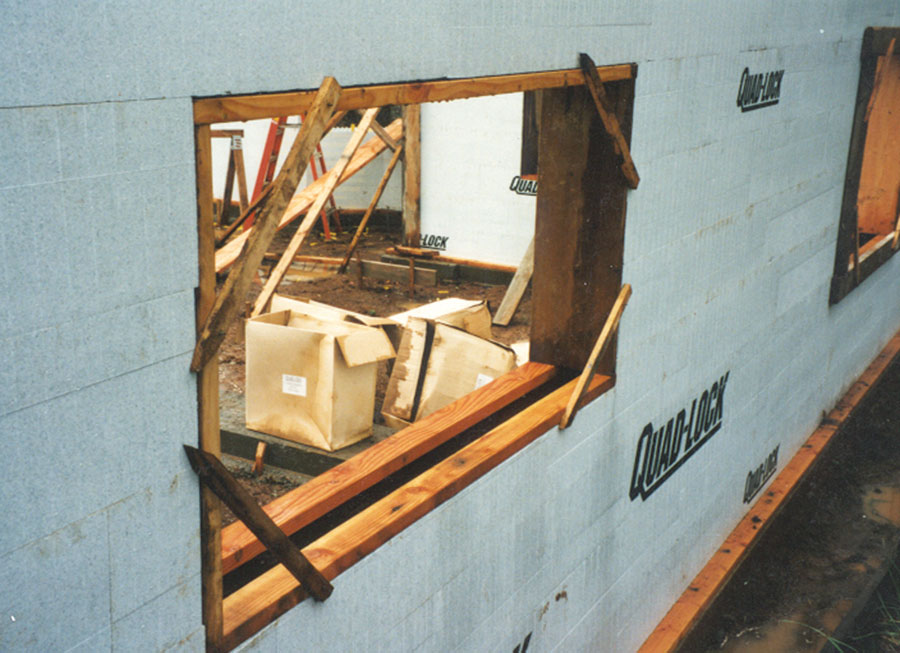 It's still a popular choice because it's cheap, easy to work with, and readily available. Construction crews know how to build, square and brace wooden bucks. Window installers have no difficulty working with them, either. The insulation value is usually more than adequate.
That said, wood does have disadvantages. It's heavy. Boards are subject to rot, warpage, and splitting. In termite-infested areas, they provide a pathway for insects to enter the dwelling. Of the five different materials covered in this article, wooden bucks are the most labor-intensive material.
Keep in mind that it's rare for dimensioned lumber to match the width of the ICF wall, so that means additional labor sawing the boards to the right width and associated waste. The preservatives used to treat wood only extends 1/16 to 1/8 deep, so each cut exposes untreated wood to the elements.
A few builders have tried to minimize waste by using ¾" plywood. This method works, but requires additional bracing because of the thinner buck. Others have tried to save money by using untreated wood wrapped in plastic to meet code requirements. This is usually so labor intensive that no net cost savings are realized.
If wooden bucks are the method of choice, experienced ICF installers give these tips:
Use only pressure treated lumber and exterior grade plywood to build your bucks. Pre-building the bucks off-site will increase on-site productivity and keep the jobsite clean. Use two 2x4s on edge for the bottom of the window buck. This creates a gap for concrete placement. Nails hammered into the outside surface of the buck will ensure it stays locked into place after the pour.
Vinyl
Many ICF builders prefer vinyl bucks because they're a no-hassle, lightweight, easy-to-assemble product that virtually eliminates callbacks. Customers choose vinyl for the same reasons they choose ICFs. Both are durable, termite- and mold-proof, contain no hazardous chemicals, and will never rot. Vinyl will not sustain a burn, and does not contribute fuel to a fire.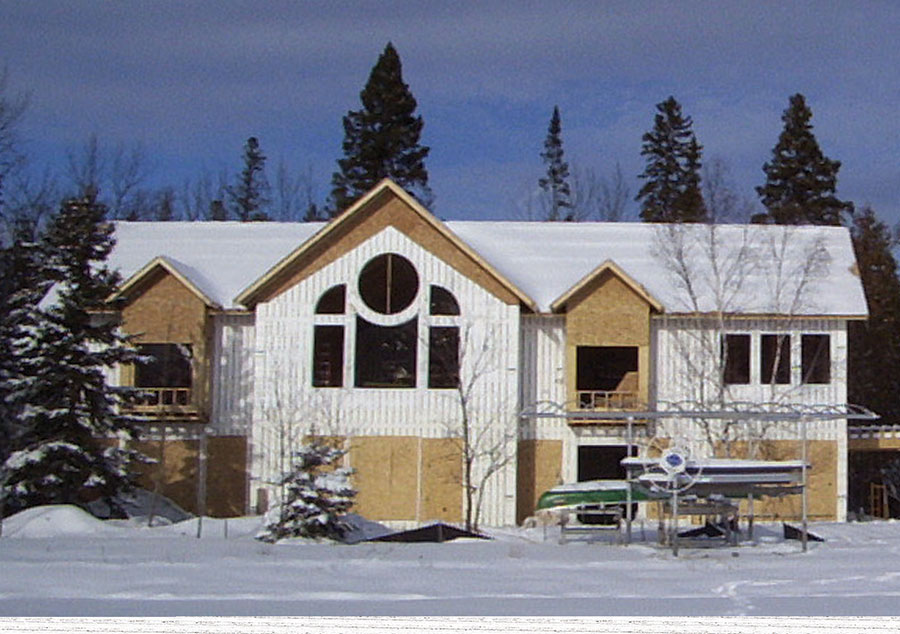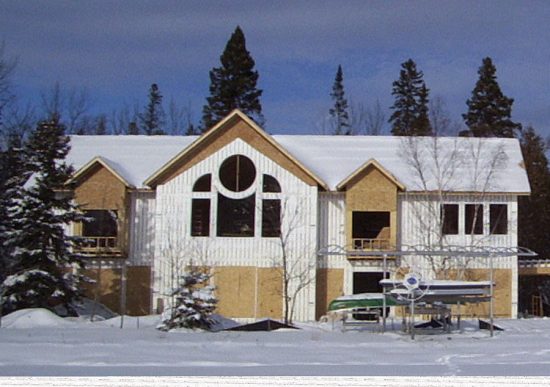 The most popular brand on the market is V-Buck, made by Vinyl Technologies, Inc.
"We've been making quality vinyl bucks specifically for the ICF industry since 1995," says Bruce Anderson, the company's general manager. We now make 16 different widths and can work with any ICF on the market.
"Our cost is very close to that of wood, and we can guarantee the price—unlike wood which varies considerably." It's considerably less expensive than steel. The product is freighted from Utah,
but many distributors stock the material locally so shipping is often negligible.
The big savings, Anderson says, come during installation. "I tell contractors that if labor is a cost, V-Buck is likely going to be cheaper." He says his bucks can be assembled in 20% of the time of a similar wooden buck; each blockout can be built and braced in five to eight minutes. Additionally, even large bucks can be placed by a single worker. Reusable triangular braces ensure each buck is perfectly square.
If plans have curved windows, vinyl's advantages are even more pronounced. V-Buck routinely makes round, half round, ellipse, eyebrow, oval and gothic openings to precise dimensions. Anderson says the company will pre-assemble the bucks if the customer requests it, and that field modification is fairly easy. Parts can be cut with hand or power saws, and are held together with standard screws.
If the building is intended for LEED certification, Anderson points out V-Buck is 100% recycled, and qualifies for up to six LEED points.
Over the years, a number of other companies have offered vinyl window bucks, but V-Buck is currently the only all-vinyl buck on the market. InsulBuck, a combination of vinyl and EPS foam made by Westra Industries, is discussed later in this article.
Steel
The first steel bucks intended for ICFs hit the market about four years ago, and have made significant inroads in the industry, especially in the heavy commercial/institutional sector where projects have hundreds of similar sized openings and fire ratings are crucial.
The Atlas Co. pioneered the use of heavy gauge steel for ICF blockouts with Stala, which they market as an Integrated Framing Assembly (IFA).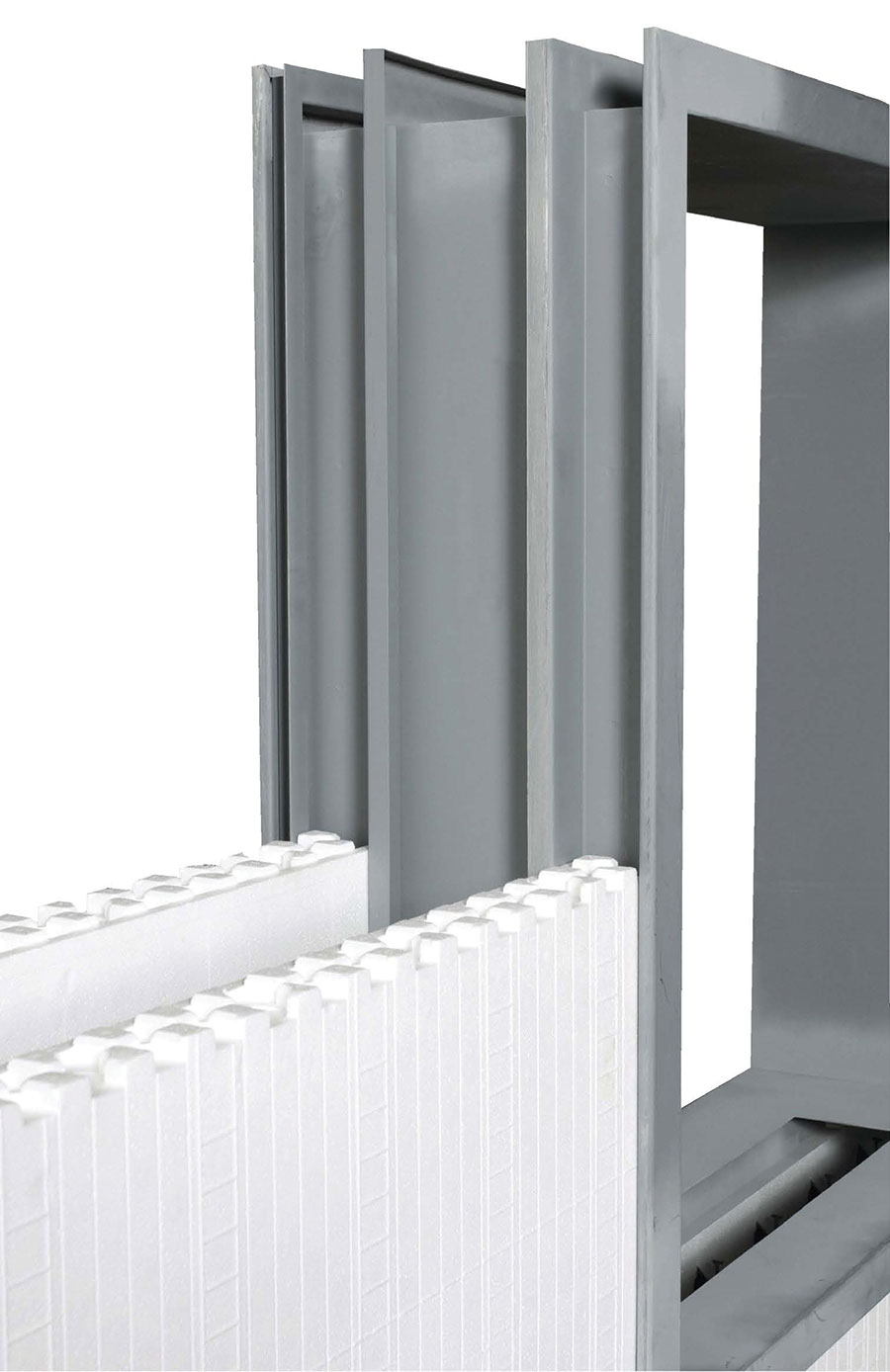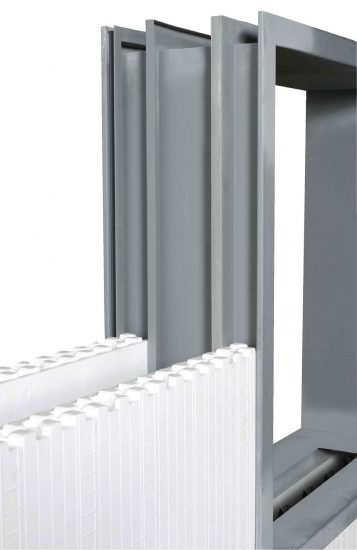 David Morris, general manager at Stala Integrated Assemblies, says, "Thinking of them as traditional bucks would be insufficient. They serve not only as the blockout, but also as the window or door frame that a contractor would later need to install under conventional bucking methods. They also help with wall alignment.
"Additionally," Morris continues, "IFAs come with a variety of closure returns on the exterior face that make it simpler for the exterior
finish contractor. The units also come with a drywall return on the
interior side, providing speed for the interior wall subcontractors. IFAs also include vibrator pockets in the sills to make it easy to consolidate concrete under the window."
As one might expect, these labor-saving features come with a price tag; of the five or six different materials mentioned in this article, steel IFAs are by far the most expensive. (They're also by far the heaviest.)
But Morris says that in the right situation, IFAs can pay for themselves. "The time and labor savings may not be realized on a home with 15 openings, or even a strip-mall with 30 openings. However, on a project with hundreds of openings, the impact becomes significant," he says.
Stala IFAs were used on several ICF schools in Kentucky, and significantly reduced the overall project cost. Morris says the Joseph Warren Middle and High School in Bowling Green, Kentucky had almost 500 openings. By installing the window and door frames, returns, and other materials in the buck, labor savings more than paid for the up-front material cost.
Currently, two heavy-gauge steel ICF systems are on the market: the Stala IFA by Atlas; and the Noric f4 by Reward. (At least one company experimented with light-gauge galvanized steel bucks, but found the material unsuitable for long-term use. That product is no longer on the market.)
Troy Gibson, marketing manager at Reward, describes Noric as "a pre-welded and preassembled metal ICF frame that is custom designed to fit any ICF form size and is shipped directly to the job site." Although it's marketed by Reward Wall, Gibson says the product is available for any ICF project, and has been used successfully with competing brands.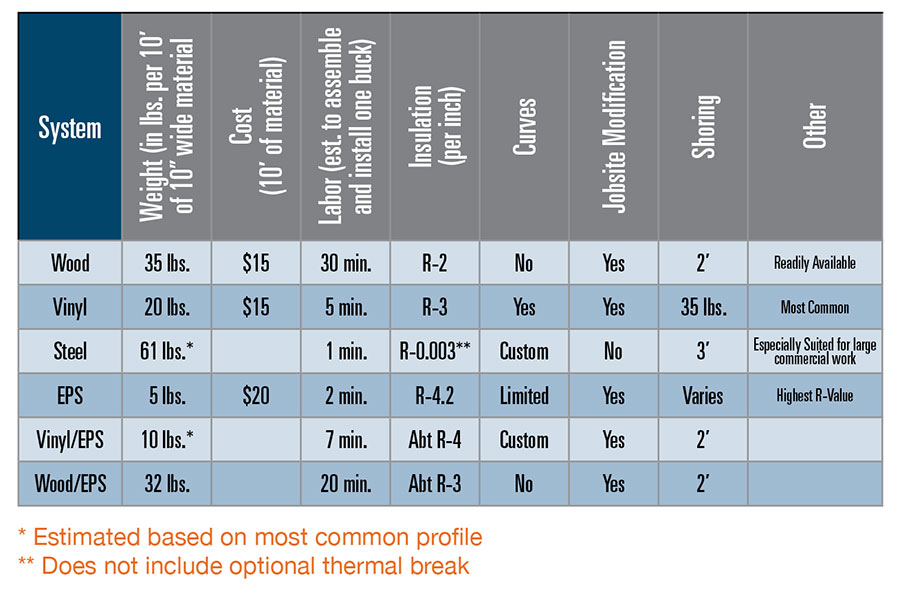 Anderson, at V-Buck, says steel makes sense for any project with high fire-rating or security requirements, citing the case of a prison being built with ICFs where vinyl simply didn't have the properties the builders wanted.
Steel's outstanding structural strength is also useful in areas prone to natural disaster, and in military applications with blast-resistance requirements. Both Stala and Noric are mechanically fastened to the concrete, anchoring the walls and floors together.
Steel IFAs can be custom made to fit arched, round, and other curved openings as well.
However, steel does have other drawbacks besides its cost and weight. For instance, unlike wood, vinyl, and foam, steel IFAs cannot be field modified. Rust can be an issue on locally-fabricated bucks (both Stala and Noric come pre-finished to avoid this issue) and thermal bridging is a major concern.
Recently, Noric and Stala have introduced an optional thermal break in their IFAs to improve insulation.
EPS
At least two ICF companies promote using their EPS endcaps to build window and door bucks. According to Jim Buttrey, vice president of sales and marketing at IntegraSpec, "the versatility, insulating value, and zero waste of this method gives it significant advantages over every other system out there."
The IntegraBuck, as Buttrey calls it, slides into the dovetail grooves on the interior of the concrete cavity, locking it into place. Furring strips molded into the endcaps ensure secure window attachment points. Webs can be inserted into the furring strips if additional mechanical attachment to the concrete wall core is desired.
Last year, the company unveiled their EPS "Santa Fe Style Buck," which is molded with 30° angles on the face, providing increased viewing, better moisture shedding, and improved door operation.
EPS bucks are also offered by vertical ICF brand TF System and several others.
Buttrey points to four major advantages EPS bucks offer:
Faster installation—The endcaps simply slide into place while assembling the walls.
Less cost—EPS is cheaper than wood, vinyl, or steel, and labor is minimal.
Better energy performance—By protecting the concrete core at window and door penetrations, it assists the wall's thermal mass.
Greater design flexibility—Buttrey claims EPS bucks are better suited to stucco finishes, and the Santa Fe version creates more light with smaller window sizes.
While these benefits may seem brand specific, the truth is that any of the major ICF brands can be used to create EPS bucking material.
Tom Patton, technical support manager for Arxx, says the company has discontinued manufacturing for all their former proprietary bucks and now encourages builders to site-fabricate them using the standard exposed-tie form (Arxx-Edge).
Here's how: Take a regular straight ICF form and cut the ties down the middle, separating the two foam panels. On a table saw, rip the panel into strips matching the exact core width of the form. Then, use the panels to block out the window opening.
The cut half-ties anchor the bucks to the concrete; the furring strips provide attachment points for the window and door frames.
Like every other bucking system mentioned, EPS bucks have drawbacks too. For starters, they need extensive reinforcement. Basically, a temporary wooden buck must be built inside the EPS buck to support the concrete. (With the IntegraSpec system, only the header must be supported; the sides have sufficient strength without additional bracing.)
Other drawbacks include termites, bugs, and potential fastening difficulties. Arches and other curved openings are problematic, but not impossible.
Composites
Several companies have unveiled products that seek to take advantage of multiple materials while minimizing the drawbacks. These include InsulBuck, an EPS/vinyl system; and Gorilla Buck, an EPS/wood system.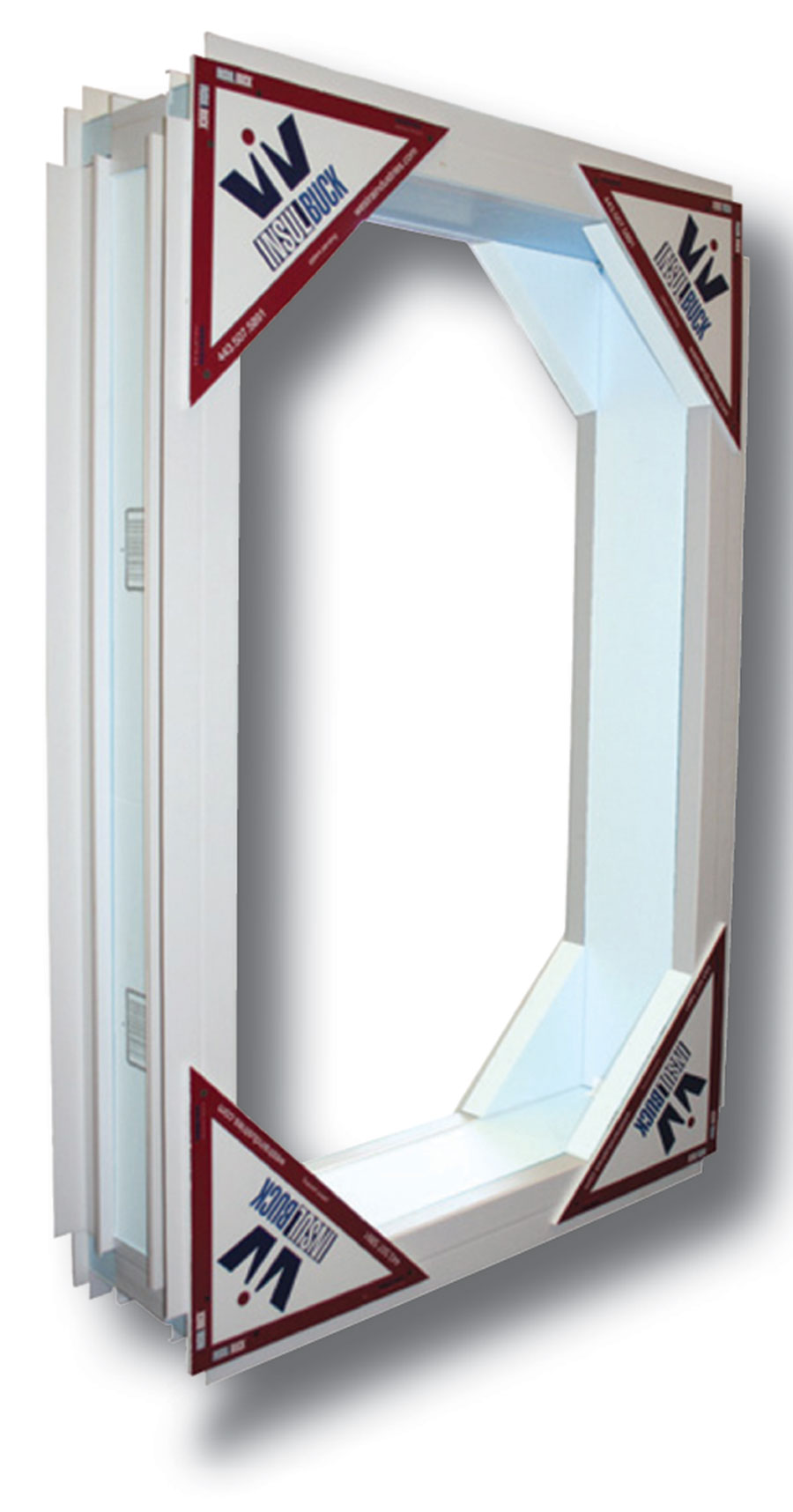 Westra Industries introduced InsulBuck in the spring of 2009, touting the system's R-Value (five times higher wood) and durability. It consists of two exterior frames made of extruded, recycled vinyl, connected with two-inch-thick high density (two pound) EPS foam. The foam can be cut to match any ICF width, and the vinyl provides ready fastening. It can be special ordered to fit non-rectangular openings.
The latest product to be introduced is Gorilla Buck, a sheet of EPS foam encased in a wood-based fastening system, usually ¾" oriented strand board (OSB).
High-volume users can buy the machine used to produce the bucking, and can use plywood, PT plywood, fiberglass or even Hardieboard in place of the OSB. The idea is to replace wood with something which won't warp or twist, and improve the R-Value by placing EPS foam in contact with the concrete wall core.
Integral flashings and rebar chairs for lintels are additional marketing points.
Caveats
Earlier this summer, half a dozen ICF manufacturers collaborated to test the air infiltration rates of various window bucks in a laboratory setting. Unofficial results were surprising enough that the data is being re-analyzed. When official numbers become available later this year, this magazine will publish additional details.
Regardless of the buck you choose, there are two areas that frequently cause concern. The first is bracing. Wood and steel bucks need bracing every two feet. EPS needs near constant support. Vinyl falls somewhere in between.
Regardless of the buck you choose, there are two areas that frequently cause concern. The first is bracing. Wood and steel bucks need bracing every two feet. EPS needs near constant support. Vinyl falls somewhere in between.
A second area of concern is detailing popular acrylic finishes. Dissimilar materials will usually cause cracking. With steel, the IFA is left exposed. With wood, the buck can be set inside the cavity or furred out with foam. Vinyl bucks are usually furred out. EPS bucks, of course, need no additional treatment.
Whether your next project uses steel, wood, vinyl, EPS, or one of the new composite systems, all can be used to create beautiful, durable, efficient buildings. Just remember that each material has its strengths and weaknesses.
"You have to respect the material," Anderson says.