Casitas Vera Cruz, in Bakersfield, Calif., was built using pre-panelized wall section. Built indoors and trucked to the jobsite, cycle times were dramatically reduced.
It was only mid-morning, but the 4-man crew was making good time. Only a few hours earlier, the home site had been little more than a slab. Now at least half of the walls had already reached finished height.
By mid-afternoon, the crew would have the walls completed, with rebar and bracing in place.
Tomorrow morning, they'd make final adjustments before the pump truck arrived to fill the exterior walls of the 1,500 sq. ft. home with concrete. With luck, they'd be done by noon, and the crew could begin assembling the ICF walls on the next home. 
Exterior walls erected, braced, and poured in as little as a day and a half? It's not only possible, say crews from Insulated Concrete Walls, a specialty ICF installation subcontractor, but they've done it over and over again. A time-lapse video to prove it is on the magazine website.
Casitas Vera Cruz, a 17-acre development in a working class section of Bakersfield, Calif., is a prime example. The 133-home subdivision was completed in about 11 months. 
Production was so impressive than representatives from Pulte Homes and Lennar Homes, two of the nation's largest homebuilders, visited the project to investigate.
The secret? Builders pre-assembled the walls in a controlled factory environment, delivering them to the jobsite in numbered, panelized sections, which virtually eliminated waste and weather-related delays. 
They're not the only company to discover this technique. 
TF System, American PolySteel, Greenblock, Reddi-Wall, and others are experimenting with the advantages panelization offers. 
For starters, it keeps your crews out of the weather.
"One of the big advantages is that site conditions don't really matter," says Ed Scherrer, owner of Performance Building Products, the Minneapolis-based PolySteel distributor that pioneered panelization. "The worse the site conditions are, the more sense it makes to the work in the shop. If your area has adverse weather conditions, windy days, cold weather, and so on, you can virtually eliminate those delays."
"Productivity increases as well," Scherrer continues. "In the cold Minneapolis winters, we can keep crews busy assembling walls in a heated shop instead of out on a freezing jobsite."
Jeff Schommer, sales and marketing manager at TF System – The Vertical ICF, lists off the other advantages. "Besides being able to build on bad weather days," he says, "you extend the building season, reduce travel to the jobsite by 60% or more, and you get to leave most of the tools at the shop." He claims that having all the tools at hand in the shop gives productivity a huge boost, and that the waste factor decreases significantly as well.
"It definitely reduces the waste factor," agrees Scherrer. "Everything is put into in bins and sorted by size, where otherwise it would be garbage. If you need a piece that's 22 ½ inches, you just go to the 24-inch bin and you waste only an inch and a half." 
Then there are the intangibles, like having a cleaner jobsite. Tool theft drops to zero because they never left the shop. And those odd days when the crew finishes up early? Send them back to the shop to start panelizing the next job.
Jeff Alexander, vice-president of ICW, says the main advantage is the decrease in cycle times. "If you're doing a
fast buildout on a production scale, it can cut your costs
down significantly. ICW has panelized jobs from California
to Florida.
Scherrer says the construction process is easier with panels as well. "If footings are not perfect, panelizing lets you set one corner, and shim it. It's easier with larger, more rigid panels. It's also easier to check diagonals on frost walls, or walkout basements," he says.
Several contractors claim the panelized walls are more rigid during pours.
The Process
The first step in any panelization job is do the take offs. Scherrer figures out the panels based on window and door openings.
Bob Martin, co-owner of Reddi-Wall, tends to focus on the size of each panel. "Divide the wall into workable increments," he says, "up to about 15 feet long and eight, nine, or 10 feet tall." Martin prefabs the re-bar and sends it to the jobsite in packets, numbered to match the numbered panels. Schommer, at TF, installs the rebar in the shop. "You can panelize entire walls, or just the window and door sections," he says.
ICW crews have done it both ways, depending on the amount of steel in the wall.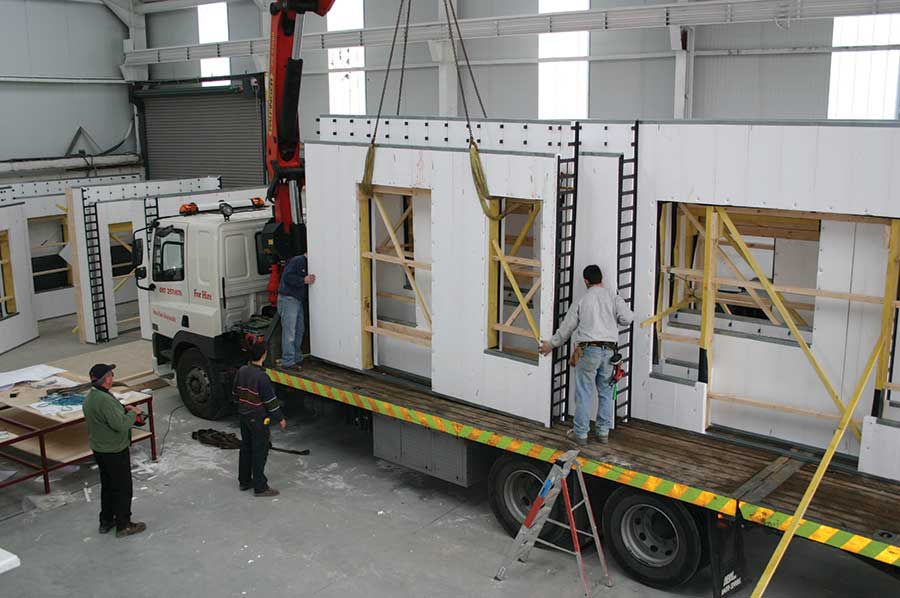 As far as actually connecting the individual pieces that make up a panel, techniques vary depending on the brand of ICF. Greenblock relies on the forms' robust interlock. Reddi-Wall panels stay together thanks to the unique furring splines.
PolySteel, which uses a tongue-and-groove interlock, requires glue between every course. "Glue is inexpensive compared to labor and ICF rates," says Scherrer. "They line up better and you've eliminated any chance of float or compression."
Martin points out that it also eliminates any possibility of
field modification.
Bucks can be inserted at the warehouse or jobsite. "If it's V-buck or something, we'll install it as we build," says Schommer. "For wooden bucks, we've done it both ways."
Lightweight panels are easily loaded on trucks for shipping. If the walls are 8' tall or less, they can be loaded in a traditional enclosed trailer. Taller walls can be shipped on a flatbed. 
David Kozial, a contractor in Wisconsin who builds with TF, actually does the panelization on a flatbed truck, laying down each section when completed.
Once at the jobsite, the numbered panels are easily set up by hand, and the horizontal rebar is slid into place, if it hasn't been done already. Next comes the bracing and the vertical rebar. Martin recommends using laser levels to ensure walls are square and plumb. 
From there, the pour can proceed as normal. A video of a panelized wall going together is available on the magazine website www.icfmag.com.
Actual Time Savings
"Panelizing cuts so much time out," says Martin. "It takes a day to pre-assemble the walls, and a day to preassemble and bend rebar. Once you're on the jobsite, it goes real quick. I've seen 250 linear feet of 10-foot wall set, braced, and poured in a single day."
"It's fairly typical to send out panels in the morning and pour that afternoon," agrees Scherrer. He oversaw the ICF portion of a PATH home built in Omaha last year. "It was panelized in Minneapolis and trucked to Omaha, a couple hundred linear feet of 8-foot walls, plus a detached garage. The six-man crew had never done panelized, but had done ICF. We had those walls up by noon, were pumping concrete at one, and I was on a plane home by 4 p.m."
"If you were doing multiple builds of the same plan," he continues, "it could be even faster." 
That's what ICW did with the Bakersfield job. 
Still, says Martin, there are certain jobs that are easier to stack on the site. "If it has bay windows, lots of odd corners, or too many reveals to keep the panels rigid, you're better off building at least those sections on site," he says.
Conclusion
As more ICF contractors move toward production building, panelization is becoming more common. It drives down the cost of ICFs by reducing labor and material costs. 
Dale Arrington, a Virginia contractor sums up. "Waste is nil, weather isn't an issue, and the jobsite is nice and clean… In general I must say I am absolutely sold. The wall was solid on the truck and on the crane. A couple of strongbacks on the walers and you could almost pour the wall without bracing."
Scherrer says that the staging area doesn't need to be very big, if you want to try it on your next job. "If you have warehouse capacity, you have space," he says. "People have done this in a two car garage."