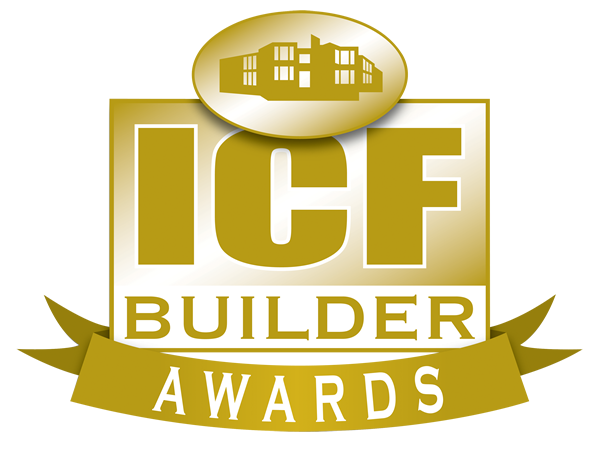 2006 Residential Development
Winner
Casitas VeraCruz, a 133-home development in Bakersfield, California is an outstanding example of superior quality housing, marketed at an affordable price.
The development, located on a 17-acre site in a working class section of Bakersfield, was built using insulating concrete forms.
The project was awarded "Best Residential Development" at the 2006 ICF Builder Awards. The judging panel noted that the developers did a fantastic job in providing an energy-efficient home at an extremely affordable price point. The panel also cited the speed with which the project took place as well as the attention the project attracted, as major factors in the decision.
"The goal was to bring a high-quality, safe, energy efficient home to the area at an affordable price," says Steve Reiter, marketing director for Insulated Concrete Walls. 
The finished homes, which vary between 1,100 and 1,800 sq. ft, cost about $112 per sq. ft.
"Because the goal was to minimize costs, detailing was kept to a minimum," says Reiter. "However, floor plans were designed to be functional by eliminating wasted space and providing rooms families will utilize. With a minimum of 1,100 sq. ft., even the smallest home plan has 3 bedrooms, 2 baths and 2 car garage; roomy enough for small families yet still affordable."
Developed by Homecrete Homes, the neighborhood also has open space for a small park and playground, providing a safe, appealing place for children to play.
Homecrete Homes is the nation's largest builder of insulated concrete homes, and is currently working on similar energy-efficient developments in the fastest growing housing markets. "These homes will have a direct impact on the environment because of their lower energy consumption throughout the development's useful existence," says Reiter.
One way the developer was able to control costs was by minimizing cycle time; the entire development was completed in about 11 months. Insulated Concrete Walls, a professional ICF installation contractor, was hired to erect the exterior shells of the buildings. 
Walls were pre-assembled in a controlled factory environment and delivered to the jobsite in numbered, panelized sections. This not only reduced jobsite clutter, but virtually eliminated waste and weather-related delays. 
Using the panelized sections, a four man crew could erect, align, and pour the exterior walls in as little as a day and a half.
Production was so impressive that representatives from Pulte Homes and Lennar Homes, two of the nation's largest homebuilders, visited the project to investigate ICF technology.
"This attention from the large production homebuilders will result in increased visibility for the entire industry and ultimately lead to dramatic increases in industry market share," notes Reiter. 
"ICF developments of this size are still uncommon. Our hope is that this project will serve as an example of what can be accomplished with ICF construction."
Have you worked on an outstanding ICF project recently? Give it the attention it deserves by entering it in the ICF Builder Awards. Deadline for entry is Oct. 26, 2007. Complete rules, judging criteria, and entry materials are available on the web at www.builderawards.com. 
Like what you read?
Yearly Subscriptions Starting @ $30