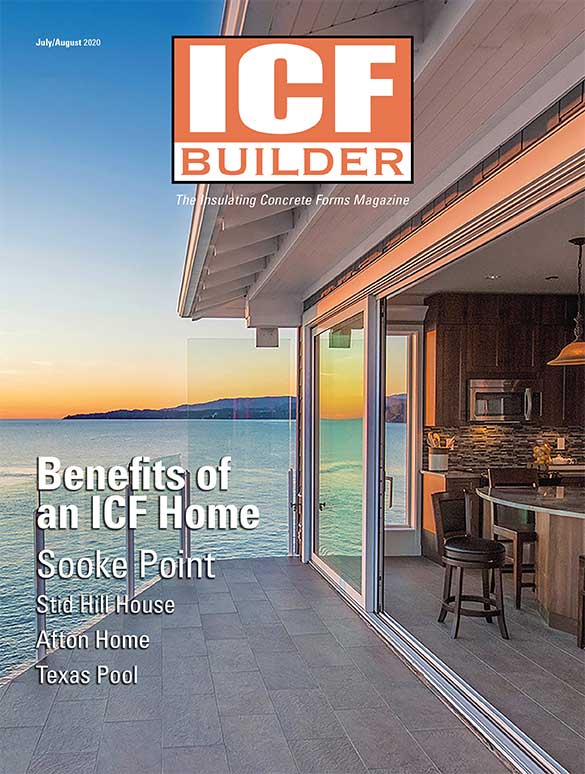 Features
Stid Hill House
A highly successful project by a first-time owner/builder shows how ICFs are perfect for custom homes.
Sooke Point 
Built on a rugged cliff just yards from the surf, this Canadian luxury vacation development is a beautiful example of how ICFs can resolve otherwise difficult construction issues.
Afton Home 
Winner of the Best Large Residential Project at the 2020 ICF Builder Awards, this off-grid-capable Virginia home features stamped concrete floors and over-and-under garages.
Benefits of Living in an ICF Home
The safety, quiet, energy savings, and other advantages of ICFs make them a perfect choice for most locations and climate zones.
Texas Swimming Pool
This backyard swimming pool was built by an ICF installer for his own enjoyment, at half the price pool contractors would charge.
Departments
As I See It: A Smart Choice
From the Mailbag
ICF News Roundup
In the News: The 2021 ICF Builder Awards
From the ICFMA
Design Perspectives
New Products
Bruce Anderson, president of Virginia-based Polycrete USA, is head of a successful ICF company.  He's also a dedicated runner and philanthropist.  In late October, he is running the New York City Marathon this year to raise funds to cure cancer. To contribute, readers...
read more
Like what you read?
Yearly Subscriptions Starting @ $30