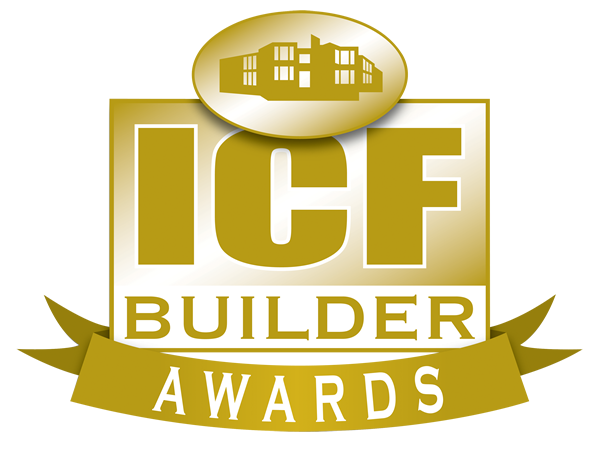 2023 MultiFamily-Low Rise
Winner
Zero Place in New Paltz, New York, is a mixed-use building consisting of retail, apartments, and amenities, built using Fox Blocks by Airlite Plastics Co. The nearly 63,000 square foot building was completed in March 2022 for a total cost of $11 million. The builders took 70 days to install the ICFs out of a total project construction time of 102 weeks, estimating that they saved two months of work time by using ICFs.
Zero Place is a large, four-story structure including 8,400 square feet of retail on the first floor and 46 one- and two-bedroom residential units on floors two, three, and four. A mixed-use building of this size often presents logistical challenges, says Mike Kennaw, vice president of sales and marketing for Fox Blocks. "In general, ICFs are the most efficient way to build a thermal envelope with minimal thermal bridging. Although this was the ICFs installer's first project, he completed the four 100-foot-long-by-45-foot tall
walls seamlessly."
Site & Design
The location of the Zero Place build caused some difficulties, including clay soils with a high water table on a brownfield site. The site needed soil and structure removal and remediation. The city of New Paltz required the architectural design of Zero Place to align with the classic architecture that already existed. The exterior finishes were completed with cultured stone, face brick, and clapboard siding, which blended nicely with existing buildings. "The project was designed and built to resemble a dog bone shape, which broke up the mass of the building," Kennaw says. "This building is also the largest in the village and has exterior community spaces which allow for outdoor activity, including a sculpture pedestal to represent and honor the local artistry."
Sustainability From The Start
The name Zero Place represents the decisions supporting sustainability that went into the project, starting with the use of ICF as the construction material. Zero Place is certified as LEED Platinum, is HERS Rated, aligns with the Department of Energy's zero-energy program, is Energy Star efficient, and is listed as an Indoor AirPlus qualified home according to the U.S. EPA. "With an integrated geothermal heating, cooling and domestic hot water system, there is zero energy loss, and all additional energy produced is sent back to the building's energy grid," says Kennaw. The roof is covered with solar panels which consistently generate energy. All of the lighting is LED and the water comes from low-flow fixtures. "As a whole, these sustainable alternatives perform 37% above code and fall 65% above the New York State Energy Conservation Code, saving 169,488 kilowatts of energy per year," says Kennaw. 
Amenities include 20 electric-vehicle charging stations, which also include electric bike ports, along with bike racks on the property and bike lanes along the street. An on-site bus stop also encourages alternative transportation. Triple-paned windows, high-R slab and roof assemblies, including a roof deck with 14-inch open-cell spray foam encased with two-inch closed-cell insulation, an air-tight construction strategy, and thermal bridging reduction were additional sustainability considerations.
Zero Place is a winner of New York State Energy Research and Authority's (NYSERDA) first-ever Buildings of Excellence award in 2019. During its late design phase, Zero Place became the reference project for the state of New York to assess the effectiveness of a combined HVAC and domestic hot water systems in a single, building-wide geothermal system. NYSERDA is independently monitoring the system, which will inform future policy meant to achieve New York's goal of economy-wide carbon neutrality by 2050.
In 2020 and 2021, the developers presented Zero Place at the national Energy and Environmental Building Alliance and will be presenting at the New York State Green Building Conference in 2023.
Other engineers and builders are planning to tour the building, which also hosted a pro-tour with the Northeast Sustainable Energy Association with great success. In April of 2022, Zero Place received LEED Platinum Certification and won the New York State of Opportunity Buildings of Excellence Award. 
"The project's team has successfully developed a replicable and scalable model for zero-energy building strategies," explains Kennaw. "This model significantly reduces the environmental impact of new residential and commercial development throughout the state of New York and other cold-climate regions. Just as importantly, the resilient design features have been prioritized for the project in order to create a safe haven for the building's residence, given the increasing prevalence of severe weather conditions. Overall, the design of Zero Place is intended to meet and exceed the leading energy efficiency and performance standards in the New York market on a cost-competitive basis."
Choosing ICFs
All three owners of Zero Place have experience working with Fox Blocks and ICFs. One of the owners had previous experience with Fox Blocks on several ICF residential developments and subdivisions, in more than 50 homes. Another one of the three owners lives in a net-zero ICF home, which made this build particularly significant. The third owner is also the builder, who has experience building high-performance multi-family structures. 
Project Statistics 
---
Location: New Paltz, New York
Type: Mixed-use retail & apartments
Size: 62,800 sq. ft.
ICF Use: 29,000 sq. ft.
Cost: $11,000,000
Total Construction: 102 weeks
ICF Installation Time: 70 days
Construction Team 
---
Owner: Zero Place LLC
General Contractor: Affordable Housing Concepts
ICF Installer: E Hansen Corp.
Form Distributor: Fox Blocks, White Cap – Albany
Architect: Bolder Architecture
ICF System: Fox Blocks
Fast Facts 
---
4-story mixed-use building with 46 living units
8,400 sq. ft. of retail on the first floor
Zero-energy living with rooftop solar
Gym with equipment that generates power
Solar-powered car and bike-charging stations
Geothermal heating and cooling
Like what you read?
Yearly Subscriptions Starting @ $30