A range of interior ICF finishes can achieve virtually any look and texture. The walls of this exclusive "healthy home" on Bald Head Island, North Carolina are coated with earth clay from American Clay Plaster, which comes in 43 integral colors and can even regulate humidity.
ICF installers and designers like to say they can match any look or style of home.
It's true that insulated concrete forms can accommodate nearly any exterior finish. Textured acrylic finishes, stuccos, brick, stone, and siding can easily be applied.
Until recently, though, interior wall finish options were limited. Due to national fire codes, nearly everyone installed regular gypsum drywall with a sprayed-on texture. But in the last few years, a number of companies have developed products that make finishing the interior of ICF walls easier, faster, and more cost effective than ever before.
Designers and contractors can now offer an unlimited variety of styles, textures, and colors on the interior walls as well. What's more, these options are often healthier and more durable.
"It's no secret that many ICF pros regard drywall as a problem material," says Andrew Dennis, president of GigaCrete. "Gypsum board is fragile, and ceiling installation is laborious and time-consuming. In addition, paper-lined drywall… supports growth of damaging mold and mildew, creating a health risk for occupants."
PlasterMax
In response to these challenges, GigaCrete created PlasterMax-ICF. It's a rock-hard, fire-rated interior finish that can be sprayed or troweled directly over the EPS foam. No drywall or reinforcing mesh is required.
"PlasterMax-ICF offers ICF builders a long-sought and superior alternative to gypsum-board finish," says Dennis, adding that the product can be applied using a number of different techniques, depending on the labor cost and the required performance of the finish.
The most cost-effective application is a single coat of PlasterMax base coat (PMB) sprayed or troweled directly onto the foam. Applied in a minimum thickness of 3/8 inch, it is paint-ready, code-approved and fire-rated. It's also ten times stronger than traditional drywall, with a compressive strength of 4,000 psi, compared to the 400 psi compressive strength of 1/2 inch drywall.
Add a topcoat of PlasterMax-Finish (PMF) and performance is even more impressive. An 1/8" layer of PMF over a ¼" base coat has compressive strengths of 8,000 to 10,000 psi and is twice as abrasion resistance as cast-in-place concrete. The ready-to-paint, ceramic-like finish will hold up to a tremendous amount of abuse, perfect for correctional facilities and junior high school hallways.
In commercial applications, there are significant labor savings if the product is used as a fire barrier above suspended ceilings.
"PlasterMax base coat makes the above-ceiling job a snap," Dennis says. "When sprayed through conventional plaster and stucco sprayers, PMB rapidly fills voids around pipes and ducts with one coat and doesn't need to be troweled smooth so long as minimum thickness to pass fire code is met."
PlasterMax can also be applied over drywall. It can mimic the look of an expensive, hand plastered wall, but the primary purpose is to increase durability. It's a great fit for schools, hotel rooms, apartment buildings, lobbies, hallways, prisons, warehouses or any other abuse-prone or abrasion-prone area.
PlasterMax has a working time of approximately one hour and reaches about 4,000 psi within a few days. The bond to EPS foam is permanent, and PMB cannot be separated from the ICF block without ripping away the foam beads. The product also creates a thermal barrier that prevents the EPS foam from melting despite intense heat. According to Dennis, a thin coating of PlasterMax will protect foam from flames as hot as 1,500 degrees.
Composed of zero-VOC, non-combustible recycled materials, PlasterMax does not off-gas. And because of its recycled content, it can contribute to certification under any of the popular green building programs.
"LEED-qualified PlasterMax-ICF is what gypsum board is not," Dennis states, "namely, abuse resistant, certifiably "green," mold/mildew/moisture resistant, and labor saving—especially in above-ceiling applications."
The product has been reviewed favorably by Architectural Record, ENR News and Popular Mechanics. It's also been used in several high-profile ICF projects, including the NextGen show home in Las Vegas, Nev., and the Joseph Warren Middle and High School in Bowling Green, Kentucky.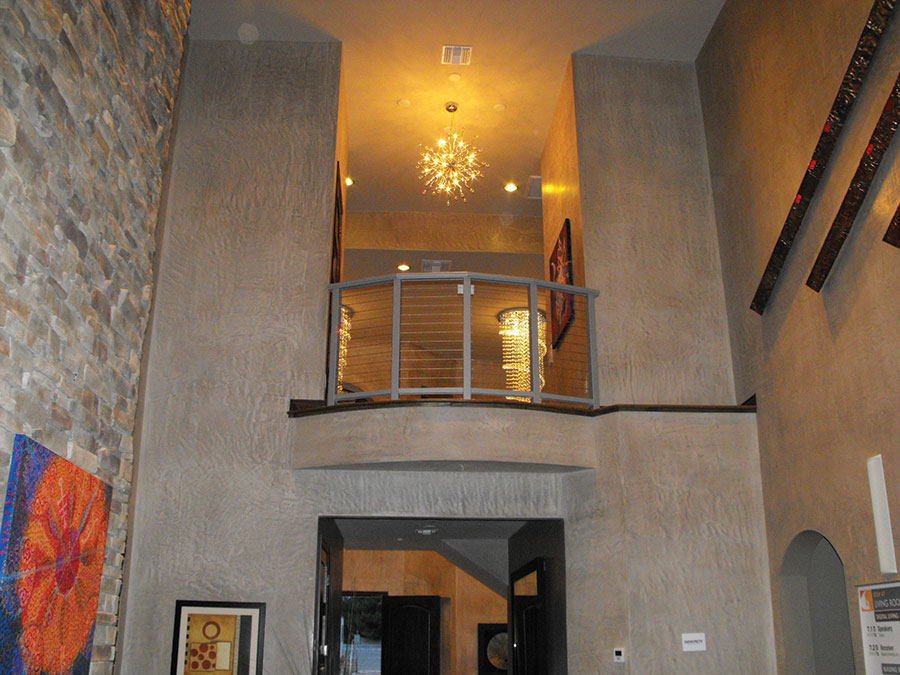 The striking entry of the NextGen home in Las Vegas is finished with PlasterMax, a new ICF finish from  GigaCrete. Applied directly over the Nudura ICFs, PlasterMax is ten times stronger than gypsum drywall, and is available in a range of colors and textures.
Earth Clay Plaster
Earth Clay plasters, such as those made by American Clay, are another great option. Like PlasterMax, it can be applied over drywall, or directly to the foam. If the applicator chooses to skip the drywall, it does require a sanded basecoat, or "browncoat" to be applied first.
Croft Elsaesser, the company president/CEO, strongly recommends drywall. Cement browncoat, usually used as an intermediate layer in modern plastering can be substituted, but it must be a polymerized browncoat. Browncoats without polymers require mechanically fastening a metal lath to the ICF to ensure adhesion.
Of course, the discussion may be moot, as ceilings and partition walls need to be drywalled regardless of the finish used on the ICF portions.
Clay plaster is a natural product, composed of marble dust, potters' clays and mineral pigments. It's troweled onto the wall in two coats totaling only 1/16 of an inch thick. And unlike regular plasters and drywall muds, there's no sanding involved. For a smoother finish, it's simply moistened and burnished with a trowel.
Carol Baumgartel, vice-president of marketing at American Clay, says most of the marble dust is recycled from other industries, so the product is 72% post-industrial content by weight.
"Our earth plaster is very environmentally-friendly and people-friendly," she says. The product will regulate humidity and is available in 43 naturally pigmented colors. It also has a negative ionic charge, which Baumgartel claims repels dust and makes occupants feel better.
Bill Kennedy, a Texas-based blogger and software engineer, used the product on his own ICF home a few years ago. He calls it "the most amazing organic wall covering we've ever come across."
"It naturally helps to moderate interior climate by regulating aridity and humidity," he says. "It absorbs or releases moisture as the interior humidity changes. No beaded water drops on bathroom walls! It's warm to the touch in winter and cool in summer. There are no VOCs and since the pigment is in the mix, no painting."
In dry climates, it also reduces energy use. By absorbing and releasing water, the walls act as evaporative coolers, keeping the house significantly cooler in the summer. In the winter, the process is reversed.
American Clay products have been used on hundreds of projects, including a number of well-known ICF show homes, including the NAHB-sponsored PATH Concept Home in Omaha. It was also used in the Pueblo West Home, which won the 2005 ICF Builder Award for Custom Home of the Year.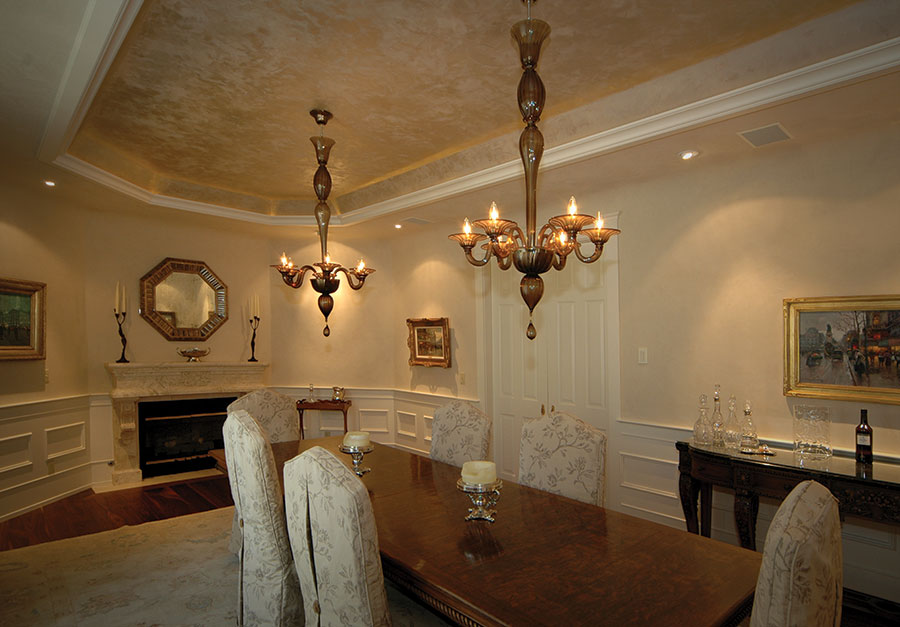 Celeste Wegman, designer of the North Carolina healthy home says clay plaster's "suede-like texture adds depth to the interiors."
Sider-Oxydro
A third option is to bring an acrylic stucco—commonly used as an exterior finish—inside the home. Sider-Oxydro, a Georgia-based ICF finish manufacturer, makes a product specifically for interior ICF use.
Like most acrylic stuccos, it is applied directly to the foam, and no drywall is needed. The cement-based product can be troweled or sprayed on, and is reinforced using 6-oz. fiberglass mesh. A second coat of the same product finishes the wall.
While it can be painted, the interior finish is available in 40 different colors and a variety of textures. Sider's Power-Kote also provides the required fire barrier without the use of drywall.
Styles
With these products and others like them, the interior of ICF buildings can now show as much versatility as the exteriors.
PlasterMax-Finish Coat can create a smooth, ceramic-like surface, but can also create a variety of other looks. The base coat, for instance, can be troweled, textured, sealed, painted, or stained. It can even imitate a Venetian finish.
American Clay Earth Plasters are available in an endless variety of textures and three finishes: Lomo, for a soft even look; Porcelina, for a more polished appearance; and Marittimo, which features a unique seashell aggregate. All of them are available in dozens of colors.
Baumgartel says the product can match any style "from old-world palazzos to post-modern lofts, desert retreats to beach bungalows."