2024 ICF Builder Awards
Awarding the Industry's Finest
Wednesday,  January 24, 2024
This year the 2024 ICF Builder Awards will take place in person at the World of Concrete in Las Vegas, Nevada on January 24, 2024. The awards event will be held just outside the North Exhibit Hall in Room N256. Doors open for general admission at 5 pm, with the actual presentation running from 5:30 p.m. to about 6:15 p.m. Feel free to stay and socialize after the presentation. We'll have drinks and light refreshments, and plenty of conversation tables to facilitate networking.
What: ICF Builder Awards Ceremony
Where: World of Concrete, North Hall – Room N256
When: January 24, 2024 from 5 – 7:30 pm
People's Choice Awards!
Due to popular demand, we will be holding our People's Choice Awards competition again this year. Everyone will be allowed to vote for their favorite project out of the top three projects in the following categories: Heavy Commercial, Light Commercial, MultiFamily, MultiFamily Low-Rise, Education, Small Residential, Large Residential, Unlimited Residential, and Pools.
Visit www.builderawards.com for more details. Feel free to send out the link below to anyone who might be interested in voting! All winners will be announced at the ceremony in Las Vegas.
Vote December 15, 2023 to January 5, 2024
All winners of the ICF Builder Awards and People's Choice Awards will be announced live at the ICF Builder Awards ceremony in Las Vegas on January 24, 2024.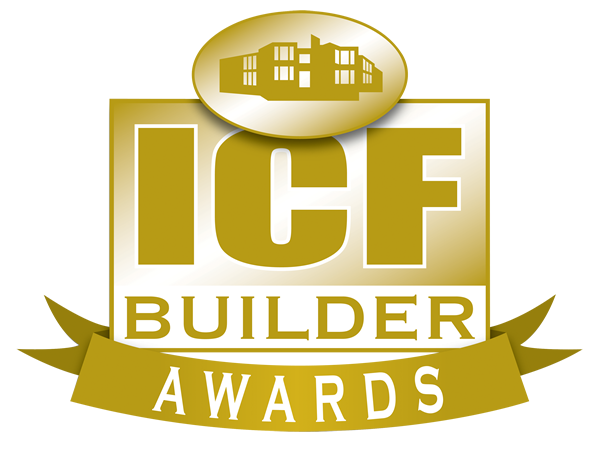 Duplicate Builder Award Plaques Available Now!
Order your duplicate plaque before November 28, 2023 to be received at the award ceremony January 24, 2024 in Las Vegas.  Duplicate plaques may be ordered between November 26, 2023 and February 4, 2024 to be shipped after the ceremony.
ICF Builder Award winners will receive a granite plaque similar to the one at right.  Additional plaques can be ordered for other members of the construction and design team. These can be customized with a logo and/or company name at no additional cost.
What are the ICF Builder Awards?
The ICF Builder Awards are an annual project-of-the-year competition for the insulated concrete form (ICF) industry. This construction method uses stackable rigid foam blocks filled with reinforced concrete to create buildings that are beautiful, durable, energy efficient, and disaster resistant.
Winners were selected in nine categories (including Light Commercial, Heavy Commercial, MultiFamily, and three residential divisions) and represent the best-of-the-best. This year's contest attracted entries across the globe, including military facilities, schools, condos, and residential projects of every shape, size and style.
Where will the event take place?
The Award presentation event is held at the Las Vegas Convention Center, on Paradise Blvd. in Las Vegas. Our event is held in Room N256, one of the ballrooms just outside the NORTH exhibit hall.
Is there an fee for admission?
There is no cost or admission fee to the Award Presentation. The World of Concrete trade show does require registration, however. So, if you are considering attending any of the educational seminars or visiting the exhibit halls, please continue reading for information about reduced admission fees.
What if I want to also attend World of Concrete?
If you would like to enter the exhibit hall or attend the education seminars on the days surrounding the Award Presentation, World of Concrete requires an admission fee and registration. Our event is separate from World of Concrete, and if you are only attending the award presentation, registration for World of Concrete is unnecessary. If you would like a discount for World of Concrete, register at www.worldofconcrete.com and use Source Code A23.
What is the Award Presentation like?
The room is set with round tables for about 250 people at 8-10 chairs per table.  A full-color program at each seat outlines the finalists in each category, with basic construction statistics and a handful of photographs. Doors open for general admission at 5 p.m., and the actual presentation gets underway at about 5:30. The presentation takes about 40 minutes, and spends a few minutes detailing each of the award-winning projects.
At the end of each project profile, the winning construction team will be invited to come to the front, and the individual who submitted the project will be presented with a granite plaque laser-etched with the project details, including a photo of the project. Duplicate plaques will also be handed out at this time if ordered prior to the deadline. A photographer will be on hand to document the presentation. Teams are invited to stay after the event to take group pictures.
Am I expected to make a speech?
Of course not.
Did I see something about a press kit?
Winning an ICF Builder Award is a significant accomplishment, and we want to help you maximize the positive attention this award can bring. To help you to publicize this accomplishment, a downloadable press kit is available after the award presentation to help you spread the news to your local and social media.
It contains:
Project photographs
Project "Fast Facts"
Full-length project profile as printed in the award program
Information about the Award selection process
ICF Builder Award logo
Photos of the award presentation
In addition to the presentation ceremony, winning projects are featured in the March/April issue of ICF Builder magazine and a complete project profile and photo gallery for each winning project can be viewed online at the Award program's website www.builderawards.com. If your company has a web presence, please consider adding a link to direct traffic to the profile of the project you worked on. The press kit includes an easy "cut-and-paste" HTML link.
Additional resources, such as video of the awards presentation, are available upon request. We appreciate your participation in the ICF Builder Awards, and hopefully, the publicity you receive makes your efforts worthwhile. Our ultimate goal is the growth and success of the ICF industry, and we look forward to working with you in the future.
Do you assist with travel and accommodations?
We do not reserve blocks of rooms or assist with travel or accommodations.