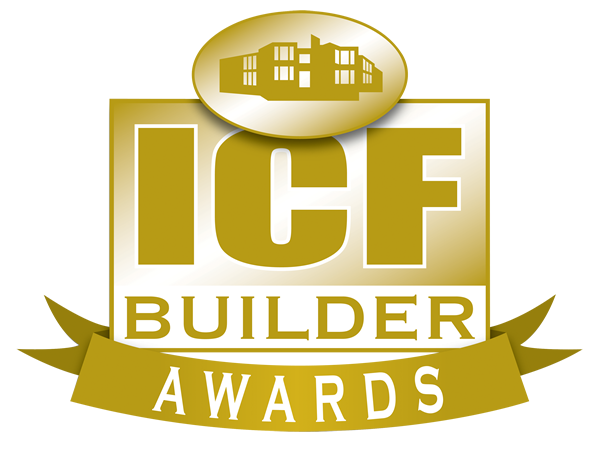 2010 MultiFamily
1st Runner-Up
When Hurricane Katrina roared ashore in 2005, the city of Waveland, Miss., was decimated. Among the casualties was the Bay-Waveland Housing Authority, which was left without housing for 700 children, adults and senior citizens in need of affordable housing.
Oak Haven Development was built to remedy this situation. It consists of 80 homes—all ICF—designed to withstand a Category 5 storm, while remaining faithful to Gulf Coast architectural traditions.
Construction challenges began with the new FEMA flood plain
maps that required bringing in more than 100,000 cubic yards of dirt to raise the building site.
But most of the complexity stemmed from the sheer number of units under construction at the same time. W.G. Yates, the general contractor, developed an assembly-line system, so six to eight homes were constantly under construction. It created a high-consequence learning curve for Millennium Walls, the ICF installer. Although the company was highly skilled in ICF construction, they were raw to the massive scheduling effort Yates required.
Dannie Richardson, who headed the installation crew, reports that it rained "damn near every day," but they stayed on schedule and prevented the whole system from being thrown off.
Joel Moody, from Yates, points out that the assembly line system allowed crew sizes to stay consistent, and construction was essentially standardized for all 80 units.
Understandably, local media followed the project closely, and Oak Haven's successful completion has shed positive light on the entire industry.
"Oak Haven is more than bricks and mortar," says Troy Gibson, marketing director at Reward Walls, which provided the ICFs for the project. "It is a holistic program of providing support and self-sufficiency for those in need. The core concept of this development is to build safer disaster resistant homes, that are affordable for the residents to maintain. Sustainability in this case goes beyond the energy efficiency but the need for long term housing units for protection of the citizens."
Community leaders hosted a ribbon cutting ceremony for the media in August 2010. Within a month, 41 units were occupied. The project was such a success that developers are already planning a 100-home neighborhood just a mile down the road.
Gibson says, "A project like Oak Haven opens the doors for larger developments in hurricane ravaged cities, puts ICF technology on display, and shows how its benefits are apparent even if you're not using solar, geothermal etc."
Project Statistics
---
Location: Waveland, Miss.
Type: Affordable Housing Development
Cost: $15 million
Size: 73,000 sq. ft.
ICF Use: 64,000 sq. ft. (all exterior walls) plus interior demising walls
ICF Start-to-Finish Time: about 4 months
Construction Team
---
Owner: Bay Waveland Housing Authority
Architect: SGB Architects
General Contractor: W.G. Yates and Sons
ICF Installer: Millennium Walls
ICF System: iForm by Reward
Like what you read?
Yearly Subscriptions Starting @ $30