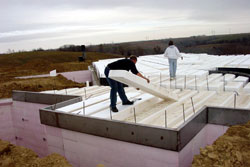 An increasing number of homeowners, architects, and builders are finding that concrete pourover systems are a perfect match for ICF construction. Pourover systems are also gaining popularity among commercial contractors, who appreciate the speed, flexibility, and ease the systems afford.
At the most basic level, a concrete pourover system consists of a lightweight, stay-in-place decking material—usually steel or expanded polystyrene foam (EPS)—covered with several inches of steel-reinforced concrete. When cured, it creates an incredibly strong floor at an attractive price, and can be stamped, stained or finished like conventional concrete. These floors are often installed in conjunction with radiant hydronic heat.
But the system isn't limited to flooring. Besides durable decks and patios, two-story garages, and attractive home flooring, these systems are being used to construct safe room ceilings and earth covered roofs. A few builders are even using them to make sloped, gabled roofs which are highly insulated and virtually indestructible.
---
Advantages
While pourover systems can be built with wood, the vast majority of builders use steel or EPS. "There's a huge advantage to using steel instead of wood," says Ted Hartner, manager of residential sales and marketing at Dietrich Metal Framing. "For one thing, it's lighter than a wood." It is also typically less complex to install.
Health is a factor as well. "People are concerned with eliminating wood," says Hartner. "Wood has the ability to promote mold growth." He adds that "you can get more span out of a steel deck than you can out of wood," which means fewer columns and often, higher ceilings.
That last reason is why Rick McKown, a homeowner in Moneta, Virginia, used steel to create a concrete slab over his basement. "I wanted to obtain open spaces," he says, "When I finished it off, I didn't want a column or a post every 10 or 12 feet."
He also wanted to install a radiant floor system, with enough thermal mass in the floor to assure good heat distribution.
A pourover system from Metwood Building Systems met all of his requirements. McKown was so impressed with it that he used the system throughout his entire house and deck. Six thousand feet of PEX tubing keep the floors warm, with independent temperature controls for each room. Finished with ceramic tile and 6-inch Brazilian cherry flooring, McKown says the finished product is both beautiful and energy efficient.
Radiant heat flooring is a natural fit with concrete floors and ICFs. "Radiant heat use has doubled in the last five years," says Steve Paske, national sales manager at EZ Floor. "As people's perceptions about cost versus value in energy efficiency change, radiant heat is going to continue to grow."
The beauty of radiant heat, he says, is that it puts the heat where the body can appreciate it. "The heat maxes out at the same level your body is at," he says. "It cools above your head, so it doesn't matter if you've got high ceilings."
"When you experience it," he says, "you're in heaven."
---

ICF Builder Magazine


---
Installation
Steel pan decking systems are made by a variety of companies, including Metwood, Dietrich and Hambro. Installation is fairly straightforward: Steel joists are fastened to the ICF walls using a proprietary connector, then sheet metal decking is screwed into place. Some manufacturers recommend spot-welding the decking into place. Temporary shoring needs to be installed, although steel and EPS systems require less shoring than wood.
Unless the project is enormous, components can be placed by hand. Reinforcing steel and radiant heating—if desired—are set on the deck, and the concrete, typically between two to four inches thick, is placed. After the concrete has cured, the temporary shoring is removed.
EPS systems use similar installation techniques. The most popular EPS decking systems are made by Lite-Deck and Insul-Deck. Both brands use a two-foot wide plank, available in thicknesses ranging from 6 to 16 inches or more. The product is delivered to the jobsite pre-cut to the desired length.
These EPS planks can be installed quickly; one company claims that experienced crews can install foam, rebar, and concrete at a rate of 60 sq. ft. per man-hour. Combined with post-tensioned steel cables, clear spans of 40 ft. and greater can be achieved.
Amvic Building System will soon begin marketing another option in EPS decking. Unlike competing products, the Amvic system comes in small, lightweight blocks, measuring 32" wide by 24" long. These are laid on top of lightweight steel joists which support the load. Because of the unique combination of steel and EPS, shoring can be placed as far as 20 ft on center, instead of the usual 5 or 6. The blocks have a reversible interlock to ensure they are firmly in place.
---
Possibilities
Pourover systems create options that are not possible with any other flooring method.
For instance, on sloped lots, builders could create a two-level garage instead of backfilling the foundation. Metwood estimates that using their system, one could build an additional two-car garage under the planned one for a mere $12 per square foot.
One builder created a suspended gazebo on a second-story deck.
Inside multi-story buildings, residents will appreciate the materials' sound absorbing qualities. EPS-based systems are especially effective at eliminating noise from other floors.
A few energy-conscious builders are using pourover systems to create a "total concrete energy envelope" with ICF walls. EPS decking systems can create a roof with an insulation value equivalent to R-30. The most common method is to create a flat "roof" above the living space, and then install conventional trusses on top of the concrete. Finishes attach to integral furring strips on the bottom of the planks, similar to ICF walls.
Some, however, actually create the pitched roof with EPS decking. "Placing concrete on sloped surfaces has been done for years," says Wayne Fenton, business manager at Lite-Deck. "With EPS decking, contractors simply need to become acquainted with the preparation steps and placement technique."
Either method creates a roof that can easily withstand hurricanes, tornados, wildfires, and other natural disasters.
Durability is just one reason to choose concrete decking. Increased energy efficiency, design flexibility, and openness are possible with concrete decking systems.
McKown, the Virginia builder, has no regrets. "I have no doubt about how great this is," says McKown. "It is probably one of the best things I've done."
---

ICF Builder Magazine