Home Sales On Track For Worst Year Ever
The number of new homes sold has hit another low, putting sales on track to finish this year as the worst on records dating back half a century.
As recently as January, experts were predicting a relatively healthy recovery in home sales, with an expected 700,000 units to be sold. The reality is far more dismal. July and August sales fell to a seasonally adjusted annual rate of 298,000.
Housing remains the weakest part of the economy. Last year was the worst for new-home sales on records that go back nearly 50 years.
All types of home sales remain weak. High unemployment, larger required down payments and tougher lending standards are preventing many people from buying homes. Plunging stocks and a growing fear that the U.S. could tip back into another recession are also keeping people from buying. Prices have dropped more since the recession started, on a percentage basis, than during the Great Depression of the 1930s. It took 19 years for prices to fully recover after the Depression.
Reward Certifies to New ASTM Standard
In July, Reward Wall Systems became the first insulated concrete form to be officially certified to the new ASTM E2634 standard. This new standard will be referenced in the next 2012 IRC and IBC codes, and is titled Standard Specification for Flat Wall Insulating Concrete Form (ICF) Systems.
The new ASTM standard was created to promote more consistency, acceptance, and credibility for the ICF market. Code officials and the design community will use the standard to ensure a minimum requirement is meant.
Kelvin Doerr, Reward's VP of Engineering, was part of the committee that develop ASTM E2634. He said, "After taking many years to finalize this standard, there is now a minimum benchmark to be part of our ICF industry.
Reward has always been on the forefront of industry advancements, which is why we wanted to be first to comply with the new standard and to continually lead the ICF industry in innovation and market acceptance."
For more information on the new ASTM E2634 standard, call Kelvin Doerr at 1-800-468-6344.
Free ICF Home Plans For Disaster Victims
The award-winning design studio of Robert Klob Designs, Inc. is offering six stock home plans free to anyone directly affected by the recent outbreak of storms and natural disasters earlier this summer.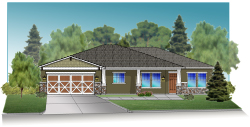 All of the plans will be designed with Insulated Concrete Forms (ICFs) that offer structural integrity, safety and energy efficiency like no other individual building component.
The home plans range from 1,275 sq.ft., 3 bed/2 baths to 2,100 s.f., 5 bed/3bath homes and each home plan will contain a full set of plans for construction that include floor, foundation, framing, electrical & mechanical plans. They are designed to meet the 2006 International Residential Building Code and should exceed the 2006 International Energy Code by more than 30%.
Tornado and hurricane resistance are paramount to the design of each home. The ICF wall systems are designed to withstand winds and projectiles over 200 mph. The doors and windows can be upgraded by the owner to withstand projectile penetration. Furthermore, the ICF walls can offer resistance to moderate flooding & fire for several hours (based on manufacturer specifics).
"The idea for this came from growing up in 'Tornado Alley' and watching the devastation after a major storm. I wanted to give back and do something to make a family's life a little easier knowing that their home will be safer for many years to come" said Robert Klob, President of RKD.
For more information, visit www.rkdzns.com/FREE-Disaster-Plans.php.
Nations First Net-Zero School Opens
America's first net-zero energy public school opened last month. Built from Nudura ICFs,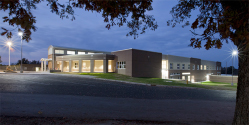 Richardsville Elementary School in Richardsville, Ky., sets a new standard for sustainable school construction.
A "net zero building", is a structure that generates as much energy as it needs to operate over the course of a year.
Outside of the fact that it is energy independent, Richardsville Elementary looks like a relatively "typical" school with classrooms, a gymnasium, cafeteria, library, etc.
This landmark will be the subject of an in-depth project profile in an upcoming issue of this magazine.
ICF Mansion Underway in Ozarks
A Virginia man is building a 72,000 sq. ft house in the Missouri Ozarks with 13 bedrooms, 14 bathrooms and other features that could include a library, music room, theater and a garage (measuring 4,000 sq. ft.) With a footprint equivalent to a little under two acres, it would be one of the country's largest privately owned houses.
The castle-like structure is being built with ICFs on 500 wooded acres in southwest Missouri.
This mansion-in-the-making, called Pensmore, has drawn so much attention and speculation that the owner has hired a PR firm to handle requests. They released a prepared statement earlier this month: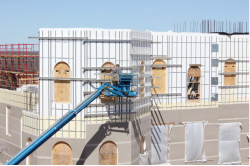 "The mission behind Pensmore is to serve as a living laboratory for ongoing research into energy conservation and disaster resistance," he said. "While the structure will also be a home to my family, our hope is that curiosity and gossip will fade to make room for the valuable insights a project of this scale can yield for building the homes, schools, hospitals and office buildings of the future."
The home was recently featured on the Today Show. A video tour of the home is available via our website.
Among the innovative products being used are a vertical ICF from TF Systems and a steel fiber admixture in place of rebar.
The house is probably more than a year from completion, and will cost nearly $7 million to complete. Look for additional information in this magazine when the project is finished.
Tennessee Hotel Uses ICFs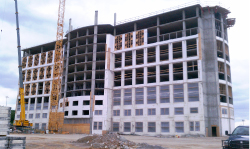 A new Drury Plaza Hotel, the most upscale brand within the Drury family, is nearing completion in Franklin, Tenn. Made from with ultra-efficient, eco-friendly Amvic ICFs, the property is one of the first net-zero energy hotels on the continent. In addition to ICFs, it uses krypton gas-filled windows, geothermal heating and cooling, spray foam insulation, tankless water heaters, LED lighting and rainwater harvesting systems. Solar panels and wind turbines are expected to eliminate all utility bills.
The building is one of the tallest ICF projects yet built; with 11 stories plus a penthouse, it's well over 130 feet tall. Middle Tennessee's most established ICF builder, A Better House, Inc., is serving as ICF installer.
Drury was one of the first hotel chains to utilize ICF construction. In addition to significantly reducing utility bills and the green building aspects, the material offers fire and tornado resistance, lower insurance premiums, and cleaner air. Drury has stated they will be using ICFs in all future hotels.

ICF Builder Magazine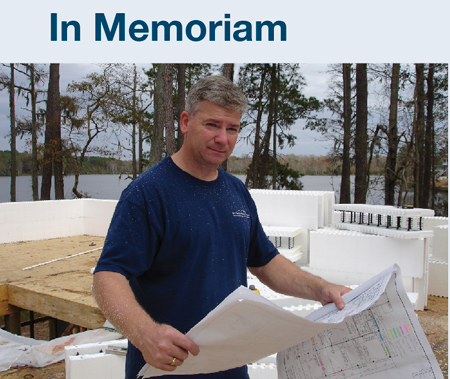 On July 26th, 2011, Manfred Knobel of North Carolina passed away at age 53 after a two year battle with malignant melanoma, a form of skin cancer.
He was born in Aarau, Switzerland and grew up in Villingen, Germany. He immigrated to Ontario, Canada where he lived until he was 41. He then moved to North Carolina where he married Robin Knobel, the love of his life, in 1999. He had a long career as a ER and PICU nurse (emergency room and pediatric intensive care unit).
Six years ago, he began investigating ICF for his new home and met Ian Giesler of ICF Builders. In a career-changing move, he followed his passion and became an ambassador for the ICF industry.
Manfred was instrumental in the re-introduction of ICFs to the Caribbean island of Grand Cayman where he was directly involved in the construction of many ICF multi-story condominiums and executive style homes. The Valencia Heights project in Grand Cayman was named "Best International Project" in 2008 by the ICFA.
He taught an "ICF 101" course in Manila, Philippines and contributed to the success of several large multi-level shopping malls, one of which utilized more than a million square feet of ICF.
He also played a major role raising awareness of ICFs in the Middle East. In Dubai, he managed the construction of two showcase projects. One, a free-zone freight warehouse and office building, is visible upon landing at the Dubai International Airport.
Manfred's legacy will live on with the enthusiasm and intense level of confidence that he glowed with. Today, many companies make their living on the value and benefit of ICFs as a result of Manfred's passion for excellence in the ICF industry.
Memorial contributions may be made to the Melanoma Research Foundation at www.melanoma.org to help others fight this disease.

ICF Builder Magazine
Project Profiles: The Heavy Commercial Winners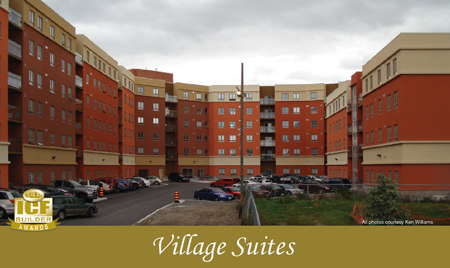 Village Suites - Winner
This student dormitory in Oshawa Ontario, Canada, is among the largest ICF projects built in recent years. With about 270,000 sq. ft. of floor space and using 175,000 sq. ft. of ICFs, it's claimed to be the largest ICF project ever built in Canada. Built with Logix's grey Platinum Series ICF, it contains cutting edge green technology, and was certified LEED-Platinum by the USGBC.
» Read the Complete Profile Here
---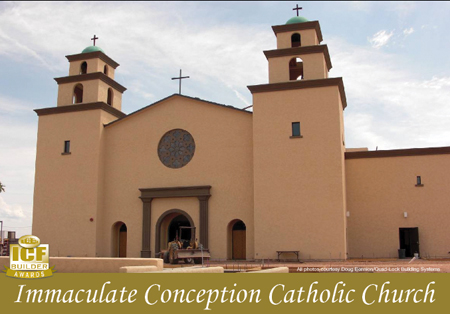 Immaculate Conception Church - Runner Up
Completed in 2009, the 30,115 sq. ft. church used ICFs for virtually every wall. The complex design includes numerous T-corners, arched and round windows and 46 integrated pilasters. Interior ICF walls reach to 50 feet without intermediate supports. Buttress walls and two free-standing bell towers were also built from ICFs. In total, the project used well over 58,000 sq. ft of ICFs. Additionally, the Phoenix Diocese of the Catholic Church has become a major force in shaping the direction of the ICF industry…
» Read the Complete Profile Here
---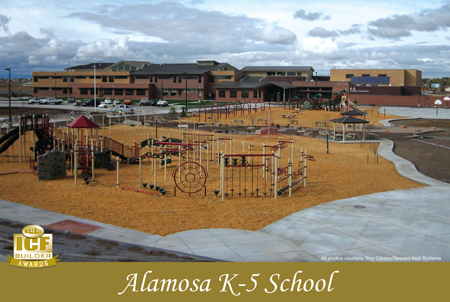 Alamosa School - Runner Up
The elementary school campus in Alamosa, Colo. consists of two 72,000 sq. ft. school buildings (one housing grades K-2 and the other 3-5) that are connected by playgrounds and landscaping. It's by far the largest building in the San Luis Valley. ICF walls, combined with underslab hydronic heat reduce energy consumption by 72% compared to traditional steel framing. Solar panels heat all the water used at the school, and photovoltaic panels were installed last summer to generate renewable energy
» Read the Complete Profile Here


ICF Builder Magazine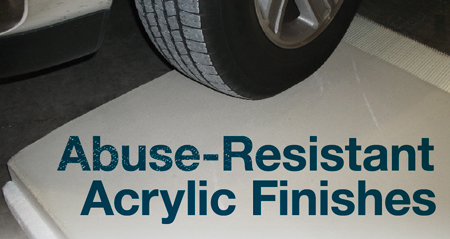 Abuse-Resistant Finishes
Whether the damage is intentional, like vandalism, or accidental, like careless lawn trimmers, errant golf balls, or even woodpeckers, acrylic finishes of the past haven't been able to stand up to abuse when compared to brick and stone. Fortunately for ICF builders and architects, a few companies have developed abuse resistant acrylic finishes that are perfect for prisons, schools, warehouses, and other similar applications. Most are designed for exterior use, but many can be used on interiors, and one even eliminates the need for drywall.
» Click Here for the Complete Story

ICF Builder Magazine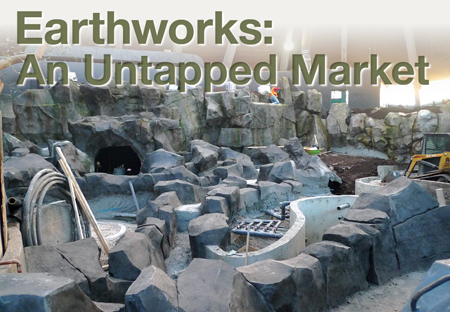 Earthworks: An Untapped Market
A profitable and growing niche for ICFs is civil engineering applications; retaining walls, abutments, sea walls, etc. Four different projects using four different types of ICFs demonstrate how companies have taken advantage of this opportunity.
Winnipeg Zoo
Caribbean Sea Wall
Midwest Floodwall
Old World-Style Garden Wall
» Click Here for the Complete Story