ICF News Roundup
Fenton Retires from Lite-Form
Wayne Fenton, an industry pioneer with more than 20 years experience marketing ICFs has announced his retirement from Lite-Form Technologies. A company loyalist, he spent virtually his entire career at the Nebraska-based business, developing three different ICFs, including the first folding form on the market, and a revolutionary EPS decking system.
In addition to his company contributions, he has been a major force in promoting the ICF industry as a whole, helping to organize the ICFA, and attending innumerable trade shows promoting ICF technology.
His retirement marks the end of an era for the industry, as he remembers what it was like for ICFs trying to get their original toe-hold in the construction market.
In an interview several years ago, he recalled being at a World of Concrete trade show in Atlanta, Ga., in the late '80s. "There were only two or three [ICF] manufacturers there, and most contractors thought it was a scam," he said. "Today at shows, contractors ask how much it costs, how much bracing it needs, and how the cost compares to the competitor down the aisle. But back then, we were spending as much time convincing people that it would hold concrete as we were selling it."
ICFA Announces Organizational Change, New Direction
The Insulating Concrete Forms Association (ICFA) has undergone a major restructuring, emerging with a new board of directors and day-to-day managers.
Effective August 9th, Murray Snider became president of the ICFA board of directors. Dean Seibert, former chairman, stepped down along with the rest of the board. The new board is composed exclusively of primary members, and includes Pat McMahon of Amvic, now vice-president; and Jeff Alexander of Greenblock Worldwide as secretary/treasurer.
"ICFA restructured its board of directors to create more focus and… exponentially strengthen the association's primary goal to promote the use of ICFs," says Snider.
ICFA has closed its Glenview, Ill. offices and has moved day-to-day management to Crofton, Maryland, where expenses can be shared with the Expanded Polystyrene Molders Association (EPSMA) and the Alliance of Foam Packaging Recyclers (AFPR).
Elizabeth Steiner, current executive director of EPSMA and AFPR, is now executive director of ICFA as well.
"Our top priority is to provide maximum value to our members," Steiner says.
Snider adds, "ICFA already has tremendous synergies with both EPSMA and AFPR, including complementary purpose, membership and target audiences…The new management structure will allow ICFA to share in operating expenses and staff expertise while keeping costs down during this difficult economic period."
With the change, ICFA moves back to more of a manufacturer-based organization, in line with its funding. Steiner says the association will be revising its committee structure to be more inclusive of associate, distributor and contractor members. She is hopeful this will provide a channel for the membership to communicate their feelings to the board.
ICFA Expo Rescheduled for November
With a new management structure in place, ICFA has scheduled their annual Conference and Expo for Nov. 4 through 6 at the new Hilton Orlando in Florida.
The conference will open Wednesday morning with an air cannon demonstration, showing how ICFs compare with other wall systems when hit with storm-driven flying debris.
After lunch the conference officially kicks off with the introduction of the new ICFA board of directors and a state-of-the-industry presentation. The next two days will be filled with valuable and informative sessions directed at both contractors and manufacturers. There will be how-to sessions, educational presentations, marketing seminars, and economic forecasts tailored to the ICF industry.
To register, or for more information, visit www.forms.org.
Greenbuild Show Attracts Industry Notables
Greenbuild 2009, the largest green building event in the United States, will be held in Phoenix, Arizona from Nov. 11 through 13.
The trade show is one of the fastest growing in the country, and this year will include more than 1,800 exhibitors, including nearly a dozen ICF manufacturers.
It will also feature more than 100 educational sessions and workshops, nearly all of which will count as Continuing Education Units (CEUs). The U.S. Green Building Council, which hosts the event, is a registered program provider for AIA/CES, ASID/IIDA, BOMI, and IFMA.
The keynote speaker at this year's event is former U.S. vice president Al Gore, who won a Nobel Prize and has written several best-selling books on global woarming.
A few of the exhibitors relevant to the ICF industry include BuildBlock, Durisol, Fox Blocks, Greenblock, Logix, Nudura, Quad-Lock, Reward Wall Systems, and Thermomass, as well as trade associations NRMCA and PCA.
For more information on the show, visit www.greenbuildexpo.org.
Greenbuild Show Home Uses New ICF
One of the highlights of Greenbuild 2009 is the Concrete Home of the Future, sponsored by Salt River Materials Group and built by volunteers for the local Habitat for Humanity chapter.
The home is built using a new brand of ICFs, HercuWall, which uses a unique post-and-beam concrete design. The home is a stopping point on the Greenbuild 2009 tour. HercuWall has concrete beams at the top and bottom of the wall only, lacking the regular horizontal reinforcement most screen-grid designs have. HercuWall also features panels that can be delivered in customized "kits" to the jobsite, speeding construction time and cutting costs. (For more information, see page 28).

Illinois Ups Efficiency Standards
Illinois Gov. Pat Quinn signed a law last month that raised the minimum energy efficiency standards for new homes considerably.
Named the Energy Efficient Building Act, it aligns the state with the latest International Energy Conservation Code (IECC) for new residential construction.
"This bill will increase the energy efficiency standards for new and renovated homes, and ultimately reduce our carbon footprint," said Gov. Quinn. "It is important here in Illinois that we make a commitment to thinking and acting green, and this important legislation will help us carry out that mission."
The bill passed the House 89-28 and the Senate by 48 to 8.
NRMCA Hosts Webinars
The National Ready Mixed Concrete Association (NRMCA) is presenting a series of 18 web seminars, or "webinars" on concrete technology between October 1 and March 31. Taught by subject matter experts, the topics include concrete durability, sustainability, cracking, troubleshooting, quality control/assurance, concrete codes and specifications, pervious concrete and non-destructive testing.
Each webinar will be offered twice over the six-month period, and are geared toward concrete producers, specifiers, and contractors.
Complete information on all the webinars, including dates, times, fees, topic descriptions, author biographies and registration information, can be found at www.nrmca.org/Education/Online_Learning/Webinars.
LEED Professionals Need Continuing Ed
The U.S. Green Building Council (USGBC), which oversees the LEED program, has implemented a program requiring all LEED-accredited professionals (LLED-AP) to regularly update their training.
Called the LEED Credentialing Maintenance Program (CMP), they claim it "ensures that LEED professionals in the field are up to date with the most relevant and useful information by requiring a commitment to ongoing participation in green building project, learning and service activities."
More than 1,300 LEED-AP professionals registered in the programs first three weeks.
Credential maintenance includes continuing education classes, practical application of LEED on green building projects, and active participation in the green building community. A guide to the new CMP program is available at www.gbci.org.
---

ICF Builder Magazine




Structural engineers often design reinforced concrete walls well in excess of four inches thick for ordinary home construction. Yet the same engineers might allow a four inch wood frame wall.
In nearly every instance of above-grade ICF wall construction, a four-inch concrete core is more than sufficient when it is capped by a concrete roof…

Click Here for the Complete Story
Click Here to Purchase the Structural Calculations (Coming Soon)
---

High-Rise Hotel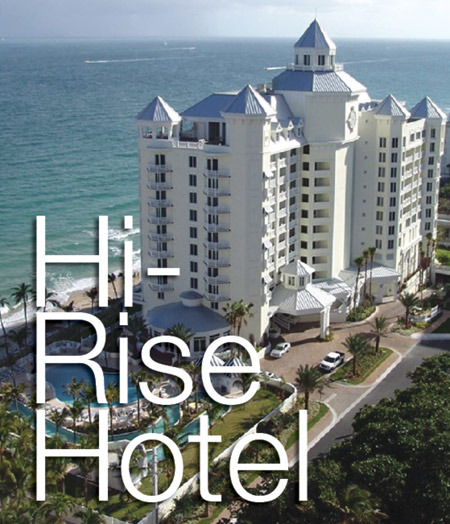 This resort hotel, built on 500 feet of ocean-front property in Ft. Lauderdale Fla., is the tallest known ICF building to date. With an underground parking garage, 11 stories of resort suites, and a central tower made of ICFs rising to 148 feet, it's impressive by any standard. But that's not why the owners chose ICFs.
"Basically, they were looking for a faster completion date, and better efficiency for owners," says Harry Pilkington, owner of ICON Structures.
The structural frame of the building was cast-in-place using removable forms. ICFs were used for the in-fill walls.
Now under new ownership and named Pelican Grand Beach Resort, it stands as proof of what ICFs can accomplish in the hands of a knowledgeable and experienced builder.

Click Here for the Complete Story
---

ICF Builder Magazine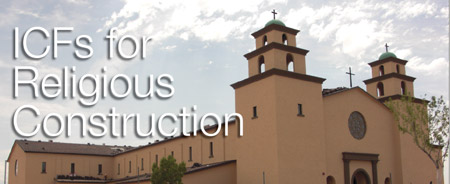 While church construction may not be an obvious niche for ICFs, they're doing very well in this sector. A number of high-profile ICF churches have been completed recently, and many more are under construction

John Hatfield at Quad-Lock thinks he knows why. "The church is paying not only for the construction, but also the long-term ownership costs," he says. "Because our product saves so much on the owner's long-term energy costs, we are a very attractive option."

"Churches are a major area of growth," says Jon Hansen, who promotes commercial ICF use as part of his job at NRMCA. "Anywhere people are making a buying decision that will last for generations, they'll move towards ICFs."

In addition to being efficient and green, they also offer disaster resistance, sound attenuation, architectural considerations, and the ability to easily use volunteer labor.

Click Here for the Complete Story
---
Self Consolidating Concrete



Imagine a concrete mix design that would fill an ICF perfectly—no voids, no honeycombing, perfect encapsulation of rebar—without using any type of vibration. It already exists.
"Self-consolidating concrete, also known as self-compacting concrete and SCC, is a highly flowable, non-segregating concrete that spreads into place, fills formwork, and encapsulates even the most congested reinforcement, all without any mechanical vibration," explains the website of the National Ready Mix Concrete Association (NRMCA).
Mark Bury, at BASF Admixtures, says SCC "flows like chocolate milk."
And SCC delivers this performance while matching the strength and durability of traditional mix designs…

Click Here for the Complete Story
---

ICF Builder Magazine




Get Involved in Politics
Joe M. Rodgers famously said, "Get into politics or get out of business." This has never been truer than it is today!

Every morning there's news of a new policy from Capitol Hill or a new bill that has been proposed that will takeour hard-earned revenue from us. Whether it's new taxes, lost revenue from lost jobs, or higher expenses due to expanded employee benefit programs, there are endless ways the government affects our profitability. From the current fight over medical health care reform to the Employee Free Choice Act (EFCA), policies being conjured up in Congress will directly affect how we do business in the construction industry.

Get involved at whatever level you feel comfortable. Perhaps it's the local county commission or planning commission. If you don't want to run for an office, at least go to the meetings. Be aware of what is being discussed.

With the recent advent of blogging, there is no reason you cannot make your opinion known. Each representative—whether it is local or in Washington—needs to hear from you. They make policy based upon what you, their constituency, tell them is important. And if they don't respond to the issues that are important to you and your business, make darn sure you let them know during the next election cycle.

Boot them out of that "elected" office and replace them with someone whom will listen to your concerns and needs. You must advocate your interest to your leaders in order for them to know your interest. Do not discount the value of a single voice.

Remember your elected representatives want to build a relationship with you. If your representative is too busy to meet one on one, get a group of your peers together, find out when your representative will be in town next, and schedule a group lunch or dinner.

This Congress has introduced some very serious legislation that will dramatically—negatively—affect the construction industry for years to come. We are living in some very challenging times. Most of our elected representatives are aware of this, and they certainly do not want to be portrayed as negative – especially with midterm elections just around the corner.

Ultimately what the Congress and the Obama Administration chooses to do with regard to each of these issues is unknown, but you can be assured that one way or another, your bottom line will be affected.

You have to play in order to win. Get Involved.

» Subscribe now for the full-length version.
---

ICF Builder Magazine


Efficiency vs. Recycled
From the design and building aspect, green is no longer a fad or a trend. Those that don't incorporate green ideas will be left behind as we emerge from the current economic crisis.
From a design perspective green can be looked at in two ways: energy efficient vs. recycled or sustainable. For instance, a building can be built almost entirely of recycled and sustainable material but still be incredibly energy inefficient. Is this green? Likewise, a building can be constructed as an ultra-energy-efficient structure but utilize minimal recycled material. Which is best?
The answer to that question really depends on the client. While I agree that it should be a balance, your clients will have to decide what is right for them; my experience is that people are typically as green as they can afford…

» Click Here for the Complete Story