ICF News Roundup

New Executive Director at ICFA
Steve Heller has joined the Insulating Concrete Form Association (ICFA) as its new executive director. Heller has spent his career managing business trade organizations, and began his new responsibilities in mid-August.
From 1979 to 2000, Steve served on the staff of the 1000-member Printing Industry of Illinois/Indiana (PII), headquartered in Chicago. He worked in management positions responsible for labor relations, management programs and services, and the overall administration of the association.
More recently, Heller served as vice-president of the United States Business and Industry Council (USBIC), a Washington DC-based non-profit association of more than 500 businesses from across the nation. Steve's responsibilities at USBIC included industry outreach, marketing, membership development, meeting planning and organizational management.
Heller holds a BA from the University of Chicago, and an MBA from the J. L. Kellogg School of Management, Northwestern University.
Industry Size Estimate Improves
The ICFA contracted with an independent, third-party auditor to improve its accuracy estimating the size of the ICF industry and analyze regional growth trends.
Previously, the ICFA has relied on member firms to report the volume of ICFs shipped by state and province every six months. As these firms compose only 60% of the industry, many lacked confidence in the resulting statistics. The new audit will hopefully correct that.
The research was performed over the summer by Construction Marketing Associates, Inc. The results, which were expected at the Fall ICFA convention in St. Louis, have not been released.
Buildblock Gets Code Approval
BuildBlock Building Systems has received final code approval from the Canadian Construction Materials Centre (CCMC). The CCMC Report states, "BuildBlock Insulating Concrete Forms can serve as a wall forming system, resulting in a monolithic concrete wall in compliance with the intent of the National Building Code of Canada (NBC) 1995."
A copy of the evaluation report, # CCMC 13283-R, can be viewed on Buildblock's website www.buildblock.com. The company is expecting to receive ICC code approval as well within a few weeks.
Rastra Opens New Plant
Rastra has opened a new plant in Albuquerque, New Mexico, to serve the southwestern part of the U.S. The company manufactures the Rastra Block, a composite ICF made from EPS and portland cement. The company uses waste EPS foam collected by the Recycling Coalition of New Mexico, which has been highly successful. The Rastra plant is currently running a two-shift operation to keep up with demand.
The company has another facility under construction near Columbus Ohio, set to open at the end of this year.
New Southern Home Uses Greenblock
The 2007 New Southern Home, built for the Southeast Building Conference (SEBC) in Orlando Florida, utilizes insulated concrete walls from Greenblock Worldwide Corporation. The 10,200 sq. ft. home is designed to showcase what luxury living in the southern United States may look like in the future, and is backed by he Florida Home Builders Association. The home will be open to the public through the IBS show in January 2008.
More information on the home is available at www.sebcshow.com.


---

ICF Builder Magazine


---
Best Heavy Commercial Projects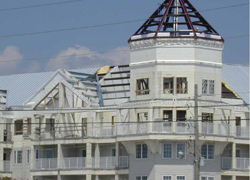 Winner: Grande Carribean Condominiums
This 6-story, 150,000 sq. ft. vacation condo building is proving that ICF construction is a perfect choice for multi-family construction. Built just yards of the Alabama beachfront, the project has already withstood two major hurricane with virtually zero damage. It is most notable, however, for its innovative use of insulated concrete forms. The foam forms were used for all interior and exterior walls. They were also used to create the columns, corbels and cornices on the exterior of the Victoriam-style building…. Read the complete Article with photos here
1st Runner Up: Armed Forces Reserve Center
Built just outside Tampa, Fla., this 140,000 sq. ft structure represents the first large-scale military use of ICFs. Not only is it stronger than traditional construction techniques, but the architect estimates that it saved 25% off what masonry construction would cost. Military brass are reportedly very pleased with the results, and several Congressmen toured the construction site as well….Read the complete Article with photos here
2nd Runner Up: Megaplex 20 Theaters
This gargantuan structure, the largest ever built with ICFs, covers 206,000 sq. ft. The ICF installer, IMS Masonry, stacked, braced, and poured more than 350,000 sq. ft of ICF walls--some more than 50 feet tall-- in just under 6 months. Designers chose Reward ICFs because of their excellent sound attenuation and energy efficiency as well as their outstanding reputation in other large commercial projects….Read the complete Article with photos here
---

ICF Builder Magazine


---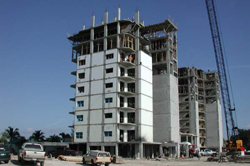 It's no secret that commercial construction is currently the fastest growing—and most lucrative—sector of the ICF industry. Commercial ICF construction offers is presenting some major opportunities to ICF contractors.
"The commercial market is the growth market for ICFs," says Vera Novak, technical director for the ICFA. "Anything that involves habitation: condos, apartments, hospitals, hotels, schools; they are all significant growth markets for the industry right now."
"ICFs are a good fit for any commercial owner that will pay their own maintenance and utility bills," she says. "By building with ICFs, owners can reduce their operating costs while improving occupant comfort."
» Read the complete article here
---

ICF Builder Magazine


---
ICF construction is rapidly gaining a reputation for being an economical way to create healthy, safe, energy-efficient environments. They are a perfect choice for school districts across the country as they evaluate how to replace an aging stock of buildings with better learning environments.
"ICFs offer school districts an ideal building material for their needs, "says Kent Stumpe, chairman of the ICFA board. "They offer reduced energy costs, comfort, quiet, and safety. ICFs offer them more value than they can get from any other type of wall construction."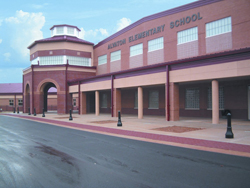 Clearview (Pennsylvania) Elementary School, for example, achieved a LEED gold certification from the USGBC, in part by using insulating concrete forms for all exterior walls.
As a test, the school heating system was shut down at 1 p.m. in mid-February when the high temperature outside reached only 40°F. Nighttime temperatures fell to 22°F., but the classrooms cooled by only 4 ½°F. When the furnace was restarted at 5:30 a.m. the next morning, the desired room temperature was regained in less than an hour. Architect John Boecker, says, "The insulating concrete form wall provided us with a high-performance thermal envelope that contributed significantly to downsizing our HVAC system and reducing energy consumption."
Since energy consumption accounts for at least 75% of a building's total environmental impact, ICF walls can create major savings—for the environment as well as school district budgets…
» Subscribe Now For the Full Story!
---

ICF Builder Magazine


---
floor and decking options for commercial work
With most commercial ICF jobs, wooden floor joists are not the best option. Often the spans, fire codes, and weight loads just won't allow it. On other projects, sustainability concerns, like energy efficiency and life cycle costs, are driving factors. A number of excellent alternatives exist, all of which work extremely well with ICF construction.
One popular solution is to use prefabricated steel joists. FloorSPAN by Metwood, and Hambro by CanAm Steel Corporation offer longer clear spans with less joist depth. Openings in the joists make wiring, plumbing and HVAC a cinch, and the joists themselves can be installed by carpenters, saving on labor costs.
Another effective material for commercial ICF construction is EPS decking. It offers all the advantages of precast, with the additional benefits of being cheaper to ship and easier to finish…
»Read the complete article here
»Case Study: Residences at Mont Blanc
---

ICF Builder Magazine


---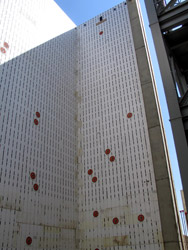 The AME Read-E-Mix Batch Plant in Buffalo, Minn., may have set a new record for tallest ICF walls yet built. Standing 62 feet 8 inches from footing to top plate, (exactly 45 courses of Arxx) the ICF walls are load bearing and have no intermediate floors. The previous record for freestanding ICF walls was in the 55- foot range.
Building walls of this height required significant engineering, as it had never been done before.
On an earlier building. we cast sructural support columns as the walls went up. This method worked well, but proved to be time consuming. We felt we could reduce our construction time by pre-casting the structural columns. These columns do not carry any weight of the ICF walls, but were included strictly for wind loading.
Construction of the ICF portion was extremely efficient, and the 4-man crew was able to stack and pour two lifts (3,000 sq. ft. of wall) per week.
Walls were stacked and braced using modified buck scaffolding, similar to that made by Uniscaffold. We also used a motorized work platform to lift workers, ICFs, and other materials to and from the wall.
These systems allowed for significant savings in time and materials. The expertise and experience of our installer, along with the precast structural columns and power-operated work platforms cut 10 weeks off the construction schedule and reduced scaffolding by 75%.
» Subscribe Now For the Full Story!
---

ICF Builder Magazine


---
Tall walls: bracing and consolidation tips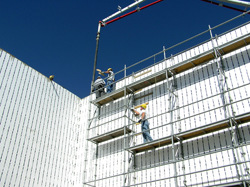 When wall heights reach more than 20 feet, bracing and consolidation become more critical—and more difficult. Years ago, only a few specialty contractors had to deal with this challenge. But as ICFs become more common—especially in commercial construction—every serious ICF contractor should know how to handle tall walls.
If the walls are interrupted every 8 or 10 feet with a flooring system, construction is simple. But if the wall has no intermediate flooring, the job becomes considerably more complex. Luckily, new bracing and the experience of knowledgeable contractors make it easier.
Manufacturers have developed equipment allowing contractors to stack and brace walls up to 24 feet without having to take anything down, but for really tall walls, though, pouring in stages is still the only way to get the job done. Here's what you need to know before you tackle a tall wall project…