New ICF Contractor Database
Finding an ICF contractor just got easier. A new website, www.icflist.com, gives users a powerful, easy-to-use system for locating ICF professionals.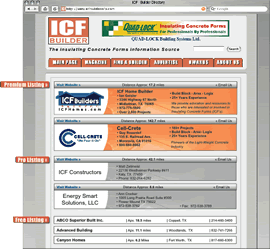 "Users will find they can search for more professionals, more easily, than on any other site. It also offers unrivaled flexibility in search criteria," says Pete Deschamps, designer of the database.
For instance, a do-it-yourselfer can search for a distributor based on proximity to the jobsite or by brand of ICF. A potential homeowner can find a list of ICF architects, ranked by office location, number of projects completed, or brands they have worked with.
One of the most useful aspects of the directory is that the search results will be ranked by proximity to the jobsite—regardless of city or state boundaries. A search for an ICF installer in Las Vegas, for instance, will list contractors in Utah and California as well as Nevada.
The database contains close to 500 ICF contractors, and more than 1,000 distributors and architects familiar with ICFs. Search results are grouped into three categories: Premium, Professional, and Basic.
If you want to reach thousands of customers searching for an ICF professional, be sure your company is listed with www.icflist.com. The site will guide you through the simple process of registering.
---

ICF Builder Magazine


---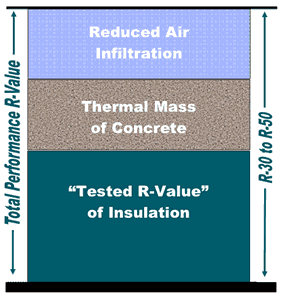 Insulated Concrete Forms (ICFs) are rapidly gaining popularity as an alternative building material. As energy prices climb, ICFs are set to become even more popular. Most homeowners save between 30% to 50% on heating and cooling costs when compared to regular stick-frame construction.
A recent study by the Portland Cement Association (PCA) found that the ICF homes used 44% less energy to heat and 32% less energy to cool than comparable frame houses. That means a typical 2,000-sq.-ft. ICF home in the central U.S. would save $200 in heating costs and $65 in cooling costs each year.
"All the test data currently available shows that ICF construction has the best combination of energy efficiency and strength for building external walls," confirms Ann Crocker, co-owner of Energy Smart Solutions, a Dallas-based residential contractor. "What we have found is that the homeowner will save at least two-thirds on their energy costs compared to wood frame 2x4 construction with fiberglass batt," says Crocker.
ICFs work to conserve energy in five different ways.
Smaller HVAC Units: "To maximize your energy savings, it's important to ensure the HVAC system is right-sized for the home," says Richard Rue, founder of Energy Wise Structures. In most cases, that means buying a unit that is significantly smaller, cutting construction costs by $500 to $2,000.
Rue confirms this. "Many times a 2,000 sq. ft. ICF house located in a Sun Belt state may need only 1-1/2 tons of cooling capacity, instead of the 4 tons needed for a wood-frame structure of equal size," he says.
Higher Rated R-Values: "R" is "R-Value" stands for thermal resistance, and the higher the R-Value, the better the wall is at stopping the flow of heat. Homes built using traditional frame construction typically have exterior walls rated between R-13 and R-19. ICF walls, on the other hand, have an insulation value of R-22 or R-26. A frame wall would need to be a full 12 inches thick to achieve a similar rating.
Airtight Construction: "Tested R-Values," however, don't necessarily reflect real-world performance. For instance, laboratory tests don't consider the level of airflow through the wall, which is one reason why ICF walls usually perform even better than lab tests indicate.
Anyone who has lived in a drafty house knows how quickly a room can cool when a winter storm howls outside. For the past decade or so, homebuilders have tried to reduce air infiltration by covering exterior walls in a layer of paper-like "homewrap," which has partially addressed the issue of air infiltration.
ICF walls, on the other hand, are virtually airtight. Even hurricane-force winds can't force their way through four to six inches of solid concrete.
Thermal Mass: Even a modest ICF home uses dozens of yards of concrete, and that weight helps moderate temperature swings. The secret is that the walls take hours to heat up—even in the hot summer sun. And when the sun sets and temperatures drop, the stored-up heat keeps the interior pleasant through much of the night.
Homeowners report that once their ICF homes reach room temperature, it takes very little energy to keep them there. For example, one beautiful 9,000 sq. ft. home in Central Minnesota averages less than $70 per month in heating and cooling costs.
Conducts Ground Temperature: In most parts of North America, the ground stays a constant 50o to 55o Fahrenheit a few feet below the surface. Concrete actually conducts thermal energy fairly well, and in the winter months, it absorbs this extra heat from the earth and transfers it into your home. During the summer, it wicks that coolness from the ground and transfers part of it into the structure.
Admittedly, ground temperature conduction is probably a minor factor in keeping energy bills to a minimum, but when combined with the other four elements mentioned here, the five make a powerful argument for using ICFs above grade. No other alternative building technology can offer the high R-values, airtight construction, and thermal mass of ICFs.
Incredibly, the cost of living in an ICF home is no higher—and may be cheaper—than living in a regular house. Here's the math:
The Insulating Concrete Forms Association (ICFA) estimates that ICFs cost 3% to 5% more than frame building. That's about $10,000 for a $250,000 house. Financed with a conventional 30-year loan at 6.5%, it will add $62.55 to the monthly mortgage. However, because the homeowner will be saving at least that much on energy bills, the actual monthly cash outlay is less. In other words, when energy costs are considered, it's actually less expensive to live in an ICF house. All of the other benefits—like quiet interiors, less maintenance, and disaster-proof walls—are added bonuses at no extra cost.
Crocker says, "A traditional builder sells what you can see: kitchens, master bedrooms, all the elements that have nothing to do with the structure. The value we offer is in the structure itself, and what it will do from day one for the occupant."
---

ICF Builder Magazine


---
Project Profile: Grand Caribbean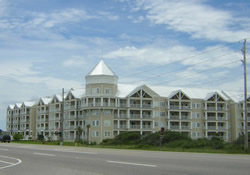 The Grand Caribbean, a 6-story, 150,000-sq.-ft condominium complex in Orange Beach, Ala., is proving that ICF construction is a perfect choice for multi-family construction.
The beachfront property has withstood two major hurricanes since it was completed in early 2003 with minimal damage. But architect David Lindsay—who also supplied the IntegraSpec ICFs for the project—claims the owners are more pleased with their low energy bills, soundproof walls, and maintenance-free units.
"I get a lot of compliments from the owners," Lindsay says. I went to an owners group meeting about a year after it was finished, and most said their bills were about $25 a month. But that wasn't what impressed them. What they wanted to talk about was how quiet it was." Owners of units that sit less than 50 feet from a 6-lane highway say they can't hear the noise once the door shuts.
All of the walls, including the interior demising walls between units, are constructed from ICFs. Also, most of the architectural reliefs on the exterior of the Victorian-style building are monolithic concrete, created with differing thicknesses of ICFs.
ICFs construction was a major reason for the project's success. "It helped with the initial sales; it helped with the resales," confirms Lindsay. "Sales people were marketing the condos with core samples of the ICF walls sitting on their desks. It's quite impressive to see that 6-inch core of reinforced concrete, knowing it will surround you on all sides."
When Hurricane Katrina roared through last fall, the building suffered zero damage.
"We were ground zero for Ivan," he says. The storm completely destroyed nearly all the wood frame buildings near the coast. The Grand Caribbean suffered zero structural damage.
"There was water 7- to 8-feet deep in the lower level [a parking garage] but it never reached the living spaces. We went through two days after the storm and certified that it was safe to live in."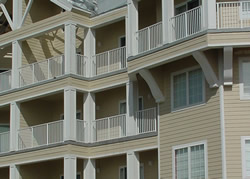 All of the architectural details—the octagonal tower, the pilasters, columns, cornices, and dentils—were created with ICFs. "One of the things that we were trying to prove is that you can do delicate ornamental work using the formwork itself. I can step out a horizontal band by using a thicker block. Or I can make a cornice by stepping up the core size from 8 to10 to 12 inches and crown it with brickledges. It's all solid, monolithic concrete, but it doesn't look bulky. It looks like a light Victorian hotel."
---

ICF Builder Magazine


---
Radiant Heat—A Perfect Match for ICFs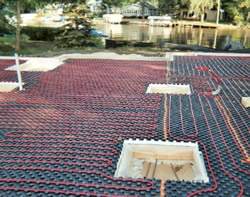 Radiant heat, and more specifically, in-floor hydronic radiant heat, is beginning to make real inroads into residential and commercial heating markets in North America.
We are finally waking up to the advantages of sustainable, "green building" technologies and practices not only for the benefit of the environment, but for the health benefits of the buildings' inhabitants.
---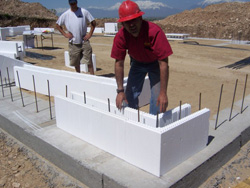 Flat, square, level footings are important regardless of the type of wall you build. But they are absolutely essential for ICF construction.
Experienced ICF contractors know that a quality footing will save them money, hassle, and headache, and are willing to pay a premium for it. Many pour their own footings, knowing that the extra time and attention they spend of the footing will pay off as the wall goes up.
"Level is everything," says Doug Reid, owner of Fine Line Footing Forms. "I don't care what kind of a wall you're going to put on top of it, the footing needs to be level."
Whether you are looking for a good footing subcontractor or want to pour your own and capitalize on the profits, here's some tips to help you get started.
---
A living roof can be an attractive roofing option for a building's owner or developer. It transforms an ordinary building into something visually appealing, economically attractive, and environmentally friendly—and adds to its overall value.
By reducing storm water runoff, reducing the heat island effect, reducing dust and smog, and reducing a building's summer cooling needs by at least 25%, living roofs are becoming more attractive as an environmentally conscious roofing option.
Concrete is the perfect choice for "green" roofs because it can support the substantial weight of the soil and vegetation.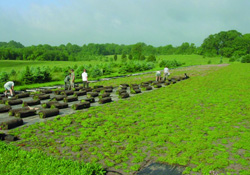 A living roof is made up of components that, if chosen and installed correctly, will provide a long service life. The components can contribute additional LEED points if they contain recycled content. Ideally, a low- or no-VOC, liquid applied membrane should be used to waterproof the concrete substrate. Root barriers are optional, depending on the type of plants used in the design. The next layers are the drainage system with filter fabric, the growing medium, and finally the plants.
Aggregate drainage layers are almost always too heavy for rooftop applications, so specialized drainage membranes are used.
Colbond Inc. a U.S.-based maker of waterproofing and drainage products, manufactures some unique products specifically for the green roof market. Enkadrain is a subsurface drainage composite made from fused, entangled filaments molded into a waffle pattern with a filter fabric bonded to one or both sides. .
For some inspiration, an interesting article about an eco building with ICF walls and a Green Roof can be seen on the PCA's website.
» Subscribe Now For the Full Story!
---

ICF Builder Magazine


---
Women directly purchase or have controlling influence in the purchase of 91% of all new homes. Designing ICF home selling strategies based on energy efficiency, therefore, depends on understanding every aspect of women's perspective on the subject.
Financial Security: For her, energy efficiency equals financial security. NetSmart America reports that "women pay 70% of all household bills." SRI Consulting Business Intelligence adds that "women are directing the financial stability and security of almost 70% of all U.S. households." And even though most women control the household budget, "a startling 90% of women say they feel financially insecure."
Implication: Women are much more likely than men to be in tune with monthly utility bills. With their lower and predictable energy costs, ICF homes provide a sense of financial security!
Excellent Investment: Women have a longer-term investment perspective than men. Presenting energy efficiency as a predictable, high-performing investment is a powerful selling strategy. And, since energy efficient homes can appraise higher, their resale values are enhanced, too!
Comfort: For her, energy efficiency equals comfort. Women are more sensitive to uncomfortable temperatures than men. And women are more likely to be irritated by unwanted noise than men. "Comfort" is one of the most positive and frequently mentioned aspects by ICF homeowners.
Quality: For her, lower energy bills are an obvious indicator of a quality built home. Energy efficient construction may help the home perform better, reducing potential problems with moisture, freezing water pipes, roof ice dams, etc. As an ICF builder, you have a unique opportunity to define "quality" for prospective home buyers. Almost all buyers want to purchase a quality home!
Successful homebuilders know that "Woman-centric design" works, and that means designing everything—including your sales efforts—from her perspective. By tapping into the female psyche on "energy efficiency" you'll provide a much more compelling story and value proposition.