GreenBuild Show Preview
The U.S. Green Building Council's (USGBC) annual Greenbuild tradeshow will take place Nov. 13-16, 2012 in San Francisco, Calif.
The show is back in the U.S. after an international foray last year in Toronto, Ontario, Canada, and organizers are expecting a huge turnout. This year's expo hall will be the biggest in Greenbuild's 11-year history, with three floors and more than 1,000 exhibitors and 2,000 booths. (The show in Toronto had less-than-stellar attendance, perhaps because of the inconvenience of international travel.)
ICF-related companies that will be exhibiting at the show include NUDURA, Logix, Lite-Form Technologies, Amvic Wall Systems, and IntegraSpec ICF
As in previous years, the 2012 show features three days of networking, educational sessions, building tours, speakers and plenary events. The show will open with a concert by three-time Grammy Award-winning Train, a band that has its roots in the bay area. Their hits include "Meet Virginia," and "Hey, Soul Sister."
Cement Association seeks Presentations on Sustainability
The National Ready Mixed Concrete Association is seeking abstracts for the 2013 International Concrete Sustainability Conference, scheduled for May 6 to 8 in San Francisco. The 8th annual conference will provide a change to learn about latest advances is sustainable concrete manufacturing and construction. This year's conference is being conducted in cooperation with the Stanford University Department of Civil and Environmental Engineering.
Topics should relate to how to maximize the sustainability of concrete. At least four suggested topics are directly relevant to ICFs: life cycle assessment, green building codes and standards, functional resilience (fortified building codes and community initiatives focusing on disaster resistance) and green concrete (recycled and alternative materials, including aggregates, water, cementitious materials and fuels).
Abstracts can be submitted online through Friday, November 30 2012.

Logix Offers Home Plans
Logix Insulated Concrete Forms now offers home plans.
The company has reached an exclusive agreement with eplans.com, one of the leading online sources of house plans with 30,000 different home designs on file.
"From European to Colonial, traditional to modern, almost any house plan can be configured for Logix ICFs," says Andy Lennox, director of marketing at Logix. "Whether you're planning from the start or you need help in modifying existing plans, we'll make purchasing a Logix ICF home plan as simple as possible."
Eplans.com already offers a low price guarantee on its services, but LOGIX has sweetened the deal by offering additional discounts through the new partnership program. For example, the "Switch To Logix Rebate" will repay up to 50% of the cost of having the house plans converted to ICF.
The company also offers a "One Minute Estimator" that quickly provides a rough cost of the LOGIX material used in building that homeplan.
Commercial Sector Struggles With Profitability
Recent data suggests commercial builders are beginning to face a cash-flow crunch.
FMI's Third Quarter Nonresidential Construction Index Report, indicates many commercial contractors have been accepting low-bid work just to keep their backlogs full. The result is that they're becoming unable to pay for ongoing losses.
The report also notes that an increasing number of contractors are self-funding projects or financing them in partnership with the owner/developer or equity investors. FMI attributes this shift in finance strategy to fewer bank being willing to loan on construction. "Add to this rising material and labor costs, as well as lower project management fees and profit margins, and the result is an upturn in bankruptcies for industry firms," the report concludes.
LEED Chemical Credits Cause Stir
LEED, the leading green building rating system, has suggested stiffening the rules for toxic chemicals in building materials, a move that has industrial chemical producers in an uproar.
U.S. Green Building Council (USGBC) has proposed that the next version of their popular LEED rating system include credits for chemical disclosure and avoidance, targeting substances such as halogenated flame-retardants, used to make the EPS foam used in ICFs fire-resistant. Other chemicals on the avoidance list include Bisphenol-A, (widely used in building products such as epoxy-based caulks, resins and coatings) phthalates (used in flexible vinyl) and dioxin (a waste product of chlorinated plastics such as PVC).
The American Chemistry Council (ACC), has responded by launching a counter attack in various scientific journals seeking to show that no link between the chemicals and poor health has been proven.
In response to this concern and others, the next version of LEED, originally named LEED 2012, has been put on hold for at least six months, necessitating it to be renamed LEEDv4.

ICF Builder Magazine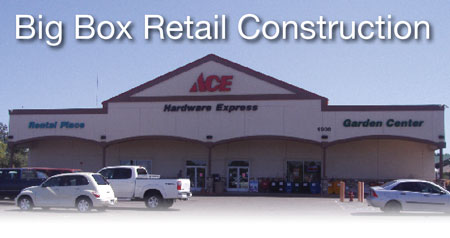 ICFs and Big Box Retail Construction
With long, straight walls and few windows, this niche has long been dominated by tilt-up. However, owners are starting to insist on better looking, better insulated buildings. And that means ICFs are starting to pick up retail projects where disaster-resistance, sound attenuation, and energy efficiency are priorities. National chains and others are discovering that ICF construction gets them a better building faster—and sometimes at a lower cost—than other methods.
» Click Here for the Complete Story

ICF Builder Magazine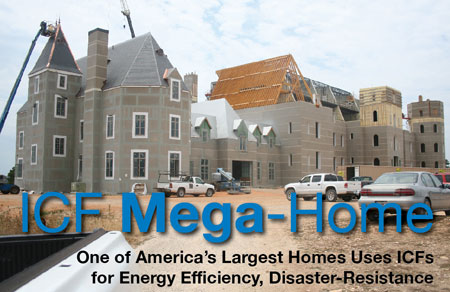 ICF Megahome in the Ozarks
At 72,000 sq. ft., Pensmore is one of the largest homes in the world. The owner was so impressed with ICF technology that he bought the manufacturer, and is using the project to test cutting-edge building technology.
» Click Here for the Complete Story
---
Project Profiles:
The Heavy Commercial Winners
A school, a theater, and a college library took top honors at the 2011 ICF Builder Awards. The projects share a common trait: skilled ICF installers who handled the most demanding ICF design challenges with competence, speed, and unparalleled workmanship.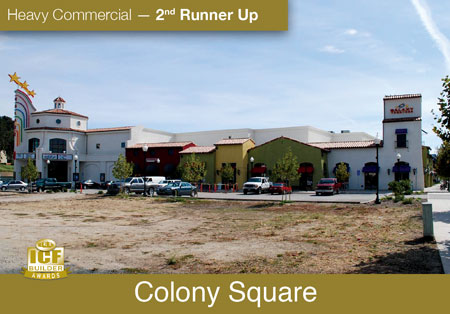 Colony Square
Colony Square, a ten-screen theater and associated retail complex is the centerpiece of a downtown revitalization effort for the city of Atascadero,Calif. "This is the largest commercial ICF project in the region," says Andrew Stephens, the LOGIX territory manager that submitted the project…
» Read the Complete Profile Here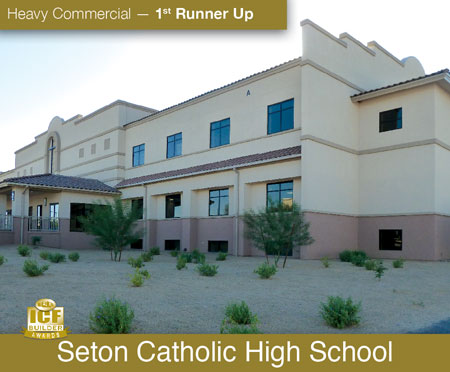 Seton Catholic High School
Seton Catholic High School is one of the most ambitious ICF projects ever attempted. "This was an extremely intricate build," says the ICF installer. "In addition to all the exterior walls, 80% of the interior walls were ICF as well, on all three levels. This created an intense network of T-walls and other intersecting elements. Wall heights were 15 feet per floor."
» Read the Complete Profile Here
---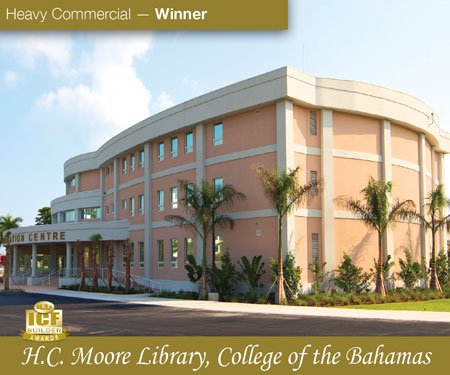 Bahamas Library
The H.C. Moore Library, part of the College of the Bahamas in Nassau, is an outstanding example of how ICFs provide an elegant, cost effective solution to many construction challenges. Fully 85% of the exterior walls are curves. Additionally, the owner stipulated it needed to double as a National Disaster Relief Center, able to withstand any major seismic or hurricane force winds that frequently occur in the region…
» Read the Complete Profile Here

ICF Builder Magazine

Tips For A Safe And Efficient Pour
By Christi Collins
Truck-mounted boom pumps are by far the most common way to fill ICF walls and footings. They're efficient, effective, and affordable. The average ICF residential project, for instance, will see at least three visits from a pump truck. On commercial jobs, it's not uncommon to have as many as a dozen different trips to the jobsite, with two pumps working simultaneously.
These pours, though common, can be dangerous. The combination of scaffolding heights, concrete weight, pipeline pressures, and visibility constraints present ample opportunity for injury.
A few years ago, the American Concrete Pumping Association (ACPA) published a booklet specifically for the ICF industry to ensure pour day goes as smoothly as possible.
» Click Here for the Complete Story


ICF Builder Magazine