Smartblock in Home Depot Online
SmartBlock Insulated Concrete Forms, made by ConForm Global, can now be purchased through The Home Depot's online store at www.HomeDepot.com.

Since November 2011, ConForm has been selling the forms across the United States utilizing the easy customer service advantages of the online site.
"Homeowners are more informed about ICFs than they were ten years ago," said Mike George, general manager for the company. "A local distributor is not the key to sales anymore. We have found we can offer the same services of buyer-support through this avenue, and reach more customers at the same time."
Currently, Home Depot.com offers SmartBlock 12VWF8 and 12VWF6, the 8 inch- and 6 inch-wide breakdown panel systems. The wider core sizes are available at www.smartblock.com or by calling 1-800-CONFORM.
EPS Associations Consolidate
Four trade associations that deal with EPS Foam, including the Insulating Concrete Form Association (ICFA), are consolidating into a single entity.
The EPS Molders Association (EPSMA) and the Alliance of Foam Packaging Recyclers (AFPR)—both of which were represented by the same management team—have consolidated their resources to create an organization that will represent the entire industry. In addition to EPSMA and AFPR, the Plastic Loose Fill Council (PLFC) has also been integrated into the new group.
Called the EPS Industry Alliance, the new trade association will represent all facets of EPS industry. The new group was formally launched at the EPS Expo, a trade show held in mid-March. The new EPS-IA website, www.epsindustry.org, is already online.
As for where this leaves ICFA, Steiner says, "Specific EPS applications, such as structural insulated panels [SIPs] and insulating concrete forms [ICFs], will form special interest groups [within ICF-IA] to further advance these unique applications."
NRMCA Members Choose New Board
The National Ready Mixed Concrete Association has elected a new board of directors. David Robison of Delta Industries, Jackson, Miss. is chairman. He succeeds Karl Watson, Jr., of Cemex, Inc., Houston, who will now serve as immediate past chairman. NRMCA members also elected William Childs, IV, as vice chairman and Henry (Ric) Suzio as secretary/treasurer.
Robison previously served as president of the association in 1995. He is also a past chairman of NRMCA's Government Affairs, PAC and Legal Activities committees and has previously served on the NRMCA Board and Construction Industry Alliances Committee. "We are fortunate to have Dave, Bill and Ric in positions of leadership, both here at NRMCA and also the industry as a whole," said NRMCA President Robert Garbini. "They each bring an extensive history of involvement with NRMCA and will work closely with the Association staff on a variety of projects and issues. I look forward to working with them."
Lafarge Introduces a More Sustainable Cement
In response to growing demand for a more environmentally friendly concrete, Lafarge has introduced a new portland-limestone cement (PLC) in Canada. PLC is a new category of cement that provides performance similar to conventional portland cement but creates up to 10% less CO2 emissions during manufacturer. The new cement has been widely used in Europe for over 25 years.
Approved for use by the Canadian Standards Association, the National Building Code of Canada, and the building codes of British Columbia, Ontario, and Quebec, PLC is produced by grinding portland cement clinker and mixing it with 6% to 15% limestone. Based on a number of trials, Lafarge claimes it will achieve comparable performance to regular portland cement in terms of concrete workability, set time, durability and all ages of concrete strength development.
Currently, PLC is available only for commercial accounts, and will be supplied by Lafarge's plants in Richmond, British Columbia, and Bath, Ontario.

Side-by-Side Home Test Underway
Shortly after the Greenbuild 2010 tradeshow concluded in Chicago, two Habitat for Humanity homes were built by volunteer crews in the nearby suburb of Waukegan, Ill. One was built with LOGIX Insulating Concrete Forms (ICFs) having a nominal 6" core. The other used 2x6 wood-frame walls (24" on center) with four inches of open-cell spray foam insulation, and an additional 1-inch of XPS foam board sheathing wrapped with an air infiltration barrier—well beyond what is required by code. In photographs, the homes can be distinguished as the ICF home has fiber-cement siding and a metal roof, while the wood-frame home features vinyl siding and concrete roof tiles.
Both homes currently are on track to achieve LEED for Homes Gold certification. Kouba-Cavallo Associates Inc. was hired to perform blower door tests on both homes. They report that the ICF house registered 1.15 air changes per hour (ACH) at 50 Pascals, while the lumber-framed house registered 2.76 ACH. The ICF home was 2.4 times tighter than the lumber-framed home. —even with its spray foam insulation and exterior air barrier.
The USGBC is monitoring actual energy performance data for both homes; the data will be made available after a full 12 months of data has been collected. When the 12-month study is complete and results are available, ICF Builder will revisit this story.

Wisconsin Ready-Mix Announces Home of the Year
A Wisconsin ICF contractor has won a "home of the year award from the Wisconsin Ready Mixed Concrete Association (WRMCA).
For 31 years, the WRMCA has produced the Concrete Design Awards, which recognizes excellence and innovation in the ready-mixed concrete industry in categories such as agricultural, decorative, residential and commercial.
David Kim Kozial, owner of Kozial Construction Inc., earned top honors in the residential category for Dave and Diane Joswiak's ICF home in Bloomer, Wisconsin. He and his team were recognized at an award presentation held on March 9 at the Harley-Davidson Museum in Milwaukee.
The Joswiak's residence was built with TF System, a Vertical Insulated Concrete Form (ICFs) that claims to be even easier, safer, and more efficient than horizontal ICF building.

U.S. Gov't to Focus on Disaster Resistant Construction
The National Ready Mixed Concrete Association is teaching a series of full-day workshops emphasizing the disaster-resistant qualities of concrete construction.
Event organizers say the series was prompted by requests from government agencies, and that many of the criteria for enhanced resilience are documented in federal standards.
For additional details, including topics covered and the dates and locations of the workshops, visit www.nrmca.org/resilience.
USGBC Releases List of "Best Green Schools"
The U.S. Green Building Council has released a "Best of Green Schools 2011" list. The first-of-its-kind list seeks to recognize administrators, government leaders, and individual regions that are active in pushing for schools that meet USGBC "green" standards.
Of note to the ICF industry,Kentucky state reps. Jim DeCesare (R) and Mary Lou Marzian (D) were recognized for their work legislating bills in support of green schools, and for encouraging other states on similar efforts.
Other areas of the country mentioned in the USGBC report as receptive to ICF school construction include:
Sacramento (Calif.) Mayor Kevin Johnson is working with school and local government leaders across the Northern California region to create a $100 million revolving loan fund for green school retrofits.
Philadelphia and Washington D.C. were also mentioned as cities putting particular emphasis on green schools.
Ohio leads the nation with more green school projects underway than any other state, with 19 LEED-certified schools registered in just 2011.
In nearby Illinois, a report was released in March 2011 recommending that all K-12 schools in the state be built to green standards.

ICF Builder Magazine
Air Exchangers and Energy Efficiency
Whether whole-house mechanical ventilation is needed has been hotly debated in the ICF community for some time. One reason it's difficult to pin down a straightforward answer is due to the number of variables involved.

Climate is one variable. The occupant's sensitivities and lifestyle are another. The biggest variable, though, is the home's construction. The roof material, number and size of windows, bathroom fans, chimneys, and the height of the house are the largest factors. If mechanical ventilation is needed, it can be done very efficiently.
» Click Here for the Complete Story
---
Project Profile: Large Residential Winners
From the frigid Wisconsin forests to the balmy beaches of Florida and the scorching deserts of Southern Arizona, these three homes demonstrate that ICFs can deliver energy-efficiency and durability in an incredibly beautiful package.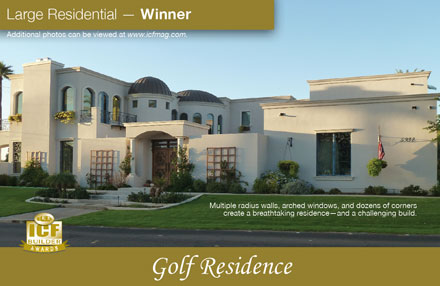 Golf Residence
Built adjacent to a picturesque Arizona golf course, this home is a stunning of ICF construction.
The home had 22 differing wall heights, topping out at 38 feet above grade. Some of these walls have no intermediate floors, and feature sweeping radii, each with numerous arched window and door penetrations. The back of the home has so many jogs that the longest straight run is reduced to only a dozen feet, and these had to be perfectly aligned to accommodate the multiple arched windows. In addition to the exterior walls, ICFs were used to create the fireplace, chimney, safe room, and a walk-in freezer/cooler. Foam decking was used for the floors, as well as the safe room roof. To reduce concrete costs, the home uses four different core sizes.
» Read the Complete Profile Here
---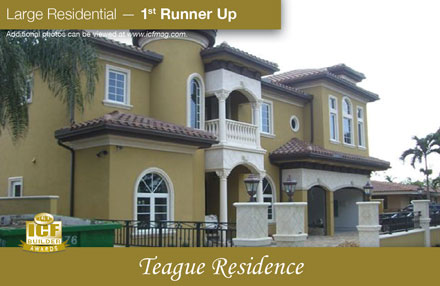 Teague Residence
"ICFs represent our best defense against Mother Nature in Florida's hurricane-prone areas," says this home's developer. The owner reports an $18,000 annual savings as a result of insurance credits attributed to the ICF construction.
The home features Quad-Lock walls with eight inches of solid steel-reinforced concrete in the core. That's topped with a sloped concrete and foam roof system for unprecedented hurricane resistance. Set and poured at a 4 ½:12 pitch it was "the biggest challenge in the project design." In total, the home used 183 cubic yards of concrete.
The roof was not the only challenge, though. The structure incorporates a multiple radius walls. One surrounding the staircase has a tight 4' radius and no intervening floors.

» Read the Complete Profile Here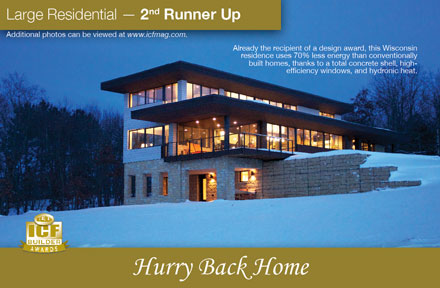 Hurry Back Home
Built into a rugged and hilly 35-acre site, the Hurry Back Home e features strong horizontal lines broken by extensive floor-to-ceiling windows to take advantage of the remarkable view over the historic Wisconsin River Valley and six neighboring towns.
Kyle Dumbleton, the home's designer, explains, "The house was planned as a "100-year-plus" project. All of the project's 5,000 square feet of walls are built with Quad-Lock ICFs, which stretch to 32 feet above the footing, often with no intervening floors. The floors, deck, and roof were constructed of Quad-Deck, to complete an energy efficient, extremely long-lasting building shell. Dumbleton notes that the largest of these "seemingly effortless double-cantilevered roof forms" was cast on site and weighs an astonishing 20 tons.

» Read the Complete Profile Here
---


For years, ICF advocates have claimed that the concrete core of an ICF wall maintains a stable temperature by tapping into the steady 50 degree soil surrounding the footings. After studying data from several ICF structures built with thermocouples in the wall specifically to test this hypothesis, there are now numbers to back up this claim…
» Read the Complete Story Here

ICF Builder Magazine