ICFs Gaining Ground in Fire Stations
ICFs, with a solid concrete core that's impervious to fire, are becoming a favorite with firefighters—especially when it comes to their own workplace.
Randy Daniels, a Fox Blocks sales manager for the western U.S. reports that the city of Las Vegas Architects Office has specified ICFs across the board for their current crop of new fire stations. Two projects are currently under construction, with a third slated to begin this spring. "They're getting some nice attention and media coverage," says Daniels.
He reports that the national online magazine Fire Chief, which goes out monthly to over 52,000 fire departments nationwide published an article regarding ICF's and fire station construction, and that the projects have been reported in the Las Vegas Business Press.
Fox Blocks has uploaded a video highlighting these projects to their YouTube channel.
The greater Phoenix, Arizona area has also seen some success with ICF fire stations. The Buckeye Valley station, built with Reward ICFs, was a runner-up in this year's ICF Builder Awards, and is featured on p. 16 of this issue.
Green Home of the Year is ICF
Green Builder Magazine recently announced the winners of its 4th Annual Green Builder Home of the Year Awards. Showcasing the U.S's most cutting-edge green residential projects, one of the winners—River Escape Home in Stanwood, Mich.—was built with BuildBlock ICFs. The home is 88% more efficient than an ordinary stick-frame home.
Eric Hughes, at Image Design, LLC, notes that this is the second time in the awards four year history that an ICF home designed by his firm has won the prestigious award. (The 2009 GreenBuilder Home of the Year Award was for the "Vineyard" Project, also built with BuildBlock).
More information about the River Escape Home, is in the December 2011 issue of Green Builder magazine. Additional photos can be seen on the homeowner's blog as well.
Fab-Form Installs Pre-Manufactured ICF Foundation
Fab-Form, the Surrey, B.C.-based maker of the FastFoot fabric footing system, may have set a new benchmark for speed and accuracy by installing a panelized ICF foundation under a fully panelized wood-frame home.
Mike Dutson, a partner at the Econ Group, which built the home, says, "We needed a foundation wall accuracy of 1/8" because all the floors, walls and roof were pre-manufactured." For additional photos and videos of the job, visit http://www.fab-form.com/fastfootMp/fastfoot MpProjectEconUbc.php
Passive House Standard Under Development
Two leading organizations have launched a partnership to standardize passive house rating systems. Similar to a net-zero energy home, a passive house seeks to minimize heating and cooling costs by using only passive sources (solar gain, electrical equipment, lighting, and body heat). Because these homes must be 90% more efficient than standard construction, ICFs are a popular choice for passive house wall construction.
The plan is part to boost the number of passive houses, and includes education courses for professionals and consumers.
The collaboration, formalized in July, partners the Earth Advantage Institute (EAI) with the Passive House Institute US (PHIUS). The two groups are working to develop an Energy Performance Score (EPS) label that can be issued for any home certified to the Passive House building energy standard.
Currently more than 1,900 homes have been rated in the Northwest, and pilot programs are underway in Massachusetts, Virginia and Alabama. More information can be found online.

ICF Builder Magazine
ICF Builder Award Winners 2011
The 2011 ICF Builder Awards have been announced. The winning projects, represent the very finest ICF buildings built in the last few years. They have set a higher standard for the entire industry through their complexity, site challenges, exposure, and other factors.
Winners were officially announced at the ICF Builder Award Presentation, an evening event held in January 2012 in conjunction with the World of Concrete. This year's event attracted more than 300 people from all segments of the ICF industry, and was a great opportunity to network, socialize, and meet new contacts.
For additional facts, project profiles, and dozens of outstanding photographs of the winning projects visit www.builderawards.com.
Project Profiles: The Light Commercial Winners
These three winners—a fire station, science center, and municipal building—showcase the broad array of light commercial projects being built with ICFs.
Buckeye Valley Fire Station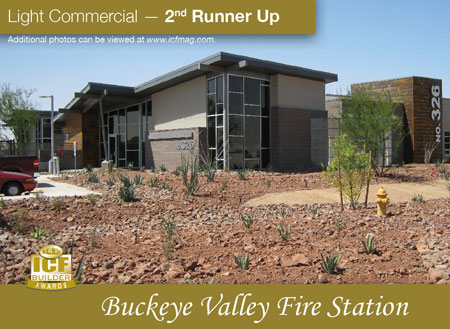 The Buckeye Valley Fire Station in Arizona is one of a new generation of ICF buildings, riding the leading edge of the green building wave that's engulfing the light commercial market.
At 18,000 sq. ft. the project uses ICFs for all exterior walls of the fire station proper (the attached engine garage is built with CMU). Several interior walls were also built with ICF to isolate potential noise sources.
» See the Complete Project Profile Here
---
Cascade Meadows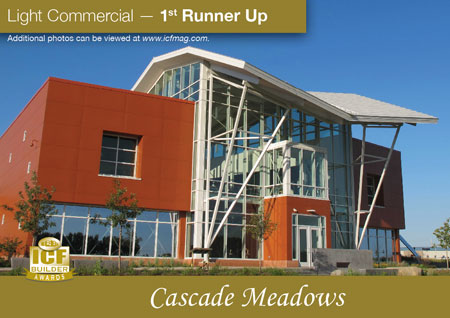 Cascade Meadows is a science center and meeting space administered by a non-profit organization to teach youth about wetland environments.
The building is owned by those who know about the fragility of ecosystems, so it's only natural they wanted the center to be as environmentally friendly as possible.
» See the Complete Project Profile Here
---

Kiowa County Commons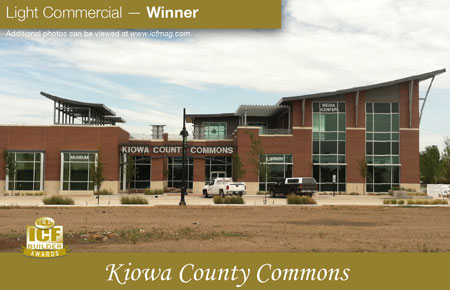 Kiowa County Commons is the centerpiece of the rebuilding effort in Greensburg Kansas. Literally wiped of the map by an EF-5 tornado is 2009, the town has vowed to rebuild using sustainable, disaster resistant technologies. It will be the largest green building effort in the U.S. when completed.
With the emphasis on sustainability and disaster resistance, ICFs were a perfect choice for the rebuilding effort
» See the Complete Project Profile Here
---
The ICF Tipping Point
By Cameron Ware
Four different gauges of ICF acceptance indicate that this technology is on the verge of skyrocketing growth. Code changes, landmark projects, and the education of design professionals have all played a role.
» Read the Complete Story Here

ICF Builder Magazine