Greenblock Worldwide Has New Owners
Greenblock Worldwide, the Florida-based ICF manufacturer, has been purchased by a group of construction-savvy businessmen.
Jimmy Myrick, a former real estate developer with extensive experience in business management, is the majority shareholder and oversees day-to-day management as Greenblock's new president. Jim Leatherman, a longtime ICF executive, has the title of vice-president of sales and marketing. Leatherman was vice-president and founding partner of ECO-Block prior to its acquisition by Arxx, and served as national sales manager of Greenblock during the construction industry boom last decade.
As part of the transaction, which was finalized in April, Leatherman and Myrick also acquired Insulated Concrete Walls (ICW), an ICF installation subcontractor that has worked on some of the most prominent ICF jobs in the south.
"We see the potential in the industry," Leatherman explains. "It's clear that the construction industry is going to turn, and in some areas has already turned. We're excited to play a part in that."
Greenblock and ICW were previously owned by a European investment group, along with Homecrete Homes, one of the nation's top 20 homebuilders. Homecrete was not part of the acquisition, and is no longer affiliated with Greenblock or ICW.
Greenblock has historically done most of their work in Florida, where the company is headquartered, and in the Southwest. But the new owners have plans to achieve a truly national presence.
"Obviously, we're going to maximize where we're strongest," says Leatherman, "but we plan on growing into the other areas. We're actively seeking qualified distributors, and are committed to developing stronger customer relationships. We see opportunities to enhance the structure and become more efficient."

ICF Home Survives Tornado
The tornadoes that tore a path of destruction across the Deep South last month have killed several hundred and left thousands more homeless. Lake Martin, Alabama was devastated by a strong twister on April 27, which uprooted trees and reduced at least 70 houses to rubble. But one resident's home survived unscathed, even though it took a direct hit.
Paul Hubble, who works for Alabama-based ICF installer Force 5 Walls, says, "We received a phone call Saturday, April 30th, from a homeowner we had built a house for about 9 years ago on Lake Martin. The home is constructed with 6" core ICF exterior walls. The homeowner was calling to say 'Thank you.' She said that she was surrounded by pieces of houses that had been completely destroyed in the storm."
The Lake Martin Home Under Construction in 2002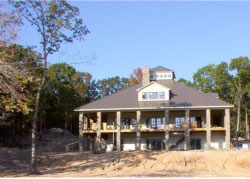 Fox Blocks Opens Plant in Quebec
Fox Blocks, a division of Omaha-based Airlite Plastics Company, has added a eighth manufacturing facility in Montreal, Quebec. This location is the company's first manufacturing facility outside of the United States, and output from the plant is expected to supply demand throughout eastern Canada.
As part of the geographical expansion, Fox Blocks has hired Rene Pilon as regional sales manager. Pilon has worked in the industry for more than a decade, first as an installer/distributor, and then as a sales manager and trainer for several leading brands. Fluent in both English and French, he has translated installation manuals, and given presentations on ICFs at ready mix association meetings.
"I'm very excited to represent Fox Blocks," says Pilon. "They have a great product and the team has a winner attitude."
For additional information, visit www.foxblocks.com.
LEED Passes 10,000-Home Milestone
More than 10,000 homes across the U.S. have earned LEED certification through the LEED for Homes program. The data, supplied by the U.S. Green Building Council (USGBC), indicates the degree to which sustainable building has penetrated the market. USGBC reports that more than 38,000 additional homes are in the process of certification.
"Reaching this milestone signifies the continued transformation of the home building industry towards high-performing, healthy homes that save home owners money," said Nate Kredich, vice president of residential market development.

PCA Revises Concrete Mix Design Book
The Portland Cement Association (PCA) has recently published the 15th edition of their landmark Design and Control of Concrete Mixtures. The reference book is subtitled "The professional user's guide to applications, methods, and materials."

Updated with more than 100 additional pages of new information, the revised text reflects the latest information on standards, specifications, and test methods of ASTM International, the American Association of State Highway and Transportation Officials (AASHTO), and the American Concrete Institute (ACI).

New chapters cover sustainability, reinforcement, properties of concrete, and durability. Patti Flesher, marketing director at PCA calls it "a must-have reference for anyone who works with concrete."
The book can be ordered from the PCA bookstore. www.cement.org/store.

ICF Builder Magazine
International ICFs: Great Britain
North American ICF brands are being used around the world. The first installment in this new series looks at the challenges and successes of using ICFs in Great Britain.
» Click Here for the Complete Story

---
Project Profiles: The Light Commercial Winners
Selected from a field of more than a dozen top entries, these three projects were the winning light commercial projects at the 2010 ICF Builder Awards.
St. Mary Magdalene Catholic Church
This 20,000 sq. ft. building with 30-foot ceilings required an exceptionally efficient building envelope, in order to keep the congregation comfortable in the heat of an Arizona summer. Computer modeling confirmed that ICF walls, coupled with SIP panels for the roof would provide maximum comfort.
But ICFs also solved difficult construction challenges, such as supporting the 100-foot king truss that ran the length of the building. ICFs also simplified formwork around the entry archway, nearly 40 feet tall and more than 30 feet wide…
» Read the Complete Profile Here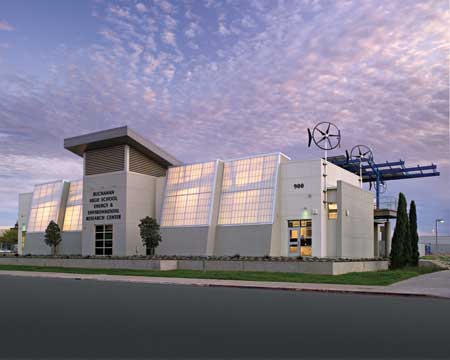 Buchanan Science Center
The Buchanan Science Center, owned by the Clovis Unified School District (CUSD) in California, is one of the most unique public school buildings in North America.
Built with a combination of LOGIX ICF walls and structural steel, the building showcases a dizzying array of cutting-edge technologies. Wind turbines and photovoltaic panels generate power, while the ICFs, a garden roof and extensive daylighting and passive ventilation techniques reduce energy needs. Radiant heating and a rainwater collection system reduce environmental impact even further.
» Read the Complete Profile Here
Midvag Kindergarten
Built on a remote island halfway between Iceland and Norway, this ICF kindergarten is a solution to the high winds, low temperatures, and moisture problems that shorten the lifespan and increase the energy costs of wood-frame structures.
The architect's vision was to design a child-friendly complex that would be functional, blend into the surroundings, and respect the local architectural style. The result was a complex design, with walls rising to 38 feet and meeting at 130 and 115 degree angles,
Quad-Lock's unique panel ICF system was perfect for the design…
» Read the Complete Profile Here

---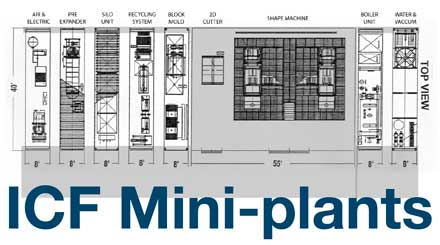 Portable ICF Manufacturing Plants
First introduced about three years ago, these containerized "factory kits" allows ICFs to be manufactured on a surprisingly large scale virtually anywhere in the world.
» Click Here for the Complete Story

ICF Builder Magazine
2011 ICF Product Directory
This special advertorial section includes listings for leading ICFs and accessory products, organized by category and containing company contact information.
» View Online
» Download the Product Directory
---

These days the world is selling green. Everything from light bulbs and carpet to paint and roofing is being touted as environmentally friendly. With so many choices, how can one achieve the maximum amount of sustainability? The best thing to do is to make each dollar count.
ICF enthusiasts know that incorporating ICF building technology will reduce energy consumption. By dramatically reducing the energy required for heating and cooling, it maximizes the building's sustainability.
However, the thermal envelope is only as strong as its weakest link. Great attention or investment in one player will not necessarily improve the thermal envelope because heat will simply escape somewhere else.
Just a balanced approach to all team positions yields the best results, a balanced approach to the design of the thermal envelope is required to build the best structure or building….

ICF Builder Magazine

I recently had the opportunity to share a few of my favorite business and personal growth books with my family, which made me think that perhaps many of you could benefit from a good list of reading recommendations as well.
Reading books written by experts allows us to overcome and succeed without having the expense or heartbreak of discovering the method or process on our own.
So, here's a quick review of my favorite books in ten categories: Life, Leadership, Business Start-Up, Marketing, Business Management, Selling Skills, Vision, Teamwork, Finance and Philanthropy. I believe all ten areas are necessary for balance…