ICF News Roundup
ICFA Provides Discounted Testing
Betsy Steiner, executive director of the Insulating Concrete Form Association (ICFA) announced in May that members can now test their products at discounted rates at QAI Laboratories, Inc. (QAI).
A new ASTM Standard for flat wall ICF construction was recently published, and this testing will determine whether an individual ICF meets that standard. ASTM Specification E2634 is titled Standard Specification for Flat Wall Insulating Concrete Form Systems, and will be included in the 2012 IBC/IRC Building Codes.
Chris Bowness, general manager of QAI Laboratories, says his company has designed a special certification program that will allow ICF companies to transition existing product certifications to the new specification with a minimum of hassles.
Basically, QAI will accept data from any accredited agency and existing manufacturing plant quality documentation in compliance with ASTM C578, ASTM E84, ASTM E119, CAN/ULC S701, ICC-ES AC12, ICC-ES AC353 and ICC-ES AC10. After an initial review, QAI will determine if additional testing is required to comply with ASTM E2634. Once compliance with the new standard is determined, QAI will provide a certification documentation package including listing to all desired standards.
Steiner and Bowness agreed that QAI will evaluate this existing data at no charge to current ICFA members, and will also offer a 10% discount on all additional services.
"We're pleased to offer this new benefit to ICFA members," said Steiner. "QAI Laboratories is a leading industry testing lab and is recognized in all 50 states and Canada for its third-party certification programs."
For a free consultation, call QAI at 540-636-9445 or email ICF Project Manager Chris Scoville at cscoville@qai.org.
NAHB Toolkit Helps Realtors See Green
The National Association of Home Builders(NAHB) now offers an information packet to help Realtors understand the meaning of "green" construction, and how "green" features can increase the value of the home. The end goal of the Green Home Toolkit is to have Realtors include green information on all the homes listed on regional Multiple Listing Service (MLS) databases.
Developed in collaboration with the Appraisal Institute and the U.S. Green Building Council (USGBC), the information provides a snapshot of the green home industry, outlines why adopting a green initiative for the MLS is important, and offers step-by-step implementation strategies. The goal is to facilitate the addition of searchable fields for green features in local MLSs. Case studies are also included along with sample data entry forms and a glossary of green terms.
For more information email mondaymorningquestions@nahb.org.
PCA's Forecast Offers Hope, Concern for Concrete Construction
The Portland Cement Association's most recent economic projections call for a 7.5% overall increase in new housing starts activity. That includes a 13% gain in single-family units but a 14% decline in multifamily units. Because single-family homes comprise the majority of the residential market, the result is a net improvement.
The news is less positive for light commercial construction, the category PCA calls "non-residential low-rise" construction, which includes all commercial buildings under three stories.
Declines in this category are expected to continue through this year and well into 2011. Modest growth is expected to return in 2012 when the fundamentals for nonresidential recovery—job creation and easier credit conditions—materialize.
For the full forecast, visit PCA's Economic Research page.
Residential Concrete Code Updated for 2010.
At its spring meeting in Chicago, the American Concrete Institute (ACI) finished reviewing the public comments regarding suggested changes to structural concrete codes.
The new version, formally titled ACI 332-10 Residential Code Requirements for Structural Concrete, will be published in 2010.
The code portion of this document covers the design and construction of cast-in-place concrete one- and two-family dwellings and multiple single-family dwellings (townhouses), and their accessory structures. It is written in a format that allows adoption by reference in a general building code without change to its language.
Among the subjects covered are the design and construction requirements for plain and reinforced concrete footings, foundation walls, and slabs-on-ground, and requirements for concrete, reinforcement, forms, and other related materials.
The metric counterpart of the same title, ACI 332M-10, will also be published this year as well. For more information about when these documents are available in print or PDF formats, go to www.concrete.org.
Obama Can Push for Energy Efficient Housing
According to a new report from the U.S. Green Building Council (USGBC), the Obama Administration is authorized to mandate energy efficiency and sustainability guidelines for the nation's building stock.
The analysis from the USGBC's legal team concludes that under current executive authority, the Obama Administration has the ability to use over 30 existing federal programs worth $72 billion to enhance efficiency in commercial buildings and multifamily housing, with no new legislation.
"The federal government has been a leader in bringing green buildings to cities and towns across America," said Roger Platt, Senior Vice President, Global Policy & Law, USGBC. "This new report unveils an even larger opportunity for the Obama Administration to increase our nation's energy efficiency, while creating thousands of jobs and saving taxpayers money."
The full report can be downloaded at www.usgbc.org/government.
Fox Blocks Moves to Distributor Network
From its inception, Fox Blocks has prided itself on factory-direct pricing, keeping costs low by eliminating the middleman and selling directly to the installer.
In addition to this model, the company recently announced it will begin selling its complete product lineup through a network of distributors throughout North America. Fox Blocks has hired a team of regional sales manager with decades of ICF experience to create this network of qualified distributors.
Within months, the company hopes to be able to offer local support and ancillary services local distributors provide. To find out if a distributorship is available in your area, contact Fox Blocks at 877-369-2562.
New LEED for Neighborhoods Program Unveiled
In April, the U.S. Green Building Council (USGBC) and several allied organizations launched the LEED for Neighborhood Development green neighborhoods rating system. LEED-ND seeks to reduce urban sprawl and automobile dependence, increase public transportation and bicycle paths, protect threatened species, and encourage healthy living. In short, the rating system encourages development within or near existing communities and/or public infrastructure in order to reduce the environmental impacts of sprawl.
"Sustainable communities are prosperous communities for the occupants and businesses which inhabit them," said Rick Fedrizzi, president, CEO and founder of the USGBC. "LEED for Neighborhood Development projects are strategically located in or surrounding metropolitan areas – often times revitalizing brownfields, infills or other underutilized spaces, opening new revenue streams, creating jobs opportunities and helping to drive the local, state and national economies."
"Half of the buildings we will have in 25 years are not yet on the ground," said Kaid Benfield, Director of the Smart Growth Program, Natural Resources Defense Council. "Where we put them is even more important to the environment than how we build them, and NRDC is proud to stand alongside our partners with a system that helps guide them to the right places while avoiding the wrong ones."
Sto Upgrades Samples
Sto Corp., a manufacturer of acrylic stucco and other exterior finishes, has upgraded
the substrate used for its product samples.
"We decided to upgrade our materials that we used to a recycled material that not only shows off the quality materials better than the old substrate, but furthers our commitment to sustainability and our motto of 'Building with conscience,' " said Marty Parker, vice president, of operations at Sto Corp.
Green Building Expert Program from NRMCA
The National Ready Mixed Concrete Association has developed a 3-step process to help concrete industry professionals work their way toward becoming green building experts.
This new program was designed by NRMCA staff and industry experts to help individuals work their way to achieving the ultimate green building credential: LEED Green Associate.
The program consists of online courses and certifications. For more details about the program, or to view the schedule of courses, visit www.nrmca.org/certifications/sustainability

ICF Builder Magazine
The 2010 ICF Builder Awards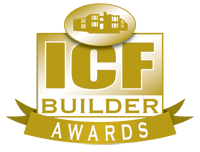 The most popular ICF project-of-the-year competition is back again for the sixth time, and this year's contest promises to be even better than last year's highly successful event. Categories and judging criteria are unchanged from last year.
Entry Forms, rules, sample score sheets and a short video to explain the entry process are available.
For more information, or to request a hard copy of the entry materials, call 877-229-9174.
The ICF Builder Awards are the largest, oldest, and most prestigious ICF competition in existence. Contractors, distributors, and ICF manufacturers are encouraged to submit projects for consideration. As always, the Builder Awards are open to anyone involved with ICFs, without restriction on form type, brand, or number of entries.
For more information, visit www.builderawards.com.
---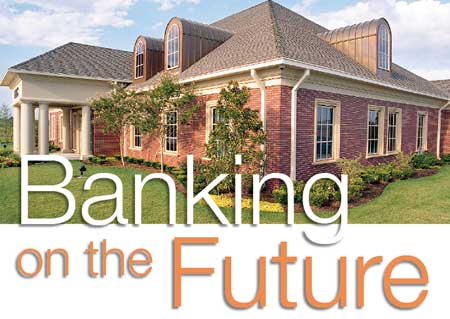 Project Profile: Banking on the Future
Built in the middle of America's Tornado Alley, the National Bank of Commerce Operations Center in Oklahoma City is built to withstand Mother Nature's worst. But besides being built to minimize natures's impact on the bank, the opposite is also true. The project uses half the energy of conventionally built bank.
---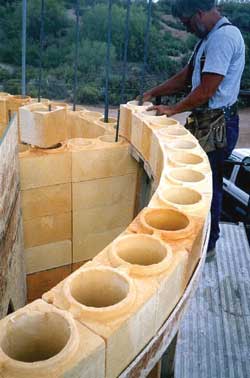 Foam Differences
At least five different types of foam are currently being used to create insulated concrete forms. Expanded PolyStyrene (EPS) is by far the most popular choice, but Extruded Polystyrene (XPS) and Expanded Polyurethane (EPU) also have their place, thanks to these foams' unique traits.
Cement-EPS blends have been around since the beginning of the ICF industry, and have unique characteristics all-foal ICF can't come close to matching. The newest ICF foam, a type of graphite-enhanced EPS named Neopor has been on the market less than two years, but it also presents some intriguing options.
As a building owner, field installer, or architect, each of these foams has its own traits that need to be considered….
---


ICF manufacturers and those that service this industry are always coming up with newer, better products to help the contractor become more efficient and profitable. This special Advertorial section includes the leading ICFs and accessory products, organized by category and containing company contact information.
» Download the Product Directory


» Subscribe Now For the Full Story!
---
Talking Business: Job Costing
By Randy Wilkerson
Once you have established your construction business, you need to learn how to make a profit. Year after year, I am amazed at how many smart people I meet that have no idea whether their business is making money or not.
You need to be able to get the projects that offer you the opportunity to make a profit and not just work to keep the doors open.
For a successful contractor, the days of doing your plans and estimates on the back of a napkin are gone…
---

Contractors' Corner:
Direct Applied Finishes Part 1 & 2
By Ian Giesler
I have come across an issue that could stunt this industry's move into large institutional and commercial projects. The issue is cracking and leaking direct-applied finishes.
» Read the Complete Story
---
Green Building:
The New Energy Reality Part 3
By Pieter Vanderwerf

Twice since the Arab Oil Embargo of 1973, the U.S. has gone through essentially the same sequence of events.
During the 1979 Iranian Revolution, oil price increased as the supply from that country stopped. In the 1991 Gulf War, oil wells in Iraq and Kuwait abruptly went off-line.
I have seen the cycle three times now, and the sequence of events each time was the same. Two things are striking about this sequence: First, the response to the "energy crisis" ensures that we will have another one. The second is that the public has a distorted view of the situation.