2008 ICF Builder Awards
The biggest, most prestigious "project of the year" competition is getting underway for a fourth year. The 2007 contest broke all previous records, with dozens of top projects submitted, and nearly 300 people attending the award presentation at an evening reception.

This year's contest promises to be even better than last year's highly successful event, with revised categories and improved judging criteria.
The ICF Builder Awards are open to anyone involved with ICFs, without restriction on form type, brand, or number of entries.

Contractors, distributors, and ICF manufacturers are encouraged to submit projects for consideration. Simply download the Entry Form or call the magazine at 877-229-9174 to request a notebook. Complete rules, judging criteria, sample scoring sheets, project profiles of all past winners, and other information, including a short video illustrating the entry process is available on the awards section of this website.
» Click here for more information
---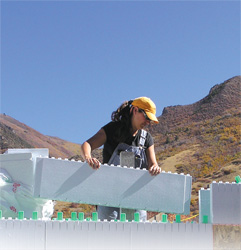 Ease of ICF Construction
From eliminating construction steps, to saving laborer's backs, this article explains why ICF construction is among the easiest "alternative building methods."

» Read the Complete Story Here
---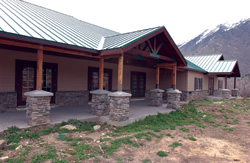 Project Profile: Volunteer Fire Station
Built using volunteer labor from the community it serves, this small-town fire station and community center proves that nearly anyone can build successfully with ICFs…

» Read the Complete Story Here
---

ICF Builder Magazine


Panelizing ICFs
A few innovative companies are panelizing ICF wall sections, building houses in a few short days. Discover the advantages this technique offers, how it works, and whether it's right for you.
» Read the Complete Story Here
» Watch the video here (COMING SHORTLY)


---
How To: Wet-Setting the First Course
This high-stakes technique of setting the first course of blocks while the footing is still wet can save considerable time—if its done correctly. A series of new products on the market make this easier than in years past. Mono-pour, a technique in which the first several courses of ICFs are poured at the same time as the footing, is also considered a wet-set method, and is examined in this story as well.
» Read the Complete Story Here
» Traditional Wet Set Video
» Fastfoot Method
» Key Footing Form Method
---

ICF Builder Magazine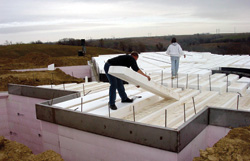 ICF Floors have Arrived
The range of EPS floor systems on the market can be used for more than creating under-garage storage. They can create shallower footings, more efficient heating, and have a number of other advantages as well.

» Read the Complete Story Here
---
ICF News Roundup
Housing Decline Continues
The residential housing market continues to decline, and predictions for a turn-around are becoming increasingly pessimistic.
Sales of both new and existing homes were down for the first three months of the year, and the inventory of unsold homes challenged record highs in both markets. On the production front, single-family housing starts and permits moved down substantially in both January and February.
Monthly surveys conducted by the National Association of Homebuilders (NAHB) have yet to provide convincing evidence that prices or housing production are anywhere near bottoming out.

PCA Predicts Turnaround in 2010
U.S. construction activity will experience significant declines this year, according to a recent PCA Economic Research report.
"High fuel prices, acceleration of home foreclosures, and the impact of the sub-prime crisis on credit standards are some of the current conditions that lead us to believe the economy is already in a recession," says Edward Sullivan, PCA chief economist "Even when there is recovery later this year, it will not immediately affect the construction and cement industries."
Sullivan anticipates the inventory of unsold homes will cause a 26.5% decline in housing starts in 2008.
The nonresidential sector, which is closely tied to economic activity, will fall 7% form 2007 levels.
Fox Blocks Unveils New Logo
Fox Blocks, a division of Omaha-based Airlite Plastics Company, is rebranding itself with a new logo and tagline. The move is designed to capitalize on the growing green building trend.
The logo, and the tagline "Be Clever, Build Green with Fox Blocks," hopes to help readers associate their unique ICF to this movement.
Miami-Dade Approves Fox Blocks
Fox Blocks, a division of Omaha-based Airlite Plastics Company, has received yet another code compliance certificate, this time from Miami-Dade County in Florida.
Considered the most restrictive among American building codes, the Miami-Dade
County building code approval for Fox Blocks is the latest in a string of approvals the company has received over the last several months, including the city of Las Angeles, states of Wisconsin, Florida, and ICC-ES.
"This demonstrates Fox Blocks' commitment to its customers in providing one of the most recognizable ICF wall systems among building code inspectors," says Dave Jackson, sales and marketing manager for the company.
The certificate, N.O.A. Report 07-0919.10 can be viewed on the Fox Block website.
Amvic Redesigns Website, Launches Blog
Amvic Building System has redesigned their website to reflect the new direction charted by the company's executives.
Over the last few years, Amvic has expanded their ICF product line to include AmDeck floor and roofing system, a foam window/door blockout, and brand-specific design software for the North American market.
As part of the company's redesigned website, they have launched 'Around the Block', a blog aimed at the architectural and design communities covering trends, challenges, and other topics relevant to the ICF industry.

BuildBlock Adds California Facility
BuildBlock Building Systems LLC has partnered with APTCO, LLC, to manufacture their BuildBlock ICFs in McFarland, Calif.
"We're excited to bring our eleventh manufacturing facility online," said BuildBlock CEO Mike Garrett. "This new location will make our product more cost-effective and convenient for the California market."
The APTCO facility, located 20 miles north of Bakersfield and three to four hours from Los Angeles, San Francisco, and Sacramento, is the biggest EPS molding facility under a single roof in North America, with 61 state-of-the-art presses running 24/7.
Headquartered in Oklahoma City, BuildBlock already has manufacturing facilities operating in Alabama, Colorado, Florida, Idaho, Indiana, Massachusetts, Missouri, Utah, and Wisconsin. The Florida facility was recently relocated to Orlando, where the company is partnering with Cellofoam, Inc. They also have foreign licensees in Europe and the Middle East.
PCA Recognizes PolySteel's Murphy
Patrick Murphy, president of American PolySteel LLC, was recognized by the Portland Cement Association (PCA) as a "Distinguished Industry Partner" at the PCA's spring meeting in late April.
The award was one of four presented to professionals who "demonstrated a commitment of time and energy beyond regular responsibilities to promote concrete and other cement-based materials."
Murphy was recognized for his efforts to gain Cradle to Cradle (C2C) Certification, for PolySteel's line of insulating concrete forms, the first ICF system to earn this distinction.
Brad Reed, senior building inspector for the City of Lubbock, Texas, was recognized for his role in building ICF homes for low-income residents.
The other award winners were American Red Cross of Greater Chicago for educating the building industry and consumers on building disaster-resistant homes; and the Institute for Business & Home Safety, for its efforts to inform key sectors nationwide on the disaster-resistant benefits of concrete walls.
Concrete Popular for Sustainable Design
Concrete is the material of choice for green building. According to new study conducted by the Portland Cement Association (PCA), three out of four sustainable design professionals say concrete is their material of preference.
In the survey, 77% of respondents ranked concrete favorably for its energy efficiency, durability, and reduced maintenance.
"There are few, if any, construction materials that offer concrete's wide range of sustainable and environmental benefits," said PCA president and CEO Brian McCarthy. "This survey shows the design and building community recognize that concrete can address the issues most important to their sustainable development activities."
Of specific interest to the ICF community, energy efficiency was perceived as the most important attribute when selecting a building material. Durability placed second, and aesthetics third.
Logix Uses Neopor
In an effort to improve the energy efficiency and sustainability of it's ICFs, Logix Insulated Concrete Forms now offers BASF Neopor as a value-added option.

"Neopor is widely used in Europe and we're pleased to bring its superior insulating properties to the North American ICF market." explains George Kosmuk, director of marketing for Logix. Neopor is a type of expandable polystyrene (EPS) that contains tiny graphite particles. These particles reflect heat and give the material its silver-gray shine. The material was developed by BASF, a global chemical company. "Normally, additional layers of insulation have to be added to provide higher insulation values, but with Neopor we'll be able to maintain our current thicknesses while increasing insulation capacity by 15%," says Kosmuk.

In addition to Logix, at least one other North American ICF company, Amvic, is developing a Neopor ICF.
---

ICF Builder Magazine


---