Second Annual ICF Builder Awards
The ICF Builder Awards are back again for a second year, and will be even better than last year's highly successful event.
Contractors, distributors, and ICF manufacturers are encouraged to submit projects for consideration. Simply download the Entry Form and the complete competition rules from this website. You can also view a short video that illustrates the entry process.
Like last year, winners will be chosen in four categories: Light Commercial, Heavy Commercial, Custom Home, and Residential Development. A "Best Overall" project will also be selected. Last year's winning projects can be viewed here.
The competition is open to anyone involved with ICFs, without restriction on form type, brand, or number of entries.
All entries must be received no later than Friday, Oct. 13, 2006. Winners will be announced at World of Concrete 2007, to be held Jan. 23-26, 2007 in Las Vegas. We look forward to seeing you there!
---
Project Profile: Castle in Connecticut
Jim Eggert was well underway with developing the construction documents for this custom home when the client casually mentioned they really wanted a stone castle, complete with tower. What started out as a few stone accents on the front elevation ended up requiring 4,300 sq. ft of stone veneer products.
Jim selected Standard ICFs, for the project. After the massive 12' high Gothic windows were in place, he installed galvanized steel mesh on the walls. The stone veneer was applied from the top down to keep the stones as clean as possible. The randomness of the stones contributed to a final look that the clients love. To see more of Jim's projects, visit www.ConnecticutCustomHomeBuilder.com.

» Subscribe Now For the Full Story!
---

ICF Builder Magazine


---
Wall Finishes for Commercial Construction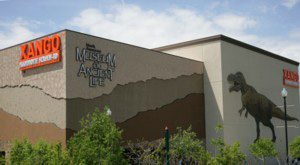 For large commercial jobs, by far the most popular exterior finish is the "acrylic stucco" more properly called Textured Acrylic Finish Systems (TAFS) or Textured Acrylic Surfacing Systems (TASS).
TAFS offer the architect, builder, and owner the same advantages ICFs do: Both are durable, energy-efficient, and economical. They are also simple to use, widely available, and may shorten construction timetables.
Because of these advantages, TAFS have been used on virtually every type of commercial project imaginable.
The variety of colors and textures available with TAFS is vast. "TAFS can be finished to resemble granite, brick, limestone, traditional stucco, even aged Italian plaster."says Derick Wiaderski, senior staff architect for Dryvit Systems.
TAFS is perhaps the easiest cladding to apply to an ICF wall. It is self-leveling, self gauging, and adheres readily to the ICF. "Basically, you're just troweling a finish over the existing veneer," says Wiaderski. "It's the same as an EIFS application but the foam is already in place."
TAFS is an excellent choice for builders and designers concerned about energy efficiency and sustainability. It can reduce energy costs and will contribute to LEED certification.
Textured Acrylic Finishes and Insulating Concrete Forms are a great match, especially for commercial construction. TAFS complements the energy-efficiency and durability of ICF walls, and is one of the easiest and most cost-effective finishes to apply. The wide variety of colors, textures, and looks that can be achieved with TAFS means that one of them will probably be right for your project.

» Subscribe Now For the Full Story!
---
How To: Window and Door Details
Textured Acrylic Surfacing Systems (TASS) are the most popular ICF finish. But getting the details right—especially around windows and doors—can present challenges in the field.
Nearly all visible cracking in acrylic finishes can be traced to poor detailing. The key to avoiding cracks and the problems they can create, is to ensure that your windows and doors are detailed correctly.
Cracks are caused by a number of factors; most can be traced to structural or thermal stress.
Differential settling is a common cause of structural stress. Cracks that run vaguely perpendicular to the opening are almost always caused by structural stress.
When TASS are applied over two different materials, this movement is powerful enough to crack the exterior finish.
Fortunately, an easy solution exists that looks good and is fairly foolproof.
"The easiest solution is to install aesthetic bands around the window," says Derick Wiaderski, senior staff architect at Dryvit Systems. This trim around windows and doors is extremely popular in most areas, and is the only guaranteed way to avoid cracking due to thermal resistance.
If your building plan or architect requires the TASS finish to extend flush to the window flange, though, this isn't an option.
Option 1: One solution is to use an ICF brand that offers EPS endcaps and lintels.
Option 2: Use a butyl-based, cloth-backed tape to reduce cracking.
Option 3: Use an "internal" window bucks. By recessing the wood into the concrete cavity, the builder has shifted the area of thermal stress to the inside of the wall where movement won't affect the finish.
Option 4: A final suggestion is to use a brand of TAFS that is flexible enough to absorb the movement.

» Read the Complete Story Here
---

ICF Builder Magazine


---
Becoming an ICF Distributor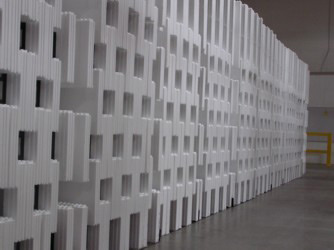 As the ICF industry continues its double-digit growth, many entrepreneurs have found success as form distributors and dealers.
Most major companies say they are still far short of achieving the market coverage they want. (Find an opportunity near you by clicking here.)
Some distributors are former contractors. Others have backgrounds in business, marketing, or sales. Husband-and-wife teams can be successful as well. "In some ways they [smaller dealers] get more exposure, because they're out there hustling 24-7," says Rhyno Stinchfield, director of marketing at Quadlock "The most important thing is that they have to understand the industry and have a passion for it."
Contractors who are considering becoming distributors just to obtain better pricing are in for a shock. Most companies won't let contractors become distributors at all. "A contractor will not buy from a contractor," says Stinchfield. "They'll pay more to buy from a dealer, because they don't want to give money to their competition."
Many programs allow the same individual to own both a contracting firm and a distributorship, but all transactions have to be made at 'arms-length.' That means you'll be buying block at the same price as your competitors—and running two separate companies.
Regardless of which ICF brand you choose to work with, expectations for new dealers are fairly similar.
Inventory: A good inventory and warehouse space is basic. "Contractors don't want to wait for a week for their forms to be shipped across the country," says Stinchfield. "They expect the dealer to have extra supplies if they've miscalculated and come up short, or they'll want to return stuff if it's unused and still in good condition." Most programs also expect dealers to carry a good selection of accessories as well.
Technical Support: A second common requirement the ability to provide local, on-site expertise.
Outstanding Service: "Here's the bottom line," says Stinchfield. "You have to have local training; you have to have a technical expert. Usually they'll want someone there for the pour and to answer questions as the job progresses. You have to commit to cover the territory and to do so on short notice."
Manufacturers also expect a realistic business plan, financial stability, and a commitment to stick to pricing guidelines.
---
New Brochure For Commercial ICFs
The National Ready Mixed Concrete Association has introduced a new promotion brochure to promote commercial ICF construction. The four-page publication is designed to inform owners, lenders, engineers, specifiers and others about the many economic and "green" benefits of ICF technology.
Developed through the NRMCA-sponsored Concrete Collateral Working Group, this attractive and informative brochure outlines ICFs' many advantages, with helpful illustrations and appealing photos of complete projects. A PDF of the brochure can be previewed here.
To order copies of the brochure, go to www.nrmca.org.
---

ICF Builder Magazine


---
New ICF Brand hits the Market

After a decade of manufacturing ICF blocks for others, Airlite Plastics has created their own brand of ICF, called Fox Blocks. The new ICF is reversible, pre-assembled, and will be marketed factory-direct to the installer, allowing contractors to purchase a high-quality, construction friendly block at a price lower than the competitors.

Airlite Plastics will mold both the ties and the forms to guarantee quality and cost savings. For more information about Fox Blocks, visit www.foxblocks.com.