Home Starts Trend Upwards
Homebuilding permits indicate that the housing market is starting to rebound. In March, builders submitted more permits for single-family homes and apartments than any time in the past 3½ years, suggesting that the residential construction industry may finally be emerging from its worst downturn in at least 70 years.
The Commerce Department reported that permits indicate construction rose to a seasonally adjusted annual rate of 747,000 in March. That's up from a seasonally adjusted annual pace of 654,000 homes last month, and the highest level since September 2008.
Still, that number is only about half the pace considered healthy. Economists say that construction activity is still depressed and the housing market has a long way to go before it is back to full health.
New Flame Retardant Licensee Granted
The flame retardant currently used to fireproof ICF foam, called HBCD, is set to be phased out over the coming year or two. (See Fire Retardants and ICFs in the Aug. 2011 issue of this magazine for more information.)
So far, the only adequate substitute for the chemical is a Polymeric Flame Retardant (Polymeric FR) discovered by the Dow Chemical Company. In April, Dow formalized its third and final license agreement with Albemarle Corporation.
"Polymeric FR has become the 'next generation industry standard' flame retardant for use in both XPS and EPS foam insulation applications globally," said Mark Whiteman, president, Dow Global Technologies. "Having three international licensees to produce and market the new Polymeric FR assures global supply security and facilitates industry conversion as XPS and EPS manufacturers' transition to the new technology."
The first license was granted to Great Lakes Solutions, a Chemtura subsidiary, and was announced in March 2011. The second license was announced in January of this year, and was giving to Bromine Compounds Ltd. The third and final license, was granted in April to Albemarle Corporation.
The Polymeric FR licensees have committed to build several large plant enabling commercial volumes to be produced over the coming months and years. This should enable the global polystyrene foam insulation industry to make a smooth transition to t Polymeric FR.

Joplin Rebuilds With ICFs
Joplin, Missouri, devastated by an EF-5 tornado in May 2011, is rebuilding, and many of its residents and businesses are using ICFs, a technology that when used correctly, is virtually tornado-proof.
Helen Owen is one example. Exactly 365 days after the storm ripped through her house, she returned to the site. In place of the rubble is a new ICF home, built with vertical ICF TF System. Its walls are engineered to withstand 250 mph winds and her energy bills will be dramatically reduced.
The homes are being constructed under the direction of George Van Hoesenof Global Green Building, who is serving as general contractor.
Although many of her possessions are gone, Owen and others like her now have a chance at living in a safer, more energy efficient environment. This means that those who were unable to pay for insurance, utilities, food and medication before the tornado, will now be able to afford all of them, thanks to Convoy of Hope, Global Green Building and TF Forming Systems.
"In the past we have just taken our chances with building structures that can withstand the average weather event common to the areas where we live," Van Hoesen explains. "Insurance companies make their living gambling on these events not happening to us. [But] as we see insurance rates rise, as these events get bigger and more frequent, we should understand that the construction methods of the past are not how we should be building today."
"There isn't a valid excuse for not building with ICF and resilient construction
methods," he continues. "Using systems like ThermoForm from TF Forming Systems we can affordably build stronger more stable structures that last centuries while dramatically reducing the energy needed to run a house or business.
Six homes are currently under construction with the promise of a dozen more completed within this year.
Home Sales Rise Dramatically
The relentless decline in home prices appears to be nearing an end. Economists predict prices should rise for the first time in seven years by 2013.
Reuters, the worldwide news agency, polled 24 economists as part of the S&P/Case-Shiller 20-city home price index.
The report included a warning that a possible new wave of foreclosures could threaten the recovery.
"We are expecting a gradual improvement," confirms Yelena Shulyatyeva, an economist at BNP Paribas in New York, "but if we get a big wave of new foreclosures coming to the market, price declines could be even greater."
House prices have so far fallen about 32% from their peak at the end of 2005, and an estimated 11 million Americans now owe more on their homes than they are worth. Still, a majority of economists say that the unprecedented wave of foreclosures has peaked, and that that home prices will rise an average of 2.0% next year.
Although job growth is slow, the labor market is expected to continue strengthening this year, which should help home sales. Sales of previously owned homes are expected hold steady at 4.7 million per year.
2012 ICF Builder Award Contest Begins
The 2012 ICF Builder Award competition is officially underway! Give your project the recognition it deserves by submitting it to the industry's most prestigious project-of-the-year competition.
The Entry Deadline for the 2012 contest is only three months away! It takes a considerable amount of time to preparing an award-winning submission, so if you haven't started working on your entries, get started soon. (The "Secrets of Winning" page explaining how to present your project in the best possible light.
Competition rules, categories, and judging criteria remain unchanged from last year.

ICF Builder Magazine



ICF Product Directory
This special advertorial section includes listings for leading ICFs and accessory products, organized by category and containing company contact information.
» Download the Product Directory

---
Project Profiles: MultiFamily Winners
This year's winning projects include a high-end condo in Halifax, built-Green apartments in New Jersey, and a mixed-use development in British Columbia.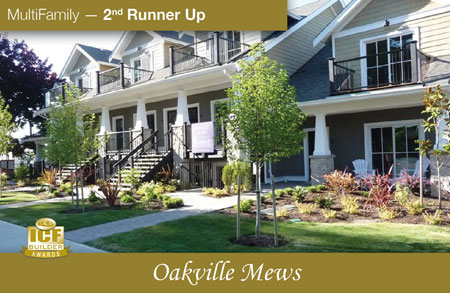 Oakville Mews
This Craftsman-style complex combines nine townhomes with five street-level revenue suites.
Patrick M.B. Chan, a representative for Logix ICF, which provided the forms for the project, explains, "We ended up with a project that is architecturally complex with five levels of residential spaces within a building height of 2 ½ floors and many dormers and projecting decks."
He continues, "This project is very close to the flight path of the major regional airport, so soundproofing was a high priority concern."
» Read the Complete Profile Here
---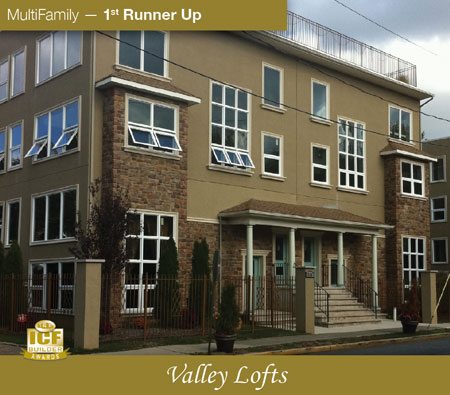 Valley Lofts
This pair of energy-efficient luxury lofts in Orange, N.J. are a landmark project The two 8,400 sq. ft. . use ICfs for all exterior walls as well as the interior demising walls between units. Both buildings feature a green roof created using the EPS-and-concrete Quad-Deck system and topped with 100,000 lbs of topsoil to create a beautiful outdoor living space—completed with sod, shrubs, and a beautiful view—that occupants can use for barbeques, parties, or a tranquil garden respite from the streets below.
» Read the Complete Profile Here
---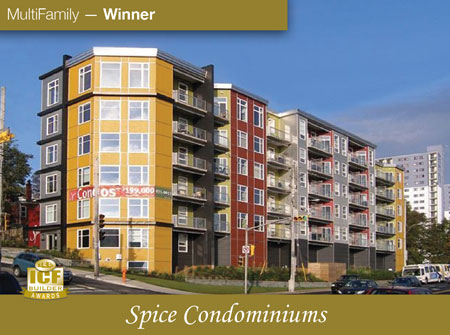 Spice Condominiums
Built on the site of a eighteenth century spice factory, this 85-unit condo near downtown Halifax may be the largest and tallest ICF building in Atlantic Canada.
Peter Polley, owner of Polycorp, which served as developer, general contractor, and ICF installer on the project, says the project measures nearly 113,000 sq. ft. and seven stories [including two levels of underground parking at 34,896 square feet]. The top course of ICFs stands 73 feet above the footings.
» Read the Complete Profile Here
---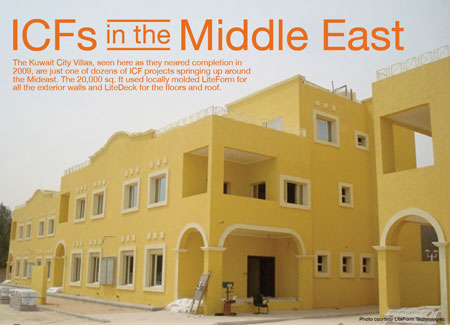 International ICFs: The Middle East
A handful of North American ICFs have established a foothold in the Middle East, and say the area has considerable potential. On the positive side, the extreme year-round heat, and the well-entrenched tradition of concrete construction bode well for the industry. Additionally, the region is experiencing a prolonged building boom that is virtually unaffected by the factors that brought the U.S. economy to a standstill.
On the other hand,. Business practices and ethics in the region are quite different from those accepted in North America, which present multiple pitfalls for companies unaccustomed to doing business there.
» Click Here for the Complete Story

ICF Builder Magazine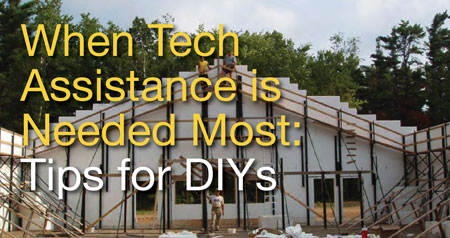 When Tech Assistance is Needed Most
For owner/builders seeking a top quality building at the most affordable cost, ICFs are a great solution. Hundreds of projects, ranging from weekend Habitat for Humanity homes to palatial estates and even commercial buildings and churches have been built by amateurs, volunteers, and first-time installers.
The common thread with successful builds is that they have a supportive ICF professional to guide them through critical points.
» Click Here for the Complete Story

ICF Builder Magazine