California Proposes ICF Wall Specs
The California Division of the State Architect (DSA) has introduced a new specification for ICF wall systems. Titled IR 19-d, Requirements for Flat-Wall Insulating Concrete Forms, it's intended "to provide
requirements, specifications, and acceptance criteria for the use of flatwall ICFs for the construction of cast-in-place concrete walls on DSA projects."
The full text of the proposed standard is available through the magazine website.
It specifically states that other ICF systems such as waffle grid, screen grid, plank, etc. fall outside the scope of the standard.
Several leading ICF manufacturers reviewed the proposed regulation at length, and submitted several changes, including the recognition of blocks 12" in width as a possible form, and the clarification of language regarding installer certification that may have created complications for installers that are trained, but do not possess ICF certification.
One problematic section required installing viewports to confirm uniform concrete distribution. The ICFA recommended different methods that would be equally effective but significantly less invasive and damaging to the wall envelope.
ICF Green Roof Shows Extraordinary Results
The British Columbia Institute of Technology (BCIT) recently completed a two-year study designed to determine which type of roof structure is best suited for green roofs. One of the roof designs tested utilized a foam and concrete decking system donated by Quad-Lock Building Systems, the Surrey, B.C.-based ICF manufacturer.
Karen Bunz, marketing manager at Quad-Lock, says, "To our knowledge, this is North America's first green roof study to be completed on an Insulated Concrete Form (ICF) structure."
ICF walls supported an R-22 Quad-Deck roof (9" panels with 3" concrete slab), topped with growing medium and a vegetative roof. This was compared side-by-side to a "control roof structure" featuring wood-framed walls and roof with an asphalt roofing layer.
Over the course of two years, the BCIT collected data on thermal performance, stormwater runoff and quality, plant growth, maintenance requirements, and various other criteria.
The test revealed that the Quad-Lock/Quad-Deck Green Roof demonstrated a 50% to 75% reduction in heat loss, an average 99% reduction in heat gain, and a stormwater retention rate of
69%, with 31% potentially available for reuse or disposal in a municipal system.

For more information on the test results, or for additional info on the Quad-Lock Green Roof system, visit the magazine website at www.icfmag.com.

DOE Promotes Energy-Efficient Office Design
In June, the U.S. Department of Energy announced a new series of Advanced Energy Design Guides (AEDGs) to help architects and engineers design highly energy-efficient office buildings. The publication is intended be show how to design commercial buildings that achieve 50% energy savings compared to the commercial building energy code used in many areas of the country.
Titled 50% AEDG for Small and Medium Office Buildings, it's the first in a series of four to be released in the coming months.
In a related development, the Department of Energy has partnered with The Appraisal Foundation to help appraisers understand that energy-efficient commercial buildings are more valuable than traditionally built structures. "Our goal is to make sure appraisers nationwide have the information, practical guidelines, and professional resources they need to evaluate energy performance when conducting commercial building appraisals," says David S. Bunton, president of the Appraisal Foundation. "This will help enable investors, building owners and operators, and others to accurately assess the value of energy efficiency as part of the building's overall appraisal."
Greenblock Sponsors Air-Cannon Demonstration
In August, architecture and design students at Seminole State College of Florida learned firsthand how durable ICF walls truly are. Michael Staley, dean of the School of Engineering, Design and Construction at SCC, wrote his master's thesis on Insulated Concrete Forms.
Experts with the University of Florida's Hurricane Research Center partnered with Seminole State to conduct the demonstration. In the demonstration, an air cannon launch 2x4 wood studs at three different types of walls at speeds replicating the high winds of a hurricane.
The wood studs went through the wood-frame wall and structurally damaged the masonry wall, but the third wall, constructed of ICFs, received only cosmetic damage.
The ICFs were donated by Greenblock Worldwide, a Florida-based ICF brand. The company also donated forms for a mock safe-room. Jimmy Myrick owner of Greenblock said, "We never thought twice about donating our time, talents and materials to such an important project and learning experience for the students."
The air cannon tests were covered by the regional news media. A video is available here.
MIT Research Confirms Concrete Homes' Performance
A new Study from the Massachusetts Institute of Technology (MIT) Concrete Sustainability Hub confirms that concrete homes reduce energy consumption, saving homeowners money over the life of the building.
MIT's life-cycle assessment (LCA) study assessed the full impact of buildings, from acquisition of materials to construction, the use of the building, and demolition at the end of its life. Based on the MIT findings, building homes with concrete will reduce household heating and cooling by 8% to 11% compared to code-compliant wood-frame homes.
A one-page fact sheet summarizing the performance is now available as a downloadable PDF file.

ICF Builder Magazine
2011 Market Report and 2012 ICF Forecast
As 2011 comes to a close, it appears that the year has been much tougher for the ICF industry than anyone imagined 12 short months ago.
The pace of residential construction continues to fall, and the only glimmers of growth in the commercial sector are taxpayer-funded projects. Yet despite the bleak outlook, the ICF market continues to evolve, and well-managed companies are solidifying market share and positioning themselves for new growth once the economy turns around.
» Click Here for the Complete Story
---
Form Comparison Chart and Explanation
The ICF comparison charts below contain updated, comprehensive information on every significant ICF brand in North America. We've also included a comparison of the major ICF decking systems as well as many of the alternative stay-in-place forming methods.
These charts are the best place to start if you want to make an informed choice. Once you've made your short list, call the manufacturers, visit their websites, and sit down with the local distributors.
»
ICF Chart Comparison Charts

ICF Builder Magazine
Project Profiles: The Heavy Commercial Winners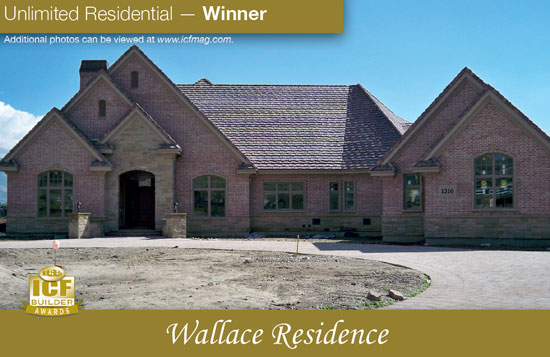 The Wallace Residence is more than a home, with 21,400 sq. ft of living space on three stories, as well as a sports court, swimming pool, solarium and workshop. An elevator travels four stories from the attic down to the access tunnel which runs under the house out to a pool house set in the side of the canyon. At the base of the elevator you can also access a gymnasium built under the garage. This required a significant excavation, as the ceiling of the gym—which doubles as the garage floor—is 14' above the hardwood.
» See the Complete Project Profile Here
---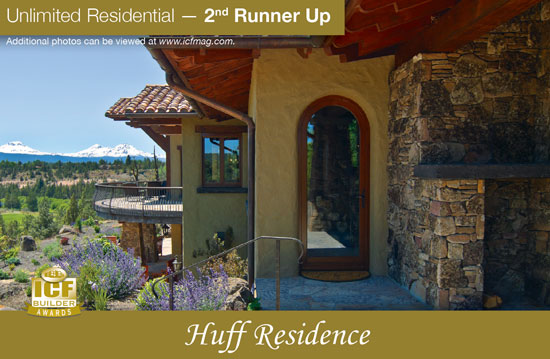 Dozens of corners, combined with ICF columns, arches, tall walls, and multiple radiuses—including a two-story circular ICF "silo"—meant the ICF installer on this 10,000 sq. ft. dream home had to be extremely knowledgeable. The nearby car barn and a horse barn totally an additional 5,000 sq.ft. The construction site was located on a steep hill, and minimal site disturbance was a key consideration; the home overlooks a private ranch with a pristine trout stream flowing through it…
» See the Complete Project Profile Here
---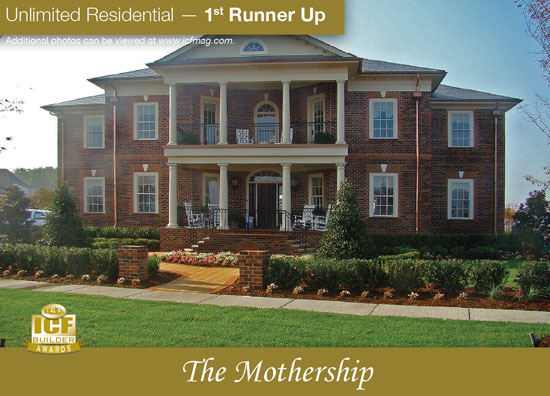 Designed as a show home in one of the city's most prestigious neighborhoods, the Mothership is much larger than a typical green home. Completed in 2000, the house has served as an effective ambassador for more than ten years, demonstrating that ICFs are the best choice for green construction.
The house uses only 34% of the energy consumed by a traditionally built home of this size; when combined with the 5kW rooftop solar panel system, a high-efficiency and solar energy credits of about $2, 925 annually, the monthly net energy cost is a negative $15.46/month…
» See the Complete Project Profile Here

ICF Builder Magazine
On Business: Growth Through Social Media
By Randy Wilkerson
In today's business climate, you will need to market yourselves harder than ever before. In order to do so, you need to be sure that you include Social Media as a key component of your marketing plan. I'm sure that most of you by now have joined Facebook, Twitter, LinkedIn, You Tube or one of the numerous other social network sites on the internet. Now may very well be the absolute best time to take advantage of these opportunities to reach literally millions of viewers with your story….
» Click Here for the Complete Story