ICF News
ICFA Finalizes Board
The Insulating Concrete Forms Association (ICFA) has finalized its board of directors for 2009. Officers are Dean Seibert of Solcraft PDC, chair; Jeff Alexander of Greenblock Worldwide, vice chair, and Joe Cassasa of Flint Hills Resources, past chair.

Primary (manufacturer) members are: Robert Coveney of Arxx; Pat McMahon of Amvic; Mike Garrett of Buildblock; Hank Pfieffer of Reward; Wendy Davidoff of Quad-Lock; and Murray Snider of Nudura.
Associate-level board members are Jim Neihoff of PCA; Robert Dazel, Dryvit Systems; Ashley Feit, BASF; Carter Benjamin, Wind-Lock; and Mark Meadows, EFP Corp.

In a nod to contractors and distributors, who were sorely under-represented on previous boards, the ICFA board now includes: Dan McCullough, Utah ICF; Richard Barker, Advanced Buiding Systems; Chad O'Mealy, Pacific Northwest ICF; Rodney Hubble, Force 5 Walls; Kent Webber, Beran ICF Solutions; and Pat Moore, Brocon, Inc.

Member were chosen by a nominating committee, and in future years will be voted on as a block of names, eliminating voting on each individual member. They will serve for a term of three years.
The new board faces a daunting list of challenges, including completely rewriting the ICFA bylaws. Their next meeting will be April 9th. Please contact them and let them know what you want the ICFA to be at www.forms.org.
Home Prices Continue Plunge
Home prices plunged a record 18.2% in November from last year's prices.
"The free-fall in residential real estate continued through November 2008," David M. Blitzer, Chairman of the Index Committee at Standard & Poor's, said in a statement. "Since August 2006, the 10-city and 20-city composites have declined every month -- a total of 28 consecutive months," he said. "Overall, more than half of the metro areas had record annual declines."
As of November, average home prices are at similar levels to what they were in the first quarter of 2004. From their peak in mid-2006, the 10-city index is down 26.6 percent and the 20-city Composite is down 25.1 percent.
Fox Blocks Lowers Prices

Fox Blocks, a division of Omaha-dased Airlite Plastics, has lowered their prices for a third consecutive month. The company, which prides itself on shipping factory direct to the end user, is one of the most cost-effective ICFs on the market. The recent price adjustment was prompted by falling prices of the two primary materials that make up any ICF, Expanded Polystyrene (EPS) and Poly-propylene). Current retail prices are always available on the company website, www.foxblocks.com.
Greenblock Chosen for "Largest U.S. Green Home"
The Athena Marie Plantation, a 45,000 sq. ft home currently under construction in Florida, is reportedly the largest "green home" yet attempted, and will be generate 100% of its energy needs.

"This is a remarkable project," said Robert Cenk, vice president of Homecrete Homes, the Stuart-based homebuilder that is constructing this home. "We've built several large custom homes in the area, but this will be a one-of-a-kind with some unique engineering and design challenges. The owner's decision to go with ICF construction will not only save energy and reduce the homes carbon footprint but will insure the home stands up to the next hurricane that decides to come through here."

ICF walls also allow the house to support three roof-mounted wind turbines and a third-floor swimming pool.

The Greenblock ICFs and Lite-Deck insulated concrete floors are being installed by Insulated Concrete Walls Inc., a Stuart-based specialty ICF installer. The owner reports that ten weeks into the project they are ahead of schedule and below budget.

"We would not have been able to attain 100% + renewable energy, especially in a project of this size, if we didn't use insulated concrete forms", says Lewis Barton, a spokesman for the home's owner.

The entire construction may be watched via real time video streamed on www.athenamarieplantation.com.
Builder Show Report
Attendance at the International Builders' Show this year was down significantly. The National Association of Home Builders (NAHB), which sponsors the show, reports 60,000 attendees for the Vegas show, down from the 90,000 that came to the 2008 show in Orlando.

However, nearly all the ICF-related exhibitors said they were pleasantly surprised by the number of leads the show produced, given the economy. Most noted an increase in serious inquiries and fewer "tire kickers."
"It was the most successful show I think we've put on," says Steve Heller, executive director of the Insulating Concrete Forms Association. They put together a large 20' x 20' booth, almost at the last minute, with a large variety of ICF-related literature and sample ICFs from all of the leading brands. The booth had solid traffic every day. Additional ICFA member volunteers, Mark Meadows, Dale Stevenart, Jeff Alexander, Dean Seibert and others helped handle the volume of questions.

Heller reports that about a third of the 220 leads were residential contractors, who were ready to make the ICF switch. Another third represented commercial market and multi-family developments.

Perhaps the biggest ICF-related attraction at the show was the New American Home 2009. Built with Arxx ICFs, in a trendy neighborhood near the airport, it attracted about 6,000 builders, designers, and contractors during the weeklong open house.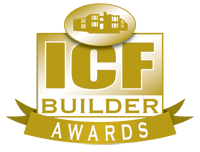 2008 ICF Builder Award Winners
The 2008 ICF Builder Awards were the most successful industry-wide competition in history.

It attracted more than 60 projects and 13 different types of insulated concrete form (ICF). Every entry was noteworthy and impressive. A panel of judges selected a winner and two runners-up in each category.

The winning projects, represent the very finest ICF buildings on the continent. They have set a higher standard for the entire industry through their complexity, site challenges, exposure, and other factors.

"The common denominator with all the winning projects was their exceptional quality," says Clark Ricks, one of the contest judges.

Winners were first announced at the ICF Builder Award Presentation, an evening event held earlier this month in conjunction with the World of Concrete. This year's event attracted more than 200 people from all segments of the ICF industry, and was a great opportunity to network, socialize, and meet new contacts.

Additional facts, complete scoring information, and dozens of outstanding photographs of the winning projects are available.
---
How To: Installing Utilities After The Drywall
Many contractors not familiar with ICF construction may believe that it's more difficult than traditional stick-frame building. In truth, it's actually easier to work with ICFs than many conventional systems.

And that's true for subcontractors, too. From hanging drywall to installing utilities, many subcontractor tasks are made simpler with ICF construction. Let's look at just one example: Installing electrical wire, telephone jacks, or audio-video cable after the drywall is installed….
»» Read the Complete Story Here
Conduit Cutter Video

ICF Builder Magazine
Greening Our Schools
By Randy Wilkerson
Over the next several issues I will be discussing commercial sector opportunities for the ICF industry and how you can position your company to take advantage of each of these sector. I will provide you with specific resources to locate these opportunities in your geographic area, and proven strategies to help you sell ICFs to the architectural design community.

In this issue I will focus on school construction. Government at all levels is pushing for green, energy efficient schools, and the common denominator in almost every single project that I have investigated or reviewed is that the envelope of the structure is built utilizing some form of ICF construction….
»» Read the Complete Story Here

ICF Design 101
By Robert Klob
Designing with ICF wall systems is a relatively simple process as long as you follow a few basic rules.

Just because you choose to build with ICF doesn't mean you have to skimp on architectural design or aesthetic character. ICF walls can be angled, curved and even convex with relatively little effort. You are really only limited on the project budget and your imagination….