ICF Builder Award Winners 2006
The ICF Builder Awards have proven to be an extremely popular competition. The contest is designed to advance the ICF industry by recognizing and rewarding innovation and excellence in ICF construction.
The awards are designed to showcase "milestone projects"—projects that set new standards for the industry through their size, complexity, and architecture—so the judging criteria is weighted to favor these factors over simply "looking pretty" or square footage alone.
Reward Walls submitted more winning projects than any other ICF brand, with 5 entries that placed in three of the four categories. Arxx was the next most common block; the top two light commercial projects used that brand. IntegraSpec continued its dominance in the heavy commercial category, taking top honors for the second year in a row.
Complete profiles of the winning projects, along with additional photographs that weren't printed in the magazine, are available here
» Subscribe Now For the Full Story!
Residential Development: Casitas VeraCruz
'The goal was to bring a high-quality, safe, energy efficient home to the area at an affordable price," writes Steve Reiter, marketing director for the project. They succeeded, bringing quality ICF housing to California at $112 a sq. ft.
Walls were panelized in a controlled factory environment and delivered to the job site in pre-numbered sections. A four-man crew was able to stack, align, and pour the walls for an entire house in a day and a half. Production was so impressive than representatives from Pulte Homes and Lennar Homes, two of the nation's largest homebuilders, visited the project to investigate ICF construction.
"This attention from the large production homebuilders will result in increased visibility for the entire industry," notes Reiter. "Our hope is that this project will serve as an example of what can be accomplished with ICF construction."
Read the complete profile here.
» Subscribe Now For the Full Story!
---

ICF Builder Magazine


---

Custom Home:
Eagle Rising
Bob Lagow's eagle-inspired home outside of Ft. Collins, Colo. not only won Best Custom Home of the Year, but beat out every other entry in this year's contest to take Best Overall Project of the Year.
"It has a visually stunning form, even from the ground," writes Architect James Plagmann. "The eagle metaphor is not forced, and the home works very well… This project optimizes the use of ICFs while also pushing the limits of the product. Also, the owners absolutely love the house."
The judging panel loved the house as well. Paul Foresman, who headed up the panel, wrote, "A very creative, unique, one of a kind design! The mixes of octagonal and circular shapes work well together and jointly create a very interesting, pleasing design. The quality and material selections are excellent, showcasing a warm, exciting, eclectic home!"
The home also demonstrates the ease of ICF construction: Despite the complexity of the design, it was built entirely by the owner, his wife, and a retired neighbor. Read the complete profile here.
---
1st Runner Up: Gornick Residence
The judging panel noted that "The mix of stone, EIFS, and patterned concrete create a very pleasing harmonious exterior." Both custom home runners up will be featured in the next issue of this magazine. Read the complete profile here.
---
2nd Runner Up: Greenwood Residence
Judges called this one "A great home showcasing how a concrete home can be just as attractive or even more attractive than a conventionally built home." They also noted that it finished only a few tenths of a point off the first-place finisher. Read the complete profile here.
» Subscribe Now For the Full Story!
---

ICF Builder Magazine


---
Light Commercial: Boulder County Parks
This challenging ICF project was designed, engineered, and built by Boulder County employees as their first ICF project. Built with Arxx ICFs, the project also won light commercial honors at the ICFA meeting in October. Read the complete profile here.
---

1st Runner Up: Holy Cross Catholic Church
This church, built in the southern half of California's Central Valley, was designed to imitate the timeless look of colonial architecture. The massive steel roof beams are easily supported by the solid ICF walls. Read the complete profile here.
---

2nd Runner Up: East Bay Suites
This project, built with iForm by Reward, was an addition to a historic 1909 property. Builders used precast floors and unique finishes to create an attractive and energy-efficient addition that blends seamlessly with the original structure. Read the complete profile here.
» Subscribe Now For the Full Story!
---

ICF Builder Magazine


Heavy Commercial: Grand Caribbean Condominiums
This remarkable building was profiled in the October 2006 issue of ICF Builder.
Thanks to the versatility of IntegraSpec, ICFs were used not only for the interior and exterior walls, but also the corbels, columns, and cornices that adorn the exterior. It has already withstood two hurricanes, and stands as a testament to the beauty and durability of ICF construction.
Read the complete profile here.
---
1st Runner Up: Armed Forces Reserve Center
ICFs are a great off-the-shelf solution for military construction. This project scored high not only for aesthetic appeal and size, but also because it is helping to open the door to this substantial market. Read the complete profile here.
2nd Runner Up: Megaplex 20
The largest ICF project ever built, this 20-screen theater used 350,000 sq. ft. of Reward's iForm. Walls were stacked as high as 54 feet. Featured on the cover of the Oct. 2005 issue while it was still under construction, an in-depth profile appeared in August 2006. Read the complete profile here.
» Subscribe Now For the Full Story!
---

ICF Builder Magazine


Industry News Roundup
Phoenix Files For Bankruptcy: Phoenix Systems and Components, Inc., has filed for Chapter 11 bankruptcy, a process which protects it from its creditors while it tries to restructure. The company, based near Omaha, Neb., is currently facing lawsuits from its bank and former distributors, and those familiar with company operations say it's doubtful it will survive.
Molding equipment for the Phoenix ICF block has been acquired by two independent manufacturers, ICF Systems USA and ICF Systems of Wisconsin. Now sold under the name Badger Block ,they continue to produce block daily at their plants in Indiana and Wisconsin and can ship anywhere in the U.S.
ICF Homes More Popular than Ever: The NAH) reports that in 2005, concrete homes accounted for 17.9% of all new single-family detached homes. The study, conducted together with the PCA, confirms that concrete homes are rapidly gaining in popularity.
In 2004 ICFs accounted for 4.7% of the market. Even more telling, ICFs are gaining market share more quickly than any other concrete construction method. In 2004, ICFs gained 0.7%, while precast and removable forms gained only 0.2% and masonry's share declined.
New Code Approvals: Quad-Lock Building Systems Ltd. announced that its insulating concrete forming (ICF) system is now an approved product for use within Miami-Dade County. "This approval has far-reaching influence as many other jurisdictions, some as far away as the South Pacific, rely on Miami-Dade County's product approval process," says Douglas Bennion, Senior Training Consultant at Quad-Lock. "Basically, if we are approved by Miami-Dade County, we can now streamline permitting and building processes for our dealers and their customers in many, many markets."
Fox Blocks, a division of Airlite Plastics Company has announced that it has been approved as a building product by the Florida Building Code. Dave Jackson, a sales representative at Fox Blocks, says this "marks the first of several national and local building code approvals that Fox Blocks expects to receive in the next few months." The Florida state approval is for the entire state excluding Miami-Dade County.
Fox Blocks' Florida Certificate of Product Approval # is FL7497. The application can be viewed here.
» Subscribe Now For the Full Story!
---

ICF Builder Magazine


What Does an ICF Really Cost?
There are dozens of factors that contribute to the price of an ICF. Blocks with molded ties cost significantly more to produce than knockdown panel systems. Forms with thicker sidewalls use more raw materials and logically cost more to produce. Fire-resistant bead also increases the cost. Shipping is a major factor, and regional price variations exist as well.
The biggest variable is the size of the form. NUDURA's block, eight feet long and 18 inches high, covers 12 sq. ft. Quad-Lock panels, on the other hand, measure 12x48 inches, or 4 sq. ft. Logically, comparisons based on price-per-form would be quite misleading.
But price comparisons provide only part of the picture. Instead of asking, "What's the cheapest form?" the question really should be, "What value do I receive for the price I pay?"
Code approvals, testing, and engineering support are valuable. Dealer/distributor networks add value too, by offering additional supplies and local technical know-how, which usually includes training and on-site technical support.
Bottom Line: High-quality forms with code approvals and manufacturer support will cost significantly more that the prices quoted, and they're worth every bit of it.
---

ICF Builder Magazine


Finding and Training ICF Contractors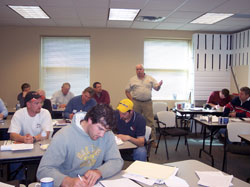 Training is a key element in building up the ICF market, and creating an experienced ICF contractor base gives credibility to the product and success in sales. Training and support are the keystones to better buildings, construction efficiency, and profitability for everyone involved.
The entire industry has benefited tremendously over the years because of Arxx Building Product's commitment to training. Our first training class was in February 1996, and since then, we have trained over 33,000 contractors in the classroom and more than 4,500 contractors in the field. In addition, we've presented specialized training to more than 1,400 architects through the American Institute of Architects (AIA).
It's best to have ICFs installed by a builder that has been trained by the ICF company that he plans to use. With over 80 ICF companies in the market, the installation techniques can differ dramatically.
We understand that it is very important to provide a complete, intensive day of training. A typical class is approx. 7-8 hours in a classroom with the product. The course covers everything from job set-up and tools, though building, bracing, and pouring the walls, to installing waterproofing , finishes, and utilities. The classes have a hands-on section where everyone can build walls, cut forms, and cut and install rebar.
After successfully completing the classroom training, all participants are required to be reviewed in the field on their own project.
Arxx has also developed a number of other structured training courses to suit different markets and level of expertise.
» Subscribe Now For the Full Story!
---

ICF Builder Magazine


How To: Installing Siding over ICFs
Lap siding is a popular exterior finish for both residential and commercial ICF jobs. Cement-board siding is particularly popular, due to its durability, ease of installation and fire-resistant qualities.
While ICF walls are dramatically different from plywood-sheathed frame construction, installation methods are surprisingly similar. In fact, any siding that can be applied to a wood-frame building can be applied to ICFs. With a little attention at the corners, siding can be installed more quickly and cost-effectively than any other exterior finish….