ICF News Roundup
ICFs on Extreme Makeover Again
The Emmy-award winning TV series Extreme Makeover: Home Edition, is once again building with ICFs.
This time around, Nudura ICFs will be used to build two structures, a family home and a community center, one week's time.
While construction was wrapped up weeks ago, an air date has not yet been set. Producers at ABC indicate it will be broadcast sometime in February, and may be edited for the two-hour season finale instead of the typical hour-long program.
Forms were provided by Chaney Enterprise, a Mary-land based ready mix supplier and ICF distributor.
"When we approached our customers and vendors about participating, I was overwhelmed by their generosity," said Jan Holt, chief customer officer for Chaney Enterprises.
"These folks didn't hesitate to jump into Extreme Makeover with us,"
Leep Green donated labor for the ICF install. Burch Builders Group, a northern Virginia homebuilder served as general contractor.
UPDATE This episode is set to air on local ABC affiliates nationwide on Feb. 7, 2010 at 8/7 Central as a two-hour special.
ICF Home Survives SUV Collision
In the early morning darkness of an August night, an out-of-control Sport Utility Vehicle (SUV) came racing down the hill in front of Ryan Heacock's home. Unable to make the 90 degree turn at the bottom, it bounced over the curb and plowed a path though the yard before smashing into the house.
The entire episode was recorded by Heacock's security cameras. The home was built with Quad-Lock ICFs, which "bounced that Explorer off like a little toy" Heacock says.
Despite taking out the wood handrails, numerous flower pots, and landscaping blocks, there was almost no damage to the home, with the exception of the siding, insulation, and some small chips of the concrete.
"I can't imagine what would have happened if this was a wood home!" Heacock says.
View the security camera footage here
Mid-Atlantic Foam and Solcraft Form Joint Venture
Solcraft PDC and Mid-Atlantic Foam are moving forward on a project to provide an ICF with a pre-embedded electrical raceway.
Mid-Atlantic Foam is the producer of LiteForm Technologies' new Flexx-Block ; Solcraft markets the E-Channel electrical raceway designed for ICFs. While E-Channel can be site-installed in most ICF systems, a block with pre-installed chases offers some advantages.
"What [this] provides is a ready-to-stack electrical block that saves significant costs, and reduces construction challenges for the ICF contractor," states Steve Borgeson, an ICF consultant for Mid-Atlantic Foam. "Now, the builder can provide a wall system that can be upgrade with new wiring through the life cycle of the building." Developers hope it also will resolve concerns of ICF electrical subcontractors"
Mid-Atlantic preinstalls the E-Channel into the block, and delivers a set-in-place, ready-to-wire wall system. Flexx-Block's 6"-on-center furring strips and patented folding tie remain unaffected.
PCA Compares Wall Systems
The Portland Cement Association has compiled a 50-page report comparing the insulating value and thermal performance of 11 different wall systems. Available on CD or as a booklet, it shows the benefits of concrete-based walls in different regions of North America. Among the 11 wall systems evaluated are concrete masonry, insulated cast-in-place, autoclaved aerated concrete (AAC), wood-frame, steel-stud, and insulated concrete forms (ICFs). Titled , Thermal Mass Comparison of Wall Systems, it is available at the online PCA bookstore.
AMC Foam to Market Legalett
Legalett, which markets an innovative EPS foundation system, has announced that AMC Foam Technologies Inc., will now manufacture and market Legalett's frost protected shallow foundation (FPSF) and in-floor heating system to the US and Canadian Midwest. Manitoba-based AMC Foam is best known to the ICF industry as a manufacturer of Logix ICFs.
Ken Williams, Legalett's sales and marketing manager notes that Legalett is economical for typical construction, but is especially cost-effective in areas with poor or expansive soils. Legalett can reduce or eliminate the need for costly grade beams and pile foundations.
Quad-Lock Updates Specs
Quad-Lock Building Systems has updated and expanded their online library of construction details.
While these details are generic in nature, the drawings will make the conversion to ICF construction easier than ever, particularly when a plan has already been drawn with other materials, like masonry or stud construction.
Designers can download the drawings at no charge and customize them to their own specifications. For example, an engineer can add the size and frequency of rebar placement that results from his or her project-specific calculations. Architects can add specifications for building performance, like R-value and building orientation to specific details.
There are nearly 150 details posted for Quad-Lock ICF walls, Quad-Deck and R-ETRO which replace all of the existing details and expand the scope of the library significantly.
Users will, however, have to register before gaining access to the library. "Some competitors copied our older details and manuals so closely that they appeared on their website in exactly the same order and with the same numbering scheme, changing only the shape of the ties pictured in the wall," says one executive, "This speaks volumes to their creative ability and general understanding of construction… We know that our loyal customers will understand this and be unconcerned with having to identify themselves as users of our library."
All details can be downloaded in either .pdf or .dwg formats. Currently, drawings are available with only imperial measurements, but a metric version is scheduled to be available before year end.
Concrete-Industry LEED Guide
The popular Ready Mixed Concrete Industry LEED Reference Guide has been updated to incorporate the changes of LEED version 3. Commonly referred to as "the LEED Guide," it is published by the RMC Research & Education Foundation. This revised edition incorporates the 2009 standards for New Construction and Major Renovations (LEED 2009 NC) and provides guidance on how concrete may contribute to gaining certification under the USGBC's Leadership in Energy and Environmental Design (LEED) green building certification system. The LEED Guide was originally published in 2005.
"The USGBC continues to improve and update the LEED program so the foundation has done the same with its LEED Guide," said RMC Research & Education Foundation chairman Karl Watson, Jr.
The LEED Guide is available for download from the Foundation's website at www.rmc-foundation.org. Hard copies of the LEED Guide are available for purchase for a nominal fee from NRMCA at www.nrmca.org.

ICFs Star in Canadian Job Program
Premier Dalton McGuinty, leader of the Canadian province of Ontario, opened a new training center in Ottawa in November, surrounded by a backdrop of insulated concrete forms.
The training center belongs to the United Brotherhood of Carpenters Local 93. The carpenters' union has been one of the most vocal proponents of ICFs in the trades, creating the first generic ICF training course for its members more than five years ago.
According to a report by the Ontario Chamber of Commerce, 40% of new jobs in that area in the next two decades will be in the skilled trades and technologies. That's why Ontario invested almost $400,000 in the Training Centre to help purchase tools, scaffolding, safety and other equipment.
In a video of his remarks available on the Premier's website, workers can be seen stacking, cutting, and building with ICFs.
Michigan LEED-Platinum Home is ICF
The "Watercress Project" in Pentwater, Michigan has been certified Platinum under the LEED-Homes criteria. This is the highest honor you can receive from the USGBC.
The home was built by Adam Bearup of Hybrid Homes, the same construction team that built the highly-publicized Onekama Home two years ago.
Wisc. Builder Uses ICFs for Affordable,Green Home
The Wellhouse in Waupaca, Wisconsin sets a new standard for affordable, durable, sustainable concrete homes. It is built using Insulated Concrete Forms (ICFs).
Designed by Ken Dahlin of AIA Genesis Architecture, LLC, and built by John Durrant of Elm Valley Carpentry, it was built for roughly $100/sq. ft. \ In addition to ICF walls, it uses concrete flooring, radiant in-floor heat, and a state-of-the-art HVAC system to minimize energy use. The exterior is finished with cement-board siding.
Texas City Models Low-income ICF Program
Lubbock, Texas boasts the most successful ICF low-income home construction program in the U.S. For more than a decade, the city has used Federal grant funds to build 120 ICF homes in Lubbock for low income families. The new homes are energy efficient, with monthly heating bills of $70 to $80, rather than the $400 per month for the substandard housing they replace.
Now the program is getting national attention. To highlight the program's success, the National Community Development Association (NCDA) Southwest Region hosted it annual meeting in Lubbock, attracting 50 public housing officials from more than 30 Southwestern U.S. cities.
NCDA is an organization of local governments that administer federally-supported community, economic development, and housing programs across the country.
MIT sets up Concrete Research Center
The Massachusetts Institute of Technology (MIT) is creating a research center intended to speed up the transfer of information between laboratory science and actual practice in the field.
Named the Concrete Sustainability Hub, it is funded by the Portland Cement Association, and the Ready Mixed Concrete (RMC) Research & Education Foundation.
Researchers from MIT's School of Engineering, School of Architecture and Planning and Sloan School of Management are expected to participate in the CSH's research activities. The new research hub has already acquired $10 million of sponsored research funding to be used over the next five years.
"It is rare that one has an opportunity to have a positive environmental impact on the most prevalent building material in the world," said Franz-Josef Ulm, the engineering professor who will serve as CSH's first director. "This means working closely with industry partners over time to ensure that our ideas and research are sustainable economically, as well as environmentally, and are a source of job creation."
Green Building Will Support Nearly 8 Million U.S. Jobs
A new study by Booz Allen Hamilton and the US Green Building Council (USGBC) indicates green building will continue to boom for the foreseeable future.
For instance, it reports that despite the economic downturn, green building will support 7.9 million U.S. jobs and pump $554 billion into the American economy over the next four years (2009-2013). In the previous five-year period (2004-2008), green building supported about 2 million jobs.
The study also determined that green construction spending currently supports more than 2 million American jobs and generates more than $100 billion annually.
The study was announced at the USGBC's annual Greenbuild International Conference & Expo.
"The study demonstrates that investing in green buildings contributes significantly to our nation's wealth while creating jobs in a range of occupations, from carpenters to cost estimators," said Gary Rahl at Booz Allen Hamilton. "In many ways, green construction is becoming the standard for development. As a result, it is expected to it is expected to support nearly 8 million jobs over the next five years."
The full report can be downloaded at www.usgbc.org/greeneconomy,

---

ICF Builder Magazine


LEED-Platinum Habitat Home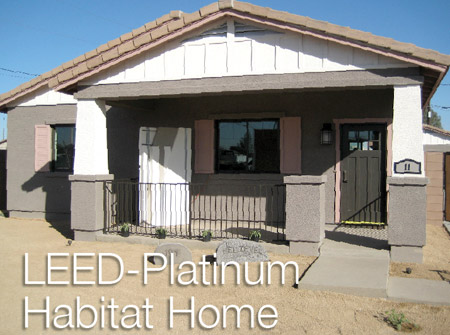 With just over 1,300 sq. ft., the show home at GreenBuild 2009 is one of the more modest show homes built in recent years. (It was built by the local Habitat for Humanity chapter as a demonstration of affordable, sustainable construction.) But it is also be one of the most impressive.
The home is so efficient that it's already been awarded LEED-Platinum status. Eighty points out of a possible 126 are required for certification at this level; this Habitat home scored 114. The HERS rating came back at a negative four, indicating the home could generate more energy than it consumes.
Rick Fedrizzi, president and CEO of the U.S. Green Building Council chose the front porch of this home to hold his press conference and officially launch the USGBC's GreenBuild conference.
A major share of the home's affordable, energy-saving design is the exterior walls built from a new kind of ICF…
» Click Here for the Complete Story
---
Comparison Charts
The ICF comparison chart on the following pages has been updated and expanded from last year's version. It contains comprehensive information on every significant ICF brand in North America, as well as many of the composite ICFs. This year for the first time ever, we've published a comparison of the major ICF decking systems as well.
These charts are the best place to start if you want to make an informed choice—they're the most comprehensive on the market. Once you've made your short list, call the manufacturers, visit their websites, and sit down with the local distributors.
Download Foam ICF Chart
Download EPS Decking Chart
Download Non-Traditional ICF Chart
---

2009 ICF Market Report and Forecast
With another year drawing to a close, it's useful to glance back at the major industry events of the past twelve months, and also take a hard look at the road ahead for the industry.
The greatest factor affecting ICF use is the state of the overall economy. The "housing correction" that began in 2007 has ballooned into the Great Recession and affected everyone. Credit markets remain tight despite the hundreds of billions of dollars thrown at it, and double-digit unemployment has become a reality.
But despite the dismal numbers, there has been unmistakable progress. And economic recovery is on the horizon. Green building continues its explosive growth, and there is still time for ICFs to get on board. The industry trade association and several major manufacturers have undergone significant transformations as well.
» Click Here for the Complete Story
---

ICF Builder Magazine



Contractor Report on the ICFA Expo
By Ian Geisler
This year's ICF Association meeting just adjourned in Orlando, Florida. The association has awkwardly turned in many directions since the early days of the staff dancing and singing "ICFA" on stage to the tune of pop music group Village People's hit song "YMCA."
There is little doubt that the association has survived the past 15 years as a result of the many associate members who contributed an immense amount of money and energy to encourage unity among the highly fragmented direct stakeholders of the industry. For this, I believe that a heartfelt "thanks" is not enough to let them know that they are very much appreciated.
In past years, there have been few advocates of increasing the contractor member base of the association. But I believe that the contractor voice is the most powerful voice of our industry. It is with the contractor that the "problems start and the problems are solved."
I feel that we should be the member group that leads the charge for action. After all, we are the backbone and lifeline to the success of the industry. If the pioneering, risk-taking spirit of the installer didn't exist, then many manufacturers would have long ago disappeared. If it weren't for the installer forging new paths and assuming a considerable risk saying "yes it works and I can do it", the market share of ICF today would be negligible compared to what it is…