ICF News Roundup
Weber Joins Building Works
Michael H. Weber, former director of residential at the Portland Cement Association, has joined Building Works, Inc.
"Mike is one of the most successful and best-connected people in the construction products industry. He sharply increases our ability to advance our clients' goals," says Pieter VanderWerf, president of Building Works, Inc.
In 2006, Hanley Wood Publishing named Weber one of the ten most influential people in the concrete industry. He holds leadership positions within the National Association of Home Builders (NAHB), the U.S. Department of Housing and Urban Development's Partnership for the Advancement of Technology in Housing (PATH), and the American Concrete Institute (ACI).
Building Works is a construction consulting company based in the suburbs of Boston, Mass. Services include marketing research and development, technical and training material preparation, developing distributor networks, and securing investors or strategic partners.

New Managers for Greenblock
Greenblock Worldwide Corp. an insulated concrete form (ICF) manufacturer, announced in August the addition of two new territory managers.
Paul DeNigris, Sr. has been selected as territory manager for the state of Arizona.
"My objective is very simple", says DeNigris, "provide the best in ICF products, services and customer support here in Arizona. ICF construction is quickly becoming the building method of choice for homeowners and building professionals looking to build solid, safe, energy efficient and sustainable."
Dan Smith will expand the company's presence in the Pacific Northwest, overseeing that multi-state region.
Concrete Walls Gain Popularity
According to a survey by the Portland Cement Association (PCA), concrete wall systems are becoming increasingly popular for home construction. Insulating concrete forms (ICFs) experienced moregrowth than any other concrete system.
The questionnaire, conducted in early 2007, was sent to custom homebuilders throughout the United States to assess the awareness and use of concrete above-grade wall systems. The results were revealed in mid-August. A similar study was conducted in 2003.
The 2003 study revealed that only 2% of builders had used ICFs in the past year. This jumped to 6% in the 2007 survey. Surprisingly, 36% of builders surveyed have used ICFs at some point in the last decade. The use of removable concrete forms also showed strong growth, doubling from 1.2% in 2003 to 2.4% in 2007.
In total, 13.8% of builders used a concrete above-grade wall system in 2007, up 60% from 2003.
"Homebuilders in our survey reported that energy efficiency was the most important issue for homeowners," Jim Niehoff, PCA residential promotion director said. "It appears that more and more often this need is being met with concrete wall systems."
The survey also showed that builders, even if they are not currently using concrete wall systems, are becoming progressively more aware of them. All the concrete systems had awareness levels of 92% or higher.

The complete Homebuilder Report 2007 www.cement.org/bookstore/profile.asp?itemid=MR451.07 - 15k can also be purchased from the Portland Cement Association website.
Greenbuild 2008 A Success
The 2008 U.S. Green Building Council's International Conference and Expo (Greenbuild) was held in Boston, Mass., November 19-21.
The show attracted about 25,000 attendees and 1,300 exhibitors, and is the world's largest tradeshow dedicated to green building. It was recognized last year as one of the fifty-fastest growing shows in North America.
This year's show was themed "Revolutionary Green: Innovations for Global Sustainability," with Boston serving as an appropriate backdrop. More than 100 workshops and educational sessions related to green building were held throughout the show, including updates on the USGBC's popular LEED certification program.
LEED Certification Changes
The popular LEED program, a green building rating system administered by the U.S. Green Building Council (USGBC), is undergoing a shift in how certification will be performed.
Currently, all LEED project submissions are reviewed by USGBC, but popularity of the program has made that method unsustainable. Beginning in 2009, as part LEED Version 3, the USGBC will transfer administration of the LEED certification process to the Green Building Certification Institute (GBCI), and delegate certification authority to 10 well-known organizations.
The move is intended to expand service, eliminate backlogs, and comply with ISO standards.
The list of certification companies, released in late July, include:
Tax Credits Extended
Federal energy tax credits, which were signed into law as part of the Federal Energy Policy Act (H.R.6) in 2005, have been extended a second time.
A number of construction organizations interested in sustainable construction, including the ICFA, successfully lobbied to have the tax credits extended through at least 2009.
The extension was added to the finance industry bailout bill, which was signed into law Oct 3, 2008. It extends the $2,000 energy efficient new home tax credit through 2009. The energy-efficient building deduction, which offers a 30% tax credit for qualified properties, extends through 2013. The procedures and benchmarks outlined in the original 2005 law remain the same.
An updated Tech Brief on the ICFA website contains additional information on how ICF builders can take advantage of the credits.
ICFA Offers AIA Accreditation
The Insulating Concrete Forms Association (ICFA) has recently become a registered provider of education courses for the American Institute of Architects (AIA).
The AIA requires all architect members to enroll in a number of educational classes every year. Among the choices for these "continuing education credits" are several classes that provide background information on designing with ICFs.
In order to teach these classes more effectively, the ICFA can now certify instructors for these classes. At the first training course, held during the ICFA Expo in Portland, 22 candidates completed the program.
Fire Sprinklers Mandatory in 2011
The 2009 International Residential Code, which was finalized last month in Minneapolis, includes a requirement for fire sprinklers in all one- and two-family homes and townhouses as of Jan. 1, 2011.
The vote would have failed by a nearly 2-to-1 margin had it not been for the sudden — and controversial — arrival of 900 fire officials eligible to vote at the hearings. With their support, the measured was ramrodded through with a vote of 1,283 to 470.
About 1,200 voting devices were turned in immediately after the residential fire sprinkler mandate was approved, suggesting that most of the proponents left immediately after the vote was taken.
"It seems clear that these particular officials were focused on one issue only — residential fire sprinkler mandates — without any benefit of perspective regarding how such mandates jibe with the hundreds of other code proposals considered at this hearing," said James "Andy" Anderson, chair of the NAHB Construction, Codes and Standards Committee. "That's unfortunate."
It's estimated the new mandate will cost about $1.50 per sq. ft., and bring sprinkler manufacturers about $5 billion per year in revenue. The fire sprinkler industry provided funding for officials to attend the hearings.
Several nagging concerns remain unresolved. Whether home owners will maintain the sprinklers to ensure they stay operational is one major issue. In cold climates, pipes in attics may freeze, and damage from accidental discharge remains a concern as well.
A national shortage of qualified fire sprinkler installers means that although the sprinkler requirement will appear in the 2009 International Residential Code, it will not take effect until 2011.
Several jurisdictions, such as the state of Michigan, have already signaled that they will not be implementing the sprinkler portion of the new code.
Masonry Lobbyists Reach Goal, Help ICF Industry
The National Concrete Masonry Association (NCMA) is close to achieving its top legislative priority in 2008, one which will also benefit the ICF industry.
The goal is to require government planners to use sustainable design and life-cycle costing in all military construction projects.
Language to this effect was inserted into the 2009 Department of Defense authorization bill, which passed the U.S. House of Representatives and the Senate in November. NCMA worked with the House Armed Services Committee on the development of the bill.
Passage suggests that Congress agrees with the NCMA argument that the Army Corps of Engineers and the other military service branches should be using construction techniques that are more cost effective over the life cycle of the building.
---
Clarification:
Vinyl Siding as a Disaster Resistant Finish
Over the past decade or so, questions have been raised on the performance of vinyl siding installed over foam sheathing, and similar products, such as ICFs. Observed damage from high winds has led to discussions by the ICC and other code bodies to ban vinyl siding over foam sheathing and require solid backing such as OSB or fiberboard, even in areas where there is a low risk of tornadoes and hurricanes.
(See Disaster Resistant Finishes, and Installing Siding over ICFs.)
According to a new report issued by the National Association of Homebuilder (NAHB) and the Vinyl Siding Institute (VSI), vinyl siding installed over foam sheathing and studs has a solid record of excellent performance under the wind conditions that are typical for most of the U.S.
The key is that the product must be installed and fastened in accordance with the manufacturers' instructions and building code requirements.
In the 2007 Supplement to the 2006 International Residential Code, the required nail size for fastening vinyl siding to studs was increased to a shank diameter of 0.120" and a head diameter of 0.313". A sufficient length of fastener is required to accommodate the wall sheathing thickness and to penetrate a minimum of 3/4" into wall studs spaced at 16 inches on center.
The report also has special recommendations for gable end walls, where damage from severe winds is more commonly observed.
In hurricane-prone areas along the Atlantic and Gulf Coast, vinyl siding products can provide adequate wind pressure resistance, but often need continuous structural sheathing to withstand wind uplift.
The recommendations are based on research and testing conducted by the NAHB Research Center, and were submitted for consideration at the upcoming ICC code hearings.
---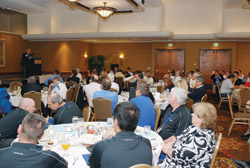 The ICFA Annual Meeting and Expo, held in Portland, Ore. from Sept. 29 to Oct. 1, was significantly different from past shows.
The ICFA Annual Meeting and Expo, held in Portland, Ore. from Sept 29 to Oct. 1st, is held yearly for members of the Insulating Concrete Forms Association, it was first show planned by executive director Steve Heller, who has overseen the organization's day-to-day operations for just over a year now.
Attendance was about 350, with 47 booths.
"It was the most successful show we've ever had," said Dean Seibert, chairman of the ICFA board of directors. "It was the best organized, best planned, and really targeted to where we're going to the green building movement."
The show marks a new direction for the association, which has struggled recently to remain relevant and financially solvent. As recently as last June, Heller sent a letter to members stating that, "ICFA has been in 'survival mode."
But the fall show seems to have changed that. ICFA unveiled a number of new initiatives there that indicate a desire to connect with all segments of the ICF industry.

For local contractors, a full-day Introduction to ICFs class was offered the day before the show. Manufacturer booths in the exhibit hall showcased the variety of options available. Contractors also had their own series of conference presentations as well.
At the opening luncheon, a number of awards were presented. The Ritchie Scott Award, a "man-of-the-year" type honor presented to the individual who has made significant contributions to the ICF industry, went to Patrick Murphy, president of American Polysteel.
Contractor of the Year went to ICON Structures, a Florida-based ICF installer that has worked on many of the most notable large commercial jobs in the past decade. Harry Pilkington, who accepted the award on behalf of the company, is credited with developing the techniques used to build the highest ICF structure ever, a 14-story Holiday Inn with ICF infill walls.
At the meeting, all members of the 2007-2008 board were dismissed, and a new slate of officers was installed. Dean Seibert was voted in as chairman of the board, along with a list of 12 new board members that were elected as a block.
Next year's conference is already scheduled. It will take place at the newly constructed Hilton Orlando and run Sept. 28–30, 2009.

Murphy Honored for Career Contributions
Patrick Murphy, president of American Polysteel, was honored at the ICFA Expo with the association's Ritchie Scott Award. This "man-of-the-year" type honor is presented annually to an individual who has made significant contributions to the ICF industry.
Murphy helped found the ICFA in 1995 and has served as chairman of the board a number of times. He is leaving the industry after his company was acquired earlier this summer by Arxx Corp. His efforts to promote ICFs are legendary. He generously donated the testing results of his company's products in the 1990's to help the fledgling association gain respect, and was instrumental in developing the first prescriptive method for ICFs.
His company was largely responsible for convincing FEMA to write their disaster-resistant housing booklet, and introduced ICFs to the Habitat for Humanity organization. The city of Lubbock, Texas, recently built their 100th ICF house in their affordable housing program. Thanks to Murphy, ICFs have been featured on Bob Vila's TV program, in NAHB Showcase Concrete Houses, and in high profile zero-energy homes. A believer in sustainable building, he submitted the whole Polysteel line for the "Cradle to Cradle" certification and earned a silver level, the only ICF to date that has qualified for any level of certification.
Seibert says, "We thank Pat not only for his leadership in growing the markets for ICFs, but in helping us understand the contribution we can offer to make the world a better place."
---


The International Builder Show .held in Las Vegas, Nev., will run January 20-23, 2009.
Organized by the National Association of Home Builders (NAHB), it is one of the largest construction-related trade shows in the nation, and is expected to feature 1,700 exhibitors and 250 educational seminars. An estimated 80,000 visitors will attend.

ICF Show Home
Like last year, attendees will have the opportunity to visit a state-of-the-art ICF home constructed especially for the conference. The 2009 New American Home, located near the airport, features a contemporary design outside and cutting-edge technology on the interior.
Last year's New Southern Home was built with Greenblock ICFs. This year's project uses ICFs from Arxx for the basement, first-story and some second-story walls.
"ICFs are a simple, yet powerful way to build a better world," said Randy Daniels, western region manager for Arxx. "The value in this program is the opportunity to get this message out."
Last year's New American Home was toured by several thousand building professionals during the show, and officials predict similar numbers for 2009.
Blue Heron Homes is the general contractor; ICF LLC in Las Vegas did the install. Arxx provided extensive support to the design team, as well as the contractors and subcontractors who dealt with the forms.

Exhibits and Seminars
While the International Builders Show doesn't focus on concrete construction like World of Concrete does, it still draws a considerable number of ICF-related exhibitors. Half a dozen major manufacturers, including Arxx, Buildblock, Greenblock, Logix, Nudura, and Lite-Form, will have displays. A few related companies, like V-Buck and Creatherm, will also have a booth.
IBS will offer a host of green-related construction courses including at least three that are relevant to ICFs. An all-day Insulating Concrete Forms Installation class will be taught the day before the show Sunday, Jan. 18. Tuesday morning and Wednesday afternoon each have hour-and-a-half classes, titled Green Advantages of Concrete Wall Systems: ICFs, Masonry, Precast, and Concrete Homes 101, respectively.

Registration
Registration for the 2009 International Builders' Show is open to industry professionals and their affiliates. For more information, or to register, visit www.BuildersShow.com.
---


The biggest trade show in the concrete industry will be held in Las Vegas next February, and as in years past, many events and booths will be related to ICFs.
World of Concrete 2009, held in Las Vegas, Nev., Feb. 3-8 is expected to draw more than 70,000 attendees. Organizers predict it will be about 10% smaller than last year's show, with about 1,500 exhibitor spread over 800,000 sq. ft.
WOC is divided into four major exhibition areas. The Central and South halls are dedicated to heavy equipment and masonry products, respectively. Nearly all of the ICF-related booths are located in the North Hall, making it much easier for attendees.
At least 50 of the booths are directly related to the ICF industry (click here for a list), including the ten largest form manufacturers. ICF bracing, waterproofing, and other ancillary products will also be on display. Related trade associations will also be present.

The fourth area of the show is the outdoor demonstration area, which is dominated by the decorative and concrete finishing sector. That said, several ICF-related demonstrations will be taking place, and Quad-Lock has reserved outdoor exhibit space as well as an indoor booth.
In addition to the exhibit halls, WOC offers a wide array of concrete-related educational seminars, more than 150 in all. The NAHB "Insulating Concrete Forms Installation" class will be taught Thursday, Feb. 5, from 8 am - 11 am. Other classes cover mix design, extreme weather, pumping, and so forth.
Several of the largest ICF manufacturers will be holding their annual distributor meeting in conjunction with the show.
Perhaps the biggest event, though, will be the presentation of the ICF Builder Awards (see story below). The only industry-wide event at WOC, it will be a great chance to unwind, network, and learn about the award-winning projects. Winners will be announced at an event held Tuesday evening in Room N263C, on the second floor just outside the north exhibit hall. The room will open at 5 p.m. The presentation will begin at 5:20.

"It is clear, just from the number of entries we received, that the level of interest in these awards is huge," says Clark Ricks, organizer of the event. "We want to make it convenient, comfortable, and enjoyable for everyone who wants to attend."
"We recognize that everyone has a busy schedule," he continues. "We also recognize the need for a WOC-related event for everyone in the ICF industry. When the show floor closes Tuesday evening, we hope you'll stop by to unwind, network, and learn about a few of the amazing projects that have been built with ICFs, before continuing with your evening. We'll have drinks and light refreshments, but will conclude the presentation in plenty of time for you to take your client—or the new business contact you just made—out to dinner."
---

ICF Comparison Chart and Explanation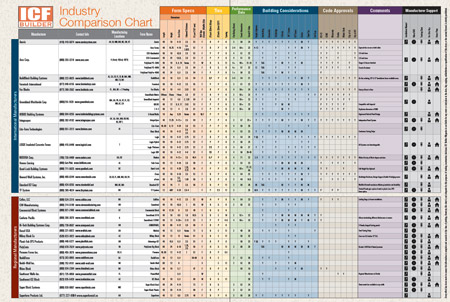 The ICF comparison chart on the following pages has been updated and expanded from last year's version. While the number ICF brands has decreased, we've included more information on each form than ever before.
This includes "Sidewall Thickness," which provides additional information on the insulation value of the ICF. This usually varies from just under 2 inches to 2 ¾ inches, but a few brands offer up to 4" of insulation on each side of the wall.
The list of code certifications has been expanded to list the city of New York and Los Angeles codes. Note that final approval for any ICF rests with the local building authorities.
Under "Building Considerations," a new column indicates whether the company makes foam end caps and lintels for blocking out windows and doors. This saves the time and money associated with making wood, vinyl, or metal bucks.
Finally, because freight costs remain a significant factor in the final price of an ICF, the chart lists the location of US and Canadian molding facilities by their 2-digit postal code abbreviation.
Manufacturers are divided into two categories; "International Manufacturers" are companies with operations in both the US and Canada, and multiple manufacturing locations across the continent. The large regional manufacturers are listed alphabetically by company name. "Composite ICFs" are listed on a separate chart.
Both charts are intended to help architects, builders and homeowners compare the basic features of the major ICF brands.
Download Foam ICF Comparison Chart (

PDF - 432kb)
Download Composite Comparison Chart (

PDF - 456kb)
---


This year has been harder for the ICF industry than anyone imagined it would be. Excess housing inventory, tight credit conditions, and a failing economy have conspired to make 2008 one of the slowest this industry has ever seen.
New home construction, which NAHB economists predicted would turn around in the first quarter of 2008, has continued to slide downhill. Commercial-sector growth was also less than expected, which means the industry as a whole barely kept pace with 2006 and 2007 levels. Many individual ICF companies are reporting sales are down 10% or more for the year…

2009 Industry Forecast
This forecast has been the most difficult to write since I began doing this five years ago. After weeks of research and dozens of interviews with industry leaders, a few topics surfaced again and again.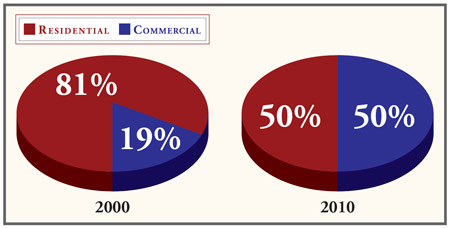 Next year will be a tough one across the board. That said, most executives were fairly confident that we're nearing the bottom of the market and next year won't be any worse than the 12 months we've just experienced. The biggest factors, of course, are the economy and the general construction market…

Project Profile: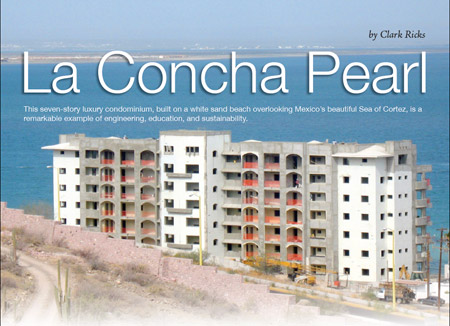 La Paz, Mexico, located in southern Baja California, is a world-class destination. Today, a new treasure can be found on the beach: La Concha Pearl, "The Pearl of La Paz." The seven-story luxury condominium project is built to the highest sustainable building standards and makes extensive use of Insulating Concrete Forms (ICFs).
The luxury condominium has elegant interior finishes and a modern design that blends with the Colonial Mexican architecture that surrounds it.
Built with Quad-Lock , it used 60,000 sq. ft of wall forms and 80,000 sq. ft of EPS decking...