California DSA Drafts ICF Specs
The California Division of the State Architect (DSA) is developing statewide standards for ICF construction. The proposal is titled IR 19-d: Requirements for Flat-Wall Insulating Concrete Forms.
Many of the major ICF brands worked through the ICF Association (ICFA) to try and modify three critical points in the proposed specification:
First, ICFA believes that the percentage of cross-ties in a wall plane does not significantly affect structural strength, and requested a dialogue with the California DSA to develop a more sensible design approach.
Second, industry members requested the drop height limit be raised from 6 feet to 12 feet, cited several studies that show that increased drop heights do not create concrete segregation or loss of compressive strength.
Finally, the ICF industry consortium opposed a requirement for viewports.
A copy of the California DSA draft specification can be obtained from the ICFA website.
ICFs Help Stem Midwest Flooding
The unprecedented flooding across the Midwest this spring and summer has led to a new development in the use of ICFs.
According to Pat Boeshart, president of Lite-Form Technologies, ICFs can be used to make temporary flood walls that are lighter, faster, and better than traditional sandbag berms.
South Sioux City, Nebraska, where the company is headquartered, felt the earthen levee built in 1952 might be inadequate for the flood moving downstream. So Boeshart offered to use ICFs to create a secondary line of defense.
At a vacant Wal-Mart, volunteers assembled wall segments 24 foot long x 4 foot tall, with a short jog at the end of each segment to provided stability and protection from debris. They assembled, delivered, and set a full half-mile of the new Z-wall in less than 5 hours. Filled with 250 yards (1,000,000lbs) of concrete, the IC floodwalls have protected—and in at least one case, reclaimed —land from the rising water.

BuildBlock Opens N. Carolina Plant
BuildBlock Building Systems is now manufacturing their 6" and 8" product lines in Butner, NC.
"We are excited to offer our valued customers on the central East Coast excellent customer service as well as improved shipping logistics," said CEO Mike Garrett.
With the addition of this manufacturing facility, new territory is available for dealers and distributors in North Carolina, South Carolina, Virginia, Tennessee and Kentucky.
In addition to the North Carolina facility, BuildBlock products are currently available from manufacturers in the following cities: Becker, Minn.; Colorado Springs, Colo.; Decatur, Ala.; Elkhart, Ind.; Jerome, Idaho; McFarland, Ca.; Orlando, Fla.; Pardeeville, Wisc.; Post Falls, Idaho; Springfield, Mo., and West Brookfield, Mass.
More information on the company is available at www.buildblock.com.
Home Sales and Prices Continue to Fall
Purchases of existing homes have continued to fall this year, continuing the downward pressure on home prices. At the current pace, sales this year would drop below last year's 13-year low of 4.91 million homes sold.
The price of the median home fell nearly 5% year-over-year to $166,700, which is roughly the same price of a median home nine years ago.
With 1.8 million distressed properties already on the market, an unemployment rate hovering around 9% and tight credit standards, it may take years to absorb the inventory.
Nationally, home prices have fallen 33% since the real estate bubble burst in 2007, and most economists think prices nationally will drop at least an additional 5% by year's end.

Styrene Listed as Carcinogen
Styrene, the basic chemical component used in plastic ICF webs and the expanded polystyrene (EPS) foam panels, has been listed as a cancer-causing agent.
The finding is included in the U.S. Department of Health and Human Services' 12th edition of the Report on Carcinogens, where styrene is listed as "reasonably anticipated to be a human carcinogen."
It should be noted that EPS is still among the most sustainable building products. Wood builders, for instance, should note that sawdust from standard building lumber is listed as a "known carcinogen" by at least four government agencies (NIOSH, OSHA, ACGIH, and IARC).
In response to the report, the Styrene Information and Research Center (SIRC) is filing a legal challenge based on "the lack of sound science to support the designation."
Betsy Steiner, executive director of the Insulating Concrete Forms Association (ICFA), states that those in the ICF industry seeking additional information on the matter should visit www.epspackaging.org, the website of the Alliance of Foam Packaging Recyclers (AFPR), which contains response points and links to resources.
Global Cement Consumption Hits New High
Even as the United States languishes in an extended construction downturn, world cement consumption is expected to hit record highs.
According to the UK-based Global Cement Report, global cement use is growing by 10% annually. By 2012, worldwide cement consumption is forecast to reach a record 3,859 metric tons.
China consumes by far the largest quantities, using 1,851 million tons in 2010, almost double 2004 levels. India, the world's second-largest consumer, registered a mere 212 million tons in 2010. The United States, the third-largest consumer, saw demand fall to 69 million tons.
The Global Cement Report also includes country-by-country cement forecasts, including consumption, production, exports and imports up to 2012. This unique reference work is accompanied by a CD providing 20 years of statistical data in Excel format, arranged by country and
geographical region, and can be purchased at www.cemnet.com/publications/GlobalCementReport9.
NRMCA Adds Sustainability Training
The National Ready Mixed Concrete Association (NRMCA) has added a fifth track to its training and education program. This latest track, Sustainability, reflects the growing importance of ready mixed concrete's role in sustainable development.
The goal of this certification program is to assure that concrete industry professionals are knowledgeable on concepts of sustainable development and green building practices. Additionally, all class work, readings and exams are offered in an interactive online format to facilitate participation. Industry personnel can pursue a Certified Concrete Professional (CCPf) designation in this area.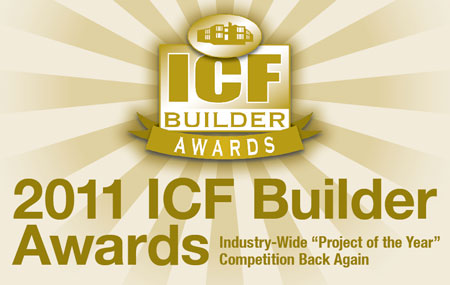 2011 ICF Builder Awards
The most popular ICF project-of-the-year competition is back again for the seventh year, and judges for the 2011 ICF Builder Awards are gearing up for another year of exceptional entries.
---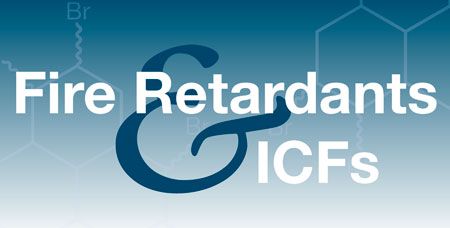 Fire Retardants and EPS
HBCD, used as a flame retardant in EPS foam, has been shown to cause serious health concerns, and has already been banned in Europe. Fortunately, at least one alternative compounds is already being developed which will allow ICFs to be even more healthy and green than ever before.
» Click Here for the Complete Story

ICF Builder Magazine
Project Profiles: The Light Commercial Winners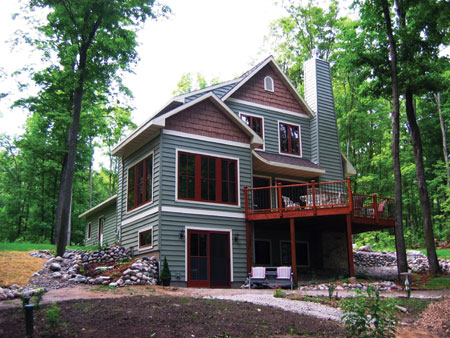 Maertz Cottage
The Maertz Cottage, a seasonal home built overlooking a lake near Wabeno, Wisc., is a beautiful example of how ICFs can overcome significant jobsite challenges to create a beautiful, functional residence.
» Read the Complete Profile Here
---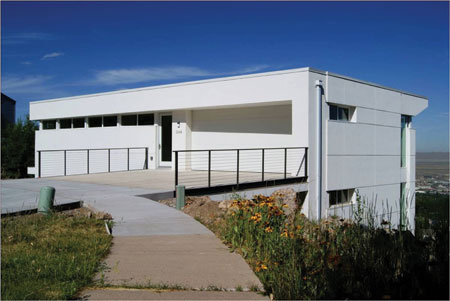 Voitehovich Residence
Designed by an internationally recognized architect as his personal residence, this home is the culmination of ten years of work. It all but eliminates right angles. No two walls lie in a parallel plane, so many corners had to be custom cut. Ceilings were not to be tied into the walls, Other exterior walls are separated from each other on the sides and top. Additionally, the owner insisted that the walls be within 1/8" of plumb at all points.
» Read the Complete Profile Here
---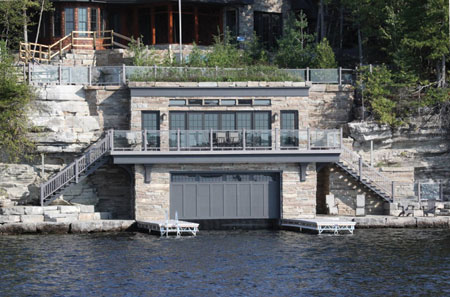 Selkirk Boathouse
This boathouse with guest accommodations, built into a cliff near Peterborough, Ontario, Canada, is an outstanding example of an environmentally sensitive project that blends premium living accommodations seamlessly with nature.

» Read the Complete Profile Here

ICF Builder Magazine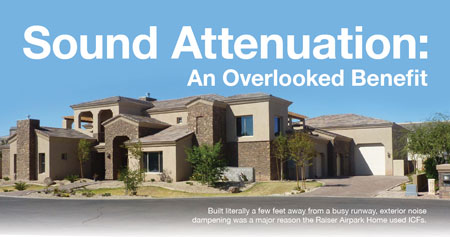 Sound Attenuation: An Overlooked Benefit
When ICF promoters list the benefits of ICFs, noise dampening is usually little more than an afterthought. But it can be a major selling point. Theaters, apartment buildings, and developments near noisy industrial sites are just a few examples of when sound attenuation should become a major selling point. Those who live in ICF homes list sound attenuation as one of the most appreciated benefits.
» Click Here for the Complete Story

ICF Builder Magazine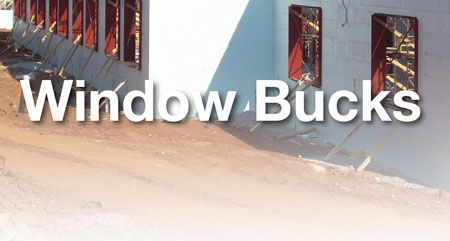 Window Bucks: A Market Comparison
For many years, ICF contractors faced a simple choice when it came to window bucks: wood or vinyl. But over the past five years, a number of companies have developed systems specifically designed for ICFs that offer unique advantages. Today, building owners can choose from a wide range of bucking materials, including lumber, OSB, vinyl, EPS, steel, even combinations of these materials.
Each of these materials has advantages, and the choice will likely revolve around four major variables: cost, durability, labor savings, and insulation.
» Click Here to View Window buck Comparison Chart (PDF)
» Click Here for the Complete Story
---
Design Perspectives: The Architect's Responsibility
By Robert Klob
My previous article, "An Architects Perspective, has generated a substantial amount of response. It is always nice to see the devotion from the members of this industry. Whether or not you agree,. I welcome all feedback.
That article was not intended to provoke– it was intended to be an informational article about how sales teams should approach an architect when presenting their system. I wanted to present the thoughts many design professionals are either asking themselves or their associates.
n this story, I want to point out that architects and designers also have significant responsibilities.
» Click Here for the Complete Story
Green Building: Update on the Competition Part 3 (Wood Frame)
By Pieter Vanderwerf
Previous installments of this column have dealt with two wall systems that sometimes compete with ICFs: tilt-up and concrete block. This issue let's look at the future of the one that ICFs have most often bid against: wood frame.
Let's start with a little history…
» Click Here for the Complete Story