ICF News Roundup
Fly Ash Regulations Questioned
In May, the US Environmental Protection Agency released a long-awaited proposal that addresses "coal combustion residuals," including fly ash.
These CCRs are known to contain toxic materials such as mercury, cadmium and arsenic. They are also widely used in building materials. In the ICF industry, for example, fly ash is often used as an environmentally responsible substitute for Portland cement.
Bill Walsh reports, "To drastically simplify the applicable sections of that 560-page proposal, the EPA proposes to classify fly ash and other CCRs as "special wastes," rather than hazardous wastes…When those products reach the end of their useful life, they could be disposed of as solid waste or construction waste in unlined landfills."
The EPA admits "we are not aware of independent studies that specifically address the questions that many green building professionals are asking about the various pathways of potential toxic migration such as (1) volitilization of compounds or dust from exposed walls during use (2) Release as dust during maintenance, renovation and installation (dust from drilling into the wall and (3) Release as dust during demolition and/or deconstruction or recycling of aggregate at end-of-life."
The National Ready Mixed Concrete Association testified in favor of classifying fly ash as a non-hazardous waste. NRMCA president Robert Garbini told Congress that that the environmental benefits of using fly ash in concrete results in longer lasting structures and reduces the amounts of waste materials sent to landfills, raw materials extracted, and energy required for production.
"The ready mixed concrete industry is the largest beneficial user of fly ash," said Garbini. "The use of fly ash in concrete is widespread and has been for years. In 2008 alone, the concrete industry used 15.8 million tons of fly ash in the manufacture of concrete."
Environmentalists are skeptical. Says Walsh, "If fly ash can be safely used …it offers legitimate environmental benefits. These benefits, however, may be coming at too serious a cost and the EPA does not appear to have the data to know. The generation of massive quantities of toxic-laden dust at the end-of-life in demolition and regrind of concrete for reuse is a particularly serious and unexplored pathway of exposure."
Garbini testified the EPA made the right call. "It has taken several decades of education to convince engineers and architects to specify fly ash in concrete," he said. "We suspect that the stigma and fear of liability will drive specifying engineers, architects and end users to disallow the use of fly ash in concrete [if it were classified as hazardous.]"
ICFA Plans for Contractors
According to Betsy Steiner, executive director of the Insulating Concrete Forms Association, contractors and distributors will find value in ICFA membership.
The association recently held a teleconference with ten representative contractor and distributor members to determine what services this segment of the membership needed. Participants identified six major areas ICFA could be of service, including educational outreach, installer certification, non-brand-specific research into cost and insulation values, and a central clearhouse for information on financial incentives.
ICFA is acting on the results by organizing a committee to determine how to cost-effectively provide these services.
Texas Town Awarded for ICF Work
Lubbock, Texas has one of the most successful low-income ICF housing programs in the country. Over the last 10 years, the city has built more than 120 ICF homes for low income families using federal grants to pay for construction.
The homes have monthly energy costs of about $75 per month, instead of the $400 per month it costs to heat and cool the type of home they typically replace.
Recently, the National Community Development Association (NCDA) highlighted Lubbock's success with ICFs. More than 50 public officials from 30 southwestern cities visited Lubbock to learn about their program and how something similar could be set up in their hometown communities. Attendees were particularly excited about the $2.7 billion in stimulus funds available for projects that "improve energy efficiency and cut emissions."
Greenbuild 2010 Registration Opens
The U.S. Green Building Council (USGBC) is hosting the World's largest green building conference in November 2010. Unlike other major construction trade shows, Greenbuild has continued to gain size and momentum despite the economic downturn.
Greenbuild 2010 will be held is Chicago at McCormick Place November 16-19. Organizers estimate attendance to be about 40,000, up from the 27,000 that attended last fall's expo in Phoenix.
Maria Coleman, a marketing associate at USGBC says, "This year's theme, Generation Green: Redefining Our Future, represents the committed group of individuals and organizations, who… seek out solutions everyday to combat our collective environmental and economic challenges."
Kimberly Lewis, a Greenbuild organizer says, "As with each year, Greenbuild programming will be a robust grouping of the latest advances within the industry, equipping attendees with the tools and education needed to further advance the mission, open doors in their careers, and meet the foremost experts within the field."
For more information, or to register, visit www.greenbuildexpo.org.
Residential Recovery Bleak
According to the latest reports from the National Association of Realtors, sales of previously owned U.S. homes hit a three-month l

ICF Builder Magazine
ow in June. Experts say the drop is largely due to the fact that lucrative home-buyer credits have now expired, but the economy is still weak.
"The soft patch continues," said Robert Dye, a senior economist at PNC Financial Services in Pittsburgh. "We are above stall speed now [but we're] losing momentum… and that's where the risk of a double-dip recession comes in."
Existing home sales fell 5.1% to an annual rate of 5.37 million units, slightly better than market expectations.
In the new home construction segment, builders cut back to the lowest level since October. "Builders are not going to get ahead of demand," said Mark Vitner, a senior economist at Wells Fargo Securities. He adds, "They could not get the financing [to build new homes] even if they wanted to."
The seasonally adjusted annual rate of 549,000 represents a drop of 5%, far more than the 2.7% economists had predicted. Home starts fell in every region of the country, and permits for future single-family homes slipped 0.7 percent to an annual rate of 454,000.
Economists say the pullback is a response to the nation's high unemployment rate, an industrywide tightening of lending standards and the expiration of a lucrative home-buyer tax credit.
Cement Industry Expecting Growth
According to the Portland Cement Association (PCA), as soon as the U.S. emerges from the current recession, concrete use will enter a period of "sustained growth" fueled by infrastructure investment and sustainable construction.
The forecast is a welcome relief to the cement industry, who has seen demand fall by half over the last five years. If PCA economist Ed Sullivan is right, this year will be the first to see an increase in cement use since 2005—up about 5.2%.
By 2012, pent-up demand and changing demographics are expected to cause cement use to increase by about 15% annually. PCA president Brian McCarthy says the increases are caused by a "perfect storm" of factors, primarily concrete's reputation as a "highly sustainable, cost-effective building material."
Plymouth Foam Gets New CEO
Plymouth Foam Inc., a leading EPS molder, is pleased to announce the promotion of David Bolland to the position of president & CEO. Bolland has been serving as Chief Operating Officer (COO) since March 2005.
He is also serves on the company's board of directors, as a member of the Young President's Organization (YPO), and serves on the EPS Molders Association (EPSMA) Board of Directors as President.
Bolland holds a Bachelor of Business Administration with an emphasis in Marketing from the University of Wisconsin Madison and a Master of Business Administration from the University of Arizona.
Thomas Testwuide, Sr. will continue to serve as Chairman of the Board, a position he has held since 1998. "With a philosophy of applying innovation for the benefit of our customers Plymouth Foam continues to grow while keeping its shareholders' interests at its core" Testwuide said.
Plymouth Foam operates molding plants in Plymouth Wisc., Gnadenhutten, Ohio; and Becker, Minn.
Sto Corp Certifies EIFS
Sto Corp., a Georgia-based maker of acrylic finishes, is now certified with a national quality assurance program. The EIFS Quality Assurance (EQI) program www.eifscouncil.org/english/qap.htmwas established in Canada to provide project owners and contractors the assurance that the materials and installation of an Exterior Insulation and Finish System will meet high standards.
Delaware Offers Green Home Incentives
The Home Builders Association of Delaware and state officials have developed a program that offers cash incentives to owners of new homes certified by the NAHB Research Center to the National Green Building Standard. Delaware Green for Green is a partnership between home builders and the state Department of Natural Resources and Environmental Control. It offers rebates ranging from $3,000 for homes built to the Silver level of the Standard, $5,000 for Gold certification, and $6,000 for meeting the top Emerald level.
The better the anticipated environmental performance of the home, the higher the cash payment. For more information on the program visit the Delaware Energy Office website.
NAHB Model Green Home Building Guidelines Phased Out
The National Association of Homebuilders Research Center announced it is ending certifications under its Model Green Home Building Guidelines. as of April 1, 2010 for single family homes, and as late as December 31, 2011 for multiple house developments undergoing certification. The Guidelines formed the basis for the more comprehensive ANSI National Green Building Standard, which will now be the sole residential green building program supported by NAHB. The move to a single program should help ease any lingering confusion between the two programs.
---
Successful ICF Developments
By Pieter Vanderwerf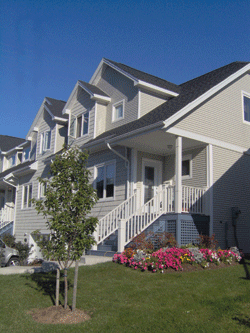 For ICF builders and distributors, housing developments are considered the "Holy Grail" for ICF growth. They carry the allure of selling the job once, then collecting revenue on house after house after house.
Despite their importance, until recently there has been very little knowledge about how large projects have fared and what separates the hits from the misses. Two years ago, I set out to solve this riddle. With the PCA, I located key participants in each of 12 ICF projects with first-hand knowledge of its history.
I interviewed them at length to learn how the project went and whether the developers, builders, and buyers viewed each project as a success. The results were quite different from what we expected…

ICF Builder Magazine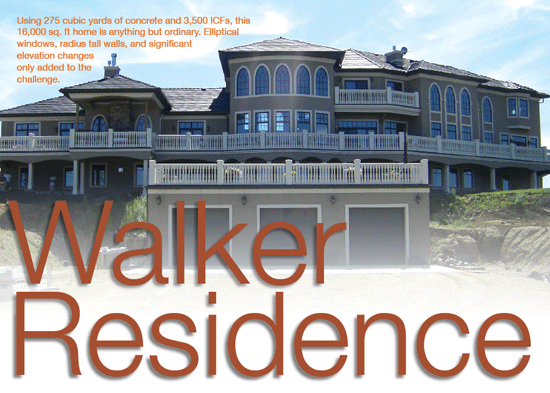 Built atop a hill in windswept Alberta, Canada, this 13,000 sq. ft. palatial home can withstand wildfires, blizzards, and other natural disasters common to the area, while maintaining a light, airy inviting atmosphere inside.
"This is a significant project that presents architectural and engineering challenges for any building system or technology," says Lorne Bingeman, who with his 5-man crew did all the ICF work. "The design includes radius walls, arched windows, tall walls, high back-fill and significant elevation changes…"
---


Disaster-proof homes—built with ICF walls and a concrete roof—could be a cost-effective replacement for homes lost to hurricanes, earthquakes, and other natural disasters. The key is educating decision-makers about their benefits and keeping construction costs down.
This article is oriented towards building replacement houses in regions of the world outside of America, for example, the Indian Ocean basin, islands targeted by typhoons in the Pacific, islands off the coast of Florida assaulted by hurricanes, earthquakes in China and so on…

ICF Builder Magazine


Written by the best-known ICF installer in the industry, this comparison of ICF and stick-frame construction costs is remarkably candid and detailed item-by-item assessment.
Whether ICF is more expensive than wood frame is not something that can be stated in blanket terms for all geographical areas. But every ICF professional should be aware of the variables that affect price in order to discuss the ICF option with confidence.
How do your costs for ICF compare with the traditional methods of wood framing for your area? Here's an example based on a "high-quality frame home" in an area of Central Texas…