The Aledort residence in Rancho Bernardo, Calif., endured a literal baptism of fire during last fall's firestorms near San Diego. The fires destroyed more than 2,000 homes, but the Aledort residence survived unscathed, thanks in large part to its fireproof ICF walls.
In most areas of the United States, the greatest threat to homes and commercial structures is not hurricanes and tornadoes, but wildfire.
The U.S. Fire Administration reports that fire kills more Americans than all natural disasters combined—averaging more than 3,700 people—plus another 20,000 injured—every year in the last decade. Direct property loss due to fires in 2006 is estimated at $11.3 billion.
Fortunately, homes and buildings made from insulating concrete forms (ICFs) offer exceptional protection from the flames.
"Of all construction materials, concrete is one of the most resistant to heat and fire," reports the Portland Cement Association. "Unlike wood, concrete does not burn. Unlike steel, it does not soften and bend."…

Read the entire story…
---

Sloped Concrete Roofs
Topping an ICF structure with a concrete roof has a number of advantages. (See Total Concrete Shells below.)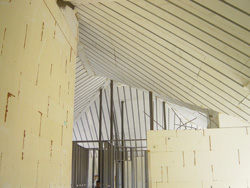 Sloping concrete roofs are possible. With modern foam decking systems, even complex roof designs can be created.
They can support an enormous amount of weight, so concrete roofs can be converted into decks, rooftop gardens, or even additional parking space. And coupled with a foam forming system, such as Lite-Deck, concrete can create a high-performance roofing system that "completes the energy envelope." Just like ICF walls, the combination of foam and concrete in the roof protects interior spaces from outside temperature fluctuations. Near airports, these "ICF roofs" have proven to dramatically reduce sound infiltration.
But just because a home has a concrete roof doesn't mean that it has to be flat. Thanks to innovative forming systems and improved design software, sloped concrete roofs are easier now than ever before. Designs with multiple hips, valleys, and ridgelines can be constructed out of concrete.
Subscribe to read the entire story…
---

Total Concrete Shells
To understand the value of a total concrete shell, imagine building a house with four concrete walls. We know from experience that the walls will almost certainly remain standing. The roof may blow off and the interior might be trashed. But on the plus side, rebuilding would be cheaper and easier because the exterior walls would be usable.

But if the roof were also concrete, then (1) the structure could withstand all but the most severe disasters, and (2) the interior should be spared significant damage.
Similar reasoning goes for the other benefits of ICF walls. Adding a concrete roof will sharply improve energy efficiency, sound reduction, and comfort by fixing a major "weak spot" in the building envelope.
In the wake of Hurricane Andrew (1992), an engineering team surveyed the damage. They observed that many of the houses had lost their roofs. With the roof gone, the walls of many wood frame homes collapsed under the continued wind. The concrete homes fared much better.
But even if the walls survive, when the roof is gone the contents and finish materials of the building become water damaged. The wind rushing indoors smashes things. In many cases when the roof goes, insurance adjusters end up declaring the building a total loss.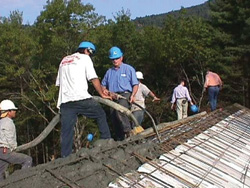 A concrete roof changes this equation. In all these ways they exceed a conventional wood frame roof. Interior comfort is determined by the same factors that improve energy efficiency, so a concrete roof completes the "comfort shell" just as it completes the thermal shell. Similarly, it provides sound attenuation.
The popular new way to build a concrete roof or lid is with an ICF deck system. It is the most practical way to build a pitched concrete roof. These systems consist of long foam forms, called "sections," that are reinforced with light-gauge steel "joists". Crews set them on the walls and brace them from below every 5-6 feet. Reinforcing steel, wire mesh, and concrete go on top to create a structural concrete deck with an under layer of foam. The steel joists inside the foam provide a place to attach sheetrock and fixtures. Clear spans of 38 feet have been achieved. The final assembly, as with an ICF wall, is already insulated because the foam stays in place.
It is hard to argue with the benefits of a total concrete shell. The superior envelope provides disaster resistance, energy efficiency, sound reduction, and comfort far more complete than with other materials. The availability and experience of crews to do the work is also increasing as the practice becomes more common. Still, reports of contractors suggest that currently concrete roofs and lids go on no more than about 5% of all ICF homes, and a somewhat higher percentage of the small commercial buildings.
The value is there. Future use will depend on how cost-effective the market can make the products and installation.
Subscribe to read the entire story…
---

ICF Builder Magazine


Disaster-Resistant Finishes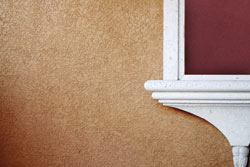 A range of ICF-friendly finishes exist that are reasonably priced, easy to apply, and look great, while withstanding nearly every threat imaginable.

In standing up to Mother Nature's worst—hurricanes, tornadoes, and fire—the exterior finish is almost as important as the wall itself.
Luckily a range of ICF-friendly finishes exist that are reasonably priced, easy to apply, and look great, while withstanding nearly every threat imaginable. One company manufacturers a ballistic-grade stucco that claims to be literally bulletproof, even stopping rounds from an AK-47.
Even if the project isn't in a war zone, there's a host of reasons you may want to consider these ultra-durable finishes. Careless lawn trimmers, errant golf balls, and other hazards can damage a home's finish. And in the commercial sector, warehouses, factories, and restaurants with drive-through lanes will appreciate a finish that can withstand an occasional bump from cars or forklifts….

---
Arxx Acquires PolySteel
Arxx Corporation has purchased American PolySteel, LLC. The move joins two of the oldest insulating concrete form manufacturers in North America.
The move is the latest in a series of acquisitions by Arxx, which was purchased by a group of investors last fall.
The company has also acquired Uniscaffold, maker of an ICF tall wall bracing system, which will now be available exclusively to Arxx customers.
---

ICF Builder Magazine




News Roundup


Housing Prices Dip to Pre-Bubble Levels


As the housing slump continues, prices in most areas have fallen dramatically. According to the most recent data, in the first quarter of 2008, only eight out of 330 metropolitan housing markets can now be considered overvalued. That's down from 53 metro areas in mid-2006.
In Stockton, Calif., the average price of a single-family home has fallen 35% in the past 24 months. In Las Vegas, home prices have come down nearly 20% in the same period.

2008 Home Starts Down 36%
Housing starts for 2008 are expected to be 36% lower than 2007 levels, the sharpest drop in three straight years of declines.
According to a recent Portland Cement Association (PCA) report, the decline is due to a weak economy, tight credit, and a huge housing inventory that must be sold off before construction recovers.
"Despite large home price declines and improved affordability, sales remain sluggish and offer little hope that the inventory glut will be worked off anytime soon," says PCA Chief Economist Ed Sullivan.
Sullivan says current home inventories stand at a 10.5-month supply, nearly triple the 3.5-month supply that normally exists. The PCA now predicts further declines in 2009, with a recovery starting in 2010, although the hardest hit states, like California, Florida, Arizona, and Nevada may not see a turnaround until 2011 or 2012.

New Code Compliance For Perma Crete
Perma Crete, an exterior cementious coating, is now code certified for both horizontal and vertical applications. The product has successfully completed all the requirements to be certified for horizontal and vertical surface applications by the International Code Council's Evaluation Service (ICC-ES). He claims it is the only surfacing product to have both certifications.

Creatherm Begins California Manufacturing
Creatherm, which markets a number of EPS-related products, has reached an agreement with Aptco LLC to manufacture their products in California. Previously, all Creatherm manufacturing locations had been east of the Mississippi River.
The agreement with Aptco creates additional production capacity, and also enables Creatherm to better service it's growing customer base on the West Coast while reducing shipping expenses.

Fox Blocks Adds Mass. Facility
Fox Blocks, a division of Airlite Plastics Company has begun manufacturing at a second satellite plant in Northbridge, Mass. The forms are also made in Orlando, Fla. and at the company's flagship plant at its headquarters in Omaha, Neb.
" As Fox Blocks grows its ICF market share with factory direct shipments, additional manufacturing facilities will help ease freight costs and shorten delivery times to its customers throughout the U.S. and Canada," says Dave Jackson, sales and marketing manager for the company.

Buildblock Expands Product Line
BuildBlock Building Systems now offers a number of ancillary products that complement it's line of BuildBlock Insulating Concrete Forms (ICFs).
It now offers Form-A-Drain footing system, the Lite-Deck ICF floor and roof system, and Andersen windows and doors.
"Our goal is provide our customers with everything they need to create an energy-efficient building envelope," says Jason Fisher, BuildBlock business development manager. "These products are the perfect complement to our ICFs for accomplishing that purpose."


BuildBlock Launches 12th Manufacturing Facility
BuildBlock Building Systems has expanded manufacturing again, partnering with Plymouth Foam in the state of Minnesota. The move brings the number of manufacturing facilities to an even dozen.
The company claims it now has more manufacturing locations than any other North American ICF. "Today's unprecedented fuel costs make this a tremendous benefit to our customers," said BuildBlock CEO Mike Garrett. "We continue to invest in manufacturing in order to save our customers on their freight expenses."
Plymouth Foam is located in Becker, Minn., about 50 miles northwest of Minneapolis/St. Paul. They began manufacturing the Buildblock line of ICFs in June.

Buildblock's other facilities are in Alabama, California, Colorado, Florida, Indiana, Massachusetts, Missouri, Utah, Wisconsin, and two plants in Idaho. They also have foreign licensees in Europe and the Middle East.

IntegraSpec ICF Grows Again
IntegraSpec has added two employees at its Kingston. Ontario, head office.
Danielle Boulianne will be assisting with orders, logistics, accounting, and customer service. She has an education in computer networking and office administration with field experience in high volume customer oriented business.
Dave Kellam is now manager of distribution and sales, and will work with new distributors.

Greenblock Fire Test Results
Greenblock Worldwide Corporation has received a 4-hour fire resistance rating for their 6-inch core insulated concrete form (ICF) assembly.
The company had previously completed evaluation testing on its 4-inch core ICF wall system and achieved a two-hour rating.
"We were confident that we would get a 3-hour with our 6" block," said Steve Reiter, who handles building code issues for Greenblock. "However, the 4-hour rating was a pleasant surprise."
The complete fire resistance evaluation report is available on the technical section of the Greenblock website, www.greenblock.com.

ICF Homebuilder On "Top 400" List
Homecrete Homes, the nation's largest ICF homebuilder, has once again made Professional Builder magazine's list of America's 400 largest home builders.
While most of the builders on the list have seen significant decreases in revenue and closings between 2006 and 2007, Homecrete actually moved up in the rankings.
Based in Stuart, Fla. the company is currently active on Florida's Treasure Coast and California's Kern County, building more than 300 homes per year.
---

ICF Builder Magazine