ICFA Holds Annual Meeting
The Insulating Concrete Form Association is holding their Fall Meeting and Expo September 24-26, 2007, at the Hyatt Regency Hotel at Union Station in St. Louis, Mo.
The ICFA now holds its conventions on an annual basis; this is the only ICFA expo taking place this year. For more information, visit www.forms.org.
Fox Blocks Gets ICC Approval
Fox Blocks, a division of Airlite Plastics Company, announced that their Insulating Concrete Form (ICF) now has ICC code approval.
The code approvals mean Fox Blocks are an approved building product in most areas of the United States, and that building inspectors and code officials can feel confident that the product is approved.
The International Code Council (ICC) Evaluation Service issued the company ES Report No. 2270. The certificate can be viewed on both the Fox Blocks and ICC websites.
Reward Purchases Tritex
Reward Wall Systems, Inc has acquired Tritex ICF Products.
The companies had previously shared marketing and technical services, but this move consolidates all aspects of the two companies. The Xillix form, Tritex's flagship product, is quite similar to Reward's iForm, with the notable exception that the foam sidewalls of Xillix are considerably thinner (1 5/8" opposed to 2 ½" thick)
The acquisition will allow Reward to offer a larger range of products to broader customer base, and also gives the company some pricing flexibility for budget builders. Tritex customers will gain access to Reward's customer support services, including technical and engineering assistance, marketing support, and onsite training.
Lyman Leaves ICFA
Joseph Lyman, who has served as executive director of the ICFA for the past four years, is leaving the association to pursue a position in the pet care industry. During his tenure, ICF use in North America has doubled, and the association has increased to more than 500 members.
"He grew the organization significantly," says Dean Seibert, a member of the ICFA board of directors. "He left us on a really good financial platform so his successor can take the organization to the next level."
Some of his accomplishments include launching a new ICFA website, creating a monthly e-newsletter, helping create the Concrete Home Builders Council with the NAHB, and setting up a generic ICF training class with the Carpenters' Union.
"He left us with a pretty good legacy," says Seibert.
PCA Researching SIP Roofs
The U.S. Department of Housing and Urban Development (HUD) has funded a study to develop cost-effective prescriptive guidelines for connecting concrete walls to structural insulated panel (SIP) roof systems. The research is being conducted by the NAHB Research Center, with technical support from the Portland Cement Association (PCA) and the Structural Insulated Panel Association (SIPA).
"The current lack of standards increases design costs and…also increases construction costs," said William Wachtler, executive director of SIPA. "This study will…develop specific guidelines for builders."
---

ICF Builder Magazine


---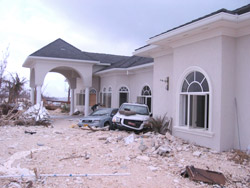 The best way to create a hurricane-proof home is to build it with insulating concrete forms, or ICFs. Hurricanes pose three main threats to a structure—strong winds, storm surge, and flying debris—and ICFs stand up well to all three.
Strong Winds and Storm Surge: ICFs stand up to hurricane force winds easily, thanks to the mass of concrete in the exterior walls. A typical 16"x48" ICF, when filled with concrete, weighs about 400 pounds (6" core), or 75 pounds per square foot of wall. That's heavy enough to withstand even the strongest winds. Concrete walls are also a superior choice for withstanding storm surge.
ICF structures have another advantage: They are integrally tied to the footing or foundation slab with structural reinforcing steel. Likewise, all of the wall components above the footing are connected in a solid monolithic mass, eliminating flex, fatigue, and weak points.
Flying Debris: The third major threat from hurricanes is flying debris. Dramatic photos show sheets of plywood skewering palm trees. Boards literally become missiles, and can puncture even brick walls.
Scientists at Texas Tech University tested various wall assemblies by shooting eight-foot-long 2x4 studs at them. Only ICFs were puncture proof, even at 100 mph. (See a video of the tests here.)
The report concludes, "The strength and durability of concrete walls offer unmatched resistance to the devastation of major storms. Concrete homes are less likely to suffer major damage from debris than conventionally framed houses."…
»Read the complete article here
---

ICF Builder Magazine


---
Safe rooms can be a highly profitable niche for ICF builders and distributors. They're also a great way to introduce traditional homebuilders and their customers to ICFs.
"Any ICF distributor has the easy ability to put one of these together," says Ed Autry, a waterproofing specialist at TAMKO. "I think a distributor could put one of these together for $1,500 to $1,600 and sell it to the homeowner for $5,000 to $6,000. The homeowner will still get a good deal, since a good safe room easily adds 10K to the value of the house."
A safe room is a structure within a larger building designed to protect occupants from the ferocious winds and flying debris of tornados and hurricanes. They typically are made entirely of concrete—floor, walls, and ceilings—with a sturdy steel door that opens into the room—so debris can't block it.
"Safe rooms can also be used as a panic room, or to provide storage and protection for weapons or important documents," says Autry. He also says safe rooms are a great way to introduce traditional builders to ICFs. "If you can get stick-built contractors to build a safe room out of ICFs, it gives them a chance to get their hands on the materials and see how easy ICF construction really is. It gets the general used to dealing with ICFs, and they also see that they are actually very easy to deal with."
The Federal Emergency Management Agency (FEMA) publication 320, titled Taking Shelter from the Storm: Building a Safe Room Inside Your House, has plans for a simple safe room. The booklet can be downloaded here.
For a customized safe room, The National Storm Shelter Association (NSSA) has developed an industry standard for shelters. The NSSA standard provides specific guidance on underground shelters not available in FEMA publications.
Financial assistance is available. Local, state and federal government agencies as well as other organizations offer grants, loans and tax incentives to owners and builders who build disaster-safe structures. FEMA explains their programs in detail at www.fema.gov. The website also provides links to other programs, such as the U.S. Small Business Administration's Pre-Disaster Mitigation Loans for Small Businesses Program.
» Subscribe Now For the Full Story!
---

ICF Builder Magazine


---
New impact-resistant windows from major manufacturers can help your ICF building become even more resistant to intruders, high winds and flying debris.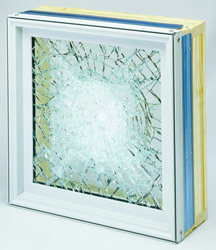 The disaster resistance of an ICF building is sharply diminished if it includes ordinary windows. Wind and projectiles are likely to shatter the glass, sending shards flying and allowing all sorts of further debris to enter. The increased air pressure can tear off the roof. With the roof gone, it often leads to so much damage that the house is declared a total loss, even if the walls are left standing. So if the concrete walls are to provide a real advantage, they need to be supported by equally tough windows.
Fortunately, many manufacturers are now offering impact-resistant windows. The exterior pane of glass is actually a sandwich of two glass layers around a layer of tough plastic, which stays intact even if the glass shatters. The window frame and hardware may also be reinforced.
The survival of the high impact windows has so far been reported to be good. After severe wind events they may have cracked glass that needs to be replaced, but the interlayer frequently survives and saves the house from the flying debris and changes in pressure that occur with a fully breached window.
Estimated costs vary, depending on a wide variety of factors. Some companies claim shatter-resistant windows cost only 15% more than normal. But in some situations the premium is as much as 100%.
» Subscribe Now For the Full Story!
---

ICF Builder Magazine


---
The insurance industry offers incentives to those who built disaster-resistant homes. The non-profit Institute for Business & Home Safety (IBHS), an insurance trade association, can certify buildings as disaster-resistant through their "Fortified…for safer living" program. ICFs are a major part of that effort.
"The insurance industry is saying 'if you'll build to our standards, we'll certify your home as a disaster-resistant structure'," says Lane Thompson, a Florida ICF distributor. The "Fortified" designation stays with the home. "If it's in their database as a 'Fortified Home,' it may reduce insurance rates and increase its resale value," says Thompson.
Chuck Vance, IBHS "Fortified" program administrator, says, "We're impressed with the superior wind-load capacity of an ICF wall. It also has other benefits as well, including resistance to fire and fewer problems with water damage."
While the program has received the most attention in the hurricane-ravaged Southeast, Vance notes that the program is designed to prevent damage from all types of natural disasters in all areas of the country. Because of this, the criteria for a "Fortified" home varies regionally, based on the natural disasters most likely for that area, such as hurricanes in the southeast or tornadoes in the Midwest.
"We provide independent inspection and verification that as the building is constructed that it meets our 'code-plus' requirements," says Vance. "This documentation is kept on file in a database, and is available to mortgage brokers, insurers, and realtors."
Vance says the concept is similar to the marketing advantage that Energy Star-rated appliances enjoy. "Hopefully, these 'Fortified' homes will command a little more attention. That's the vision."
"The bottom line is, contractors who are using ICFs have already overcome most of the obstacles to being certified with these code-plus programs," Vance says, noting that the roof usually needs to withstand 90 mph winds.
IBHS has just released newly updated construction guidelines, which can be found on their website, www.ibhs.org. Titled The Fortified Builder's Guide, it contains a map of the risks in each area of the country, a copy of the ASCE wind speed charts, and all the additional information builders need become involved with the program.
» Subscribe Now For the Full Story!

---

ICF Builder Magazine


---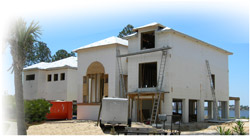 Many people believe wood piles are the only way to elevate a home, but it's not. The house shown in this article was designed for a coastal area which is subject to hurricanes and flooding.
The owners had previously lost two wood frame structures (and virtually all of their personal possessions) due to hurricanes in 1979 and again in 2004. This time they wanted to build a concrete ICF home elevated above the flood plain.
Timber cluster piles were driven below grade to provide protection from scour. The pile clusters were tied together with a continuous reinforced concrete grade beam, spanning from pile cluster to pile cluster. Reinforcing steel was extended up from the pile caps to connect the ICF columns and shear walls. These were capped with ICF beams.
The portions of the house above flood plane were constructed as any other ICF structure, taking advantage of ICF's ability to easily form arches and attached wood floor and wall systems. If the area floods, the majority of the clean-up will simply involve washing down the ICF with a garden hose in the event of a storm.
Flood prone areas don't just occur in coastal hurricane zones. ICF homes and buildings can be elevated in any area where rising water is a concern. Elevating a building using ICF gives the owner greater strength, minimal maintenance and clean-up while avoiding the deteriorating effects floodwaters have on stick-frame construction.
» Subscribe Now For the Full Story!
---

ICF Builder Magazine


---
Best Light Commercial Projects
Winner: Boulder County Parks Administration Building
Top honors in the Light Commercial division go to the Boulder County Parks and Open Space Administration Building. The building is not only one of the "greenest" around, but it was designed, engineered and built by Boulder County employees. For most of them, it their first experience with insulating concrete forms…. Read the complete Article with photos here
1st Runner Up: Holy Cross Catholic Church
The first runner-up in the light commercial division is an outstanding example of the beauty that can be achieved with ICF construction. The Holy Cross Catholic Church, in Porterville, Calif., looks like an old mission church hundreds of years old, but is in fact a state-of-the-art, energy efficient, modern building….Read the complete Article with photos here
2nd Runner Up: East Bay Suites:
East Bay Suites, a three-story addition onto a historic Minnesota hotel, earned 2nd runner-up, light commercial. his was a very sensitive project in Grand Marais. Beloved by traveler for decades, East Bay Suites sits right on the shore of Lake Superior in the middle of town. Developers worked hard from the very beginning to ensure that the finished project would reflect the history and flavor of the original hotel…Read the complete Article with photos here
---
ICFs are one of the fastest growing methods of residential and light commercial construction in the United States. Yet many builders, contractors, distributors and designers are still not sure how to effectively market ICFs to their customers. In this article, industry expert Jim Neihoff takes a look at some of the ways to maximize your advertising, media relations and partnering opportunities.

»Read the complete article here
---

ICF Builder Magazine


---