While many contractors and block manufacturers are building high-end custom homes, one company has created a niche at the other end of the spectrum. Greenblock Worldwide is building ICF walls in spec homes—often as many as five per week—for the production homebuilding market, proving that ICFs can be faster and less costly than wood.
The secret, says Jeff Alexander, vice-president and COO, is the combination of in-house manufacturing, wall panelizing and professional installation services.
"Understand that cycle time is a huge consideration in this segment," says Alexander. "With experienced crews, repeat models and our paneled ICF walls we've seen wall construction in a single day. With ICFs, you're really doing three processes in one: wall, insulation and furring in a single step."
Steve Reiter, vice-president of marketing for ICF Solutions, says that the panelization plants are the secret. "We have locations in Bakersfield and Port St. Lucie where we pre-assemble large sections of ICF walls before they are shipped to the jobsite." The sections—usually about 4'x8'—are friction-fit together, with no glue or strapping required.
"We number each paneled section per the engineered wall drawings before they go to the jobsite." The system virtually eliminates weather-related delays and jobsite clutter, so the building goes up literally in a matter of days.
"The day after the slab is poured, the crews arrive to set up the preassembled wall sections, install window and door bucks, and place the rebar," says Reiter. "It usually takes them a day and a half to have everything ready for inspection." Day Three is reserved for inspections, and on Day Four, the concrete is placed. Reiter says that the expertise of the crew and neatness of the jobsite are the envy of other contractors.
Currently, Greenblock's their efforts are limited to Florida and Southern California, where they build about 250 homes a year. "We are now finishing a 116-unit, low-income, all-ICF community," says Alexander. "We'll soon start a 166-unit project in Bakersfield for Homecrete Homes." Wall construction is expected to begin in October.
The company has attracted the attention of some of the nation's largest homebuilders. They are the ICF subcontractor for Homecrete Homes, possibly the largest ICF homebuilder in the United States, and recently collaborated with WCI Communities, the 14th biggest homebuilder in the nation, on a production model "green home" on Florida's west coast.
---

ICF Builder Magazine


How To: Installing Floor Joists
Unless your job is a one-story, slab-on-grade project, it will involve setting floor joists. There are probably half a dozen ways to attach joists to the ICF walls, and each has its own advantages and drawbacks.
In general, methods can be grouped into three broad categories:
Use a wooden ledger.
Use a specialized joist hanger
Build a brickledge
The most common method involves attaching a wooden ledger board to the wall.
The ledger, of course, must be securely anchored into the concrete core, which is where many of the questions—and problems—arise…
» To read the complete story, click here
---
Project Profile: Megaplex 20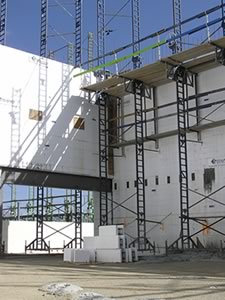 The Megaplex 20 Theater, a 20-screen movie complex in South Jordan, Utah, is not only the largest ICF project ever built, but also one of the most challenging.
Developers of the project were on a tight time schedule, and the job presented several daunting technical challenges. The large wall surfaces—hundreds of feet long and more than 50 feet tall in places—needed to be completely straight. Designers also wanted maximum soundproofing and minimal energy bills. The project's general contractor, Sahara Construction, solved all of those challenges by building with ICFs.
IMS Masonry, the subcontractor who built the walls, put up 190,000 sq. ft. of ICFs in just over 5 months. In total, the project used about 35,000 blocks.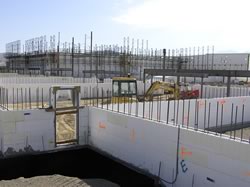 "Our overall experience was very good," says Heath Holdaway, vice president of IMS Masonry. "The size and height of the walls was a challenge, but they went up smoothly."
Alan Johnson, President of IMS Masonry, says the biggest challenge was making sure they had enough bracing and scaffolding to keep the walls perfectly straight. "You're dealing with a foam block that wants to move around," he says, "and the taller you go, the tougher it gets."
"The block does stack fast, and everybody's happy with that," he continues. "But if you don't have enough [bracing] to get ready for the next pour, you're going to be in trouble. With a project this big, the volume and amount of equipment you need is extreme. We used every bit of scaffolding we had, and then rented quite a bit more." In the end, IMS used over 1600 linear feet of crank-up scaffolding, coupled with hundreds of the regular turnbuckle bracing units.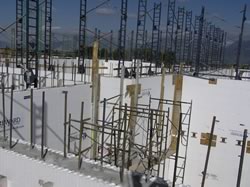 The owners wanted each theater to be completely soundproof, so ICFs were used on all the interior walls as well. Scott Webber, senior project manager for the job, says ICF construction was a major factor in being able to complete the 210,000 sq. ft. building in only 13 months.
Reward is increasingly becoming the block of choice for large commercial projects. "We get to do more significant ICF commercial projects then anyone in the industry because we have the infrastructure and experience to handle the larger projects," says Ed Storm, president of Reward Walls.
It's possible that within a few years, an ICF project even larger than this one will be built. But the Megaplex 20 will continue to enjoy the benefits of ICFs for decades: noise-free theaters, low maintenance, and minimal heating and cooling costs.
---

ICF Builder Magazine


---
Affordable Green Housing
Insulating Concrete Forms (ICFs) are not just for high-end custom homes any more. One project underway in Olympia, Wash., is proving that green and sustainable building techniques are a great fit for smaller houses too.
The South Puget Sound Habitat for Humanity is building a 15-home neighborhood, all of which will be built with ICFs. Three homes are currently under construction. "We hope to complete six more homes in 2007, and six more in 2008," says Lori Peterson, a spokesman for Lafarge North America, a project sponsor.
"When you look at the life cycle, maintenance and energy savings, I think you'll find that you save money in the long run," she says. "The owners of these homes fall into the below low income range, so it's important be able to minimize their energy bills and have a low maintenance home."
Jerry Fugich, construction supervisor for South Puget Sound Habitat for Humanity, made the decision to build green. "It's not about houses," he states, "it's about people. We're trying to make a difference in people lives, and a lot of products that are used [in traditional construction] are not healthy products."
"Installation has gone very well," Fugich reports. "It's like a Lego set for big people. All the nay-sayers became yea-sayers very quickly." He says constructing the gable ends was "a little bit more difficult," but has encountered no serious problems .The homes are expected to be completed by mid-December.
"It's very volunteer-friendly," says Peterson. "We trained and certified about 50 people to install ICF. Women and teenagers especially love it. It's no problem for them to lift into place."
Says Fugich, "The biggest thing is trying to get the green builders to get the other folks to understand. "It's simple, it's fun, and it's easy to do."
---

ICF Builder Magazine


---
Rebuilding the Gulf Coast
Almost a full year after Katrina, the ICF industry still hasn't seen the massive growth that many expected would follow in its wake.
Steve Reiter, vice president of marketing for Greenblock Worldwide, attended a building symposium in Louisiana last month, and reports that, "The situation down there is still somewhat unclear."
"There's still a big clean-up process going on," he says. "It's going to be a huge cooperative effort over the next several years to get the region back on its feet."
Still, he says that there was a tremendous amount of interest in building services.
"They're already talking about building with hurricane-proof structures, and ICFs are part of that." Click here to read the complete story…
---
Flying Debris Cannot Penetrate ICFs
As the Southeastern U.S. and Caribbean prepare for another hurricane season, many residents, government officials, and insurance executives are scrambling to find ways to protect themselves from the devastating loss of life and property that these storms always bring.
One solution is to build with insulating concrete forms, or ICFs. Hurricanes pose three main threats to structures—strong winds, storm surge, and flying debris—and ICFs stand up well to all three.
Studies at Texas Tech University simulated flying debris by shooting 2x4 wood studs, traveling at nearly 100 mph, at wall assemblies.
(See a video of the tests below).
The missiles easily penetrated the wood- and steel-stud walls, even at speeds of 50 mph. At 70 mph, they penetrated brick veneer finish. But nothing penetrated the ICF walls. Even wall segments constructed with waffle-grid block, hit in the middle of the thinnest panel, experienced no cracking.
The report concludes, "The strength and durability of concrete walls offer unmatched resistance to the devastation of major storms. Concrete homes are less likely to suffer major damage from debris than conventionally framed houses. This greater measure of built-in safety makes cement-based ICF construction systems the quality choice for your new home."
Dr. Ronald Zollo, a professor of civil and architectural engineering at the University of Miami and a licensed professional engineer, led a team that surveyed the damage of 1992's Hurricane Andrew in Florida.
"Homes built with ICFs [and] reinforced concrete provide homeowners with sustainable structures capable of withstanding extreme weather conditions," says Zollo. "They're easier to clean up after hurricane weather or flooding, and they provide the homeowner with moisture resistance in the walls themselves when combined with appropriate interior finishes. Those utilizing ICFs can also expect greater energy efficiency due to added thermal protection."
"In the future, I think we'll see faster recovery times for communities built with ICFs than those that are built without," he adds.
Zollo says ICFs are stronger than competing concrete systems because of the concrete cure time and the monolithic structure of the wall. "It's not an assembly of smaller components," he says. "You aren't dealing with fatigue issues, loosening of the structure, and deterioration. You have continuity throughout the structural system."
Says Zollo, "If they are going to build a poured wall, let's make the best poured wall possible, and that wall is ICF."
---

ICF Builder Magazine


---
Hurricane-Proof Homes
Layne Thompson, an ECO-Block distributor in Desdin, FL, has seen hurricane damage first-hand. When Hurricane Ivan roared ashore in September of 2004, one ICF home on the Florida Panhandle took at direct hit. Tidal surge—a wall of water ten feet high—blew out the garage door and scoured the sheetrock off of the garage walls. But he says the rest of the house sustained very little damage.
Thompson says wood-frame or concrete block requires significant work to meet hurricane-resistant standard, while "ICF walls are inherently stronger with no extra effort. There is no extra cost in the wall."
Hurricane Ivan also devastated this neighborhood.


While nearby homes were reduced to rubble, one home sustained only minimal damage. Built from Nudura blocks with a solid 6" concrete core, it shows how well ICF homes can fare in extreme weather.
Only weeks earlier, Hurricane Charley hit Chuck Taylor's home outside of Arcadia, Fla.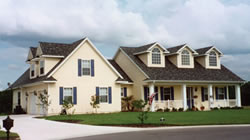 "It came right over our heads," he says, "but we felt totally safe." Taylor watched in awe as the winds picked up the pool enclosure and blew it over the house. His wife and children playing cards couldn't even hear the winds outside. Built from Arxx ICFs, the home suffered only minimal damage—mostly dents in the roof from the pool enclosure. "I am so happy with our home," he says, " I wouldn't live in anything but concrete walls."
In 2005 Hurricane Katrina made history as the most devastating storm in U.S history. Pushed by 150-mph winds, a tidal surge estimated at 22 feet high swept through Alabama and Mississippi, wiping entire towns off the map. All that is left of one neighborhood outside Pass Christian, Miss., is row after row of concrete slabs—and one ICF home. It stands as a prime example of the durability of ICF construction.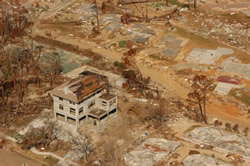 ---

ICF Builder Magazine


---
Saved From a Tornado
Every year, more than 1,000 tornados touch down in the United States, causing millions of dollars in damage and scattering the victim's personal treasures over miles of ground. A surprising number of ICF homes have sustained direct hits from tornados, and all of them have stood up to the pounding very well.
Randy and Linda Robbins, who live on the outskirts of Attica, Kan., had only a few moments to prepare for the tornado that suddenly dropped from the sky in May 2004.
"We'd been looking through our window watching the storm," says Linda, "when suddenly the front door blew open." The couple raced toward the basement of their newly constructed home, built with ECO-Block ICFs, and prepared for the worst.
Powerful winds leveled all the surrounding buildings, and tore the roof from the Robbins home. But the walls stood strong. "If it weren't for the ECO-Block walls, we wouldn't be here right now," Linda says. "I saw what a tornado from the same storm did to a wood frame home," says Robbins. "It ripped the floor out and filled the basement with debris. We're very lucky we decided to build with [ICFs]."
The dramatic encounter, caught on film by a professional storm chaser, can be seen here. Note that what looks like the whole house flying up is just the roof.
"Funny, safety was a secondary consideration when we chose to build with ECO-Block," says Randy Robbins. "For us, the greatest benefit was its energy efficiency. Yet we're alive today because of these walls."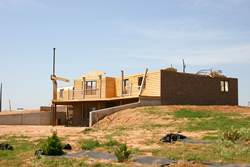 The durability of ICFs was proven yet again when an F-3 tornado tore through Stoughton, Wisconsin on August 18th, 2005. A total of 45 homes were leveled or sustained moderate to severe damage in the immediate area. The storm was so severe that debris from the neighborhood was found 75 miles away in Milwaukee.
An ICF home, built with Reward, was nearing completion when the storm hit. Boyd Coleman, a structural engineer, was called in to assess the damage. "Although I'm familiar with ICF construction, this was the first I had seen of an ICF building that had gone through something like this," Coleman said. "I was surprised to see so much debris stuck in the foam." One photo shows a 2x4 stuck in the foam stopped by the reinforced concrete.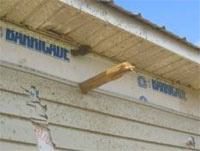 "We lost the roof of the garage and screened-in porch, and all the windows were broken," says homebuilder Randy Settersten of Settersten Builders. Still, he estimates that progress will be back to where it was the day before the storm within two to four weeks from the date of the storm.
"This event confirms everything we have always said about ICF construction," says Reward President Ed Storm. "It graphically illustrates that ICF walls can save lives. That's why we work so hard to get the word out about our product's safety."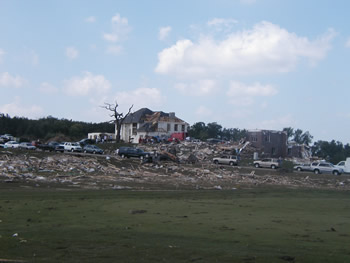 ---

ICF Builder Magazine


---
Solid Protection from the Flames
In many parts of North America, the biggest threat to buildings is not hurricanes, but fire.
In recent years, wildfires have decimated thousands of homes in Arizona, New Mexico, Colorado, and California. A single fire in October 2003 destroyed an estimated 2,400 structures near Cedar, California.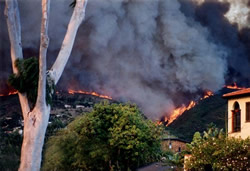 These losses are in addition to the tens of thousands of residences that are lost due to cooking fires, electrical shorts, and other accidents. In fact, the U.S. Fire Administration claims that in 2004, "Fire killed more Americans than all natural disasters combined," and "direct property loss due to fires was estimated at $9.8 billion."
ICF construction can help ensure that your home is protected from this danger. Most ICF blocks have a fire rating of 3 to 4 hours. Concrete has resisted fires so well, over so many years, that insurance companies offer a masonry discount on concrete homes.
"When you talk to your agent, make sure that they understand that your home is made of concrete," says Joseph Lyman, executive director of the ICFA. "Your agent will show you how to qualify for a 'masonry-style construction' discount." The discount ranges from 10% to 15% depending on the carrier.
The EPS foam on each side of the concrete face contributes no fuel to a fire. In fact, they resist heat from outside sources much better than frame walls. The Southwest Pacific Research Institute found that emissions from melting polystyrene are "no more toxic" than wood smoke.
Of course, homeowners can further fortify their homes by using fire-resistant interior and exterior finishes. These include steel framing on interior walls and trusses, cement-based siding or stucco, and fire-resistant roofing.
Bill Rentsch owns Rentsch Construction and normally builds wood frame houses, but for his own home, situated in a hilly area south of Reno, he wanted to try something new. Rentsch and his wife Cindy had been living in their new home less than a year when a fast-moving wildfire swept through the area. Fueled by tinder-dry brush and pushed along by winds that gusted to 40 miles an hour, the whole area was soon engulfed in flames.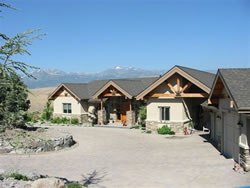 "My mother got through to the house just before the firefighters closed the road," said Daniel Rentsch, architectural designer of the home, and son of the owners. "The flames got within 20 feet of the house, and the heat of the fire was so intense it broke one window. But… it didn't suffer even smoke damage."
Most of the neighbors were not so lucky. Fifteen homes in the neighborhood burned to the ground, leaving only the chimneys to mark the sites of what were once stick-built homes.
The Rentsch's had built with Nudura ICFs, using an 8-inch core for the walkout basement and 6-inch core for the rest of the house. The fire-resistance and tightness of the exterior walls saved the home—and all their personal belongings inside.
"The cost of using ICFs wasn't a lot more than it would have been if we built from wood," says Daniel. "We have a lot of large windows, and to get the size openings we wanted with wood, and still meet the seismic standard for this seismic zone, it would cost nearly the same."
When an arsonist threw a gasoline firebomb at a Habitat for Humanity home near Kansas City, he thought the structure would burn to the ground. Luckily, the exterior walls were built from Arxx ICF and sheathed in fiber-cement siding.
When firefighters arrived, they found that the fire had spread 12 to 15 feet along the front porch of the house, but as there was nothing else flammable, it was easily extinguished.
Damage was limited to the plastic porch soffit, which had melted, and the front door, which the firefighters had kicked in to gain entry to the unoccupied house. There was no significant damage to the interior. "There was also some soot on the siding, but that wiped off pretty easily," says Kelly Willoughby, executive director of Heartland Habitat for Humanity. Willoughby says repairs cost less than $500.
Dennis Cranor, the arson investigator for the local fire department, says that the damage was minimal compared to what would have happened with a wood frame house. The local ABS news affiliate reported, "If the house had been wood, it would have been a total loss."
---

ICF Builder Magazine


---
Withstanding a Half-Million-Pound Rock
Jack Burns knows ICFs are durable. They may have saved his life early one morning when a 500,000-pound boulder crashed through the rear of his house, plowed through the bathroom, and stopped a few feet from his bed.
Burns' home lies just outside Zion National Park, across the street from the towering cliffs that attract millions of visitors each year. The walls of the home are made from Arxx ICFs, with a 6-inch concrete core; the roof is made of R-Control SIPs.
On that summer night in 2002, a light rain was falling, probably causing enough erosion to loosen a massive boulder atop the red sandstone bluff nearby.
By about 5:30 a.m., gravity took its inevitable course and the huge rock tumbled down the 600-foot cliff. It apparently bounced a few times like a rubber ball before careening into the back wall of the house. Observers measured the boulder after the fact at about 12 feet by 16 feet by 16 feet—taller than the ranch-style home in its path.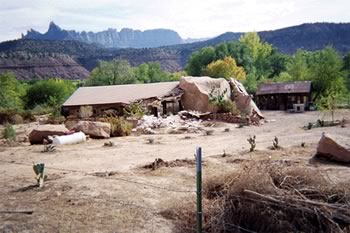 Frank Palmer, a supplier to the project, said, "If that rear wall hadn't been reinforced concrete I suspect the boulder would have made it to the bed. As it was, the impact shifted the SIP panels to the left and the right, disconnecting them from the walls, and flattened the wall in back. But the rest of the walls stayed up."
"I love that house," says Burns, who now lives in nearby Springdale, Utah. "Its just fabulous to live in, for energy-efficiency as well as safety."
Burns says that after some effort, the boulder was eventually removed. "They first attempted to use dynamite, but that didn't even crack it," he says. Crews eventually broke it apart with a ram hoe—a backhoe with a jackhammer attachment—and hauled it off.
Once the rock was gone, the home was relatively easy to restore. "We just poured a new wall and replaced a few SIPs," he says. "Right now I have it rented out, but I hope to move back into it."
---

ICF Builder Magazine


---
Blast Resistant Walls
The ability of ICF construction to withstand tremendous impacts has not gone unnoticed by the U.S. Military. In 2003, they conducted a series of blast tests at the Quantico Marine Base outside of Washington D.C.
Six 10'x10' ICF "reaction boxes" were tested at distances ranging from 40 feet to 6 feet, using 50 pounds of military-grade TNT on each blast.
The boxes had a nominal 6" concrete core, and were filled with regular 4,000 psi concrete. Horizontal and vertical rebar was placed every 16 inches.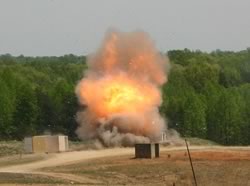 At an earlier demonstration, frame walls were completely obliterated 35 ft. from the explosion. ICF walls survived explosions as close as 6 ft. Results showed that the EPS foam absorbed and reduced the force of every blast, regardless of the distance.
On the closest blast, the 50-pound charge of TNT created a ball of fire approximately 200 feet wide and 100 feet tall, generating forces 10 times the weight of the box. The blast did melt away the foam and create several small cracks—less than 2 mm in width—on the front face of the ICF wall, but there was no deflection, spalling, or structural damage to the concrete itself. (See a video of the tests here)
"These blasts demonstrations proved clients do not have to spend unlimited amounts of money on special building materials to construct blast-resistant buildings," says Joseph Lyman, Executive Director of the Insulting Concrete Form Association.
"Since September 11th, all military buildings must have force protection built in," explains William Murray, designer of the Florida Armed Forces Reserve Center in St. Petersburg, Fla. "ICF construction was the most cost effective way to achieve that. Masonry construction would require reinforcement in every block at a cost 25% greater than the cost for ICF construction."
---

ICF Builder Magazine


---
Saved From a Drunk Driver
It's been just over one year since Mrs. Demczyk of Cape Coral, Fla., was awakened at 2 a.m. by a dull thud. Assuming the sound was caused by a household item falling to the floor, she got up to find the item and put it away. To her surprise, what she found was a set of headlights just inches from her living room window.
According to police reports, the Pontiac Firebird was racing through their neighborhood at more than 90 miles per hour when the driver lost control of the vehicle, left the roadway and slammed into the exterior wall of the Demczyk's residence. Alcohol was a factor in the crash.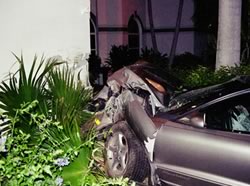 The wall's sound class rating of 48 had reduced the sound of the deafening crash to a barely audible thud.
"I believe the Polysteel wall saved my life," says Ray Demczyk, owner of the home. Demczyk says emergency workers on the scene told him the car would have penetrated the residence had the walls been made of concrete block or wood.
When asked if he was surprised by the strength of the wall, Demczyk responded, "I have known that this house was solid since the day I built it. Strength, wind resistance, and insulation are the reasons I chose Polysteel."
Though the car was completely totaled, thankfully, the driver survived the collision without major injuries. The strength of the home's walls was evident when the cleanup was completed. The only damage was a 3' x 5' section of the exterior finish that had been crushed by the impact.
With that impressive demonstration of strength, the Demczyk's chose to stay put when Hurricane Charley roared through their town less than three months later.
As the wind gusted to 165 mph, the family heard very little noise from the storm. "We knew the wind was screaming outside and we could see major debris flying through the air, but inside the house remained quiet." Ray says. "Large hardwood trees and palms on our property were completely uprooted or snapped in half yet the main house was completely unharmed."