ICF News Roundup
Nation's First Green Building Code Finalized
Code bodies in the United States are moving toward mandating green building standards in national building codes.
A major step in that direction was announced last month when four major organizations announced they were launching the International Green Construction Code (IGCC), an adoptable and enforceable green building code.
Participating organizations include the International Code Council (ICC), the American Society of Heating, Refrigerating and Air Conditioning Engineers (ASHRAE), the U.S. Green Building Council (USGBC), and the Illuminating Engineering Society of North America (IES).
For decades, ICC and ASHRAE have worked to develop codes and standards that become the industry standard in the design and construction of residential and commercial buildings in the U.S. and internationally. USGBC has been leading a nationwide green building movement centered on the LEED Green Building Rating System since LEED was launched in 2000. The convergence of these efforts in the IGCC is perhaps the most significant development in the green building movement in the past 10 years.
Organizers say this partnership "will accelerate the proliferation of green building codes and standards across the country and around the globe."
"The emergence of green building codes and standards is an important next step for the green building movement," said ICC Chief Executive Officer Richard P. Weiland, "establishing a much-needed set of regulations for green buildings that is adoptable, usable and enforceable by jurisdictions."
For more information on the IGCC, visit http://www.iccsafe.org/cs/IGCC/Pages/default.aspx .
PCA Offers Sample Green Laws
State and city governments seeking to enact green building laws just got a hand from the Portland Cement Association. The PCA has developed a template to help administrators address high-performance and sustainable building practices. Called High Performance Building Requirements for Sustainability, it contains a sample ordinance written in mandatory language that can amended to the International Building Code (IBC). The PCA is offering the paper as a free download.
ICFs Featured on Extreme Makover
Insulated Concrete Forms again took the spotlight when Nudura-brand ICFs were featured on ABC's Extreme Makeover Home Edition as part of the show's February 14th episode.
The two-hour special showed the construction of two separate projects near Washington D.C., and cast a brief spotlight on the advantages ICF offer. The actual construction took place in August 2009.
The first project was rebuilding the home of Nikema and Tamara Tripp. The family invites 40 children each week over to their crowded home for a hot meal, fun activities or just to talk. Living in a home that is only 900 sq. ft. and literally rotting away made it unsafe. The couple pays for youth program out of their own pocket, so repair were beyond their budget.
A similar program nearby, called The Fishing School, was also in dire need of repairs.
That's where Nudura, ICF installer Burch Builders Group, LLC, and concrete and ICF supplier Chaney Enterprises came in. They decided to tackle both projects simultaneously, completeing them within a week.
"We and our partners, worked around the clock and dealt with many challenges in completing of the two projects," said Jan Holt, chief customer officer for Chaney Enterprises. "Both the home and the community center are fabulous structures, and we are proud of the team effort from everyone."
To keep the projects moving, a special accelerating admix was included in the concrete. "Time is even more critical for such a specialized mix and once the truck's mixer drum starts running, the mix must be poured and finished rapidly," said Mike Hockenberry, manager of Technical Services for Chaney Enterprises who, along with Damian Caprinola, a technical services technician, were on site to monitor all the mixer trucks and concrete pours.
Both the Tripp home and The Fishing School featured many green construction elements, including solar panels and various innovations using concrete. Pervious concrete, used on the sidewalk of The Fishing School and as a patio for the Tripp home, allows rainwater to percolate through its small openings.
Now that the makeover is complete, there is plenty of room for both programs to provide opportunities to even more students.
"Nudura is proud to be able to help," says Todd Blythe, marketing manager for the company. "These people have spent their lives putting the well-being of others ahead of themselves. Renovating their properties is one of the best ways to show them how thankful we all are. These two projects were quite a success, thanks to the hard work of everyone involved."
LEED-Certified 7-Eleven Uses ICFs
Well-known retailer 7-Eleven, Inc. has built their first "green" convenience store, using ICFs for the exterior walls.
Located in DeLand, Florida just north of Orlando, the store uses Greenblock's high-performance insulated concrete forms to ensure energy-efficient exterior walls.
The 3,000+ sq.-ft. store is a new design and construction concept for 7-Eleven and will serve as a prototype facility to determine if other stores will be built to similar green standards.
"I see two kinds of 'green' in this store", says 7-Eleven project manager Jonathon Pauls. "The first is the green of the store's design itself, and the second green is the savings in energy the new environmentally friendly design brings to the store's bottom line."
The 20-foot tall walls have a solid 6-inch concrete core. "The Greenblock ICF walls appear as typical construction from the outside," says Riddle, southeast regional manager for the company. "However, beneath the surface is a strong, energy efficient wall system that outperforms the typical CMU walls commonly seen in this region."
First LEED Certified House In Miami Built with ICFs
A prototype green single-family home is the first LEED-certified home in Miami-Dade county. Built with Reward ICFs, it is intended to demonstrate how a single-family house can be built affordably using environmentally friendly materials, techniques and mechanical systems.
Sponsored by Miami Green Building and Palmetto Homes, the home played host to a large group of interested guests last November. In addition to being environmentally friendly, the home is certified as a fortified house, which means the owner will save 50% on insurance. A fortified house, according to architect Steve Luria has impact-resistant windows, a hip-shaped roof, extra nailing on the roof and, the reinforced concrete walls created by ICF construction.
Features that helped earn LEED certification for the home, in addition to the air-tight envelope of ICF construction, are: rainwater collection, high efficiency heating and cooling systems, a tankless water heater, additional ceiling and water pipe insulation and eco-friendly finishes. All appliances are Energy Star rated.
"Most green items have an additional up front cost, but result in savings on energy bills in the long run. We compared those costs to the cost of traditional concrete block construction, which is popular in this area, and we found this house will cost about 8% more to construct." Luria estimated.
The estimated annual energy and water savings are approximately $2,000, according to the Florida Power and Light and the Florida Green Building Coalition. The ICF system is estimated to cost only $600 more than standard concrete block construction on the same sized house.
"The additional cost of the ICF blocks, concrete and steel were largely offset by savings in labor, insulation, air conditioning and other material costs. ICF construction requires fewer skilled laborers than concrete block construction and we did not need to attach furring strips to the ICFs. Reward ICFs have plastic ties embedded in the polystyrene which replace the need for additional furring strips required to anchor interior and exterior finishes." Luria explained. Another cost saving is in the size of the heating and air conditioning unit.
ICFs on PBS
ICFs was featured on the nationally televised program Hometime, with host Dean Johnson. The Hometime Stone Cottage series on PBS started broadcasting weekly on February 27, 2010 and the in-depth ICF episode aired March 6th.
Reward ICFs were used to construct the basement foundation of a cottage-style home on a wooded lot. With 13 episodes in the series, it starts by taking the viewers through the entire installation process, from the footings to stacking and pouring the ICF foundation, applying waterproofing, and constructing walls on top of the foundation.
Cemstone Products Co. provided the concrete, concrete placement services and served as the on-site representative for Reward.
"Reward is excited to be part of a nationally syndicated show, educating home buyers and builders alike on the methods used in building a sustainable, energy efficient concrete home with insulating concrete forms," says Ed Storm, president of Reward Walls.''
---

ICF Builder Magazine


Fox Blocks Adds Staff
Fox Blocks, a division of Omaha-based Airlite Plastics Co., is now building a distributor network. Long known for its "factory-direct" pricing, the company now offers field support and training. To support this effort, the company has announced the hiring of several well-known industry executives, including Mike Kennaw, Frank Bentley, Randy Daniels, Ron Funk, Mike Schwab,and Glen Klassen.
rowth was also less than expected, which means the industry as a whole barely kept pace with 2006 and 2007 levels. Many individual ICF companies are reporting sales are down 10% or more for the year…
---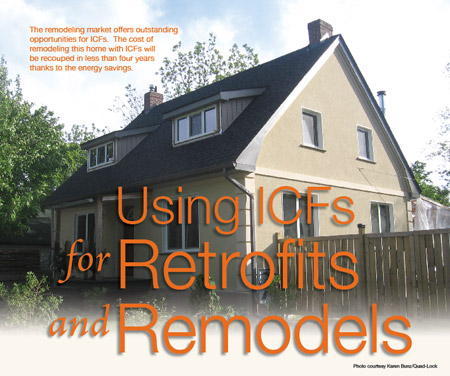 With tight economic conditions in all parts of North America, an increasing number of property owners are choosing to remodel or retrofit their existing buildings instead of moving into new construction. A significant number of these remodels and retrofits are done with the primary goal of improving the building's energy efficiency, and that's where ICF contractors can take advantage of this trend.
Whether it's remodeling uninsulated below-grade space or an addition that doubles the size of the living space, ICFs can play a major role. And thanks to tax credits and energy rebates, these jobs can often pay for themselves.
Case Study 1: Monte Vista Addition
ICFs created a stunning—and energy-efficient—addition to a historic Albuquerque home, while keeping the mess, noise, and disruption of construction nearly completely out of site.

» Read the Case Study
» View Photos

Case Study 2: East Bay Suites
East Bay Suites is a 16,000 sq. ft addition to a historic 12,000 sq. ft Minnesota hotel, originally built in 1909. Developers worked hard from the very beginning to ensure that the finished project would reflect the history and flavor of the original hotel. And they succeeded.
"This project is a great example of how ICFs can be easily utilized when designing or redeveloping landmark properties," says one executive involved with the project. "." A significant number of these remodels and retrofits are done with the primary goal of improving the building's energy efficiency, and that's where ICF contractors can take advantage of this trend.
---

ICF Builder Magazine


Vertical ICFs
In recent years, a new style of ICF has been steadily gaining popularity. While the majority of insulated concrete forms are intended to be stacked in horizontal courses, these "vertical ICFs" are installed as upright planks.
Vertical ICFs eliminate form float and settling. This means contractors and installers don't have to deal with the time, labor and expense of gluing, taping, wiring or tying forms together. They can be assembled while standing on the ground or floor level, and need significantly less bracing than traditional ICFs.
Case Study: Carew Residence
At 13,200 square feet, the Carew home is anything but typical. In addition to living areas, the residence has a 34-foot-long indoor swimming pool, a full-size basketball court, a theater, wine cellar, and oval office with spectacular views of nearby Appleton, Wisconsin.
» Read the Case Study
» View Photos
Business Planning Part 1 & 2
By Randy Wilkerson
Last issue we looked at the importance of drawing up a good business plan. This month, I'm going to explain how to set up a financial plan so you can anticipate expenses, forecast revenue, and know what your bottom-line profit will be, several months in advance.
» Read the Complete Story
Link to the full length version already posted here http://www.icfmag.com/articles/features/plan_for_success.html
Structural Engineering
By Robert Klob
Structural engineering is one of the most difficult challenges facing the ICF industry today.
Too often buildings are over-engineered and contain excessive steel and concrete wall cores than what should be required or would be required if other forming systems were used. This can easily kill the use of ICF's in a project—especially considering today's economic challenges. Making sure the structural engineering is done correctly and cost-effectively is essential to the growth of ICFs.
---

ICF Builder Magazine



Contractors' Corner: Direct Applied Finishes Part 1 & 2
By Ian Giesler
I have come across an issue that could stunt this industry's move into large institutional and commercial projects. The issue is cracking and leaking direct-applied finishes.
Why does this appear to be more common now than in the past? I believe it is because the focus has moved from below ground levels to above grade walls, and into the commercial market, where direct applied finishes on large wall surface areas are common.
I am not suggesting that changes be made in stucco materials or established application methods, but perhaps we should look this as an opportunity to improve. Since application on ICF consumes a relatively small part of the exterior finishes market, education and knowledge dissemination is largely up to the ICF community…

Green Building: The New Energy Reality Part 2
By Pieter Vanderwerf
To understand the likely future of oil, it is helpful to see what happened in the past. Don't misunderstand. The future of oil will not be like the past. Far from it. However, many of the forces at work will be the same…

» Read the Complete Story