ICF News Roundup
Fox Blocks Begins Manufacturing in Florida, Gets LA Code Approval
Fox Blocks, a division of Omaha-based Airlite Plastics Company, has announced its first satellite manufacturing location in Orlando, Fla.

Unlike most other ICF companies, Fox Blocks ships forms "factory-direct" to the end user, instead of through a distributor network. The company plans to partner with additional manufacturing facilities to help ease freight costs and shorten delivery times to customers throughout the U.S. and Canada.

On March 1, the company also announced that Fox Block ICF has been approved for building use in the City of Los Angeles, Calif. The research report, number RR25689 can be viewed on the "Technical Data" page of the Fox Blocks website, www.foxblocks.com.
The company has already received certification from ICC-ES, the State of Florida, and State of Wisconsin.

New Polyurethane ICF Unveiled
A new insulating concrete form, made from fiberglass and polyurethane, was unveiled at World of Concrete. Called EnergyForm, the product is significantly different from other stay-in-place forming systems. The forms are large—eight feet long and 32 inches tall—which leads to faster installation, stiffer walls, and fewer joints and bracing. The polyurethane core is denser than the EPS typically used, which translates to a higher R-Value per inch of wall. The core is sandwiched between two fiberglass panels, which add strength and rigidity to the system. The polypropylene ties, located 12 inches on center, are marked with a divot in the exterior sheathing, and can create concrete core thicknesses of 4, 6, 8, 10, and 12 inches.
Designed by a contractor with 30 years experience working with concrete, the system claims to resolve blowout and bracing concerns, and can reach an 8' ceiling height in just three courses.

California EPS Molder Expands ICF Production
APTCO, one of the largest custom molders of expanded polystyrene (EPS) on the West Coast, now produces ICFs.
One of a handful of molders in California, the company got its start molding insulated grape boxes for nearby vineyards. It now operates 24 hours a day, seven days a week, producing a wide variety of EPS products.
"We have molding capacity available for anyone looking at manufacturing ICFs on the west coast," says Bob Shelker, sales manager for the company.
Quad-Lock Training—
Quad-Lock Building Systems has announced their 2008 training schedule, with more than 40 classes planned for more than 28 states and provinces.
All of this year's training sessions will include Basic Installer Training, which focuses on hands-on learning. The course has been updated to include improved corner building techniques, an introduction to using foam decking for floors and roofs, and new take-away literature.
In six locations, an advanced installer training will also be offered, which covers—among other things—green roof and tilt-up applications for Quad-Deck.
NAHB Green Building Program Finalized
The National Association of Home Builders (NAHB) has officially launched the NAHB National Green Building Program.
"This is great news for our members and for all home builders, but more importantly it's great news for home buyers," said NAHB Vice President and Secretary Bob Jones, a home builder in Bloomfield Hills, Mich. Jones announced the program launch during a press conference at the International Builders' Show in Orlando, Fla.
The program features uses online scoring tool, available at www.nahbgreen.org, which shows the builder how to accrue points in seven categories: water, energy and resource efficiency; lot and site development; indoor environmental quality; global impact and homeowner education. The program sets point requirements in each category for the bronze, silver and gold levels.
Homes are inspected and verified by local green experts and the documentation is sent to the NAHB Research Center for review. If the project qualifies, the home can receive national certification from the Research Center.
"The time has come. Home buyers are ready for green, and NAHB is ready for today's home buyers," says Jones.
IBS A Success Despite Low Attendance
Organizers of the 2008 International Builders' Show (IBS) in Orlando, Fla., called the event a success despite a significant drop in attendance and exhibitors. The NAHB reported 92,000 attendees, although many exhibitors felt the actual figure was lower. It is an 11% drop from last year's 103,000 show visitors.
The show, held Feb 12-15, marks the end of a four-year run at the Orange County Convention Center. Next year, the show will be held in Las Vegas, Jan. 20-23.
"The traffic is down, but the quality is good," reported Jeffrey Feld at Jeld-Wen, a window and door manufacturer.
The PCA also sponsored an educational seminar, "Introduction to ICFs," which was taught by Donn Thompson and attracted approximately 60 people.
New Prescriptive Standard For Concrete Homes
A new standard for concrete home construction, developed using an ANSI-accredited process, is now available.
Given the number PCA 100-07, the standard will eliminate the need for concrete homebuilders to hire an engineer on most projects, saving thousands of dollars. The long title is "Prescriptive Design of Exterior Concrete Walls for One- and Two-Family Dwellings."
It specifically addresses stay-in-place forms, such as ICFs, and applies to detached one- and two-family dwellings and townhouses.
PCA Says Home Slump will Worsen
According to a recent PCA economic forecast, the grim conditions in the residential construction market are expected to worsen as the year wears on.
By the end of 2008, PCA expects a 9.5 to 10 month supply of homes to be in "inventory" for sale. These high home inventories will cause housing starts to decline an additional 25% from already depressed 2007 levels.
Home prices are expected to fall 8% nationwide. According to PCA economist Ed Sullivan, tight lending standards, weak economic conditions, and slower household formation will doom 2008 home sales.
"Even though buyers can get better priced homes in 2008, they must now have good credit scores and as much as a 20 percent down payment to qualify for loans." he says "With job and income gains expect to slow during the next four quarters, most potential home buyers will back away from such a major purchase until the economy is more stable," Sullivan said.
---

ICF Builder Magazine


---
PolySteel Celebrates 30 Years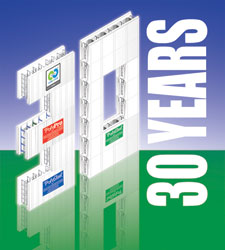 American PolySteel, the oldest ICF manufacturer in North America, turns 30 this year. The company traces its roots back to Werner Gregori, the Canadian who was issued the first patent for insulating concrete forms in 1966.
American PolySteel was founded in 1978 as Southwest Foam Form by brothers Dick and Bob Porter. In 1986 Lance Berrenberg purchased Southwest Foam Form from the Porter brothers. He made the forms more user-friendly by adding wooden "nailers" as an option, and eventually redesigned the form to use an expanded metal form tie, a change that led to renaming the company American PolySteel. In 1995, Berrenberg was one of six charter members who founded the ICFA. Patrick Murphy joined the company the following year as general manager and later became president.
In early February, the company made its 30th Anniversary the centerpiece of its annual distributor convention. Attendees included many notable industry contributors, and the entire event seemed to focus on "green construction," including the company's recent cradle to cradle certification.
"Environmental sustainability has been a part of who I am—and who the company is—for a long time," explains Murphy. "PolySteel provides people who want to 'build green' the very best material for their exterior building envelope."

» Read the Full Story Now!

The New Face of Arxx
Arxx Building Products, a longtime leader in the insulating concrete forms industry, has been purchased by Apex Construction Systems, a maker of cement-EPS composite ICFs.
The combined company, which retains the Arxx name, aims to broaden its products beyond the distinctive exposed-tie ICF and offer designers, distributors, and contractors a comprehensive range of green building products for the exterior building element.
"We want to move away from being just an ICF company," says Gloria Tuck, Arxx marketing director. "We're now a green envelope solutions provider. In other words, we want to provide everything you need to build a better, green building envelope."

» Read the Complete Story Here

Performance R-Value: Side-by-Side Comparisons
For years, ICF manufacturers have touted the "performance R-Value" of their product. While laboratory testing typically report R-Values between R-22 and R-24, many claim "performance R-Values" ranging as high as R-50 or beyond.
That's because R-Value tests measure only thermal resistance, not taking air infiltration, thermal mass, or conductivity into account. "R-Value is a number that has been poorly defined and even more poorly understood," says Juan Garcia, a noted energy consultant. "It most certainly never blows or snows on lab technicians," he says, "but those factors have a dramatic affect on actual field performance."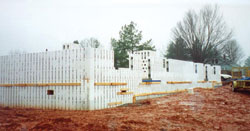 Fortunately, several side-by-side comparisons have been conducted to document actual field performance of ICFs. As an additional benefit, the studies provide a benchmark for construction cost comparisons. The results may surprise you…

» Read the Full Length Story!
---
ICFs and SIPs: Completing the Envelope
Structural Insulated Panels (SIPs) are sort of like cousins to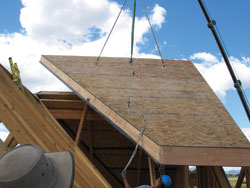 Insulating Concrete Forms (ICFs), especially in the residential construction realm.
Many in the ICF and SIP industries are starting to recognize that their products comprise an excellent combination for structural strength and energy-efficiency. ICF walls combined with SIP roofs can form a nearly impenetrable fortress for air that may have any bright ideas about trying to escape from a house.
At their most basic, SIPs are high-performance panels made by sandwiching a core of rigid foam plastic insulation between structural skins of various types, the most common of which is oriented strand board. Because they are factory-made, they can be custom-designed to the needs of each home.
And while SIP manufacturers would love to see every house built with SIP walls as well as SIP roofs, they're not going to buck the growing consensus that ICF walls and SIP roofs are a great combination.
illustrate.
That's why leaders in both industries, rather than working against each other for market share, are working together to answer the burning question of how best to connect an ICF wall with a SIP roof.

» Read the Full Length Story!
---
Zero Energy Homes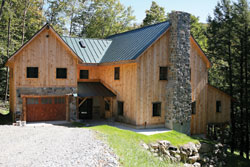 Imagine a home that is not only efficient, but also produces enough energy to meet all of its electrical, heating and cooling needs. Yes, buildings like this really exist. They're called Zero Energy Homes, and they've been built all across North America.
Not surprisingly, many of these homes have exterior walls built from insulating concrete forms (ICFs)…

» Read the Full Length Story!
---
Five Steps to A Successful ZEH
Designers who work with zero energy homes say "system engineering" is the key to making it happen. The term refers to designing all the components of the unit to work together smoothly. The building shell, the windows, the HVAC, the hot water, the electrical work together to optimize performance.
Here's a look at the components….

» Read the Full Length Story!
---
Technologies that Complement ICFs
ICF manufacturers and those that service this industry are always coming up with newer, better products to help the contractor become more efficient and profitable. The products listed on the following pages cover many aspects of the ICF structure, from footing forms to beam hangers.

» Subscribe Now For the Full Story!
---

ICF Builder Magazine


---