ICF News Roundup
ICFs Gain Visibility In Canadian Codebooks: Three of the major Canadian construction codes have been revised to include details for ICF construction. These include the National Building Code (NBC), the National Fire Code (NFC) and the National Plumbing Code (NPC)
One of the major revisions to the National Building Code is that most houses no longer require professional engineering if they are built according to the prescriptive requirements listed in the manuals
'ICF Effect' Hopes to Eliminate Confusion The ICFA board has coined a new phrase hoping to resolve some of the confusion that exists around ICF's purported R-Values. They recently voted to use the phrase "ICF Effect," to help to explain the high performance insulating properties of ICFs.
In recent years, the industry has used phrases such as "performance R-Value" and "effective R-Value," which were difficult to quantify and nearly impossible to test for in a lab. This, in turn, led to confusion between the actual tested R-Values and the unproven claims .
"By creating the 'ICF Effect,' the ICF industry has defined the overwhelming energy efficient benefits ICFs provide to homeowners and building owners rather than constantly referring to R-Value," said Ron Ardres of Reddi-Form, who sits on the ICFA board.
BuildBlock Adds Manufacturing Plant BuildBlock Building Systems, LLC, announced a new manufacturing plant in northern Utah. The company has partnered with Marko Foam to manufacture BuildBlock Insulating Concrete Forms (ICFs) in their Salt Lake City, Utah, facility.
BuildBlock's other manufacturing facilities are located in Alabama, Colorado, Florida, Indiana, Massachusetts, Missouri, and Wisconsin, in addition to two plants operating in Idaho.
USGBC Begins LEED for Neighborhoods: The U.S. Green Building Council (USGBC) has launched a new initiative to encourage environmentally friendly residential developments. The LEED for Neighborhood Development program hopes to integrate the principles of smart growth and green building into a national standard for neighborhood design.
"Just as other LEED systems have improved building efficiency and energy performance, LEED for neighborhoods will reward efficient use of land and the building of complete and walkable communities," says John Norquist. For additional information about the program, visit www.usgbc.org/leed/nd.
---

ICF Builder Magazine


Energy Efficient Mortgages
An increasing number of lenders are offering discounted financing for energy efficient homes, putting ICF homeownership within reach of some homebuyers who otherwise may not be able to afford it.
"The Energy Efficient Mortgage recognizes that energy efficient homes cost homeowners less to operate on a monthly basis than standard homes because they use less energy," says Mark Jansen, an energy rater affiliated with the Residential Energy Services Network (RESNET). "Homebuyers who choose energy efficient homes can afford to spend more on their mortgage because they will likely spend less on their energy costs. ICFs qualify for the highest savings in the EEM program.
Jansen says most of the major lenders—including HUD, FHA, VA, Fannie Mae, and Freddie Mac—will also allow prospective homebuyers to stretch their debt-to-income ratios, which will help them qualify them a more costly home. For a homebuyer making $50,000 annually, it would increase their buying power by $25,000.
To qualify, the projects must be a one unit, owner-occupied home or condominium. The building must also be energy-rated. Home energy ratings involve an on-site inspection by a residential energy rater.
Complete information on RESNET's energy mortgages is available on their website:
» Subscribe Now for the Full Story

---
Green Building

: The Key to Future ICF Growth?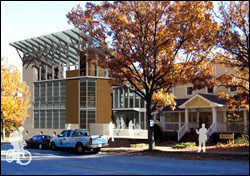 Green building is a major trend in the construction market these days. A quick look at the numbers shows just how big the trend has become:
The U.S. Green Building Council (USGBC) now has more than 91,000 individual members. The number of LEED-accredited professionals has increased from a few dozen in 2001 to nearly 36,000 currently. USGBC estimates the annual U.S. market in green building products and services has grown to $7 billion." The National Association of Home Builders (NAHB) reports similar growth.
This exploding demand for green products is good news for the ICF industry.
No building system is better positioned to capitalize on the green building trend.
For instance, in the popular LEED program, ICFs can easily contribute 20 of the 26 points needed for certification. Architects and contractors familiar with ICFs may enjoy a significant advantage when bidding on publicly owned building projects, since an increasing number of municipalities require that these be LEED-certified…
» Read the complete article here


---

ICF Builder Magazine


Green Building: Easy and Inexpensive
NAHB's Model Green Home Building Guidelines are designed to help bring residential green building into the mainstream. The guidelines also demystify the process and debunk the myths of green building for consumers and for homebuilders.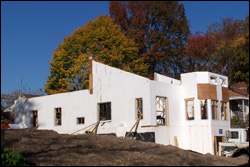 "The guidelines include an easy-to-follow checklist to make sure the builder is incorporating all aspects of green building into each project. That makes it easier to build green, and that's the beauty of the voluntary guidelines," said NAHB President David Pressly, a home builder in Statesville, N.C. Is it more expensive to build green? Experienced builders say it doesn't have to be. Many green building ideas - like positioning a home's windows to best take advantage of natural light - don't cost any more than conventional building, and save money for the homeowner.

Nor does green building consist of neighborhoods filled with yurts, underground bunkers or geodesic domes, Pressly noted. "When a house is green but looks like other houses in the neighborhood, and can be replicated by large-scale building companies, then we know green is mainstream. We're seeing that happen right now," he said.

» Subscribe Now for the Full Story
---
Green Building: ICC vs. LEED
Several organizations have developed competing green building standards for residential construction. In addition to LEED-H, developed by the USGBC, perhaps the most influential is the recently announced collaboration of the NAHB and ICC.
In February, these two organizations, likely the two most influential groups in residential construction, announced they are working to create a residential green building standard.
NAHB President David Pressly called the collaboration "a resounding vote of confidence," and noted that the NAHB Model Green Home Building Guidelines (published in 2005) is now a nationally recognized green building certification tool. It forms the basis of more than 15 state and local green building programs around the country."
The LEED-Homes program, developed by the USGBC, is also going strong. It was announced in late 2005, but the test period has stretched to several years, and isn't expected to conclude until this spring. The USGBC website states they hope to publicly launch the LEED-H rating system by this August. USGBC reports that "more than 200 builders representing 1,600 homes across the U.S. are participating in the pilot program, and 26 homes have already been LEED certified."
One major difference between the programs is that the NAHB program allows for regional variations.
Pressly says NAHB members predict green building is the future of construction. "We surveyed our members a year ago," he says, "and 92% of them said they would move to green building because 'it's the right thing to do.' "
ICC CEO Rick Weiland adds, "Green technology is going to play an important role in our collective future—not just in the United States but around the world."

» Subscribe Now for the Full Story


---

ICF Builder Magazine


Finding Qualified ICF Contractors
With green building rapidly going mainstream, residential and commercial contractors, developers and industry leaders are looking for ways to prepare themselves for the future.

Already on a path of impressive growth, the ICF industry will no doubt benefit from the opportunities that result from this "green wave" of construction activity. The key question is "will we, as an industry, be prepared to provide trained, qualified, professional installation services to these builders."
---
Project Profile: Custom Home Runners –Up
Both of this year's custom home runners up were built by Vogue Homes, an ICF homebuilder based in the Minneapolis/St. Paul area.
John Vogstrom, the company's general manager, says he switched from stick-frame to ICF in 1998, and now builds exclusively with insulating concrete forms.
Vogstrom builds exclusively with Reward ICFs. "I can't say it was any harder to learn ICF systems than to do stick-built," he says.
"There is no better house you can build than an ICF house," says Vogstrom. "It will stand for 200 years. The cost is only about 3 percent more than stick-built, and that is easily offset by savings on fuel, insurance and the mortgage."
---

ICF Builder Magazine


2007 ICF Builder Award Contest Announced
The 2007 ICF Builder Awards contest promises to be even better than last year's highly successful event, with new categories and improved judging criteria.
The awards competition is open to anyone involved with ICFs, without restriction on form type, brand, or number of entries, and is the largest and most prestigious contest of its type.
Contractors, distributors, and ICF manufacturers are encouraged to submit projects for consideration. Simply fill out the notebook request form below, or download the Entry Form and complete competition rules here. The website also contains a short video that illustrates the entry process.
Several changes to this year's contest will help open the competition to even more ICF builders. First, the "Residential Development" category is being replaced with "Multi-Family." Condos, apartment complexes, resorts, and other developments of this type will compete in this category.
Second, the "Custom Home" category is being split into "Large Residential," for homes over 6,000 sq. ft, and "Small Residential," for homes under that size.
"We recognize that as ICFs become increasingly mainstream, many outstanding custom homes are closer to average size. We want to give these entries a chance to compete against similarly sized projects," says Clark Ricks, organizer of the contest.
The complete rules and judging criteria are also available online.
All entries must be received no later than Friday, Oct. 26, 2007. Winners will be announced at an evening event at World of Concrete 2008.

» Subscribe Now for the Full Story
---

ICF Builder Magazine


Air Exchangers:
Necessary Technology or Added Expense
Air Exchangers are a Key Element in ICF Construction: Never before has a building envelope been able to be constructed, with such ease, and with near zero infiltration rates.
This results in a building which can separate indoor and outdoor air volumes. Effectively, the building functions as a "plastic bag".
By using air exchangers to replace stale inside air with fresh outside air, we eliminate contaminants, reduce humidity, improve air circulation, and ensure carbon dioxide does not build up to unhealthy levels.
» Read the complete story here
Air Exchangers are Usually Unnecessary for ICFs: One of the true secrets to energy efficiency is how airtight you can make the structure. This is also one of the areas that is most misunderstood about energy efficient construction.
The way that houses are constructed today, even if we did everything perfect, and got it as tight as humanly possible, there would still be enough leakage through the windows and doors that they would not need, in most cases, an HRV or ERV system.
If you install an air-to-air heat exchanger, especially in hot and humid or polluted climates, you're just asking for trouble.