Greenbuild 2013
The U.S. Green Building Council (USGBC) is holding their annual Greenbuild tradeshow November 20-22, 2013 in Philadelphia, Pa. The USGBC is planning for about 25,000 attendees, with room for 1,000 exhibitors.
Unlike past years, where education sessions have been the primary focus of the event, organizers of this year's even have dramatically increased access to the exhibit hall. For the 2013 show, the exhibit hall is the main attraction. It will be open virtually the entire length of the conference, with "expo-only hours" (no other events taking place) running 9 a.m. - 2 p.m. on Wednesday and 10:30 a.m. - 3:30 p.m. on Thursday. The ICF industry, though, seems to be scaling back its representation at Greenbuild. The only manufacturers exhibiting this year are Amvic and Nudura.
For more information, visit www.greenbuildexpo.org.
Home Starts Reflect Optimism
New data released by the U.S. Dept. of Commerce indicates a solid U.S. housing recovery is underway. In August—the most recent data available—permits for future construction hit a five-year high, despite the expectation of higher mortgage rates. Single-family starts hit a seasonally adjusted rate of 628,000 units, up 7% from 12 months ago, and the highest level in six months.
Multi-family construction has continued to struggle, down 11% from last year. The combined overall housing starts sits at an 891,000-unit pace, far less than the 917,000-unit rate economists had expected.
Guy Berger, an economist at RBS in Stamford Connecticut says, "Homebuilding seems to be holding up decently in the higher mortgage rate environment, probably due to strong underlying fundamentals: thin inventories and steady household formation."
A survey by the Mortgage Bankers Association shows confidence among single-family homebuilders was at an eight-year high in September, with builders upbeat about prospective buyer traffic.
"We expect to see a more meaningful rebound in construction activity in the coming months," says Berger.
Nonresidential Construction Holds Steady
Surveys report that commercial construction held steady over the summer. Growth is hampered by the rising cost of construction materials and labor. According to construction consulting firm FMI, uncertainty over immigration and the implementation of "Obamacare" are also cooling growth. "These issues are causing the industry to sit back and wait to see the outcomes before making any risky investments," says Sarah Vizard Avallone.
Construction Profits Rebound
Average construction company profits have rebounded to about 5.6%, the highest since the economic downturn of 2008.
According to data from The Shinn Group, which has conducted profitability analyses for 20 consecutive years, the market hit bottom in 2009 and has shown steady improvement since. "Since we started tracking profitability in the early 1970s, 2008 and 2009 represent the only years that we have seen an average negative profit," says Emma Shinn. "Average net profit before taxes (EBIT) went from 7.96% in 2007 to a negative 1.16%."
Dozens of Sandy Victims Rebuild With ICF
Homeowners rebuilding in the seaside community of Union Beach, N.J., are using a new technology that will withstand high-winds and flooding due to storm surge. To date, a total 42 homeowners have turned to Fox Blocks, an ICF manufacturer,
for help in rebuilding in a way to withstand these devastating storm conditions.
Union Beach experienced a 12-foot surge with hurricane
force winds.
"The scene is hard to describe in words," says Brian Medford, Fox Blocks Regional Sales Representative. "Many of the homes are leveled and the residents have been living in campers on site for the last nine months. Now the rebuilding has begun with materials that will provide a much better chance of surviving."

ICFs Popular in Joplin
Vertical ICF manufacturer, TF Forming Systems, partnered with ten architectural students to design an ICF "EcoHome" in Joplin, Missouri. The city was devastated by an EF5 tornado in 2011. The partnership with Drury School of Architecture and GreenTown Joplin is expected to lead to the actual construction of several Eco-Homes in the tornado-ravaged city.
The home is designed for net zero energy usage, which means that it will produce at least as much energy as it uses. In addition to passive solar glazing and a photovoltaic array on the roof, the heart of the system are the high performance ICF walls. Not only do they offer energy efficiency and noise reduction—the home is estimated to use 44% less energy to heat and more than 35% less to cool—but also extreme durability and wind resistance. The walls are engineered to withstand 250 mph winds and flying debris.
TF system and ready-mix producer Joplin Concrete have already built 18 disaster resistant homes in Joplin.

ICF Builder Magazine
Using Mirco-Reinforced Concrete

In the last 12 months, severe storms have devastated the Atlantic coast and Midwest. ICF structures in the paths of these storms survived far better than their stick-framed counterparts, and that's getting the attention of the building officials and political leaders that will lead the rebuilding effort. It's also revealed a few weak points that need to be strengthened if ICF homes are to be considered truly disaster-proof.
» Click to read the full story

» Subscribe Today


ICF Builder Magazine
Project Profiles: Heavy Commercial Winners

No single project has done more to promote the use of ICFs in the education sector than Richardsville Elementary. Built in Bowling Green, Ky. and completed in time for the 2010-2011 school year, it is the nation's first (and so far only) net-zero school. In fact, it generates more electricity than it uses, and it was built at a cost comparable to any other new school project.
» Click to read the full Project Profile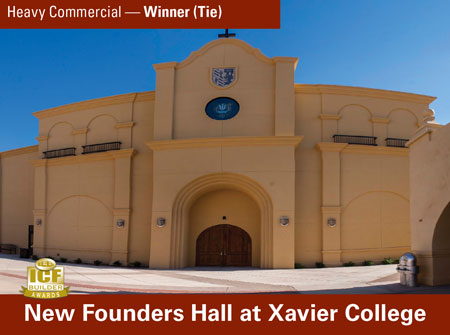 ICF use in the heavy commercial sector is well-established in Arizona. The trend is supported by competent, qualified ICF installers and building owners that understand the value of ICF construction. The Phoenix Archdiocese of the Catholic Church is one such owner, and their latest project, New Founders Hall at Xavier College is one of the most outstanding ICF projects on the continent.
» Click to read the full Project Profile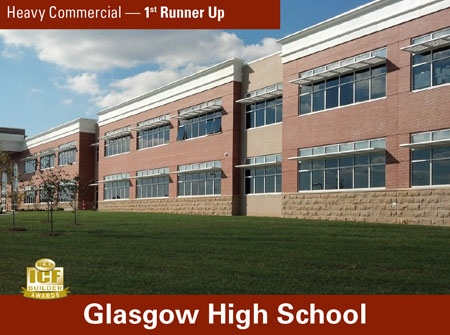 ICFs are making major inroads in the education sector; the movement was jumpstarted by the Kentucky Dept. of Education and architectural firm Sherman Carter Barnhart. The two organizations remain on the cutting edge of what's possible with ICF, and this project is a major milestone in that effort.
» Click to read the full Project Profile

ICF Builder Magazine



As winter arrives in the Canada and the Northern United States, most concrete work comes to a halt. But because of the insulating properties of EPS foam, ICF work often goes on well into winter.
» Click to read the full story

» Subscribe to read the full story