Home Starts Reflect Optimism
New data released by the U.S. Dept. of Commerce indicates a solid U.S. housing recovery is underway.
The newest numbers available—June home starts—show a slight dip from expected, but the dip is nearly entirely due to apartment construction, which is particularly volatile. And construction permits, which reliably indicate the near future, are up considerably. Applications to construct single-family homes rose for the third straight month to a seasonally adjusted rate of 624,000. That's the highest since May of 2008, and up 10% from last year at this time.
Homebuilder confidence is at its highest level since January 2006, and the National Association of Homebuilders (NAHB) says model home traffic and actual sales are at the highest level in at least seven years.
The homebuilding recovery has been fueled by steady job growth and low mortgage rates. This increased demand has reduced inventory and pushed home prices higher, making new home construction more competitive.
Vertical ICF Design Receives Patent
Hobbs Building Systems has received a U.S. patent for their "Hobbs Vertical ICF Wall System."
Named after inventor and company president Andrew Hobbs, the Hobbs Vertical ICF (VICF) is utilized in markets across North America and gaining popularity.
The company's standard design offers an average of R-33 and the company can manufacture products with an even higher R-value. "This exceeds the minimums in even the newest energy code standards." said Hobbs.
Hobbs has been testing and improving his system since its inception in 2005. Never wanting to compromise strength for efficiency, he recruited Iowa State University's civil engineering department to physically test the design.
The Hobbs VICF reportedly uses 40% less concrete and 50% less labor without compromising strength. Hobbs adds that his company provides engineering on a per-project basis. "No matter where you are in North America, your VICF system will be reviewed and approved by a licensed engineer in your state or province," he said.
Hobbs' flagship contoured core design is a modified post-and-beam with columns and studs at 16" on center spacing, a top and bottom beam and a concrete web in between. The product is cut with hot wires (instead of shape molded like most other ICFs) so Hobbs has the flexibility to provide nearly any wall height dimension.
For information on the patent or other aspect of Hobbs Building Systems,
visit www.hobbsverticalicf.com or call 866-904-9255.
Logix Releases Estimator App
Logix Insulated Concrete Forms Ltd. now offers a mobile app version of their popular Logix One Minute Estimator program that has been available on their website for the last few years.
This new app makes it possible to complete a wide variety of tasks with a smartphone or tablet, including generating general estimates for the amount of Logix forms, concrete and rebar, in either imperial or metric units. That estimate can be easily emailed to anyone, including the local ICF distributor who can provide pricing, advice and support.
To download the app, simply visit Google Play or the Apple App Store.

ICF Engineers Offer to Rebuild Tornado Areas
Two well-known ICF engineers, Joseph Warnes and Ken Luttrell, are offering their services for free to ICF manufacturers in an effort to encourage disaster- resistant rebuilding in the area south of Oklahoma City struck by tornadoes earlier this summer.
"This offer is open to any firm that
will accept the concept of an emulative-detailed reinforced concrete single family shell house, regardless of industry orientation," says Warnes. To qualify, the home must have a reinforced concrete roof and disaster-resistant windows and doors as well.
Optimally, the plan is to construct an entire development of several dozen homes, which would serve as a model to the nation of how simple and affordable disaster-proof housing can be.
"We'd like to assemble a consortium
of the entities needed to design, build, finance and sell 200 disaster-proof spec houses in new housing developments in or around Moore, Oklahoma," he says. "Our thinking is that the houses would be disaster-proof shells of reinforced concrete built with insulating forms with reinforced concrete floors, walls, and roofs."
The crux of the plan is to find a local homebuilder willing to sign on to such a plan. "Homebuilders generally know everything ordinarily needed to build and market houses except the capability to design and construct disaster-resistant house shells. Ken and I would provide that missing link, Warnes says."
First Chicago Passive House Uses ICF
The first Passive House Certified Home in the Chicago area was recently completed. Designed by Weiss Building & Development and architect Tom Basset Dilley, it uses Logix ICFs for the exterior walls. It is the third certified passive house in Illinois, and one of only 34 in the United States, according to the Passive House Institute U.S., which certifies them.
"If it were a car, it would be getting 300 miles per gallon," said Mark Miller, executive director of the Passive House Alliance United States. Including the finished basement, the house has 3,600 sq. ft.; three upstairs bedrooms, an open living area plus an in-law suite on the main level and a recreational room on the lower level. The detached two-car garage is not included in square footage calculations.
"As energy prices went up, we knew we wanted a house that was less dependent on gas and electricity. If not off the grid, at least as much as possible," says Corinna Lema, the homeowner.
Walls measure 18 inches thick; the exterior has two additional inches of rigid foam, an air cavity and engineered wood siding. In addition to ICFs, the home uses triple-pane windows and LED lighting. Because of the ultra-efficient construction of the home, no furnace or AC units are required. Instead, two small ductless wall-mounted minisplit heat pumps provide the minimal heating and cooling needs. Solar panels on the garage roof provide hot water, although a high-efficiency electric water heater was installed as backup. Low-flow toilets use 0.08 gallons per flush.
Additionally, the home uses zero-VOC paints and adhesives, water-based sealants, formaldehyde-free cabinetry and a new drywall product which captures air pollution. A mechanical air exchanger ensures adequate ventilation.
To earn certification, the house had to pass a third-party audit that included a blower-door test to detect air leaks, a visual inspection to make sure specified products were used, and an air-flow test of the ventilation system to ensure that incoming and outgoing air was balanced.
ICF Transforms Corn Silo into Office Space
TF Forming Systems recently publicized a project that converted a dilapidated old corn silo into a sustainable, disaster-resistant, energy-efficient home and office.
Located in Mount City, Mo., local grain farmer J.W. Trimmer spearheaded the project. "We were looking for an energy efficient material and concept," Trimmer explained. "We compared ICF to double stud and highly insulated wall and even a SIP-type panel." He chose TF System, a vertical ICF design because it was best able to work with the radius walls of the corn silo.
The new building, a hybrid of the existing structure and the new structure, offers 4,900 square feet of space that will be used for offices, a conference room, full kitchen and guest bedrooms and living quarters with walls and roof that can withstand 250 mph winds.
"This is a testament to the unique capabilities our wall systems offer," says Kirk Brown, TF Forming Systems' CEO.

ICF Builder Magazine
DISASTER RESISTANCE UPDATE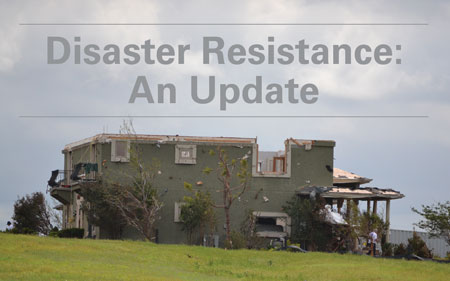 In the last 12 months, severe storms have devastated the Atlantic coast and Midwest. ICF structures in the paths of these storms survived far better than their stick-framed counterparts, and that's getting the attention of the building officials and political leaders that will lead the rebuilding effort. It's also revealed a few weak points that need to be strengthened if ICF homes are to be considered truly disaster-proof.
» Click to read the full story

» Subscribe to read the full story


ICF Builder Magazine
PROJECT PROFILES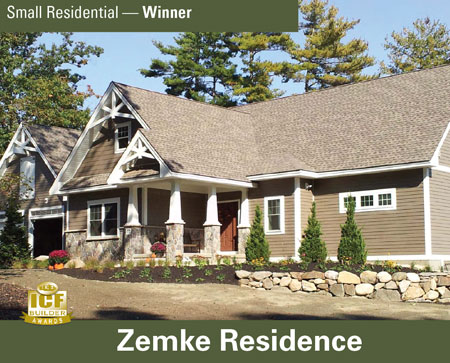 Located on a small lake in southern New Hampshire, this home shows that ICFs are perfect for dream homes of all sizes. The homesite was chosen to preserve the native landscape while maximizing the peaceful views and lakefront ambiance.
» Click to read the full Project Profile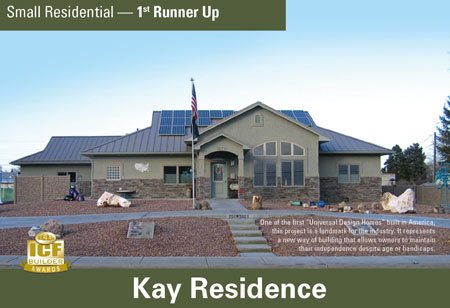 This project was built as a "Universal Design" (UD) home, merging sustainable, green building technology with design concepts that allow people of all ages and abilities to live their entire life in their own home. In addition to modern energy saving features, it also utilizes automation and low-maintenance finishes.
» Click to read the full Project Profile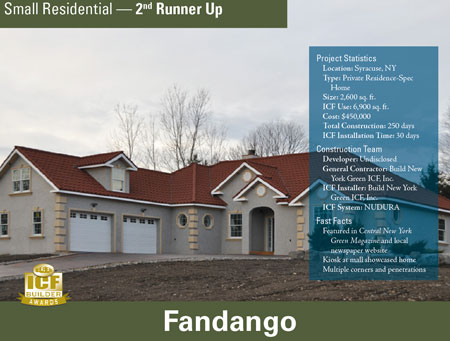 Built as a model home just outside of Syracuse, New York, this residence is a fantastic example of how ICF construction can match the architectural style of any contemporary neighborhood while providing unrivaled energy savings.
» Click to read the full Project Profile

ICF Builder Magazine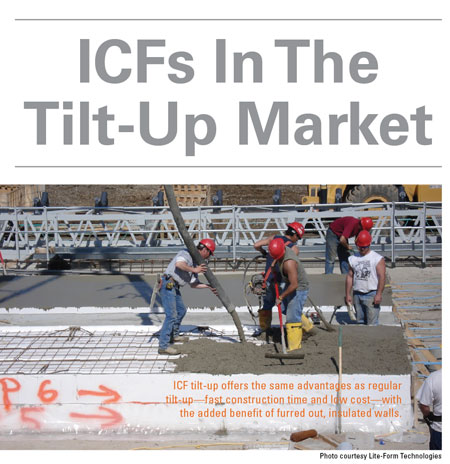 ICF construction has evolved considerably over the past ten years. Commercial ICF construction, which was less than 20% of the industry ten years ago, is now dominant.
In many ways ICFs are best suited for larger buildings. Their energy efficiency tends to be fully appreciated by the commercial and industrial customer, who calculates long-term energy costs as part of the construction decision. Also, while the strength of ICF walls is often overkill in homes, it is necessary and fully utilized in larger buildings.
» Click to read the full story

» Subscribe to read the full story