U.S. Congress Considers Resilient Construction Act
When the U.S. House of Representatives meets this spring, one of the bills to be considered may have a dramatic positive effect on the ICF industry.
The Disaster Savings and Resilient Construction Act of 2013, better known as HR 5839, is intended to reduce Federal expenditures by encouraging Americans to build with disaster-resistant methods and materials. While the exact language of the bill has yet to be finalized, probabilities are high that it would reward ICF construction, which has proved in both the laboratory and the real-world to be one of the best choices for resisting fires, tornadoes, hurricanes, and impacts.
The bill would offer a tax credit of $3,000 for residential and $25,000 for commercial structures using resilient construction techniques. Specifically, structures eligible for the credit would need to be built within a federally declared disaster zone, up to two years following the occurrence of the disaster.
Current sponsors include Reps. Mario Diaz-Balart (R-FL), Mike Ross (D-4-AR), Ben Chandler (D-6-KY), John Larson (D-1-CT), Andy Harris (R-1-MD), David Rivera (R-25-FL), Allen West (R-22-FL), Kevin Yoder (R-3-KS), and Russ Carnahan (D-MO).
EPS Flame Retardant Update
ICL, a multinational chemical company headquartered in Israel, has accelerated its introduction of a new sustainable polymeric flame retardant (FR) to replace the HBCD flame retardant which is currently used in EPS foams. The European Union has banned HBCD, effective August 2015, and tests conducted to date confirm FR-122P's suitability as a replacement in the full range of EPS and XPS insulation foams.
Commercial quantities of FR-122P are already available, and thousands of metric tons will be available by July 2013, six months earlier than originally planned. By the second half of 2014, production is expected to reach 10,000 metric tons annually.
Improved HercuWall Product Hits Market
HercuTech Inc. has opened a manufacturing plant in Phoenix, Ariz. to produce a refined version of HercuWall. HercuWall is an EPS-insulated concrete panel system that uses far less concrete than traditional flat-wall ICF systems. The new HercuWall features ShearStrip technology that eliminates all vertical rebar. The company claims it is 50% stronger and lighter than previous versions, and extremely cost-effective. Last summer, the product received NOA certification from Dade County Fla.
HercuTech is a newly formed company umbrella that markets several versions of HercuWall (wood and CMU replacement and light commercial), as well as other related building envelope products. Michael Niemann remains company CEO.
Commercial Construction Outlook Improves
Construction economists report a slight improvement in the commercial building sector. FMI, one of the largest commercial consulting groups, announced that its sources are "slightly more positive about the national and local economies."
Their Nonresidential Construction Index report (NRCI) sits at 55.5, up one point from last quarter. Interestingly, while business owners are more optimistic about the overall economy, they report that their own businesses continue to struggle. Reasons cited include a reduction in backlogs, the continued rise of material costs and lower productivity.
A full-length copy of the report can be downloaded here.

ICF Builder Magazine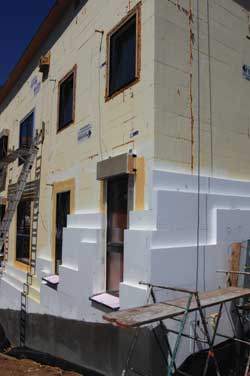 Extreme R-Value Going Beyond R-30
ICFs have a reputation for energy efficiency. The combination of thermal mass, airtight construction, and two continuous layers of highly insulative EPS foam create walls that dramatically outperform standard wood-frame construction.
But an increasing number of homeowners and designers are going "beyond green" and calling for insulation beyond the R-23 or R-25 ICFs typically provide. They're asking for R-Values in the 30s, and in some cases even more.
A number of ICF manufacturers have introduced products that offer "off-the-shelf" solutions for extreme R-Value projects. These solutions have varied from offering thicker side panels or foam inserts to switching to a graphite enhanced EPS bead, which offers slightly higher R-Values in the same wall thickness.
Here's a closer look at each of the options… (Click for the Full Story)


ICF Builder Magazine
Moisture and ICFs: The Facts
While the structural concrete core of an ICF wall is unaffected by water, moisture can create the potential for mold, mildew, and rot in other building components, such as drywall and wood framing.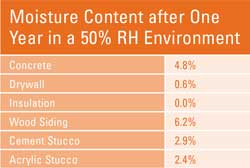 Whether the water comes from below grade sources, condensation from the air, or from within the building materials themselves, it can easily be kept out. Thousands—probably hundreds of thousands—of ICF buildings have been built over the past decade with zero moisture problems. The fact is, ICFs are one of the best construction choices for areas prone to moisture concerns. This has been proven in the laboratory and the real world.

ICF Builder Magazine
PROJECT PROFILES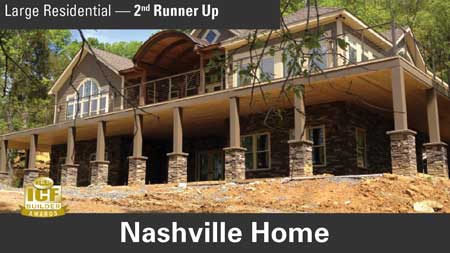 Nashville Home
Nestled into the rolling hills of a 2,000-acre estate, this 6,000-sq.-ft. dream home has a spacious open floor plan, with abundant windows offering sweeping views of the surrounding countryside.
The owners prize privacy and seclusion. The lack of neighbors, however, also means a lack of emergency services. With the nearest fire station miles away, and a number of recent tornadoes in the area, disaster-resistance was also a priority.
ICFs from Fox Blocks provided a perfect solution. Their fire resistance and durability far surpass traditional construction methods. The designer went a step further and specified that the massive wraparound deck/porch be made from InsulDeck, an EPS decking product that is also disasterproof. It provides additional strength to the structure, and as a side benefit, is extremely low maintenance. The cable railing was chosen specifically so it wouldn't intrude on the views in any direction.
The home is also extremely energy efficient. The ICF walls are matched with spray-applied urethane roof insulation and to complete the envelope, extremely energy efficient windows with an average U-Value of 0.15. The home also has a geothermal HVAC system, tankless water heater, and LED lighting. Conduit for a planned photovoltaic system is already run. This would give the house the ability to go "off-the-grid."
The interior style is reminiscent of a high-end mountain resort, but the finishes were carefully selected to be environmentally sensitive. Flooring on the main level is made from reclaimed oak barn planks, between 8 and 12 inches wide. A massive, stone fireplace in the main living area is two-sided, so it can be viewed from the master suite. Lower level floors are stained concrete.
Click to read the full Project Profile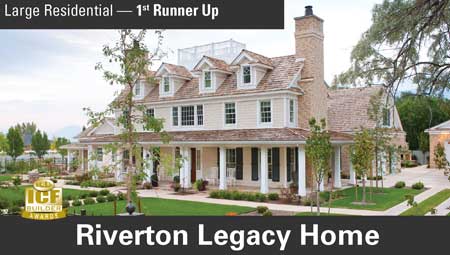 Riverton Legacy Home
When John Catron purchased this lot in 2005, he became aware that the old farmhouse that stood on the lot was originally an 1880s-era adobe church, by then the oldest surviving building in the community. He revised his plans to incorporate the historic meetinghouse into his dream home, to serve as a guest suite and private museum showcasing the history of the site.
The owner had already decided to build with ICFs, as he wanted the new home to last at least 200 years, and have low energy costs. Logix's Platinum Series met both goals. Hydronic heat and highly energy-efficient windows ensured further savings.
The design was complex, with dozens of windows, multiple corners, and intensive ICF use. Even the chimney was formed with the foam form. But the highly experienced ICF crew was up to the task. Even when sandy soils threatened to detail the schedule, they were able to devise a solution. The old brick meetinghouse was reinforced to bring it up to current seismic standards, and the 13-inch-thick ICF walls made it relatively easy to blend it seamlessly into the north end of the home.
Throughout the process, the entire construction team—architect, builders, and interior designers—went out of their way to preserve the historic nature of the site. The century-old elm trees on the lot now serve as flooring in the home. The original adobe bricks were used to construct the fireplace, and the original ceiling beams of the chapel were repurposed as museum shelves. Sections of the old rock foundation found new life as patio benches and garden walls.
Click to read the full Project Profile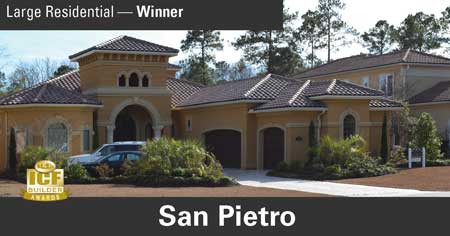 San Pietro
Built as a model home by Carrell Group in Myrtle Beach, S.C., this residence is a showcase for energy efficiency, beauty, and disaster resistance.
It's one of the first in the area to earn the insurance industry's IBHS "Fortified" rating. Able to withstand 150 mph winds, and impervious to termites, it's a homeowners dream. But the Fortified rating also qualifies the home for large insurance discounts.
It bears no resemblance to a bunker, though. The Mediterranean-style home features extensive glass, including 10-foot-tall, floor-to-ceiling windows in the main sitting area (made from impact-resistant glass to stand up to hurricanes without additional protection). A "disappearing wall" opens directly onto a covered lanai and opulently decorated pool area.
The key to all of this is the ICF wall system from Amvic. "Previously, it was commonly perceived that building "Fortified" limited a client's aesthetic potential," says Grant DuBose, vice president at Carrell Group, the developer. "This home convinces people that beauty and structural upgrades don't have to compete against each other."
Thick ICF walls were perfect for the deep sills used in Mediterranean-style architecture. It provided the perfect substrate for the exterior stucco finish. On the inside, ICFs eliminated the "wavy" nature of wood that would have been visible with the 12-, 13-, and 14-foot ceiling heights. It allowed for large openings, and supported the disappearing wall, all without endangering the 130-150 mph wind rating needed for Fortified certification. And it dramatically decreases energy usage; monthly utility costs are about $650 for the 5,900 sq. ft. home. Additionally, the soundproofing qualities of the ICF completely deflect any outside street noise. "When you're in this home, you can only hear the pool and speaker system," says DuBose.
A wide swath of homebuyers have found this home to be the perfect combination of beauty, efficiency, and disaster resistance. "We have built nearly 90 high end ICF custom homes," says DuBose. "After all of that experience, this is our most popular and successful selling home to date."
Click to read the full Project Profile

ICF Builder Magazine
Energy Codes and ICFs
Since energy codes were first developed in the 1960s, they have moved in a single direction: higher efficiency and more insulation. The 2012 International Building Code (for the U.S.) and 2010 National Building Code of Canada, whose energy requirements were finalized late last year, continue to raise the bar.
As insulation requirements become more stringent, CMU and wood frame will become relatively more costly. ICFs, which meet most of the requirements already, should gain ground as the cost differential disappears.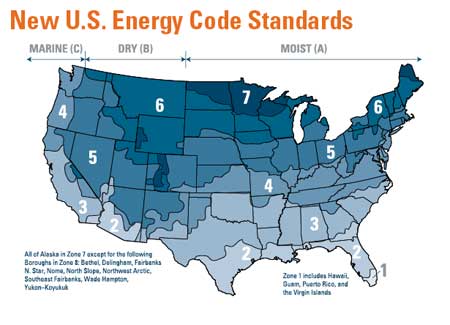 "Building codes are moving forward," says Andy Lennox, vice-president of marketing at Logix. "They're calling for better insulation in Canada and in the U.S., and they're going to keep doing that for at least the next five years."
(Subscribe for the Full Story)

ICF Builder Magazine