AIA Predicts Good Growth Next Year
The American Institute of Architects (AIA) reports that billings at architecture firms in September increased at their fastest pace since late 2010. Because actual construction lags behind architecture billings by nine to twelve months, the Architecture Billings Index (ABI) is considered an accurate leading economic indicator of construction activity,
The AIA reports the September ABI score was 51.6, up from the mark of 50.2 in August. Billings were especially strong in multi-family construction, followed by institutional construction. Regionally, billings were strongest in the West and South, weakest in the Northeast and Midwest.
Flexibility for International LEED Projects
For green-built projects outside the United States, the U.S. Green Building Council (USGBC) now offers alternative paths to LEED certification. Called Global Alternative Compliance Paths (ACPs), they offer a way to skirt LEED credits that are traditionally more challenging for foreign projects.
In 2012, foreign projects—almost entirely in Europe—made up more than 50% of all projects seeking LEED certification
In addition to ACPs, foreign projects can also qualify for Regional Priority Credits (RPCs). These are not new LEED credits, but instead are existing credits that are designated as being particularly important for various regional issues. If project teams achieve a Regional Priority Credit, they receive a bonus point in addition to their project's total points.
To learn more about the Global and Regional ACPs, visit www.usgbc.org/leed.
Owens-Corning Develops EcoFriendly Foam
Owens Corning has begun manufacturing a new form rigid foam insulation that contains zero ozone-depleting chemicals. Called Foamular Extruded Polystyrene (FXPS), it uses a new blowing agent that meets the requirements of the Montreal Protocol. Other forms of XPS use hydrochlorofluorocarbon 142b, an ozone-depleting compound.
The foam is being produced at the new Gresham, Oregon. The company is converting it's Rockford, Ill., insulation plant to use the new blowing agent, as well.
"High performance homes and buildings are an ever-growing segment of the construction industry," says Joe Ochoa, who oversees all foam products at Owens Corning. "We're committed to helping architects, builders, contractors and specifiers consistently meet and prosper from this demand,"
Ready Mix Shows Greater Demand, Less Profitability
For the first time since 2005, ready-mix concrete production has shown a year-over-year increase. According to the Industry Data Survey compiled by the National Ready Mixed Concrete Association (NRMCA) production in 2011 was up 3% compared to 2010, although use is still far below the peak demand seen in 2005. The report also showed that despite the increased demand, U.S. ready-mix producers continue to lose money—an average of $6.16 per cubic yard sold. The Southeast averaged losses of $14.93 and Pacific Southwest lost $9.76 per cubic yard.
"While the increase in overall production in 2011 is a positive for the industry, ready mixed concrete companies continue to struggle to sustain their operations," said NRMCA President Robert A. Garbini. "In order for the industry to survive and flourish, ready mixed concrete producers need to… return to, at a minimum, break even and hopefully one day, sustainable performance levels."
New FTC Guidelines for Recycled EPS
The Federal Trade Commission (FTC), which oversees truthfulness in advertising, has released a new set of regulations regarding on environmental marketing claims. Of note to the EPS industry are new restrictions on the use of the terms "recyclable," "recycled content," and "certifications and seals of approvals."
The new standards are intended to reduce "greenwashing" and ensure that the terms are used in compliance with their generally understood meanings. According to the FTC, "very few products, if any" deliver the far-reaching environmental benefits marketers claim. The FTC has even taken legal action to to ensure that environmental marketing is truthful and substantiated.
The EPS Industry Alliance (EPS-IA) has produced a one-page information sheet to help industry executives make sure their claims meet the new FTC guidelines. Diana Gentilcore, managing director at EPS-IA says generalized, unqualified claims that a product is "environmentally friendly" or "eco-friendly" is not allowed. She also recommends a clarifying statement about EPS recyclability. "EPS foam recycling is not widely available," she says, "therefore, a qualifying marketing claim must be used that adequately discloses its limited availability. When stating EPS is recyclable, we strongly recommendthis disclaimer to avoid making a deceptive claim: 'This product is recyclable only in select communities that have appropriate recycling facilities.' "
The FTC guidelines state that recycled content claims may—but do not have to—distinguish between pre-consumer and post-consumer materials. However, companies need to be able to substantiate any claim they make about the percentage of recycled content in a product.
Additional information can be found on the internet by searching "FTC Green Guides."
---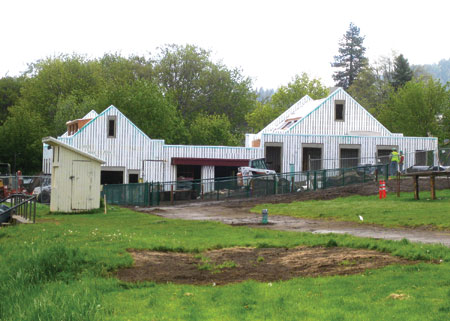 Achieving Net-Zero In The Commercial Sector
Over the past decade, the concept of a Net Zero Energy (NZE) building—one which produces as much energy as it uses over the course of a year—has quietly gone from research to reality.
NZE buildings are predicted to see rapid growth in the coming years, as green building mandates, government incentives, and rising public interest in NZEBs drives demand.
This will likely create significant opportunities for the insulating concrete form (ICF) industry. These foam forms are one of the most cost-effective ways to create an energy-efficient building envelope. Perhaps more importantly, they already have a proven track record with at least two of the largest and most successful NZE buildings yet built using ICFs.
» Read the Complete Story Here
---
Social Networking: The Good, Bad And Ugly
The construction industry is beginning to get back to where it was five years ago, and it's likely that it will take another decade to get back to where we were in 2006. In the meantime, the world has changed.
People no longer pick up the newspaper or phone book to find what they need. Instead they use the internet, and increasingly, social media.
Since the Great Recession began, Facebook, Twitter, LinkedIn, and other social networking sites have emerged as popular marketing tools. Some media experts would call them essential. But others say they only make sense if used correctly.
» Read the Complete Story Here
---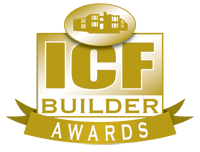 ICF Builder Award Winners 2012
The 2012 ICF Builder Awards were announced last month at the World of Concrete trade show in Las Vegas. The winning entries, listed below, scored highest in a worldwide competition where every entry was noteworthy and impressive.
"These are milestone projects that have advanced the entire industry due to their significance and visibility," says Clark Ricks, one of the contest judges. "I feel confident that we're recognizing the best-of-the-best."
A complete project overview , and dozens of outstanding photographs of each of the winning projects can be viewed by clicking on the category links below.
---
Project Profiles: The Light Commercial Winners
ICFs are catching on for municipal projects. These three winners showcase the quality of light commercial work being done.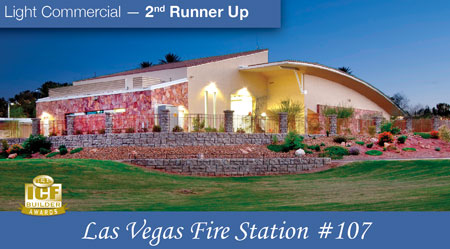 Las Vegas Fire Station #107
Built as one of two identical fire stations in Las Vegas, Nevada, Fire Station 107 sets a new standard for efficiency and comfort.
They're the first ICF projects built by the City of Las Vegas. The pair were so successful that it has led concurrently to third: Fire Station 108.
Mike Kennaw, VP of sales at Fox Blocks, reports, "The City of Las Vegas is now looking at ICF as a go-to product for pending work of all kinds. Fire Station 106 and 107 have been featured in Fire Chief Magazine and have received numerous magazine and newspaper articles, as well as local TV coverage.
» See the Complete Project Profile Here
---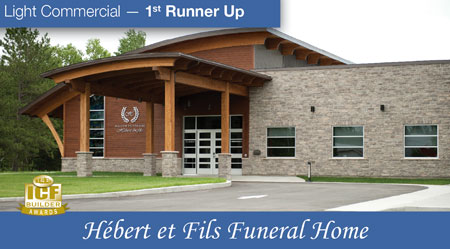 Hebert et Fils Funeral Home
"In the Quebec region, we face the challenge and pressure to include wood as a main building component in order to promote the depressed timber industry," explains the builder of this project. The construction of this amazing funeral home, the only one in the city, gave him the chance to demonstrate the advantages of ICF construction.
Serving as GC and ICF installer, Construction de l'Avenir had a big job ahead of it. Walls reached to 27 feet, and included multiple cut-outs and embeds. The front wall had to be cut to match the massive glue-lam roof beams that support the arched roof.
"This construction job became everyone's business as we all shared the same enthusiasm," says Lamontagne. "We were able to deliver this building on time, within budget and with a huge smile."
» See the Complete Project Profile Here
---
Charlotte-Mecklenburg Police Department
Charlotte is the largest metropolitan region in North Carolina. When the combined city/county police department needed to upgrade their facilities, they turned to ICF
They wanted the new building to be sustainable, aiming for a 60-70% reduction in overall energy usage and LEED-Gold certification.
"This was the most complex building the city has planned," says Allen Burris, the project superintendent.
The city is currently planning for six more precinct buildings to be built over the next few years, and are planning to continue the same strategy of LEED-certified ICF construction on all future precinct buildings.
» See the Complete Project Profile Here


ICF Builder Magazine