Homebuilding Hits Highest Pace Since '08
The U.S. Commerce Department says builders began construction on more single-family homes and apartments in September than at any time since July 2008, a further indication that the housing recovery is strengthening.
U.S. homebuilders broke ground at a seasonally adjusted annual rate of 872,000 homes in September. That's an increase of 15% from the prior month. Applications for building permits, a good sign of future construction were also at the highest level since July 2008.
New Logo for Reward Wall
Reward Wall Systems, the Omaha-based ICF manufacturer, has a new logo. The design is part of a broader company-wide rebranding initiative.


According to Troy Gibson, Reward's marketing manager, the logo "reflects a cleaner and more modern design that better encompasses the character of Reward Wall Systems' brand and products."
Materials and items using Reward's previous diamond logo will be phased out and replaced with the new branding. As part of the same marketing effort, By the end of 2013, the company will roll out a completely revamped website intended to create a better user experience, increase the ease of navigation and publish more research on the science behind ICFs.
EPA Reverses Fly Ash Decision
The US Environmental Protection Agency has reversed course on whether coal byproducts should be used in construction. Silica fume and fly ash, both coal byproducts, have been widely used in the ICF industry as environmentally-friendly concrete admixtures.
Once a cheerleader for the "beneficial reuse" of coal power plant waste, EPA is now considering regulating it as hazardous waste. The change is so abrupt that the two largest processors of coal power plant waste used in building materials, Boral Material Technologies and Headwaters Resources, launched a lawsuit in August against EPA, stating that the reversal "has created uncertainty in the beneficial use marketplace," and has "direct, traceable negative impacts on the marketplace."
The EPA spent the better part of a decade promoting coal combustion wastes, before reversing itself in 2011, citing concerns about heavy metal content in products containing coal waste.
All parties concerned agree that the current debate should have taken place before, rather than after, coal combustion waste entered peoples' homes and hospitals and schools. However, the issue will now be decided in the courts. In the meantime, the EPA is holding its ground. "We must err on the side of caution and classify coal ash as hazardous until the studies are completed," says one press release.
New ICC Report for Quad-Lock
Quad-Lock's Insulating Concrete Forms recently received a new evaluation report from ICC-Evaluation Services. Building officials, architects, contractors, and others use ICC-ES Evaluation Reports to provide the guidelines and approvals for construction products under the main US building codes, the International Residential Code (IRC) and International Building Code (IBC).
The new report includes a Florida Supplement.
Douglas Bennion, manager of training and technical services, adds "Some notable advancements in this revision are the inclusion of 2009 and 2006 IBC and IRC and Types I through IV (Non-combustible) construction in addition to Type V (combustible) construction. These are important for schools, churches, and other commercial buildings. We have identified seven different EIFS coatings from different manufacturers that will supply the necessary coating to qualify as non-combustible."
LEED Buildings Hits Two Billion Sq. Ft.
The U.S. Green Building Council (USGBC) announced in July that the total footprint of commercial projects certified under its LEED green building program surpassed two billion square feet. An additional seven billion square feet is currently in the pipeline. To meet demand, LEED is certifying on average two million square feet of commercial building space every day.
Additionally, nearly 23,000 homes across the U.S. have earned certification through the LEED for Homes program, with 86,000 additional units in the pipeline. LEED certifications face some competition in this sector, however, as the National Association of Homebuilders has their own program, and it's rapidly catching up. The NAHB's National Green Building Standard (NGBS) is currently on track to duplicate and perhaps even exceed LEED's success in the residential building sector, having racked up around 4,000 certifications in its first three years.
Because commercial buildings leave the lights on longer and require more of their HVAC systems than residential structures, commercial green building systems can pay for themselves in short order (and serve to lower operating expenses thereafter). Also, that lovely glass plaque announcing a building's LEED status to the world has proven attractive to many companies looking to build a brand and gain favor with green-minded customers.
The LEED system was first unveiled in the year 2000.
New FTC Guidelines for Recycled EPS
The Federal Trade Commission (FTC), which oversees truthfulness in advertising, has released a new set of regulations regarding on environmental marketing claims. Of note to the EPS industry are new restrictions on the use of the terms "recyclable," "recycled content," and "certifications and seals of approvals."
The new standards are intended to reduce "greenwashing" and ensure that the terms are used in compliance with their generally understood meanings. According to the FTC, "very few products, if any" deliver the far-reaching environmental benefits marketers claim. The FTC has even taken legal action to ensure that environmental marketing is truthful and substantiated.
The EPS Industry Alliance (EPS-IA) has produced a one-page information sheet to help industry executives make sure their claims meet the new FTC guidelines. Diana Gentilcore, managing director at EPS-IA says generalized, unqualified claims that a product is "environmentally friendly" or "eco-friendly" is not allowed. She also recommends a clarifying statement about EPS recyclability. "EPS foam recycling is not widely available," she says, "therefore, a qualifying marketing claim must be used that adequately discloses its limited availability. When stating EPS is recyclable, we strongly recommendthis disclaimer to avoid making a deceptive claim: 'This product is recyclable only in
select communities that have appropriate recycling facilities.' "
The FTC guidelines state that recycled content claims may—but do not have to—distinguish between pre-consumer and post-consumer materials. However, companies need to be able to substantiate
any claim they make about the percentage of recycled content in a product.
Ready Mix Shows Greater Demand, Less Profitability
For the first time since 2005, ready-mix concrete production has shown a year-over-year increase. According to the Industry Data Survey compiled by the National Ready Mixed Concrete Association (NRMCA) production in 2011 was up 3% compared to 2010, although use is still far below the peak demand seen in 2005. The report also showed that despite the increased demand, U.S. ready-mix producers continue to lose money—an average of $6.16 per cubic yard sold. The Southeast averaged losses of $14.93 and Pacific Southwest lost $9.76 per cubic yard.
"While the increase in overall production in 2011 is a positive for the industry, ready mixed concrete companies continue to struggle to sustain their operations," said NRMCA President Robert A. Garbini. "In order for the industry to survive and flourish, ready mixed concrete producers need to… return to, at a minimum, break even and hopefully one day, sustainable performance levels."
EPS Alliance Challenges XPS Claims
The EPS Industry Alliance (EPS-IA) has initiated legal action against DOW, claiming the company is making false claims regarding the moisture resistance of EPS and XPS foam. The two organizations had a similar disagreement over the same topic in 2005.
EPS-IA has sent a formal cease-and-desist letter to DOW's legal department, and has rallied the National Advertising Directive (NAD) to its side as well.
In late August, DOW agreed to make minor changes to its marketing campaign, but insisted that their bulletin "truthfully communicates the benefits XPS offers compared to EPS, particularly in terms of moisture resistance."
EPS-IA and NAD disagreed with this assessment, and as this issue went to press, the two organizations were threatening to refer the matter to the FTC.
Home Construction Moving to Profitability
A new survey confirms that residential homebuilding is operating again at profitable margins. The 2011 Financial and Operational Survey of Home Builders, conducted by the Shinn Group confirms that builders who survived the four-year long construction slowdown are slowly returning to profitability.
The 11% net profit builders achieved in 2006 was the most profitable year in the 19-year history of the survey. In 2007, builders began discounting to maintain sales velocity, a trend that accelerated in 2008 and 2009. By 2010, massive layoffs had brought expenses into balance with the new reality, and the 2011 number confirm this approach has largely succeeded.
Owens-Corning Develops EcoFriendly Foam
Owens Corning has begun manufacturing a new form rigid foam insulation that contains zero ozone-depleting chemicals. Called Foamular Extruded Polystyrene (FXPS), it uses a new blowing agent that meets the requirements of the Montreal Protocol. Other forms of XPS use hydrochlorofluorocarbon 142b, an ozone-depleting compound.
The foam is being produced at the new Gresham, Oregon. The company is converting its Rockford, Ill., insulation plant to use the new blowing agent, as well.

ICF Builder Magazine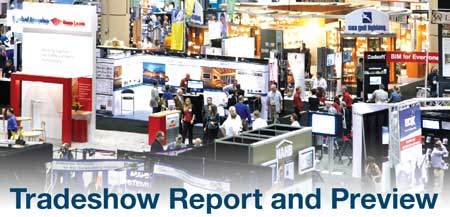 Trade Show Report and Preview
GreenBuild Show Report
The U.S. Green Building Council's (USGBC) annual Greenbuild tradeshow took place Nov. 13-16, 2012 in San Francisco, Calif. The show was the largest in Greenbuild's 11-year history, with 25,000 attendees, and more than 1,000 exhibitors spread across three floors of the massive Moscone Center. Most of the leading ICF brands were represented, including Nudura, Logix, Fox Blocks, Amvic, Lite-Form, and IntegraSpec, as well as a number of flooring, waterproofing, and exterior finish manufacturers familiar to the industry.
As in previous years, the show emphasized educational sessions over the exhibit hall, but ICF industry representatives said overall the show was well attended.
Greenbuild 2013 is scheduled to take place November 2013 in Philadelphia, Pa.
IBS Preview
The National Association of Home Builders' (NAHB) International Builders' Show is back in Nevada for 2013, running Jan. 22-24, 2013 at the Las Vegas Convention Center. As in previous years, IBS has built a show home to demonstrate the latest building technologies. The 2013 New American Home uses Fox Blocks' ICF to form the basement walls. In addition to Fox Blocks, Amvic, Lite-Form, Logix, and Nudura have reserved booths.
The show also features a series of educational seminars, on topics ranging from business management to remodeling. However, none of the classes—including 17 on green-building—are focused specifically on ICFs.

World of Concrete Preview
World of Concrete 2013 will run Feb. 5-8, 2013 at the Las Vegas Convention Center, which has hosted the event since 2003. Organizers are expecting the 2013 show to be slightly larger than the 2012 event, which attracted an estimated 48,000 attendees.
World of Concrete has several dozen booths directly related to the ICF industry, with form manufacturers, bracing, buck, exterior finish and waterproofing companies all taking part. A few ICF manufacturers are holding their annual distributor meeting in conjunction with the show. Most ICF related booths are located in the North Hall, including this magazine, located at N2215.
WOC also offers a number of ICF-related educational courses. Donn Thompson of the PCA will teach a two-hour class disaster-resistance ICF homes. Brent Anderson will teach an introductory course of the same length Monday morning.
The biggest ICF-related event at WOC will be the presentation of the ICF Builder Awards.

ICF Builder Magazine
2012 ICF Market Report and 2013 Industry Forecast
The construction industry is finally beginning to emerge from a punishing multi-year recession, and for the first time since 2008, ICFs seems poised for real growth. New home permits and the amount of commercial architectural work "in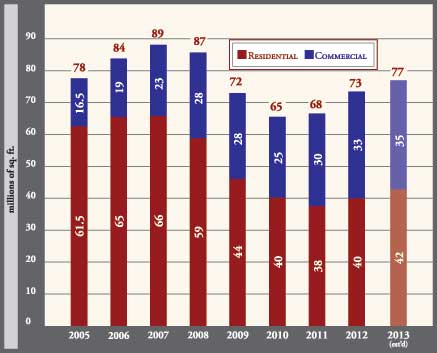 the pipeline" indicate that 2013 has the potential to be the best sales year of the present decade. Additionally, new energy codes promise gains in the residential sector as well. However, political schemes may derail the fragile economic recovery and lack of unity within the industry continues to hamper growth…
» Click Here for the Complete Story


ICF Builder Magazine
Comparison Charts
The ICF comparison charts below contain updated, comprehensive information on every significant ICF brand in North America. We've also included a comparison of the major ICF decking systems as well as many of the alternative stay-in-place forming methods.
Insulating Concrete Forms
EPS Decking Forms
Alternative Stay-in-Place Forms

ICF Builder Magazine
Project Profiles: The Unlimited Residential Winners
These amazing custom homes—each with more than 6,000 sq. ft. of living space—are beautiful, functional and extremely energy efficient. Built in Maryland and coastal Delaware, they also stood up to Superstorm Sandy—surviving the worst with virtually no damage.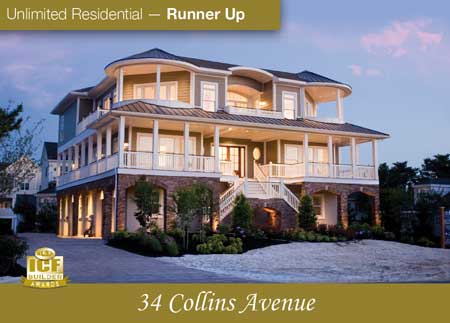 Thirty Four Collins Avenue
When Dave Epps began construction on this 7,200 sq. ft mansion on the Deleware coast, he wanted it to be storm-proof. In addition to the ICF walls, this home features a foam-and-concrete roof deck. For additional peace of mind, the floor plan places all the living space on the second and third floors, well above any possible storm surge.
The finished home stood strong at ground zero when Superstorm Sandy rolled through in December, wiping out many others in the neighborhood.
» Click Here for the Complete Story
---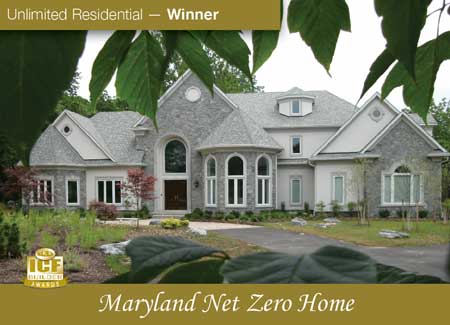 Maryland Net Zero Home
This attractive, spacious, supremely livable home on the outskirts of Baltimore has a secret: It's a "net-zero energy home" that produces as much energy as they use.
Bill Naegeli, who provided and stacked the ICF forms for the project, gives most of the credit to the homeowner. "He knew exactly what he wanted," Naegali says. "He told me from the beginning that he wanted to get as close to net-zero as possible." The formula they chose was this: ICF + geothermal + photovoltaics = net zero
Of course, in practice it wasn't nearly that simple. The 11,000 sq. ft. florplan has 41 corners in the exterior walls, 24 of them 45 degree angles, with the longest straight run barely 20 feet. His crew had to deal with bucking out about 85 windows, including multiple arched openings and 18-foot-tall arched windows in great room.
» Click Here for the Complete Story

ICF Builder Magazine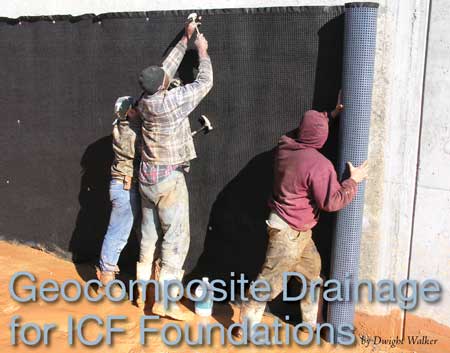 Geocomposites for ICF Foundations
Dimple membranes are well-known as part of ICF waterproofing systems. Now experts are saying they perform best when installed on the wall backwards! This reverse orientation is termed "positive side drainage protection."
It uses the same high-density polyethylene (HDPE) plastic dimple sheet, but combines it with an integral filtration fabric (geotextile).
This approach eliminates the risk of the dimples compressing into the EPS foam, but maintains drainageon the exterior face of the HDPE dimple sheet membrane, with a geotextile creating an air gap between the dimples. The materials have been approved by the Canadian Construction Materials Centre (CCMC) and International Code Council Evaluation Service (ICC-ES) of the United States for its abilities to provide the necessary dampproofing and wall waterproofing capabilities. The membrane passed all tests and is now listed as an appropriate alternative to other systems listed in the respective building codes where dampproofing or wall waterproofing is required.

ICF Builder Magazine