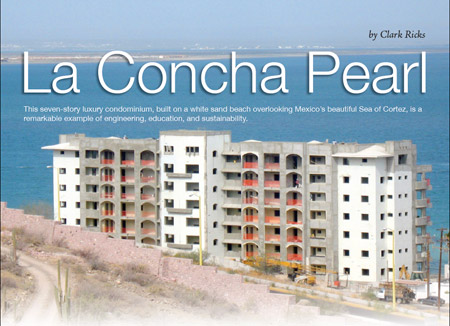 LaPaz, Mexico, located in southern Baja California, is a world-class destination. With white sand beaches, friendly locals, and first-rate services, it's becoming the location of choice for vacationers and retirees alike. In the early years of the 20th Century, the city was known for its black pearls. Today, a new treasure can be found on the beach: La Concha Pearl, "The Pearl of La Paz." The seven-story luxury condominium project is built to the highest sustainable building standards and makes extensive use of Insulating Concrete Forms (ICFs).
The story begins nearly five years ago, when developers Dan Shore and Robert Hefner purchased 45,000 sq. ft. of beachfront real estate in La Paz.
The California-based developers spent more than a year researching the best way to develop the land, eventually settling on a luxury condominium suited for vacation or retirement living, with elegant interior finishes and a modern design, which would still blend into the Colonial Mexican architecture that surrounds it. They also decided to take advantage of cutting-edge, energy efficient technologies to make it as environmentally-friendly as possible.

"I fell in love with the people and waters surrounding La Paz about five years ago," says Hefner. "I felt that with this opportunity to live in paradise came critical responsibilities in regards to protecting the environment that could not be overlooked merely for the sake of additional profit. As my partner Dan Shore and I watched the sun set over the Bay of La Paz one evening, we made a commitment to minimize our impact wherever we could in hopes we may set an example of what can be done using leading edge technologies."
Shore made the decision to build La Concha Pearl with ICFs. After meeting with New Tek, a Quad-Lock distributor who has pioneered ICF use in Mexico, the developers were sold on the system. Les Zwaryck, owner of New Tek, spent a few months redesigning the building to optimize it for ICF construction. New Tek also did the ICF install on the job—no small feat considering it used 60,000 sq. ft of wall forms and 80,000 sq. ft of EPS decking.
Shore is no stranger to the sustainable building movement, having worked for environmentally-conscious clients such as Yahoo and Adobe. But, Shore believes safety and practicality should come first. That's why he chose ICFs over earthen blocks. ICFs also have advantages over the traditional post-and-beam with CMU infill construction common in Mexico. They offer seismic strength exceeding Zone 4 earthquake standards, the ability to withstand a Category 5 hurricane, and climate comfort. Quad Deck Flooring System virtually eliminates any interior noise between residences.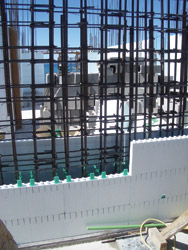 Zwaryck was introduced to ICFs in the mid-1990's when he was a residential homebuilder in Northern Canada. He moved to Baja about 10 years ago, building several projects—including his own home there—with ICFs. The cost of shipping molded block became prohibitive, so he switched to Quad-Lock, a knock-down system based in Vancouver, Canada. "The company is just excellent to work with," says Zwaryck. "They solved all my problems."
Quad-Lock ICFs, combined with passive shading, provide an estimated 50% reduction in cooling load. Quad-Lock also reduced material handling, and was able to deal with the extremely congested rebar the design called for.
"Many developers overlook the energy savings you can create by shifting your thinking," says Shore. "To make a meaningful impact on energy use, developers must invest their time and money in technologies that provide the most energy savings for greatest economic value."
Green Features
"Energy efficiency is often overlooked by developers who don't ever pay utility bills, and it is especially important in La Paz where summertime temperatures regularly exceed 100o F for months on end," says Shore.
In addition to the super-insulated walls, the building uses an innovative cooling system. Instead of the typical 150-ton air conditioning system, it uses a half-sized 70-tom system coupled to evaporative coolers. An ice-maker comes on in the off-peak hours, which shifts 30% of the cooling load to the nights, further reducing utility bills by staying off the peak billing period.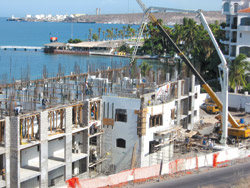 The windows use E2-coated glass with thermal breaks, which dissipate up to 40% more heat than conventional dual-pane windows.
Solar panels provide year-round heating for the spa and pools and power the perimeter lighting.
The building is so green that it's been submitted to the U.S. Green Building Council (USGBC) for LEED-Gold certification.
"La Concha Pearl is being built in such manner that it will qualify for certification," states Hefner. "It would send a dramatic statement…if we achieve LEED-Gold, because it demonstrates that it is possible to build in a manner that protects [the environment], and remain profitable as well."
Construction Issues
Construction began on the project in early 2007, with the first ICFs being placed in May. Zwaryck served as project manager at La Concha Pearl and oversaw the ICF installation.
"The structure is significantly over-engineered," says Zwaryck. The building uses nearly 600 tons of rebar in the walls and floors. "The rebar in the walls is quite congested," he says. "And the crews tied the rebar before the forms went up." Fortunately, the Quad-Lock system allowed New Tek crews to stack each side of the wall independently, and then slip the ties through the rebar cages to connect them.
"The amount of steel in the walls led some engineers to think we'd never get the concrete to flow properly," he says. Once again, a significant amount of education was required. Working with Cemex, they developed a specialized high-slump mix that performed flawlessly.
Because crews had to work out the challenges involved with rebar and mix design, the first floor took 45 days to form and pour. The rest of the floors, though, were much quicker. "Every floor was Quad-Deck, and it was slick," Zwaryck says. "It worked flawlessly. We'd lay 6,000 sq. ft in 3 hours." By the time they reached the last story, installation crews finished the walls and floors in just 23 days.
As this issue goes to press, workers are putting the finishing touches on the Perma-Crete exterior finish, and the interior will be finished shortly. The 33 residences, including five luxury penthouses, offer spectacular views of the Bay of La Paz. Half of the units, including two of the penthouses, are already sold.
The finished seven-story building is one of the tallest weight-bearing ICF structures yet built. It's certainly the highest condo project built using Quad-Lock.
The project has attracted attention throughout the peninsula, and throughout Mexico as well. Daniel Hernandez, a New Tek principal reports that several other Quad-Lock projects are underway in the surrounding area, including a 15-home development in Pescadero, slated to be the first green communities in Mexico. A 200-home green development in Todos Santos is also in the planning stages.
"Our goal in bringing green methods to Baja Sur is to respect and maintain the value of the views and the natural environment that first drew us to Baja," says Zwaryck. "Feeling green is not enough, we have to build smart."
FAST FACTS
Project Statistics
• Project Name: La Concha Pearl
• Location: La Paz, Baja California, Mexico
• 33 Luxury Beachfront Condominiums
• Cost: Undisclosed
• Total building size:: 84,000 sq. ft. (Floors)
• Height: Seven Floors
• ICFs Used: 60,200 sq. ft. (15,000 forms) plus 82,000 sq. ft of Quad-Deck
• Estimated Energy Savings: 66%
• Concrete Volume: 3,775 cubic yards
• 598 tons of rebar
Project Timeline:
• First form set May 15, 2007
• ICF Start-to-Finish Time: 8 Months
• First floor construction time: 45 days
• Seventh floor construction time: 23 days
Construction Team
• Owner: Robert Hefner/Dan Shore
• Architect: New Tek Construction
• General Contractor: New Tek Construction
• ICF Installer: New Tek Construction
• ICF System: Quad-Lock
additional photos on this project are available in the online version of this story, or on the Quad-Lock website.
---

ICF Builder Magazine


When Scot Smyth decided to build his dream home in the hills west of Ft. Collins, Colo., he knew it had to be extraordinary.
"It's a million dollar lot," says John Hatfield, the ICF supplier for the project.
"It sits on a beautiful mountain ridge, so one side has a stunning view of a nearby reservoir and the other side looks down over the City of Ft. Collins."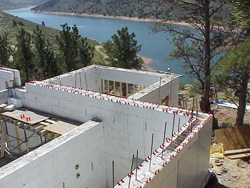 Smyth build with ICFs, he says, because "I wanted a solid house built to last forever, with low maintenance, and high energy efficiency."
Called "House at Empyrean Ridge," the home earned Smyth "Innovative Builder of the Year Award" from the Northern Colorado homebuilders association.
Exterior walls are constructed from Quad-Lock's Plus Panel , with 4-1/4" of foam on each side of the 8" concrete core. "It was a matter of comparing the minimal added cost of the Plus Panel versus the much larger benefit of increased energy efficiency," says Smyth. "The value of that will only increase over time,"
Through careful planning, Smyth kept waste to a minimum. "None of the waste foam left the site," says Hatfield. "It was incorporated into the underslab insulation, increasing the effectiveness of the hydronic heating." The 2x8 lumber used for the footing forms was re-used for window bucks. Protected by Fab-Form, the boards were completely clean and ready for reuse when stripped.
(Click here for more on this technique.)
Smyth used "recycled concrete" throughout the job. Made from crushed granite aggregate and fly ash as a binder, it performed flawlessly. "We had absolutely no problems getting the walls poured," reports Hatfield.
The 2,850 sq. ft. home is topped with an earthberm "living roof," constructed of a metal pan concrete deck, topped with 11 ½" foam, 4" to 18" of growing medium, and plants.
Fly ash concrete was used for the floors as well, which have radiant hydronic heat. Baseboard and other trim was sawn at a local sawmill from standing dead trees. The exterior cultured stone material was manufactured locally.
To qualify as a "Built Green" home, the House at Empyrean Ridge needed 70 points. It scored 252. Energy Star raters gave the home a 5-Star-Plus designation, and commented that they had never seen a house so energy efficient, Smyth claims.
Currently, Smyth is in the process of designing a $1.5 million home for the adjoining lot. He's planning on building it with Plus Panels as well.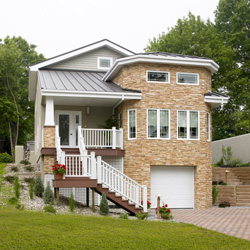 Built in a well-established neighborhood, the newly completed "BASF Near-Zero Energy Home" in Paterson, New Jersey, doesn't look any different than the other houses on the street. But when it comes to energy efficiency, the home's heating and cooling costs will be about 20% of the neighbors.
The basement and first floor walls of this prairie-style home are made from PolySteel ICFs. Patrick Murphy, president of American PolySteel, says the company used both flat-wall and waffle-grid systems to showcase the versatility of PolySteel's full line of products.
Most of the exterior walls are finished with TruWall , a textured acrylic finish designed to adhere directly to the ICF without mesh, adhesives, or rasping.
Inside the home, an ultra-efficient, in-slab hydronic radiant heat system from REHAU provides warmth for the occupants without the drafts central air can create. To support the weight of the concrete floors, designers used Insuldeck, an EPS decking system. The roof is made from Structurally Insulated Panels (SIPs).
The home uses so many "green building" technologies that the U.S. Green Building Council (USGBC) is using it as a test case for the recently launched Leadership in Energy and Environmental Design for Homes (LEED-H) rating system.
Despite all the cutting-edge technology, and its current role as a showcase home, the house is also intended to be a model for affordable living.
Klaus Peter Löbbe, Chairman and Chief Executive Officer of BASF Corporation, says, "We have constructed this home in order to inspire homeowners, builders and architects locally, as well as nationally. We want them to know that sustainable, energy-efficient and disaster-resistant homes are not a concept of the future, but a reality today. Homes based on the technologies demonstrated here are accessible to real people at affordable prices."
Paterson has 3,000 infill lots throughout the city that have been targeted for affordable housing over the next few years, and those involved with this project hope that the Near Zero Energy Home becomes model for the city's urban renewal efforts.
"ICFs are an outstanding material for infill projects," says Murphy. "Noise is often an issue, and so is security. By choosing ICFs, you're upgrading the neighborhood with a durable, energy efficient home, that also fits with the architectural character of the area. You're actually planting the seeds to upgrade the entire city, one lot at a time."
For more information on this project, visit www.betterhomebetterplanet.com.
---

ICF Builder Magazine


---
M—Residence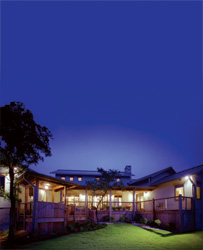 When Matt McCoy, owner of South River Construction, set out to build his home in the hill country northeast of San Antonio, Texas, he didn't intend for it to become a showcase for green building.
"It wasn't environmentalism for environmentalism's sake," he says. "I wasn't trying to save the world or start a new religion. I just wanted to build the best house that I knew how to build."
One major reason for the home's energy efficiency is the ICF walls. McCoy's business partner was the local Arxx distributor, and he was well acquainted with the benefits that the technology offers.
"The R-Value and effective R-performance of ICFs was a big deal to me," he says. "The fact that it would look like every other home was a big deal to my wife. The fact is, ICF homes look like any other home except the walls are thicker."
He then began asking himself what else he could adjust to make the house even more environmentally friendly. So he installed high-performance windows, a radiant roof barrier, and energy-star appliances. Outside, the perimeter fence is made from painted rebar, the driveway and front walk are pervious concrete, and there's a rainwater collection system for landscaping needs.
He claims most of the "upgrades" were done for practical reasons. "I didn't want to be on water rations when everybody else was," he says. "The pervious concrete driveway means we don't have runoff issues, or ruts in our yard. We have nice HVAC system, and indoor air quality is important, but I really wanted the wife to have a break from her allergies, and make it more difficult for the kids to pass germs."
"I really just wanted to be comfortable," he confesses. "Most people's perception is that they will be much less comfortable in a green home when the exact opposite is true." The home, entered in the 2005 ICF Builder Awards, won rave reviews from the judges for it's luxurious appearance. It was featured on the cover of our Feb. '06 issue. (To enter your project in this year's competition, click here.
South River Construction is now a regional ICF installer. "We call it 'high-performance construction,' says McCoy. "It's just defining green building in another way."