Imagine a home that is not only efficient, but also produces enough energy to meet all of its electrical, heating and cooling needs. Yes, buildings like this really exist. They're called Zero Energy Homes, and they've been built all across North America.
Not surprisingly, many of these homes have exterior walls built from insulating concrete forms (ICFs).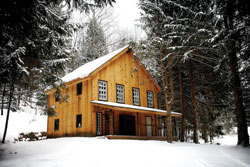 "When doing a zero energy design, the first priority is energy efficiency, and the most important factor in determining efficiency is a thermally sound, energy-efficient building envelope," says Jordan Goldman, a mechanical engineer at Independence Energy Homes , which specializes in the design of net-zero homes.

"Obviously, ICFs do a great job of that because there's an unbroken layer of thermal insulation, and with a solid core of concrete, there's no air infiltration. So you get this great thermal performance which reduces the energy needs of the building tremendously."
Unlike the early attempts of the 1970's, today's zero energy home (ZEH) doesn't have to look odd. "One thing we always tell our clients is that a zero energy home doesn't need to have particular shape or look," Goldman says. "We can work with your preferences and tastes."

A ZEH combines state-of-the-art, energy-efficient construction techniques with renewable energy systems (usually solar and wind power) to create as much energy as it uses on an annual basis. Because solar and wind power are unpredictable, most ZEH's are connected to the local electrical grid. When the home can't produce enough power to meet its needs—at night or on a cloudy winter day, for instance—the homeowner purchases energy from the utility provider.
On the other hand, when the house is producing more energy than it needs, the extra energy is sent back into the utility grid. In some cases, the home's electric meter literally spins in reverse. If, over the course of the year, the home produces as much energy as it consumes, it can be considered a zero energy home.
The Meter Spins Backward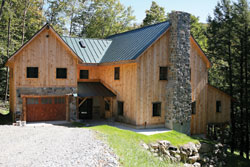 One such home sits just off the Hudson River in upstate New York. Situated on a beautiful hillside overlooking the water, it was built using Reward ICFs.
While it might seem slightly bigger than most homes (3,160 sq. ft. of finished space and 6,300 sq. ft. of conditioned space), it leaves an energy footprint smaller than just about any other home in the state.
"We have paid nothing for electricity since November 2005 when we moved in," states Bill Reilly, the homeowner. "Part of the reason is that we are able to resell the excess electricity we generate back to the utility company." In fact, the first year the Reilly's lived there, the home generated more energy than it used and the electric company had to cut them a check.

The building has a state-of-the-art geothermal heating/cooling system and uses photovoltaic cells on the roof for electricity.
"On bright, sunny days, the meter literally spins backwards," says Sunshine Tartter, of J.O.Y. Enterprises, who supplied the ICFs for the project. "We have a video of it on our website," she says. (See the video here).

Energy generation is part of a ZEH, but the real key is energy conservation. The Reilly home is no different. When it was officially inspected and tested, it was awarded the highest Energy Star rating in the state (93.3 Energy Star/NYSERDA).
Designers like Goldman say energy consumption must be minimized before any thought is given to power generation. Typically, energy consumption is reduced by 70-80% (see sidebar for ways this can be accomplished.) Solar or wind power supplies the remaining 20-30% of energy needs.

Tartter explains how the principle works. "If this house had been stick-frame, the home would have needed three or four wells for the geothermal. Because of ICF construction, however, the home only has one."

The Reilly's have discovered their ICF home has other advantages as well. "Although we chose ICFs for their energy efficiency, sound attenuation was a real bonus," Mr. Reilly says. "We're located on the Hudson River with a railroad track located between us and the river, 100 feet from the house. Two major rail lines use the tracks, so we have many trains coming through each day. We can barely hear the trains on the near side, and can't hear them at all on the far side."



ICF Builder Magazine
Is A ZEH Realistic or Affordable?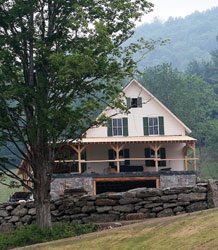 The Reilly home was one of the first ZEHs in the nation. Now, they're now springing up across the country. One major contributor to the viability of ZEHs is that solar panels and other "green" energy generators have become more affordable.
But even though they're half the price they were 10 years ago, they're still the most expensive part of a ZEH system.

In 2005, Vernon McKown, co-founder of Ideal Homes, set out to prove that it was possible to build a truly affordable ZEH. He succeeded, building the first ZEH in the country priced under $200,000. It's located in Valencia, Oklahoma.

"Zero energy homes get a black eye in my mind," says McKown, "They go off and they build this amazing house that sticks out of the neighborhood like a prairie chicken, and it costs a million dollars. Everybody looks at that and says, 'That's interesting. With enough money, you can do anything.'

"We wanted to show that you can take any house out of a builder's product line and make it a zero energy house that would look and feel and be just like a regular house, and it doesn't have to cost a million dollars. We could do it under $200,000."
Ideal Homes' ZEH measures about 1,650 sq. ft. and has three bedrooms, two bathrooms and a two-car garage. It's based on one of the builder's stock floor plans.
Ideal Homes used photovoltaics on the south-facing roof for electricity; underground heat pumps that harness the earth's constant temperature to heat in winter and cool in summer; and a tankless hot water system.
How Is a ZEH Built?
Goldman, at Independence Energy Homes, explains how the design process typically works.

"The client comes to us and we discuss elements of design, their preferences and tastes, room groupings, and so forth. We then move into the design development process and draw up floor plans. At this stage, the exterior wall system is determined, kitchen layout finalized, and heating/cooling systems specified. We determine all of the elements of energy conservation before we even start to look at energy generation." Once the plans are finalized, it's simply a matter of drawing up the construction documents, putting them out to bid, and selecting a builder.
Goldman notes that because the building site plays such a crucial role in the design, the company strongly encourages clients to already have a building lot selected prior to any work being done. "It's part of the overall design puzzle," he says, "to maximize energy conservation and generation while still ensuring that it looks like a normal home."
The Right Thing to Do
That's exactly the process that occurred when they designed a pair of single-family homes near Killington Mountain, Vt. The properties are currently used for weddings, family gatherings and ski weekends.

"Long before oil hit $107 a barrel, we thought it would be great to build zero energy homes," says Joe Desena, president of Vermont Ventures. "It's just the right thing to do."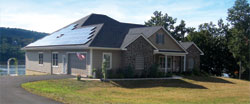 Desena, who served as general contractor and ICF installer on the job, says the company has built dozens of high-efficiency homes, totally more than 80,000 sq. ft. Most of them have "net-zero" energy use.

The exterior walls of the Vermont homes are built with Amvic ICFs. Gable ends were made with Structurally Insulated Panels (SIPS), and closed-cell foam was used on the roof to ensure a tight, efficient building envelope.

Inside, high efficiency gas boilers coupled to a radiant floor system keep the building warm. High efficiency lighting, Energy Star appliances, and several passive cooling techniques further reduce energy usage. Locally quarried stone and salvaged, reclaimed timbers were used for lumber and stylistic accents.
Amvic ICFs were also selected for the NeoZero Energy Home, located north of Toronto, Ontario. That project is expected break ground in April 2008.
Once just a concept, zero energy homes are now springing up across the country. As the price of solar panels and other renewable energy technologies becomes more affordable, ZEHs may even become commonplace.

But energy efficiency will always be the most important factor, and a thermally sound, energy-efficient building envelope will always be the most important component in overall efficiency. As the green building movement gains steam, insulating concrete forms are well positioned to dominate the ZEH market.
"ICFs are very, very simple to use," Desena reports. "For high-efficiency construction, I wouldn't build any other way."


ICF Builder Magazine