ICFs are a Perfect Fit for Hurricane-Resistant Housing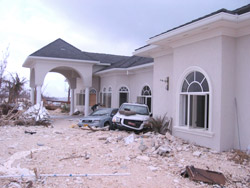 Two years after the record devastation caused by Hurricane Katrina, government agencies, code officials, and other policy makers are still debating how to ensure new construction in hurricane-prone areas is safe.
Homeowners and insurance executives are also anxious to find more durable building methods, as frame construction is relatively weak even when built to the new, stronger codes.
Perhaps the best option is to build with insulating concrete forms, or ICFs. Hurricanes pose three main threats to a structure—strong winds, storm surge, and flying debris—and ICFs stand up well to all three.
Strong Winds and Storm Surge: ICFs stand up to hurricane force winds easily, thanks to the mass of concrete in the exterior walls. A typical 16"x48" ICF, when filled with concrete, weighs about 400 pounds (6" core), or 75 pounds per square foot of wall. That's heavy enough to withstand even the strongest winds. Concrete walls are also a superior choice for withstanding storm surge; breakwaters and sea walls around the world are made from the material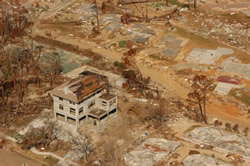 ICF structures have another advantage: They are integrally tied to the footing or foundation slab with structural reinforcing steel. While frame walls use hurricane ties and/or anchor bolts to meet code minimums, ICF wall-footing connections are stronger by a factor of ten. Sometimes, the walls are poured monolithically with the footing, eliminating even the cold joint.
Likewise, all of the wall components above the footing are connected in a solid monolithic mass, eliminating flex, fatigue, and weak points. Photographs taken after Katrina prove the point dramatically: Often, a battered ICF homes stands relatively intact, even when the neighboring homes have been swept away or reduced to a bare slab.
One area of concern for code officials and the insurance industry are the roof attachments; it does little good to have hurricane-proof walls if the roof is compromised and belongings get ruined in the torrential rain. Once again, ICF homes have more hurricane-resistant alternatives available than other building methods.
Traditional roof trusses fastened into concrete are extremely sturdy. Steel trusses are even better. And ICFs are strong enough to support the most durable choice, a concrete roof system.
Flying Debris: The third major threat from hurricanes is flying debris. Dramatic photos show sheets of plywood skewering palm trees. Boards literally become missiles, and can puncture even brick walls.
Scientists at Texas Tech University have studied this issue extensively. In one experiment, eight-foot-long 2x4 studs were shot at various wall assemblies. They easily penetrated wood- and steel-frame walls at 50 mph. At 70 mph, the penetrated brick veneer. But nothing penetrated ICFs, even at 100 mph. (See a video of the tests at www.icfmag.com.)
The report concludes, "The strength and durability of concrete walls offer unmatched resistance to the devastation of major storms. Concrete homes are less likely to suffer major damage from debris than conventionally framed houses."


---

ICF Builder Magazine


---
"The Best Wall Possible"
"Homes built with ICFs [are] sustainable structures capable of withstanding extreme weather conditions," confirms Dr. Ronald Zollo. Zollo is a professor of civil and architectural engineering at the University of Miami and a licensed professional engineer. He led the team that surveyed the damage of 1992's Hurricane Andrew.
Zollo says ICFs are stronger than competing concrete systems because of the concrete cure time and the monolithic structure of the wall. "It's not an assembly of smaller components," he says. "You aren't dealing with fatigue issues, loosening of the structure, and deterioration. You have continuity throughout the structural system."
"Homeowners and builders," he continues, "need to move away from traditional structures that cannot withstand the type of lateral forces that extreme weather, such as hurricanes, can place on a home. The strongest wall is a monolithic concrete wall, and if we're going to build a poured wall, let's make it the best poured wall possible, and that wall is ICF."
No Added Cost
Significantly, ICF construction does not cost significantly more than frame construction, and is often cheaper than CMU. Layne Thompson, an ECO-Block distributor in Desdin, FL, points out that wood-frame or concrete block construction requires significant work to meet hurricane-resistant standard, while "ICF walls are inherently stronger with no extra effort. There is no extra cost in the wall."
Adam Vodonavich, owner of ICF Concepts, is rebuilding Southern Louisiana one structure at a time, using Logix ICFs. He says, "Th e benefits, especially down here in the South, make the decision a no-brainer."


---

ICF Builder Magazine


---
Rebuilding Update
Vodonavich says despite ICFs' benefits, "the rebuild [on the Gulf Coast] has been slow, and it continues to be slow."
"It's taken a long time for insurance claims to trickle in and for FEMA to put their new flood maps together," he says.
One of the major challenges is getting insurance at a reasonable rate. "Right now, there is no one willing to insure anything built in the State of Louisiana," says Vodonavich. While no private firms will offer insurance, Vodonavich says the "insurer of last resort," government-sponsored Louisiana Citizens Property Insurance Corp. will, but the rates are extremely high. He claims insurance on a $200,000 property would cost $6,000-$7,000 annually.
Wendy Davidoff, marketing manager at Quad-Lock Building Systems also reports rebuilding is "going at a snail's pace." "The second disaster in the Gulf Zone is the federal assistance programs – no one can get the money secured to start their projects," she says.
Patrick Murphy, president of American PolySteel, predicted a slow rebuild when interviewed in last January's industry forecast article. "Because of the scale of the disaster, it's going to be a generational rebuilding process that takes 10 to 20 years," he said at the time. "But ICFs are making a significant inroad, and we're still in just the early stages of rebuilding."
Signs are very positive for ICFs in the long run. "Many people that wanted to rebuild have had to wait for a year or two for FEMA to tell them where," says Vodonavich, "so they had a chance to get educated. Most people here have educated themselves about ICFs, and all the hard work we did after Katrina is coming back 10-fold."
"All the architectural/engineering firms in the area are backed up 6 months now," he continues. "I probably have 36 homes in various stages of construction right now and three sizable commercial jobs, one of which is a 44-unit condo… For every home I put down, I get three more after it just from people going by and seeing it."
Attempts to encourage ICF construction through insurance discounts, building codes, or legislation have yielded no results so far. Large homebuilders have also been hesitant to transition to ICFs. But in the meantime, there are opportunities for ICF contractors.
"Right now, we're really focusing on educating the homeowners," says Vodonavich. "If the homeowner insists on it, the architects and engineers are going to follow it. I think that how quickly we can get people educated will determine the level of growth that we have."
---

ICF Builder Magazine


---