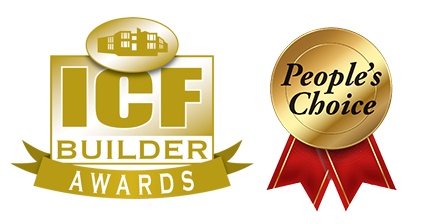 2023 Small Residential
Winner
(People's Choice Winner)
The Sunshine Green Home in Hurricane, Utah, may be small but it is packed with a lot of amenities and features. It boasts a 1,938-square-foot floor plan with three bedrooms, three bathrooms, three garages, and 12-foot ceilings. Also included is a detached two-bedroom, two- bath, 867-square-foot guest casita for a total size of 2,805 square feet. Jim Lyman of Mortar and Beam Construction LLC, was the project manager, builder, and forms representative. The project used 7,399 square feet of Amvic blocks, now known as Alleguard, for the exterior walls along with 780 square feet for interior ICF walls.
A Windy Site & First-Time Challenges
The Sunshine Green Home was built for the 2022 St. George Utah Parade of Homes, and the construction only took four months and four days from the time the first block was stacked to obtaining the certificate of occupancy. "No one, not even the Parade Committee, thought we'd finish on time, but we did!" says Lyman. The Hurricane area is known for high winds, regularly approaching 15 to 25 miles per hour, but during construction the team dealt with gusts up to 80 mph, which meant they had to get creative to keep the foam blocks from blowing away.
This was Lyman's first build with ICF and there were some complexities and learning curves, he says. But the simple design of the house, being mostly squares, rectangles, and straight walls, made it more straightforward, although the supply chains and product lines were limited due to the pandemic at the time of construction.
A 3,085-square-foot Amdeck decking system was used instead of a trussed roof. To support the Amdeck roof above the living space, there were two interior Amvic ICF walls, one on each side of the
main living space, that went to the 12-foot-high ceiling.
Lyman says they received good support from Amvic's representatives, Trevor Brown, and his wife, Heather, who are based in Idaho (Editor's Note: and who regularly write for this magazine). Lyman says the framer who was going to have his crew stack backed out of the project. Lyman scrambled to find a crew. He brought in a demolition crew that he had worked with on a prior project consisting of three Tongan cousins and one man from Mexico City to help them get started. "We put them up in a hotel for a week and trained them to stack block and install rebar and hooks," says Lyman. "After the first week they were hooked and decided to stay on. We finished stacking the final block in 59 days."
Significance & Sustainability
"This house is a vision in ICF construction, utilizing the wall forms and roof/deck forms to create essentially an effective R-54 in the resistance to heat loss or gain," says Lyman. "The Mitsubishi in-ceiling mini-split heat pumps are quiet and very efficient, usually running at less than 20% of capacity. The owner stated that his last month's electric bill was $25 which is the city utility's monthly fee."
Since this was a Parade of Homes home, many people viewed the project — more than 17,000 people and more online. Lyman received four more build jobs based off this project, of which two are using the exact same floor plan. Lyman says that he is incredibly satisfied with how his first ICF build turned out, and he says "we will be building like this for generations to come." "We have received numerous compliments and requests for info from potential clients, other builders, and even the city officials. It has been a wonderful outpouring of acceptance for a product that is overdue to see its glory."
Project Statistics 
---
Location: Hurricane, Utah
Type: Residence
Size: 2,805 sq. ft.
ICF Use: 11,264 sq. ft.
Cost: $1,900,000
Total Construction: 20 weeks
ICF Installation Time: 70 days
Construction Team 
---
Owner: Zitting Family Trust, Lot 4 Copper Rock
General Contractor: Mortar and Beam Construction LLC
ICF Installer: Mortar and Beam LLC
Form Distributor: Mortar and Beam LLC
Architect: MRW Design
ICF System: Amvic
Fast Facts 
---
Equipped with solar
3 bed, 3 bath, 3 garages, and 12-foot ceilings in main home
Detached 2-bed, 2-bath, 867-sq. ft. guest casita
Two private Amdeck rooftop decks with pool and golf course views
Attached garage with 14-foot ceilings, rooftop deck, hot tub, and firepit
42 solar panels above the living space
Like what you read?
Yearly Subscriptions Starting @ $30