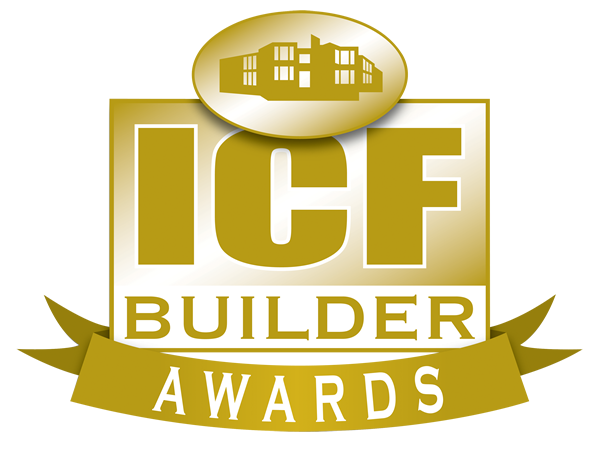 2022 Heavy Commercial
1st Runner-Up
St. Martin de Porres is a Roman Catholic Church in Prosper, Texas, which is just about 30 miles north of Dallas. Cameron Ware, Nudura's sales representative and ICF trainer, submitted this project to ICF Builder's ICF Builder Awards, in which it placed as the 1st runner up in the Heavy Commercial category. Although the St. Martin de Porres 18,000-square-foot Parish Hall was conventionally constructed, the 40,000-square-foot St. Martin de Porres School Building utilized 25,000 square feet of Nudura Insulated Concrete Forms. Construction took approximately 60 weeks but the ICF installation time was only 45 days. Ware says that choosing ICF saved on construction time, and at the time of construction, ICF walls were slightly less expensive per square foot installed than insulated CMU, therefore, no additional costs were realized by choosing ICF.
Complex architectural elements included towering gables and ceiling, and poured arches including stained glass circles. Exceptional workmanship was demonstrated in the implementation of the poured arch openings which required special attention to bracing to ensure that the arches were maintained as specified. "Some ICF installers tend to shy away from poured arches," says Ware, of J&E Companies. "Not this installer." In addition to the complexities, this project had an aggressive timeline which was maintained by both Steele Freeman, the general contractor, and J&E Companies. Typical north Texas weather produced many days where the J&E installation team worked in poor weather conditions in order to stay on schedule.
"Overall the project went really well, poor weather conditions notwithstanding," says J&E General Superintendent Edgar Martinez. "Our foreman, Manual Cruz, maintained schedule and production targets. St. Martin de Porres was a great project."
"St. Martin de Porres Catholic Church went like clockwork," says Cruz. "I appreciated having the opportunity to pour the arches in place. Some installers avoid pouring the arches and frame out the opening square. This was a great project for us to showcase the accuracy and exactness of our trade."
J&E Companies was chosen by construction manager Steele Freeman because they had an extensive history of success together on numerous prior projects. Nudura was selected because it is the basis of design for the church. Steele Freeman has built a number of ICF structures including Weatherford College in Decatur, Texas, and J&E Companies have built many schools utilizing Nudura ICF. J&E is committed to becoming part of the rapidly growing ICF market in Texas. Ware says architect Hahnfeld Hoffer Stanford put together a beautiful design that showcased poured arches and gables. "This is truly one of the most beautiful buildings in Prosper, Texas, and a great architectural example," he says. "Almost all of the perimeter vertical red-iron was eliminated by using the walls as load bearing."
J&E Companies Project Manager and Vice President of Masonry Kyle Wilson says the company is always trying to set and exceed high standards. "The ICF industry is watching," he says.
Project Statistics 
---
Location: Prosper, Texas
Type: Church
Size: 40,000 sq. ft. 
ICF Use: 25,000 sq. ft. 
Total Construction: Approx. 60 weeks
ICF Installation Time: 45 days
Construction Team 
---
Owner/Developer: Roman Catholic Diocese of Fort Worth
General Contractor: Steele Freeman
ICF Installer: J&E Companies
Form Distributor: Nudura
Architect: Hahnfeld Hoffer Stanford
ICF System: Nudura
Fast Facts 
---
Parish Hall was conventionally constructed
School building used ICF 
ICF installer bravely tackled the poured arches
Like what you read?
Yearly Subscriptions Starting @ $30