In any type of construction, protecting the building from moisture and dampness is a must. That's the "science," if you will. Placing a barrier between the home and the environmental elements is required due to forces that will compel the structure to absorb water. Whether the water is coming from inside or outside a home or other structure, water and walls (whether above-ground or below-ground) and floors never mix well. The "art" of waterproofing ICFs comes into play in deciding what waterproofing to use and how it's best applied. It's not magic . . . it just requires some knowledge of how ICFs work and how the options for waterproofing work. 
Building with ICFs, as just about everyone reading this magazine should be able to agree, is one of the most important investments a builder or homeowner can make as far as investing in multi-generational construction. Waterproofing a foundation is one of the most important decisions that need to be made to protect a structure. Therefore, it's not a stretch that understanding how to waterproof ICFs is one of the most important things to know. 
While the primary methods of waterproofing ICFs are the same as waterproofing other construction methods—peel and stick membranes; liquid systems that can be applied a few different ways; and dimple boards or drainage mats which are mechanically fastened to ICF walls—waterproofing an ICF structure is substantially different from that of standard poured concrete construction or a block foundation.
Solvent Must Be Avoided 
One of the most important things to keep in mind has to do with the fact that the exterior wythe of ICF blocks are foam. You might use a spray applied solvent-based product on a typical foundation, but that would be a disaster on an ICF foundation. You do need to place a barrier between the blocks and the environment, but the type of barrier must be solvent free, or else there must be a primer in between that allows you to use a solvent-based product. 
"All solvent-based products will eat into the foam on the outside of the ICF blocks," explains Dan Thomas, business development manager at Poly Wall Building Solutions. The Poly Wall Home Stretch Peel 'N Stick ICF Waterproofing Membrane is specifically designed and engineered for use with ICFs. Home Stretch is a 40 mil thick sheet of strong, and pliable HDPE facing bonded to a modified asphalt waterproofing compound.
Thomas recommends using Poly Wall's Blue Barrier Joint Filler 2200 on footer joints and any penetrations into the wall. Then, the "secret sauce" is the Home Stretch WB Adhesive. "This adhesive is not only water-based so it doesn't eat into the EPS foam, it also creates a sticky surface, so that when the peel and stick membrane is applied, it sticks tenaciously," he says. 
Poly Wall Building Solutions has an associated product called the Arroyo Drain Board. This is a sheet-molded drain that allows water to move away from the foundation walls. A factory-applied soil fabric layer allows water to pass into the drain core while keeping soil particles out, to avoid clogging the drain. Drain Boards and other dimple boards such as those manufactured by DMX Plastics can take the abuse of back-filling against your waterproofing and complement any waterproofing system by channeling water away from a foundation.
Use a Foundation Wrap 
Sean Bahr, technologist at DMX Plastics, explains that DMX AG foundation wrap and DMX 5X drain boards are used to protect shallow foundations that are less than 20 feet in depth. "DMX recommends the use of DMX 5X because it actually channels water away from the foundation, thereby reducing hydrostatic pressure against the ICF blocks," he says.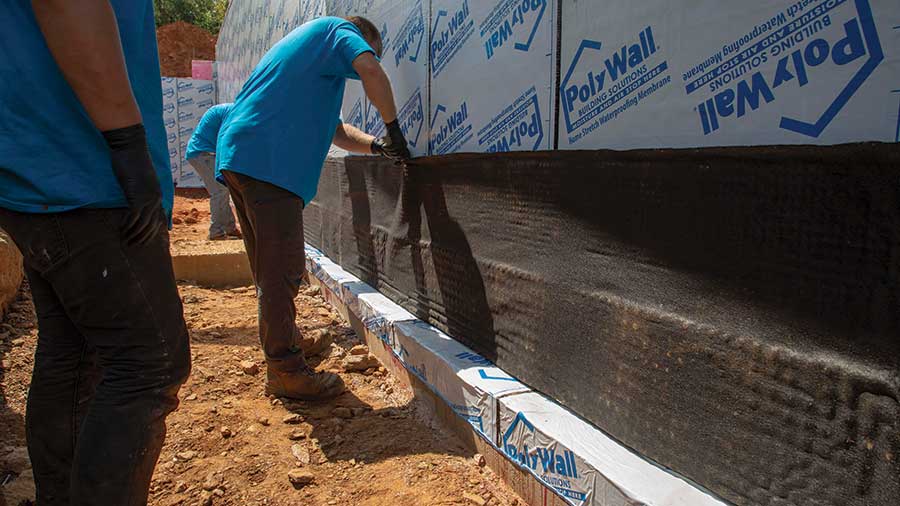 DMX AG is more commonly used than DMX 5X because it is less costly. These and other dimpled membranes are used with both peel and stick waterproofing systems and water-based spray emulsions on ICFs. Dimple boards can, and some would argue, should, be used with every ICF foundation to prolong its life and performance, Bahr says. 
While there are no tricks or special techniques needed with membranes and dimple boards, one important factor is that installers should follow the installation manual of the system they chose to use. If application instructions are followed, your ICFs should be waterproofed for more or less the life of the building. 
"DMX 5X and DMX AG are very robust products that will withstand abuse in the backfilling as well as the corrosive effect of the soil," he says. "They are also very cost effective both in price and speed of installation."
Spray It On 
Rubber Polymer makes Rub-R-Wall, one of the only liquid spray-applied waterproofing solutions for ICFs. It is a 100% seamless rubber membrane that is effective for use on ICF, block, and poured concrete walls. 
"Rub-R-Wall has been around since 1992 and one of our big claims to fame is no asphalt," says Matt Veazey, president of Rubber Polymer Corp. "Rub-R-Wall is a really easy product to use that is gaining traction with ICF installers because it works so well."
Even though some of Rubber Polymer's products are solvent-based, Veazey says some of the company's certified applicators use it nonetheless, because it dries very fast. "They cure out so fast and there's only very slight etching on ICF blocks," he says, "but of course water-based products won't attack the ICF at all because it doesn't contain asphalt. Most of the other products all contain asphalt and asphalt and ICF are not a match."
Veazey explains that when ICFs snap together and the concrete is poured, it can cause the blocks to separate just a little. Rubber Polymer makes a mastic that's made from Rub-R-Wall that's used to fill those voids. Rub-R-Wall goes on easy with an airless paint sprayer with the PSI of 2,200 to 2,500.
With water-based products, weather is more of a concern. Most products need to be used in rain-free weather that's 40 degrees and rising. 
"It goes on at 60 mils wet and it will cure out to about 40 mils dry," Veazey says. "You can achieve that in two to three passes."
Different Soils, Different Products 
Mar-flex's president, Brett Oakley says Mar-flex is a "one-stop shop" for the waterproofing industry. Mar-flex has different products for various types of soils and building conditions. 
"There's three different ways to do this," Oakley says. "We have the Mar-flex 5000 water-based product that you spray or roll on to seal the foam. We have our Armour Sheet sheet membrane. And we also have the ArmorClay Bentonite line of products as well."
Their ArmorClay Bentonite product line is for the "top-of-the-line budgets" where a bentonite product may be specified. The ArmorSeries line of products is often used in commercial construction and also often ICF. Oakley says the choice of whether to use the spray or the sheet membranes most often depends on the customer's budget and the experience level of the installers: do they want to spray it or do they want to roll it, he says. Both will do the job.
Furthermore, Oakley always recommends using a backfill protection board along with any kind of waterproofing you're going to use. The Armour series is often used in commercial construction and also often ICF.
For builders in sandy soil, he recommends using the Geo-Mat+ Drain Roll. For builders in very rocky soil or for those jobsites with a lot of debris, he recommends the Mar-flex Shockwave Drainage and Insulation Board. "It's just a little tougher and is designed to take a lot of impact from big rocks and will protect the waterproofing," Oakley says.
Their Seal and Peel product is for the top-of-the-line budgets. It's a two component, solvent-free paste adhesive used as a fast-curing removable surface sealer.
Universal Primer Free, For Any Application 
Lance Brown, marketing manager for Protecto Wrap, recommends their Protecto Universal Primer-Free Membrane for use with ICFs. "It's a peel and stick membrane that is installed on the exterior of the ICF to waterproof it," Brown says. "Fox Blocks just approved this unique below grade waterproofing membrane for use with their system." 
The Universal membrane never needs a primer, does not require any special storage conditions or temperatures, and can be installed at temperatures as low as minus 20 degrees F (-28.8 Celsius). Other waterproofing membranes are temperature sensitive, requiring specific storage and installation temps of 40 degrees F and above, but this one will still adhere in extremely cold conditions. Brown says Protecto Wrap products have been employed on many ICF projects. One of the appeals to this type of membrane is that it is easy to carry, weighing only 22 pounds, and to install it simply unrolls and goes on.
 "It can go on horizontally or vertically," Brown says. "And the reason we call it Universal Primer-Free Membrane is because it can be used for another number of different applications. It can be used on ICFs, wall flashing, as a thru-wall flashing, and as an air and vapor barrier, and it adheres to exterior fiberglass/gypsum board without a primer. We have a 48-inch wide roll to help save time and money on installation costs because there's just the one thing—you just peel and stick this membrane."
Conclusion
Whatever system you choose—primer, primer-free, peel-and-stick, or spray-on—follow the recommendations of the ICF manufacturer. Every ICF manufacturer should provide instructions for waterproofing below-grade walls. Follow them, and your waterproofing should last. Using a dimpled membrane along with any waterproofing option you choose adds an extra layer of protection and additional hydrostatic pressure relief. Be sure you are using an ICF compatible spray-on membrane and/or primer that does not contain solvents. These products will dissolve the EPS foam.