PCA Updating Residential ICF Guidelines
The Portland Cement Association (PCA) is updating the engineering standards used to construct ICF walls in the residential sector. They've assembled a committee to review the existing standard and make recommendations.
The committee will revise the standard, design methods and tables so that they are in agreement with the 2010 edition of American Society of Civil Engineers (ASCE) Minimum Design Loads for Buildings and Other Structures and the 2011 edition of the American Concrete Institute Building Code Requirements for Structural Concrete.
This standard provided a basic engineering reference for the design and construction of concrete footings, foundation walls, and above-grade walls, both load bearing and non-load bearing. Because PCA abides by American National Standards Institute (ANSI) procedures, the standard must be reaffirmed, revised, or withdrawn within 5 years from its original approval date.
The PCA committee consists of 10 members. Two cement producers (Lawrence Novak, Lionel Lemay) three ICF manufacturers (Kelvin Doerr, Reward Wall; Robert Sculthorpe, Fox Blocks; and Arkady Horak, Austin ICF) three "users" (Robert Klob, architect; Randy Wilkerson, contractor; and Robert Rogers, engineer) and two "general interest" members (Mike Weber and Laureen Blissard).
Zero Energy Buildings Set to Boom
According to research from www.sustainablebuilding.com, zero-energy construction is set to boom over the next 20 years. They project revenue will reach $690 billion by 2020 and nearly $1.3 trillion by 2035, That's a compound annual growth rate of 43%. Much of that growth will be in Europe, where near-zero energy buildings are mandated by 2019 for public buildings, and by 2021 for all construction. However, it should be noted that similar regulations are being discussed for the U.S. and Japan.
"Following the surge in LEED and other green building certifications worldwide over the last few years, zero energy building has emerged as the 'holy grail' in green building design," says research analyst Eric Bloom.
ICFs are particularly well-suited for zero-energy construction. They were used on the first certified PassiveHaus in North America (Walsee BioHaus), http://www.icfmag.com/articles/project_profiles/Case_Studies.html the nation's first zero-energy school (Richardsonville Elementary), and many of the zero-energy homes being built around the country.
http://www.icfmag.com/articles/green_building/zero_energy_homes.html
Quad-Lock Offers Guaranteed Energy Projections
Quad-Lock Building Solutions, the Surrey, B.C.-based ICF manufacturer, has partnered with EnergyWise Structures to provide customers with "accurate and guaranteed" heating and cooling cost projections.
www.energywisestructures.com
With ICF construction, there's roughly $210/month in total energy savings.
By working through the Quad-Lock sales team, potential homeowners can take advantage of a 50% discount on the Energy Analysis and Guarantee from EnergyWise Structures. (The discount is taken when a qualifying purchase is made.)
Builder Confidence Rising
FMI, which tabulates construction and engineering data, reports that builder confidence is at its highest level since the index was developed in 2007.
Panelists reveal that backlogs remain about the same at a median of eight months. However, all markets, with the exception of education construction, are expected to improve slightly over the next quarter.
A copy of the full report can be downloaded at www.fminet.com.
USGBC Delays Implementation of LEED 2012
U.S. Green Building Council (USGBC) has postponed implementing LEED 2012 for almost a full year. The next iteration of the popular green building program will be voted on no earlier than June 1, 2013.
The delay is due to concerns raised by members, LEED professionals and stakeholders—including the EPS Industry Alliance (EPS-IA), which is the closest the ICF industry has to a trade association. Because of the delay, the program has been renamed LEEDv4 "LEED pushes the envelope to bring transformation to the market; that's what we do," said Scot Horst, senior vice president, LEED. "We remain committed to that. We also ask for the market's assistance in 'test driving' LEED v4 to gain important insight during a time when improvements in usability infrastructure can be made."
Walter Reiter, deputy director for the EPS-IA, stated that his organization was opposed to LEED 2012's controversial "Chemical Avoidance" and "Chemical Disclosure" credits, which would have disqualified ICFs because of the flame retardants used in the foam. "The proposed credits are a departure from a building energy efficiency focus and would have encouraged de-selection of EPS insulation and many other products," he explains The fifth public comment will open on Oct. 2, 2012, and run through Dec. 10, 2012. These dates will allow attendees at the Greenbuild tradeshow to weigh in. USGBC will hold public forums and educational sessions on site in San Francisco during the show.
Said USGBC President and CEO Rick Fedrizzi, "This is 100% in response to our members' desire that we give them a bit more time to absorb the changes in this next version of the rating system. We want to do everything we can to ensure that the market can fully embrace LEED v4 because it represents significant progress on carbon reduction and human health."
For more information please visit:

www.usgbc.org/LEEDv4
www.usgbc.org
http://www.epsindustry.org
www.greenbuildexpo.org/
ICFs Save New American Home
Every year, a high-tech "home of the future" is built in advance of the annual International Builders Show. The exterior walls of the 2012 home were built with Logix Platinum Series ICFs, a decision that saved the house from burning to the ground just hours before it's grand opening.
This iteration of the New American Home was designed by Phil Keen, who says he "sought to honor architectural stylings of the past while taking advantage of current technologies."
The result resembles the classic "White Box" look of the1960s and 70s while using ultra-durable and efficient ICFs.
On the night before the official opening Keen held a catered celebratory event, during which the catering truck, which was parked just a few feet from the side of the home, suddenly exploded into flames.
Fortunately, the four-hour fire-rated Logix Platinum Series wall withstood the blaze and was left undamaged, as were the paintings hanging on the other side of the Logix wall which were on loan from a museum and valued at over one million dollars.

A relieved Phil Keen told Logix, "Logix Platinum saved my house from burning!"
http://www.logixicf.com/index.php?o=page&id=logix-platinum
www.buildersshow.com
www.buildersshow.com/generic.aspx?sectionID=2114

ICF Builder Magazine



Foam Inserts For Exceptional R-Value
An increasing number of designers are going "beyond green" and calling for additional insulation. Until recently, meeting R-values beyond R-25 typically required additional labor and adhesives.
Quad-Lock, Logix and Amvic solved the problem by offering knock-down forms with thicker side panels. Fox Blocks and Reward offer a different route...
» Click Here for the Complete Story
---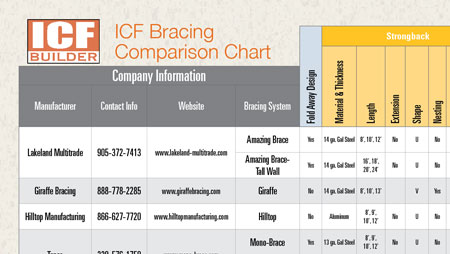 Turnbuckle Bracing: A Market Comparison
Turnbuckle bracing has become industry standard. Each of the brands has advantages and unique features. This article allows a side-by-side comparison of the advantages and drawbacks of each for the first time.

» Click Here for the Complete Story
Project Profiles: Small Residential Winners
At less than 3,000 sq. ft., these homes showcase how ICFs can be used to create stunning, energy efficient homes on a smaller scale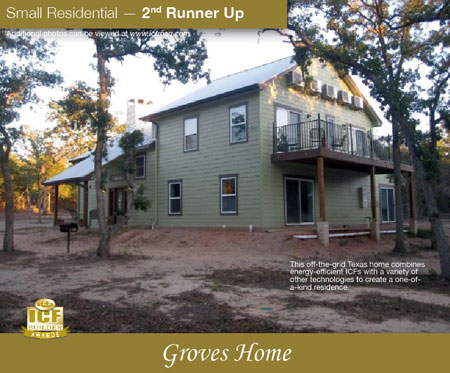 Groves Residence, Texas
When Marvin and Dolores Groves began planning their dream home in Bastrup, Texas, they knew they wanted to do it right. While the design was not particularly challenging, the jobsite was. Situated in a remote forest setting, cell phone reception was spotty at best. All electricity came from a portable generator, as there was none onsite, and the owner wanted it to stay "off-the-grid."

» Read the Complete Profile Here
---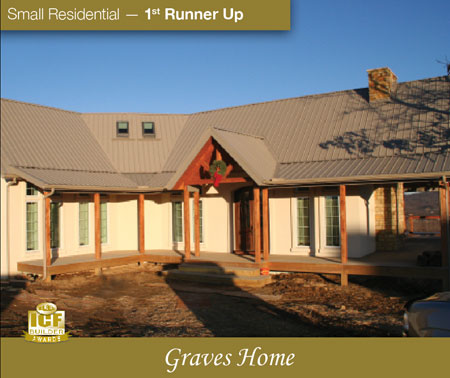 Graves Residence, Indiana
Michael Simon and Josh Harris began their construction business in the middle of the worst economic downturn in decades. They believed that with Insulated Concrete Forms (ICFs) they could build a home that was both affordable and extremely energy efficient. With this house, they proved their homes are not only energy-efficient, but beautiful and award-winning.

» Read the Complete Profile Here
---


Quilter Residence, California
The Quilter Residence, built on a quiet street in Laguna Beach, Calif., is small compared to most other high-end custom ICF homes, measuring less than 1,600 sq. ft. But it's great example of the level of craftsmanship that can be achieved when the focus is on quality.

» Read the Complete Profile Here



ICF Builder Magazine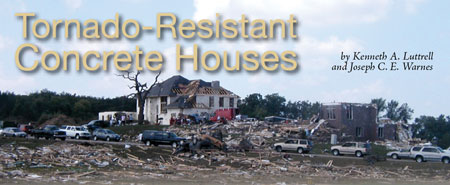 Tornado-Proof Housing
By Kenneth Luttrell and Joseph C.E. Warnes
In the wake of the deadly 2011 tornado season, a new website www.tornadoproofhouses.com seeks to explain how ICFs and EPS-concrete rook decks can create an impregnable fortress from the storm that looks just like an ordinary home.
» Click Here for the Complete Story
---

Who Will Promote ICFs?
By Pieter Vanderwerf
ICFs have received little public exposure the last few years. That is a huge disadvantage, because interest is running high in green building and energy conservation.
Some of us remember the late '90s and early 2000s when there was extensive, effective promotion of ICFs going on. I'm not sure the organizations behind that program could be recruited to do it all again…
» Click Here for the Complete Story

ICF Builder Magazine