ICF Builder Award Deadline Nears
The deadline for the ICF Builder Awards is rapidly approaching. The contest, the only industry-wide, project-of the-year type competition is open to anyone involved at any level of the industry. Complete rules, judging criteria and entry notebooks, are available online at www.builderawards.com.
ICFA Cancels Fall Show
The Insulating Concrete Forms Association (ICFA) has cancelled their fall show. Betsy Steiner, ICFA executive director, says that although the organization does not have plans to host the Expo in 2010, it is considering partnership opportunities for 2011, and will announce its 2011 in early January.
Fox Blocks Begins Manufacturing in California
Fox Blocks, a division of Omaha-based Airlite Plastics Co., is now manufacturing its signature ICF blocks in McFarland, California, located about 20 minutes north of Bakersfield.
"This is fantastic," says Randy Daniels, West U.S. Regional Sales Manager for Fox Blocks. "Our Fox Blocks distributors have local manufacturing to draw from and we can provide design professionals additional benefits for projects going after LEED certification."
The McFarland facility is owned and operated by Aptco, LLC, one of the largest privately held EPS molders in the country. The plant, which is the single largest EPS molding facility in the West, is strategically located to supply product to the California market and the entire southwest region.
Fox Blocks now provides a full service solution with regional manufacturing and a new local distribution program supported by the most experienced ICF sales managers in the industry
Fox Blocks also has manufacturing locations in Orlando, Fla.; Northbridge,Mass.; Post Falls and Jerome, Idaho; Colorado Springs, Colo.; as well as the Omaha, Neb. headquarters.
Quad-Lock has BIM Software
Quad-Lock now has computerized images of their product compatible with Building Information Modeling (BIM) software.
Building Information Modeling lets design professionals analyze and optimize new buildings and their impact on the environment and the occupants. Adoption of BIM has increased steadily to meet the demand for buildings that perform much better than conventional buildings.
The fully parametric BIM objects cover the complete range of Quad-Lock floor, wall, and roof systems, and are available from one convenient Revit library. Repeating details for wall ties and concrete beams are also available.
To download the new BIM Library, visit Quad-Lock's Building Information Modeling page. (Registration is required.)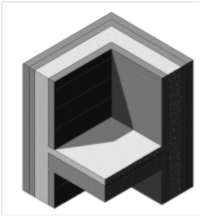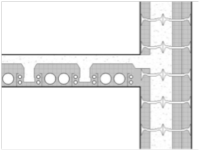 Fox Blocks Gains Canadian Code Approval
Fox Blocks, a division of Omaha-based Airlite Plastics Co., is now officially approved as a building product by Canada's construction code and testing authority.
"It is the opinion of the Canadian Construction Materials Centre (CCMC) that Fox Blocks Insulating Concrete Form Wall System when used as an insulated concrete form in accordance with the conditions and limitations stated in Section 3 of this report, complies with the National Building Code 2005," the report reads.
To view a copy of CCMC Report 13472-R contact Fox Blocks at 877-369-2562.
New Incentives for Disaster-Resistant Buildings
Each year in the United States, more than $35 billion in direct property loss is caused by natural disasters. Durable construction is an often-overlooked component of sustainable "green" construction.
To help local governments incorporate durability into their green construction codes, the Portland Cement Association (PCA) and the Institute for Business and Home Safety (IBHS) have developed High Performance Building Requirements for Sustainability 2.0.
The criteria are written in mandatory language that augments the International Code Council International Building Code (IBC).
The document includes common green standards like energy, water and material resource conservation, but enhances disaster resistance and sets more stringent durability requirements.
"Using these requirements will give forward-thinking communities not just more efficient buildings, but [ones] that have the ability to resist and recover from disasters when they occur," said Wanda Edwards, an engineer at IBHS that helped develop the standards.
2009 Worst Year Financially For Builders
A new report from Shinn Consulting claims that last year was the worst on record for builders, with average profits below zero for the second consecutive year.
The 17th annual Financial and Operations Study provides insights into what happened in the home building industry during the downturn. But the results can also be used as a tool to guide companies towards greater profitability. Creators say the report will help identify areas of concern within your own company, adjust compensation packages, and streamline business operations. The report can be ordered via email to eshinn@shinnconsulting.com at a cost of $450.

Performance Data From LEED Buildings Sought
The U.S. Green Building Council (USGBC) has launched a new initiative in which they can track the long-term performance of LEED-certified buildings.
Called the Building Performance Partnership (BPP), it encourages managers of commercial and residential LEED-certified green buildings, to voluntarily submit performance data to improve future versions of LEED.
"There is all too often a disconnect… between energy modeling done during design and what actually happens during daily operation after the building has been constructed, due to occupant behavior and other factors,"said Scot Horst, senior vice president, LEED. "BPP will help projects meet operational sustainability goals sought originally during the design and construction process."
No building will be decertified for performance or a performance gap, rather this information will be used to inform and help projects achieve higher levels of performance.

ICF Builder Magazine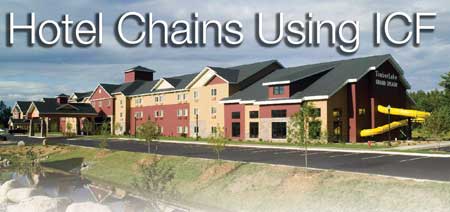 Hotel Chains Building With ICFs
A surprising number of hotels have ready been built with ICFs, many of which are owned by well-known national brands. They're often the best performing buildings in the chain, and provide a good comparison on the energy savings ICFs can bring.

» Read the Complete Story
» Additional Photographs
---

Floor Joists to Speed Construction
Specialized flooring systems that work well with ICF walls and have proven to shave weeks off completion time. Real world case studies show how this can compress schedules and save thousands of dollars.

» Read the Complete Story
---
Understanding Steel Schedules

The structural engineer and his understanding of reinforcing steel has a major impact on a project's cost and buildability. ICF walls require the same amount of rebar as walls cast with removable forms, but the "overengineering" that sometimes occurs often pushes projects beyond the owners' financial reach.
Published standards from The American Concrete Institute (ACI), the Portland Cement Association (PCA), the NAHB Research Center, and others (linked below) can help ensure walls are structurally sound, easy to construct, and within the owners budget

» Read the Complete Story
» Links to ICF Structural Steel Reference Books
---
Rebar Cutters and Benders
Shaping reinforcing steel on the jobsite has both rewards and drawbacks. A few convenient, portable tools can maximize the advantages while eliminating many of the hassles.

» Read the Complete Story

ICF Builder Magazine

Green Building: Recovery ICF Style (part 4)
By Pieter Vanderwerf
I have often said that ICFs are "where the market is going." They have the properties that buyers are likely to demand more of in the future. Properties like energy efficiency, sound reduction, interior comfort, and wind resistance. The need for these things appears to be increasing, as a result of trends in both buyer preference and regulation.

» Read the Complete Story
---

Manufacturers vs. Distributors
By Robert Klob
There are several models in the market for getting ICFs to the job site. The most common model is the manufacturer/distributor relationship. If done right, this can be the most powerful and most successful method.
However, this process is unraveling right before our eyes by savvy clients playing the ICF manufacturers like marionette puppets. End customers are now negotiating directly with the manufacturers and cutting out the distributors.
Direct selling by manufacturers to end users is nothing new and I am the first to admit that it has some advantages and can work with the right circumstances.
But what happens when there is a problem in the field?

» Read the Complete Story